FUN THINGS TO DO IN A SMALL TOWN WITH FRIENDS
WhatToGetMy Instructional Article
If you are living in a remote small town with fewer people, less noise and where everyone knows everyone, then you know that it is the norm to travel a great distance for food, shopping, and entertainment because you feel that your options for fun things to do in a small town with friends are very limited.
Watch the video version of this article:
In a small town, you do not have the big malls with a large variety of stores, a few different movies to choose from, fancy restaurants to try out and many different night clubs or karaoke bars to hang out in, with your friends.
But you do find yourself bored with what your small town has to offer, which is not much because you have been to the local museums, the library, you have seen the one or two movies that they show once a week, your small town has had their annual festival and you are tired of just hanging out at your local coffee shop. Although you know that just spending time with your friends is a great way to pass the time but you still want to find fun things to do.
You do not want to drive a great distance to find something to do with your friends, you want to stay in your small town and find or come up with something that is fun, exciting and different to what you usually do.
Finding fun and different things to do in a small town calls for a little enthusiasm which you already have, some curiosity and of course some creativity. Then make a list of the things you enjoy doing like maybe hosting a get together at your house of some sort, things you enjoy doing outside like hiking, camping or playing games in your local park.
Here are some more ideas to help you come up with some fun things to do in a small town with friends:
Some Fun Things to Do Inside
Host a Get-Together
A get together at your house can be a number of interesting things, you can even throw a Bring Your Own Everything party where your friends can bring food and drinks to share. You can have a:
Movie Marathon

featuring all the classics that you and your friends can remember. You can even l

og into Netflix or if you don't have a membership, get the free trial and watch every episode of your favorite miniseries.

A Games Party

where you can pick and play a number of fun board games, card games or games like charades, minute to win it.

A Mystery Party

where one of your friends

secretly plays the role of a criminal or a thief and everyone else has to guess who that person is.

Video game tournament.

 

If you not into board games, how about a video game tournament? Choose a favorite and play against each then award prizes to the winners.

A Chef night. Have your friends over and cook dinner using only items that you have in your pantry or cupboards. You are not allowed to go buy anything.
Have an organization party. 
You and your friends can organize a day on a weekend where you go to each other's houses and help clean out a cupboard, a room, or the garage. Serve drinks and food for that day and when done, trade the unwanted stuff amongst yourselves and the rest you can donate to the less fortunate.
Start a club together. 
You can start a book club, card club, scrapbooking club or even a cooking club where once a month you and all of your friends gather at one house to host the club with serving food and drinks. Then the next month it will be another friend's turn to host the club.
Fun Things To Do Outside
Have Fun at a Lake or River
Pack some gear and supplies and you and your friends can take a hike to your small town lake, river or swimming hole where you can do some of the following:
Fishing or fly fishing

Hunting

Camping – set up camp with a campfire and spend some quality time with your friends around the fire. You can play some great campfire games like truth or dare, twenty questions or sit back and tell each other some really creepy and spooky stories.
Have Fun with games in your local park
Arrange a whole day of just playing games in the park with friends, games like baseball, soccer or football. If sport type games are not your thing then you can even set up some old school favorites like the three-legged race, egg-on-a-spoon relay, and tug o' war which is sure to bring a great deal of laughter.
If your park has a kid's playground, it is always fun no matter your age to swing on the swings, spin, and slide on the other playground equipment while chasing and teasing your friends.
Make sure to tell all your friends to bring food and drinks for after the games and playing around because everyone will be really hungry and thirsty.
Be a tourist in your own town
You and your friends can take an entire day to explore and to get to really know the small place that you all call home. Start at one end of your town and work your way to the other end of your town. Visit your town's museum, art gallery or botanical garden and find out the story behind that statue downtown. Research the history of your small town and discuss the facts like what is it known or famous for and go check it out if it is still true.
Have a Scavenger Hunt
Organize a scavenger hunt for you and your friends. Have a prize for either the winner or have the loser buy milkshakes.
When creating the scavenger hunt list, write down a mixture of things that each person must physically collect and items that must only be photographed.
Here are a few simple examples:
Something from a local restaurant or diner like a napkin or menu

A bag full of as much trash you can pick up laying on the ground (trash bins are off limits)

A copy of the front page of the local newspaper.

Collect at least 50 cents worth of money found on the ground.

Pictures of loving couples walking together.

How many blue cars are in and around your town.
To make the game even more of a challenge and a lot more interesting for your friends to solve, you can write your own scavenger hunt clues by using a variety of different types of clues from one clue to the next. For example you can use pictures, puzzles, rhymes, letters and by using trivia and general knowledge clues.
Volunteer
Fun things to do in a small town with friends can include doing something that is good, something that will help your community, things like:
Organize a Neighborhood Cleanup with your friends

Volunteer at your small town's animal hospital or nursing home

Bake cookies and take it to your local firefighters or police station to thank them for their service.

Offer to help paint an elderly couple's house.
Plant a Vegetable Garden
Get some vegetable seeds from your local gardening or hardware shop, find a great spot in your backyard, throw on some gardening clothes, and start digging with your friends. In time, you will have a sufficient source of great products which you can then invite your friends over who helped you plant it all for a delicious home-cooked meal.
Go Horseback Riding
If you have or know someone in your small town who owns some great horses and are willing to let you and your friends take them out for a ride. Pack a picnic and see where the horses take you, then stop and enjoy a relaxing picnic out in a field with breathtaking and beautiful scenery.
Visit Garage or Yard Sales
Take your friends and go visit the local garage sale or if you know someone in town is having a yard sale, browse for some bargains, you might be surprised at what you find.
Mud Race with your friends
If you and your friends love to mud race, especially if you have just had plenty of rain, grab your friends and go out to where it seems to be the muddiest place of all and just have some fun in the mud.
Treasure Hunt
Every place no matter how small has its own history and geography. Explore the hidden secrets and stories of that place and share it with friends. Go to the oldest part of town or where it is said to be rich in history try to find something antique or unknown. These days you can use a metal detector to find interesting hidden objects that were thrown in a lake or buried on the beach if you have one.
Fun with DIY Projects
DIY projects with friends can be so much fun, you can start on anything that needs fixing around your house or a friend's house or if you are looking for smaller projects, you can search projects online and turn old and unused items that are laying around your house or garages into something new and interesting.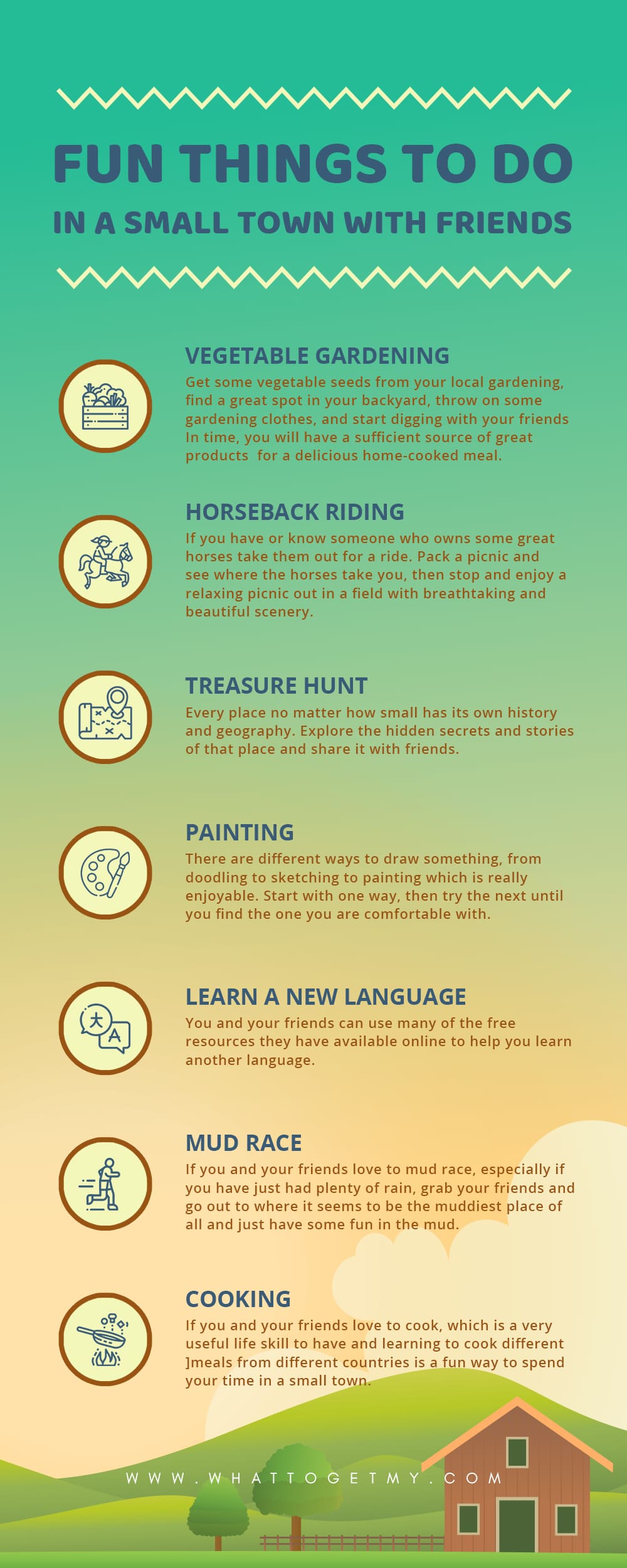 Source Link: https://whattogetmy.com/fun-things-to-do-in-a-small-town-with-friends/
Learn New Things Together
Other fun things to do in a small town with friends are to learn new things together. Get together with your friends and make a list of each person's passion and interests, pick one to start with together, then each of you can Google different information about the topic and share it. Here are some ideas:
Gardening
Gardening with your friends can be so much fun it can also be very therapeutic once you get the hang of it. You can buy a couple of packets of seeds, plant them and watch them grow.
Learn to cook new meals
If you and your friends love to cook, which is a very useful life skill to have and learning to cook different meals from different countries is a fun way to spend your time in a small town. There are so many recipes and free courses that you all can follow online and will definitely keep you busy.
Drawing, sketching, and painting
There are different ways to draw something, from doodling to sketching to painting which is really enjoyable. Start with one way, then try the next until you find the one you are comfortable with and learn everything you possibly can on how to better yourself.
Learn To Dance
This may be the favorite one on yours and your friend's list of things to learn as it is great for the body and a fun pastime. There are so many You-tube videos and tutorials to teach you and your friends' new dance moves, ranging from basic steps for beginners to more advanced dance moves performed by professionals.
Learn a new language
You and your friends can use many of the free resources they have available online to help you learn another language. You can download some podcasts and listen to them with your friends which will have you speaking another language in a short amount of time.
Learn to write a Song or play an instrument
You and your friends can be a little creative and try your hand at writing a song. You can learn exactly how it is done together, come up with the words together, who knows you may even discover that you have written something you love. If none of you know how to play an instrument, you can all decide on which instruments you want to learn how to play together.
Learn Origami
Origami is a low-cost hobby of beautiful art that can help you and your friends produce beautiful decorations for your homes. There is nothing like the joy you get from transforming a plain square piece of paper into a beautiful animal or flower.
Finding fun things to do in a small town with friends is not at all that difficult to do, all you need is a little enthusiasm, curiosity and some creativity. Then decide on whether you and your friends prefer to do things indoors, exploring or sporty type things outdoors or whether you are interested in learning something new together.
ESTIMATED TIME DESIGNING AND UPLOADING THIS ARTICLE
ESTIMATED TIME RESEARCHING AND WRITING THIS ARTICLE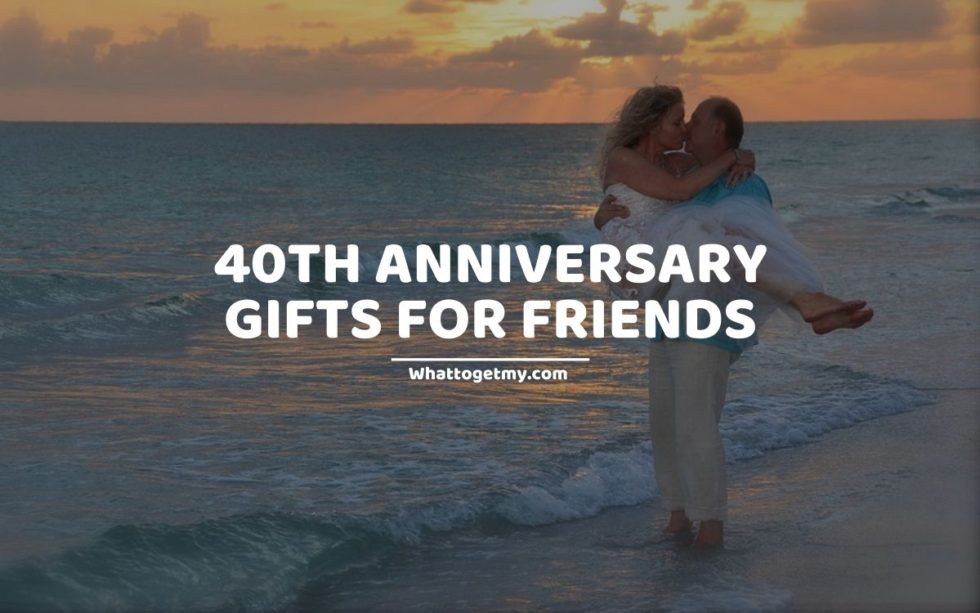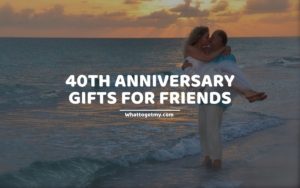 13 Good 40th Anniversary Gifts For Friends
This article shows you what to buy for a 40th wedding anniversary for your friends. The 13 gifts listed here would make for great 40th anniversary gifts for friends. It's the 40th wedding anniversary of your friends and you do not know what to buy
Read More »