Marathon runners exert themselves considerably during a marathon race. The best post marathon gifts are gifts that help them recover and gifts that encourage them for the feat they achieved. This article gives you the best gifts in both categories. Read on to find out what they are.
And if you or someone you want to buy a gift for is either a jogger, a track runner, or a marathon runner preparing for a marathon, we also have some gift ideas for you.
Marathon runners exert considerable work on their muscles during the race because a marathon by its nature is a race run over a very long distance. The shortest marathon, also known as a half-marathon, covers approximately 21kms (which is roughly 13 miles) and that is still a long distance by any stretch.
And the completion of any marathon, whether half or full, is a feat on its own because it takes a considerable amount of preparation and training to get ready and fit for a marathon. And this is why after the race, marathon runners should be encouraged for completing such a physical fitness feat.
But knowing what to get them after the race is never easy because the race is now complete and one will be left at odds to know what is the best gift for them. This article provides that answer. Also, we will be covering other good gifts for other runners.
Check out our other Running articles to get inspired to start running:
Post Marathon Gift Ideas – What the Best Gifts Are.
Since a marathon runner would have exerted themselves considerably, two types of gifts are the best for post-marathon gifts:
1. Recovery gift items.
These are gift items that help them recover, relax, and pamper their muscles and bones (especially the feet and shoulders) that have been at work.
2. Recognition gift items.
These are gift items that recognize the work they put in starting, engaging in, and completing the marathon race. These gifts can be mementos of encouragement or anything that says "well done for completing such a great feat."
And if you wonder if there are such gifts, you are reading the right article. In the next section, we give you a round-up of the best gifts in both categories.
16 Best Gifts for Marathon Runners After the Race.
Find the best post marathon gift ideas in our two gift categories of recovery gift items and recognition gift items.
As an Amazon Associate we earn from qualifying purchases. We may earn a small commission for our endorsement, recommendation, testimonial and/or link to any products or services from this website. Thank you, your qualifying purchases help support our work in bringing you real daily gift ideas.
Quick Overview: Gifts For Marathon Runners After The Race
RECOVERY GIFT ITEMS.
These gift items will make for great recovery gift items and will help them in getting their feet and shoulder muscles especially back on track.
1. Healthy Snacks Gift Basket Care Package.
This snack gift basket is the perfect marathon gift basket for a marathoner who just finished a race and here's why. After a marathon, the marathoner should immediately load up on sugar and protein to recover the loss of these two brought about by the prolonged running. It is advisable to start with small snacks first, for at least 30-60 minutes post a marathon, instead of diving straight into a full meal. This basket has the perfect mix of both sweet and protein. And these are handy so you can bring it with you and give it to them once they get off the finish line, with a bottle of water of course, for hydration. They would be very grateful for the sugar and protein rush.
This gift basket is one of the best recovery gift items you can give a marathoner as a post-marathon gift.
2. Recovery Compression Calf Sleeves.
The next recovery item for a marathoner are compression calf sleeves. Compression sleeves help the calf heal and recover after a long run and these compression calf sleeves are the only ones your marathoner should be wearing for that post-marathon recovery. And you can take the word of the happy runners who bought and used this item for it.
The customer satisfaction on how effective these sleeves are in aiding with recovery after a long run makes us convinced that the marathoner you give these sleeves to as a post-marathon gift will be very happy.
3. Foot and Leg Massager.
The final stage in recovery is rest and massage to bring the body back to normal. A full body massage would be great but before the marathoner goes for that, they need to massage their foot, thigh, and calves.
With this massager, they can do that from the comfort of their homes without having to wait for a masseuse appointment. This massager comes with remote control for regulating the heat as desired, and it goes all the way to the thighs. The other beauty of this massager is that the thigh sleeves are detachable and can be used for even the hands, the neck, or the shoulders. This means they can even get a full body massage of the essential parts that need massaging without having to leave their house after a long run.
A long-distance runner who bought this at the time of writing found this massager the best recovery item they purchased. A marathoner that you give this to will be very delighted.
4. Recovery Thong Sandal.
Let them walk around after the marathon in these comfortable recovery sandals that are lightweight and provide a good recovery cushion for feet that have been running all day.
Pros.
They are comfortable to wear all day.

The material is soft and provides relief for the feet.

The heel support is both soft and sturdy at the same time.

It comes in sizes up to size 11.

They are durable.

They fit well.
Cons.
They are for a woman.

They are a little pricey but worth the purchase.

A customer complained that the paint peeled off after some time.
A female marathoner will thank you profusely for this post-marathon gift. She can walk around it all day for her post-recovery rest period. And the good thing is that she can keep using them as long as she wants.
RECOGNITION GIFT ITEMS.
These gift items will always remind and encourage them that they have accomplished a great feat.
5. She Believed She Could So She Did Necklace.
This is a beautiful post-marathon memento of encouragement for a female marathon runner. It has the beautiful message that "she believed she could, so she did" and a stainless steel running shoe charm also attached on a 17-inch chain. It's one perfect gift to recognize and encourage a female marathon runner post the marathon race.
Despite the above cons, this simple but beautiful gift item with its encouraging message remains a good post-marathon gift. And all customers who purchased it at the time of writing confirmed that the gift recipients loved it and your gift recipient will love it too. Sadly there isn't a comparable message for a male marathoner.
You can also combine it with this She Believed She Could So She Did Keychain or the 26.2 Mile Keychain for a complete set of encouragement.
6. Funny Any Idiot Can Run Marathon Shirt.
This is a funny shirt with a corny message that your marathon-running friend will love. It will give you both something to laugh about and talk about after the marathon race is done.
This gift is funny and inspirational at the same time. The message of jest on it is both a backhanded compliment and a funny one that a marathoner will love and always laugh at.
GIFTS FOR OTHER RUNNERS.
But that's not all. Maybe you are a jogger or track runner or thinking of taking part in a marathon, or you know someone who fits all these bills, and you are looking for gift ideas of what to buy them. Here are some cool gifts for each category of runners. We have even thrown in some Christmas gift ideas for runners.
Gift Ideas For Marathon Runners.
The best gifts for marathon runners are gifts that will assist them in preparing for a race, and also during the race. Usually, any running gift should be fine but since a marathon is not your usual run, some gifts for that extra push are always best. And the following marathon gifts are great for that extra push.
7. Marathon Race Care Basket.
This cool gift basket for marathon runners comes in a bag and has all the items that a half marathon marathoner will need for both pre, during, and after the marathon. The gift items include some energy snacks, some band-aid material, a headband, SPF cream for protecting against harsh environmental elements while running, chapstick for the lip, and an instant cold pack.
This is the best care package to get a marathoner to help them prepare for their marathon.
Best Running Gadgets.
Running gadgets make for good running gift ideas because they come in handy and make the sports and activity of running very enjoyable. These cool running gadgets are the best gift ideas for runners and will make for unique and cool gifts for runners.
8. Garmin Forerunner 45.
This easy to use running watch is a cool running gadget for all runners and is designed specifically for running. It also comes with a GPS and a heartbeat tracker.
This watch is one of the best gadgets you can give a runner. They'll thank you for it.
9. Garmin Running Pods.
This cool gadget monitors and keeps track of one's activity while out running. It is attached to the runner's gear while they run and it does the rest. It sends the report of your activity to your phone or any other device you pair it with. It is easy to pair with and connect with your phone or other devices.
For an unnoticeable easy to wear gadget that keeps track of all your running data, this is the go-to gadget. Give this as a gift to a runner and they'll love it very much.
10. Aftershok Wireless Headphone with Sport Belt.
These headphones are the next cool thing when it comes to running gadgets. It also comes with a bonus sports belt which the runner can use to hold their keys and other small items they would want to run with.
Pros.
It is waterproof.

It connects wirelessly to your phone.

The wireless connection can stay over as long as 10m away from your phone.

It has long battery life.

It has good sound quality.

They are comfortable and can be worn all day.

It has a good magnetic charger.

It comes with a sport belt.
Cons.
The bass sound may not come out as desired.
This headphone with its amazing wireless technology and good sound quality is the perfect gadget for a running to have on them and still answer calls handsfree and also listen to great music handsfree while running. The sports belt is a nice bonus feature to throw in.
11. Garmin Heart Rate Monitor.
This heart rate monitor keeps track of 6 different running dynamics and is great for a runner to keep track of their progress while running.
For an alternative item to monitor heart rate and other dynamics, this item is perfect.
12. Water Resistant Cell Phone Armband Case.
This water-resistant armband is another cool way for a runner to carry their cell phone if they don't like a running waist bag.
Pros.
It is water-resistant.

It has adjustable wraps.

It is suitable for all phone types.

It is easy to use.

It holds phones firmly.

It does not slip.

It has a touchscreen.

It is skin-friendly and can be worn directly on the body.
Cons.
According to one customer, it is not very water-resistant and can only stand in rain that is light.

The touchscreen does not work easily with phones.
This is another perfect cool gadget to give a runner who likes to hold their cellphones strapped to their arms.
13. Running No-Bounce Waist Bag.
For the runner that does not mind a waist bag to hold their phones and keys and anything else they want to carry, this is the perfect gift to give them. This waist bag is bounce-free and stays snugly on the waist when the runner is out doing their thing, and it is roomy enough to take as much as they want to carry. It fits any size of cell phone too.
This is one of the best running waist bags in the market and all customers who purchase it applaud how functional it is. It is great for a runner and a jogger.
Other Unique and Cool Gifts for Runners.
These gift items are not running gadgets but they will still make for unique and cool gifts for runners.
14. Inspiring Runner Keychain.
This keychain has a beautiful inspirational message that every runner or jogger will love to always look at every time they carry their keys.
This is the only keychain that a runner or jogger should carry their keys with.
15. Inspiring Runner Necklace.
This inspiring necklace has a picture of a runner on the pendant. It is the perfect inspirational dose to give any runner or jogger, and it is skin-friendly and can be worn when running.
A runner or jogger will love this running-themed fashion accessory.
16. Not Running Sucks T-Shirt.
The message on this t-shirt is the mantra of every runner and jogger, and that is why they will love it. It is made of quality materials and is lightweight and comfortable to wear.
Pros.
It has sizes up to 3XL.

The printing is high-quality.

It is comfortable to wear.

It is easy to maintain.
Cons.
It comes in only 3 colors.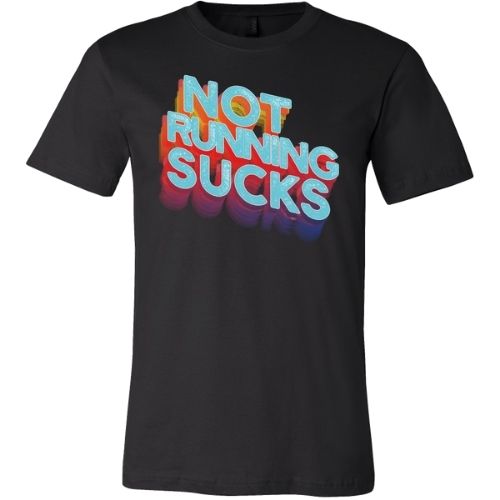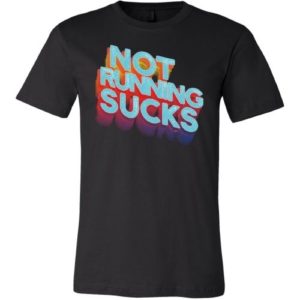 Keep the runner or jogger you know always motivated with this running-themed motivational t-shirt.
You can also check out the cool Bella Shirt version for a female runner.
FREQUENTLY ASKED QUESTIONS.
1. What is the best gift for a track runner?
All the running gadgets will still be great for a track runner since the gadgets are also made for use even on tracks.
2. What are the best gifts for runners who have everything?
The gifts in this article will also be appreciated by a runner who has everything.
3. What gifts for joggers can you recommend?
The running gadgets and the unique gifts for runners will also be suited for joggers since jogging is running but at a slower pace.
4. Do you have any Christmas gift ideas for runners?
To know what to get a runner for Christmas, running-themed gifts are usually the best Christmas gifts for runners. And it is for this reason that any of the gifts in this article will make for a good Christmas gift for any runner.
CONCLUSION.
The best gifts for marathon runners after the race are gifts that help them in recovering, as well as gifts that encourage them for completing the marathon. In this article, we have covered the best gifts in both categories, as well as other good gifts for other runners.
ESTIMATED TIME DESIGNING AND UPLOADING THIS ARTICLE
ESTIMATED TIME RESEARCHING AND WRITING THIS ARTICLE
Try our AMAZING GIFT FINDER TOOL! Find GIFTS with 1 CLICK!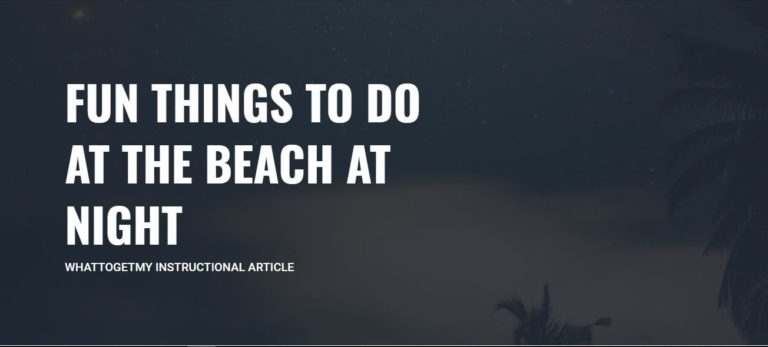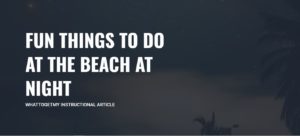 FUN THINGS TO DO AT THE BEACH AT NIGHT
FUN THINGS TO DO AT THE BEACH AT NIGHT WhatToGetMy Instructional Article Why do some people look for fun things to do at the beach at night? When everything at the beach is closed, it is dark and much colder than during the day. During
Read More »