HOBBIES FOR COUPLES IN THEIR 20'S
WhatToGetMy Instructional Article
When you were single, you probably had your own hobbies that you enjoyed doing. However, sometimes, once you get into a relationship, you might find out that the hobbies you and your partner have are not exactly compatible or is not something both of you enjoy mutually. Hence, you want to look for something you both can do and enjoy together, leading you to search for hobbies for couples in their 20's.
When some people think about hobbies, they automatically think back to all the boring but common hobbies that their parents or grandparents used to do. For example, sewing, knitting, or crocheting if you are a woman and for men it would be woodworking, repairing cars, or gardening.
Although these types of hobbies are still enjoyed by many today, times have changed, and people have become more creative. Of course, supplies and materials are easily obtainable with a wide variety of options, and some say they are much better quality than they used to be. With this being said, compared to when our grandparents were in their 20's, it seems that many different types of new hobbies have become available. Why do you think that is?
First, we should look at what hobbies are and why they have become so important in our everyday lives? Hobbies are activities that are done regularly in your spare time that you enjoy to do. That means that a hobby can be almost anything that makes you happy, they are activities that give you some relief and are a distraction from the stresses of your daily lives.
Having hobbies help relieve some of the stresses that life throws at you every day is a way to help you unwind by doing something you enjoy. It can help create friendships and build a long-lasting bond with other people. Having hobbies that you and your partner share together is important for a healthy and happy relationship. So whether you are looking for cheap hobbies for couples, indoor/outdoor hobbies and more, we have you call covered in this article.
Why is it important for couples to have shared hobbies?
Having hobbies that you and your partner do together as a couple is essential in any relationship, especially early on in your relationship. That is how you train yourself to make spending time together as a couple, a type of tradition of a commitment that you need to honor and stick to in your relationship.
Sharing hobbies together allows you to have some fun together and, more importantly, spend time together. You learn to connect with each other on a whole new level, which brings you closer together, making your relationship stronger and giving you something new to bond over.
By doing activities together, you tend to relax more, and you learn to just chat with each other about the little things. That helps in making it a lot easier for you to open up to each other about the big and important things at a later stage or as they arise.
Having hobbies together as a couple allows you to keep your relationship interesting by having a lot of fun together. It makes you laugh a lot, which helps you to build some great memories together.
How to find a hobby to do as a couple
There are different types of hobbies couples can do together from extreme sports for couples who enjoy being physically active to the more calm and relaxed type. To find a great hobby you can do as a couple, you will need to figure out what kind of hobbies you and your partner would enjoy.
Obviously, you know what type of hobbies you would enjoy, so all it leaves is for you to find out what your partner would enjoy and to help you do this, you can get them to answer the following questions:
Do they enjoy the Outdoors? Ask them if they prefer something physically active to get their blood pumping or something more calm and relaxing?
Do they prefer to do something In-doors? If so, do they prefer to create something or something to challenge their minds?
Do they enjoy exploring the world around us?
Do they enjoy collecting certain items?
Do they enjoy helping others?
Would they enjoy a hobby that they can make some money out of?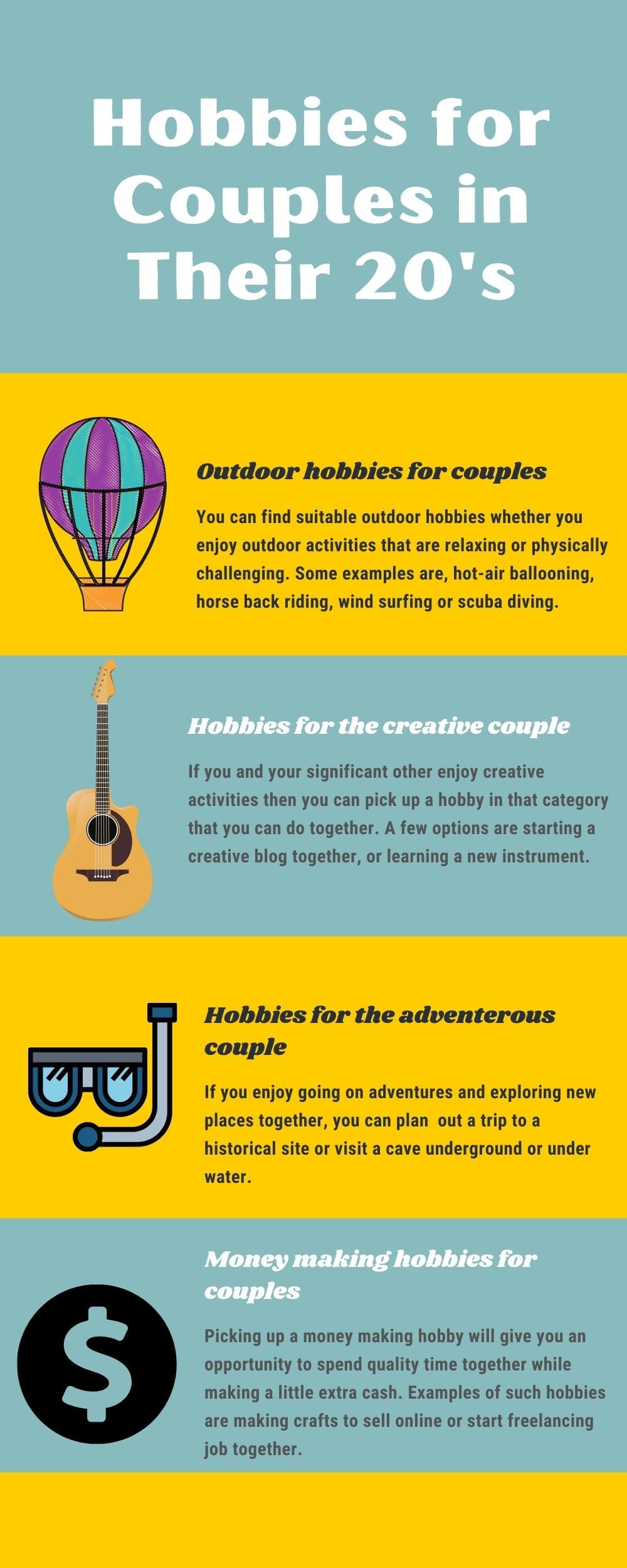 Source Link: https://whattogetmy.com/hobbies-for-couples-in-their-20s/
Outdoors hobbies for the physically active couple
These hobbies for couples in their 20's are hobbies that will get your blood pumping and your heart rate way up. They are generally more expensive hobbies to get started, and your chance for injury is much greater than many of the other hobbies.
Bungee jumping.
Sky diving, flying, and gliding.
Running marathons or taking part in triathlons.
Kayaking.
Skiing, snowboarding, or ice skating. They are great options if you're looking for winter hobbies for couples.
Rock climbing or mountain climbing.
Biking with dirt bikes, or motorcycle racing.
Boating.
Scuba diving and snorkeling.
Playing sports like Baseball, softball, basketball, volleyball, tennis.
Surfing and windsurfing.
Outdoors hobbies for the couple that enjoy relaxing hobbies
These activities are outdoor hobbies for couples who are looking for something calm and relaxing but also enjoy spending time outdoors, whether in your own garden or the great outdoors in general.
Sailing.
Walking.
Hiking.
Camping.
Target practice.
Playing Golf.
Horseback riding.
Traveling.
Visiting local outdoor tourist attractions.
Hot air ballooning.
Gardening or landscaping.
Photography.
Learn about astronomy.
Indoor hobbies that are still suitable for the active couple
If you fall under the type that would enjoy hobbies that are for the physically active but just prefer for it to be indoors, then these indoor hobbies for couples ideas are for you:
Learning a form of self-defense.
Working out or doing weightlifting at a gym.
Yoga for couples.
Playing Racquetball or Squash.
Swimming at indoor pools.
Bowling.
Rock climbing at a gym or an indoor club.
Salsa, Latin or ballroom dancing classes.
Zumba classes.
Meditation.
Indoor hobbies for those couples that enjoy challenging their minds
These types of hobbies can be done indoors and are great for couples looking to have some friendly competition against each other. Mind challenging hobbies help keep your mind sharp and are very fun, especially for those who enjoy solving problems.
Play chess with your partner or enter into a chess league.
Do crossword puzzles, jigsaw puzzles, and brain teasers.
Play Board games there are many board games out there that are excellent at challenging the mind like trivia games.
Play card games.
Play video games.
Master a new language together.
Play Sudoku
Indoor hobbies for those the couple who are creative
If you and your partner are gifted people, you both love the arts and crafts and feel that you are more of the creative type or that you want to be more creative, then these hobbies are just you.
Draw or paint pictures together or learn how to. 
Learn how to play an instrument together.
Create a blog together.
Photography.
Clay modeling or pottery. 
Jewelry-making.
Baking.
Candle-making.
Reading and discussing authors and their books.
Soap-making.
Journaling.
Digital art.
Cooking, cooking classes, or cooking contests.
Scrap-booking.
Movie watching and critiquing.
Interior design.
Writing short stories, poems, or novels.
Exploring a specific movie genre or a particular director.
Hobbies for couples who are Music Lovers
Music has many benefits, such as making you happier, reducing ,,stress, and making you feel calm and relaxed. Music increases your verbal intelligence, strengthens your memory and learning skills, and helps you to sleep better. So if you find that you are a couple who both love music or are musically talented, then here are some great hobbies you can pick up together
Weekly music hour of just listening to your favorite songs.
Playing or learning to play an instrument.
Teaching music.
Take part in singing competitions or join a choir.
Go to concerts together.
Get involved in the history or theory studies of Music.
Produce music together.
Take part in a Band promotion.
Hobbies for couples who enjoy exploring and going on adventures
Do you and your partner enjoy exploring and observing the world we live in on the ground or up in the sky? Do you both love nature? If so, here are some hobby ideas for you:
Bird watching.
Explore zoology.
"Treasure hunting" with a metal detector in remote locations or beaches.
Old ruins and their history.
Exploring caves, either above ground, underground or underwater. 
Learn about astronomy.
Become a marine biologist in your own way.
Take up geology.
Touring nearby historical sites.
Tour different wineries.
Tour Haunted houses, hotels, or ghost towns.
Hobbies for couples in their 20's who enjoy collecting different things
Many people love collecting certain items that interest them and for many different reasons too. As a couple, you can start collecting items that interest both of you. Here are some good ideas of things to collect:
Collect antiques or artwork.
Art by a certain artist.
Local art.
Stamps or coins.
Old books, magazines, or comic books.
Memorabilia from a certain period, a cultural trend, a historical event.
Ornaments of a certain topic, shape, or size.
Pins or badges.
Toys either unique or vintage.
Sports cards and memorabilia.
Autographs.
Rocks and gems.
Hobbies for Couples that enjoy to help others and contribute to their community
Maybe you are the type of couple that enjoys helping others in your spare time because you feel that you both want a purpose to your life, and you want to make a difference. Here are some ideas for places that you can volunteer at:
A local retirement home may need your help assisting the staff or the patients.
A local animal shelter or rescue center.
A homeless shelter may need help with serving food.
A local church may need your help with youth groups, with building upkeep or even finances.
Volunteer at a Youth organization like girl scouts, boy scouts, or a local school function.
Organize and participate in a neighborhood clean-up.
Volunteer at an environmental organization.
Become a mentor with a specific skill set that you may have to help others.
Help raise money for a non-profit organization of your choice.
Hobbies for couples that can make them earn money
Some hobbies that couples enjoy doing together have the potential to earn some extra money on the side. There is nothing better than having some fun, enjoying an activity, and making a little extra cash! Below is a list of money making hobbies for couples:
Baking and decorating cakes or cookies.
Catering.
Freelance photography at weddings, of babies or baby showers, or any other special event.
Graphic design.
Freelance writing and blogging.
Crafting of almost anything and sell it online or at flea markets.
Resale of bargains and antiques that you find.
Repurpose or refinish furniture and other items.
The great thing about hobbies is that your choice does not have to be either one or another. You can get a little creative too by picking a couple of hobbies that you both would enjoy and combine them. A simple example would be if your partner enjoys hiking and you enjoy photography, and you don't mind a hike every now and then, you can combine the two. While the two of you are out hiking, you can take some really great photos of the beautiful sceneries around you and along your trails.
The best way to come up with hobbies for couples in their 20's that you both can do together is to make a list of the hobbies that you would enjoy doing and then let your partner make a list of hobbies that they would enjoy or are interested in trying. Take the two lists and see if any of the hobbies overlap and go from there.
Remember that the reason you should find new hobbies and activities to do together is to enjoy each other's company more. It allows you two as a couple to relax, communicate better, have some fun, and it is a great way to strengthen your connection with each other.
ESTIMATED TIME DESIGNING AND UPLOADING THIS ARTICLE
ESTIMATED TIME RESEARCHING AND WRITING THIS ARTICLE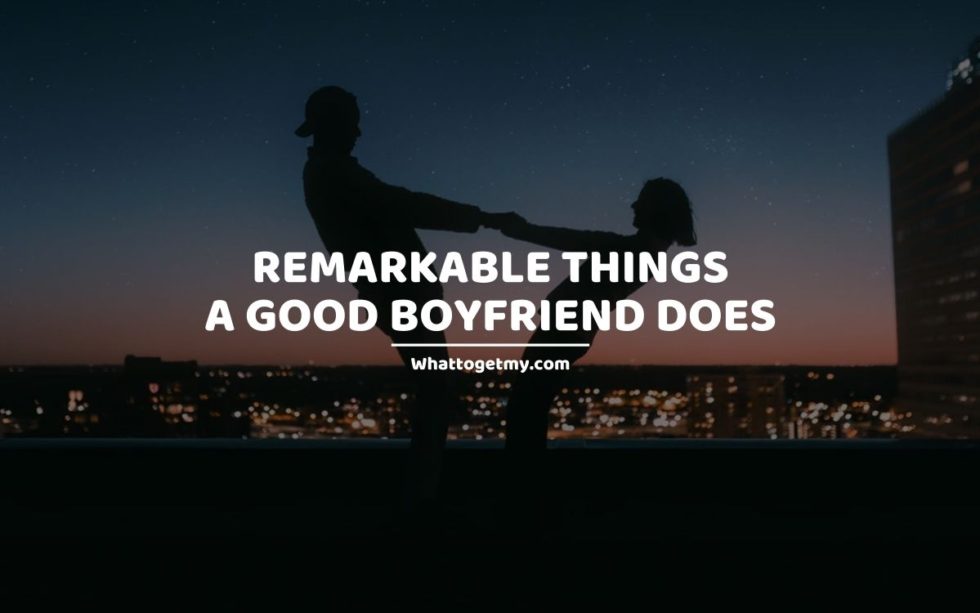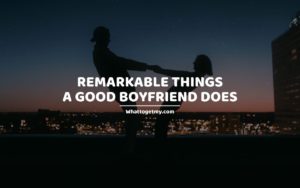 25 Remarkable Things a Good Boyfriend Does
25 Remarkable Things a Good Boyfriend Does WhatToGetMy Instructional Article If you want to know the characteristics, qualities of a great boyfriend, read on to find out ways you know you have a good boyfriend. A great boyfriend will exhibit all the 21 characteristics and
Read More »