How Many Items to Put on a Wedding Registry
WhatToGetMy Instructional Article
As soon as you and your soulmate set up the big date, your relatives and friends will start making gift plans. It's inevitable! They'll most certainly imagine your life, potential stuff they can get, and all those things that might stress you out. As if planning the wedding isn't stressful enough! However, there's one thing that can save you from undesired gifts. It could help you get the gifts you want and also keep your guests happy. It seems almost impossible, right? Still, a wedding registry is a magical solution to your wedding-gifts problem, and it can even be fun!
Now, what's fun about that, you may ask? Just think about it. You and your spouse get to sit together and make a list of all the things you want to get for your wedding. Imagine all those things that will help you start a new life and enjoy all the daily moments. Even the thought of it is exciting!
There is, though, one question that preoccupies most couples when it comes to the wedding registry. They are not sure how many items to put on a wedding registry. Once you answer that question, you can finally skip to the fun part. Therefore, we composed this article to help you get through the less-fun parts easier. We tried to answer the question for you and save you some time that you would probably spend on research.
However, that's not all! We also tried to answer the burning questions about wedding registries and give you a lot of useful tips on the topic. Planning the entire wedding is a challenging task, and you need any help you can get. Luckily, you have us to help you out with everything, from details to big topics. This time, our target was the question of how many items to put on a wedding registry!
The Big Question: 
How many items to put on a registry?
There's no official rule that will tell you how many items you should put on a registry. However, there's a general practice when it comes to this. Because guests should have options when choosing gifts, you should aim for the number higher than the number of guests. Some say that the number of gifts should be double, but you don't have to stick with that. It's only essential to have more gifts than invited people. For example, if you have 100 guests, you should have 125 items on a registry. It's simple as that! Now, the following section will give you some extra tips on the topic. These suggestions will also help you determine how many items to put on a registry.
What to Put On a Wedding Registry
You can put a lot of things on a wedding registry. We'll give you some general examples later on. For now, we have only a few important remarks to make:
Registration
It's not convenient to register in just one place. You should opt for two to three places. They should ideally have stores in the areas where most of the guests live. Although online shopping is practical and popular these days, some people still prefer going to the store.
Variety
Variety is the spice of life, don't forget that! When putting items on a registry, make sure to include a wide range of gifts. You should give your guests a lot of options when choosing a proper wedding gift.
Price
Make sure to include items at a different price range. Your guests should have an option to choose a gift that meets their budget.
What not to put on a wedding registry
We got you covered when it comes to things to avoid too. Here are some things you should avoid when putting items on a registry.
Personal Gifts
You love your spouse, we know that, but when making a wedding wishlist, it's easy to forget yourself. You might accidentally put on something you might need, but your soul mate doesn't. Therefore, be extra careful when making a list and always consult your spouse. If you're not in a hurry (which you're probably not), take time to make a list together, no matter how long it takes.
Too Many Expensive Items
Of course, you can register some expensive items such as furniture, tech stuff, and more. However, try not to include too many of them. There should be more budget-friendly items that most guests can afford. You know your guests, so try to ask for gifts that are within their budget limitations.
Wedding Items
You should definitely avoid putting in a registry something you need for the wedding day. First of all, you'll completely ruin the element for the surprise for the guests. Secondly, there's no guarantee you'll get those items you need on time. Lastly, guests might think you're being rude and asking for them to pay for your wedding.
Things You'll Never Use or You'll Return Eventually
So, the last advice is also the one for putting items on a wedding registry in general. You should think things through to be sure about your decision. Ask only for items you need and those you're planning to use. There's no point in getting gifts that you might return or regift eventually. Think about the things that might enrich your life as a couple and help you build a life.  There are a lot of items that can be useful in daily situations as well as on long periods. You won't run out of ideas if that's what you're afraid of!
Frequently Asked Questions
We noticed that many couples have a lot of questions regarding the wedding registry. That's why we tried to answer at least the most frequent ones.
Is it rude to use wedding registries?
No, it's not rude to use it and tell your guests about it. You might, however, want to avoid putting the link to the registry on invitations. The best way to announce you have it is to spread the word or tell the guests when they ask explicitly. For example, you can tell your closest friends that you want for your wedding, and then they can spread the word when talking with other guests. This way, you get to avoid the slightest possibility to be perceived as rude.
Remember, people will be stressed out with the question of How Much to Spend on a Wedding Anniversary Gift every next year. If you can make things easier for the wedding, why wouldn't you put items on a registry? You'll get what you want, and you'll save the guests from a horrible headache. It's a win-win situation!
Is it okay to ask for money instead of gifts?
Yes, of course. Using a gift-card registry or some of the other websites that focus on stocking up on cash is an excellent idea. A lot of couples use it these days. People are having a lot of problems with answering the question of how much you should spend on a wedding gift, so you can save them for a terrible headache.
If you need some more tips on the topic, take a look at our article about Cute Ways to Ask for Money as a Wedding Gift. It should give you some innovative ideas!
How to let guests know that you're okay with non-registry gifts?
It's rather simple. When you talk with your guests, make sure to say that you might have preferable items on a wedding registry, but you're still super happy about the completely innovative gifts you may get. Talk about how a wedding registry is not a rule one has to follow, and that you won't love or cherish less any other gift that's not on the list. This way, you'll let your guests know that they don't have to stick with a registry if they can't or don't want for any reason.
Must-Have Wedding Registry Items
If you're wondering are there any must-have items that most couples put on a wedding registry, the answer is yes. They mostly opt for home stuff, accessories, and amenities that will help them build a life together and be handy in daily situations. Here's a list of some commonly used items on registries:
Blender

Coffee and Espresso Maker

Coffee Grinder

Tea Kettle

Juicer

Food Processor

Stand or Hand Mixer

Slow Cooker

Toaster or Toaster Oven

Waffle Iron

Griddle

Panini Press

Fondue Set

Knife Set

Dutch Oven

Cooking Utensil Set

Baking Pan Set

Coffee Pot

Teapot

Serving Set

Formal Place Settings

Accent Plates

Glasses

Sheets and Pillowcases

Mattress Pad and Pillows

Vacuum Cleaner

Vases and Lamps

Throw Blankets

TV

Bath and Hand Towels

Barbecue Set

Grill
These are not the only things you can put on a registry, don't worry! We included some of the popular items and a wide range of different ones. Our goal was to show you that you can ask for different things, depending on your needs. You can even go wild and pick some fun wedding gift registry ideas. We bet you and your spouse can come up with quite a long list of fun ideas!
P.S. If you need more ideas for some luxury wedding gifts for a couple, you can take a look at the following article Wedding Gift Ideas For Wealthy Couple.
Alternatives
In case you're thinking about making some changes to a traditional registry custom, we have suggestions for you. Here are some alternative wedding registry ideas:
Non-Traditional Registry
Remember, you don't have to stick with traditional registry gifts such as new china or linens. Maybe you need tech stuff for your new home or items for your couple-outdoor gear. Whatever is it that you need, don't hesitate to put it in a registry. You can find a lot of stores that allow for this option, so you'll easily make this work. Don't hesitate to explore a little bit!
New Home
If you and your spouse are moving into a new home, you could definitely use some stuff for the house. Whatever can help and speed up the moving process is appreciated, right? In that case, don't hesitate to make a registry all about your new home. You can either use websites for home renovation or you can skip it altogether and ask for small contributions. Regardless of your approach, consider this idea as it will help you a lot!
Donation
If you feel that a donation would be a better option than piling up gifts, you can always use a donation registry. There are many websites that offer this type of service, so don't hesitate to check them out.
Gift Cards
Did you know that you can use a gift-card registry? Yes, you read that right. There are a lot of couples out there who would prefer getting gift cards they can spend in the way they want. It's completely normal, and if that's what you want, don't hesitate to do it. As we said, you don't have to stick with traditional gifts and ways!
Conclusion
Our main topic in this article was a wedding registry. However, we are here to help you out in many different ways and be there for your special day. If you need some more guidance or any help at all for planning your wedding, you can check out this article: How to Plan a Wedding With Step-By-Step Instructions. We tried to include all the possible tips for planning a wedding from scratch!
Now, once we have you covered with all the useful links and recommendations, we believe you're all set to pick a website and choose your gifts! As we mentioned above, don't worry too much about how many items to put on a wedding registry. As long as you have different kinds of items included, at a proper price range, you can't go wrong
ESTIMATED TIME DESIGNING AND UPLOADING THIS ARTICLE
ESTIMATED TIME RESEARCHING AND WRITING THIS ARTICLE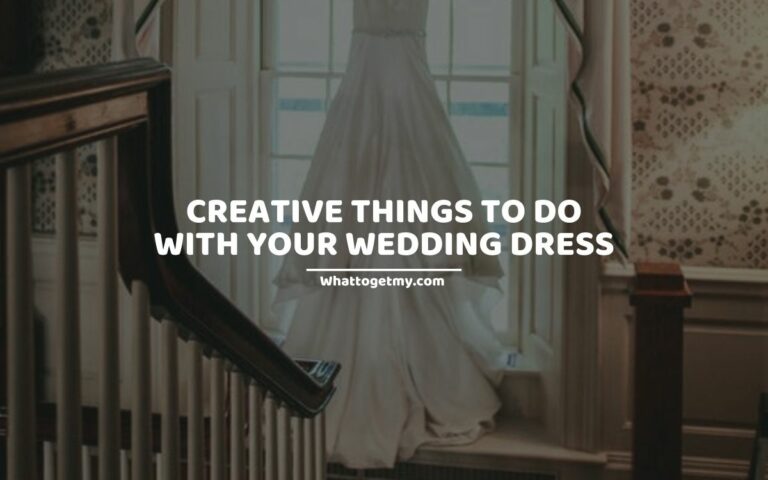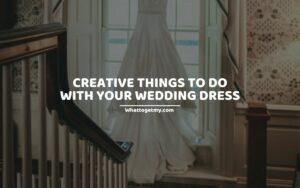 9 Creative Things to Do with Your Wedding Dress
9 Creative Things to Do with Your Wedding Dress WhatToGetMy Instructional Article After flipping through magazines, trying on a couple of wedding gowns, and finally getting the perfect one; after walking down the aisle in that gorgeous gown, and have now started the life you
Read More »