How to give someone a gift without being awkward
WhatToGetMy Instructional Article
We all love giving and receiving gifts. It's what makes birthdays, weddings, holidays, and other occasions, special and memorable. Whether it's a little keychain from the local store or a high-budget tech gadget, a gift is a gift, and everyone loves receiving it. However, we can't deny that gift-giving actions sometimes might get pretty awkward. Odds are, people will get confused over the exchange or the right words for the occasion. It's enough for a person to stumble over a few words for everything to go wrong. The embarrassment increases even if you know you did nothing wrong. From then on, it's hard to find the way back and make things right.
The thing is, you'll have at least one awkward moment regardless of all your preparations. You can play it cool, prepare the speech, and think it through days before the event, but these things happen. Although you shouldn't stress too much about it, there's a way you can prepare better for the possible awkward situations. We made a list of all the things you should keep in mind when gift-giving. They should help you get through different situations and make your life easier. Therefore, if you want to know how to give someone a gift without being awkward, keep reading our article!
Choosing the Gift
First things first, you have to choose the right gift. To do so, you have to take several things into consideration, starting with the occasion and the type of receiver. We tried to list some extra tips for buying gifts for different people in your life. You'll find them above:
When buying a gift for a close friend or family member, make sure to pick something they need. People love to get useful things from their closest friends and family members. They count on you knowing their wishes, so they expect something they can use in daily life.

Things are different when it comes to those special people in your life with whom you're romantically engaged. This is where you can be creative and pick all kinds of things, from decorative to romantic stuff.

When picking a gift for a coworker or boss, make sure to pick something appropriate. Unless you know a particular person very well, avoid making jokes and giving funny things. You don't want to offend someone and make her or him feel uncomfortable.
Ways to Avoid Awkward Gift-Giving Moments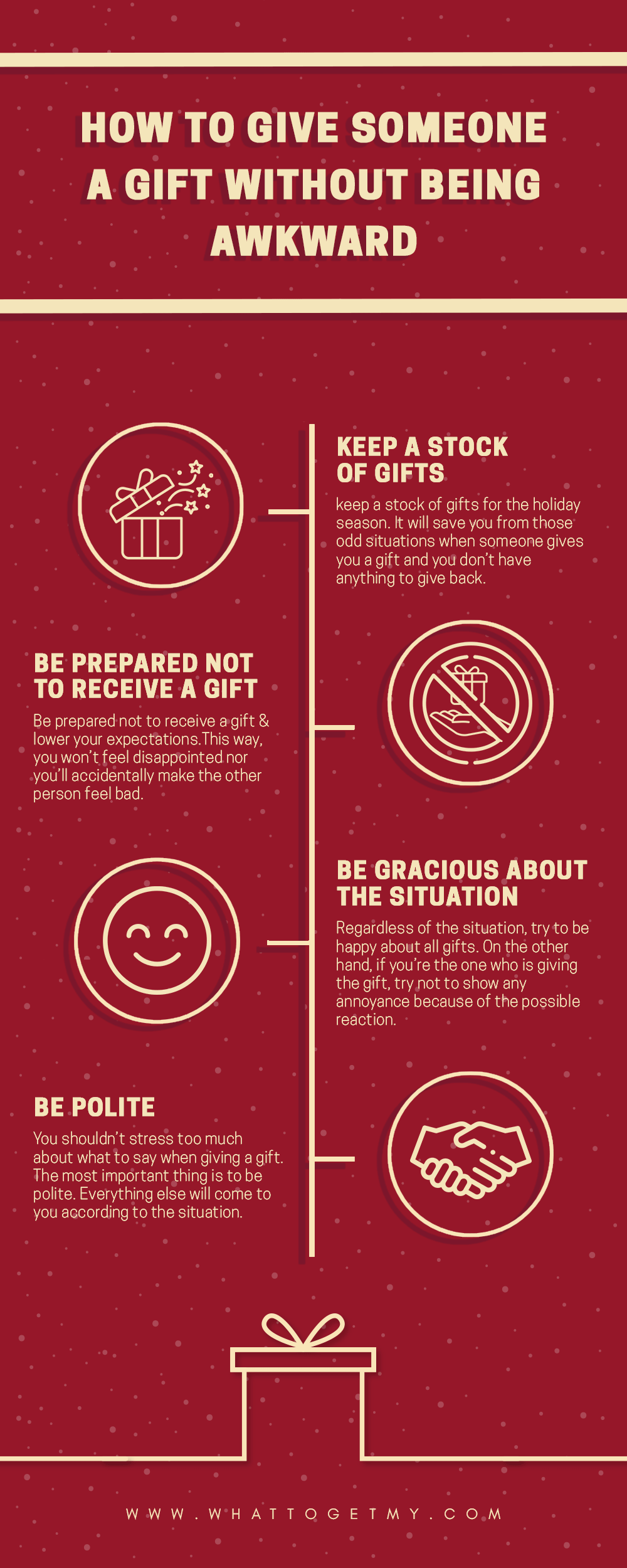 Source Link: https://whattogetmy.com/how-to-give-someone-a-gift-without-being-awkward/
Keep a Stock of Gifts
Here's one of the best gift-giving tips we have: keep a stock of gifts for the holiday season. If you want to prepare for the holidays and avoid awkward gift-giving moments, this is a perfect way. It will save you from those odd situations when someone gives you a gift and you don't have anything to give back. Yes, that happens to all of us at least once during every holiday season. With so much going around, we always forget to buy a gift or two. Although this has nothing to do with you not caring about a particular person, it might seem that way at the moment, when you don't have a gift to give back. Therefore, when shopping for the holidays, always buy some extra stuff to keep within hand's reach. You never know when you might need the gifts!
Be Prepared Not to Receive a Gift
The gift-giving manners that lead to awkward situations include showing shock and disbelief. Always keep in mind that just as you can forget about some gifts due to your busy schedule, someone else can forget about yours. A person can feel truly uncomfortable if you show how much you're affected by the lack of gifts. Remember that no one is obliged to give gifts. It's a matter of personal decisions and wishes. Besides, you can't know what might be the reason why someone didn't get you anything (the low budget is the most common one, and you can hardly argue with that). Be prepared not to receive a gift and lower your expectations. This way, you won't feel disappointed nor you'll accidentally make the other person feel bad.
Be Gracious About the Situation
Regardless of the situation, try to be happy about all gifts. On the other hand, if you're the one who is giving the gift, try not to show any annoyance because of the possible reaction. Remember that you gave your best and tried to pick the best gift for a particular person. After all, there's always an option to return or regift the item.
Also, if you want to make sure your gift will be appreciated, take a look at this: How to Give Hints About a Gift. If you give a hint about a gift you're planning to buy, you can see the reaction that will convince you whether to buy the item or not.
Be Polite
You shouldn't stress too much about what to say when giving a gift. The most important thing is to be polite. Everything else will come to you according to the situation. Express your good wishes and don't be afraid to speak up. That's the ultimate advice we can give you. Oh, and for some extra guidance on the topic, you can take a look at this article: What to Say When Giving a Gift Card. It's mostly about giving monetary gifts, but you can find some extra tips that might help you with all other present types.
Other Considerations
Here we listed and tried to answer some of the other questions frequently asked by gift-givers. They are all about how to pick, give, or receive gifts, so don't miss to check them out. It could be helpful for all kinds of situations.
Regifting
Should I ever regift what I get? That's a common question that concerns a lot of people, and there's no simple answer to it. Yes, that could seem quite a bit ungrateful from your part, it's true. However, there are a few ways you can do it without being perceived as rude. For example, if you got a gift from a close person in your life, you can be completely honest with her or him. Try to be open about it, and tell that person how you think someone would use that gift more than you. Or how you think it's more appropriate for someone else. Ask for permission, but be polite about it. You want to avoid offending the person who gave you the gift.
The second thing you can do is to cover things up, of course. People mostly stick with this option, and they never confront the person who gave them a gift. Although we don't recommend doing so with the closest people in your life, this could be an appropriate option for others. When it comes to friends and family, you can't really hide the fact you don't have the gift in your possession anymore. Even if you do manage to prevent them from seeing the gift in other people's hands. Besides, your relationships with these people are based on trust, so think twice before you consider doing something against it, even if it considers something trivial like regifting things. On the other hand, you don't have to worry about these things when it comes to coworkers or other random people in your life. Just make sure to regift the thing outside the same circle.
Value of the Exchange
Another important question is whether you have to give someone a gift of the same value or not? How can you even know the price of the gift you're going to get? Well, there's no way of knowing it unless you set up the budget limit with other people. That's a convenient tactic for families and other groups, although it's not that popular. The thing is, you shouldn't feel obligated to give a gift that has an equal value to the received one.  
Most people are not that concerned with the monetary value of the gifts. The more important thing is the meaning of a particular gift, and whether it's pretty, useful, etc. Also, some people might feel uncomfortable with the item that is too expensive. Therefore, stick with the products that won't burden your budget.
Cultural Awareness
Keep in mind that different cultures celebrate holidays in different ways. If you're buying a gift for someone who is coming from another culture, make an effort to understand its traditions and norms. You don't want to get something inappropriate out of the lack of knowledge. Besides, knowing more about the culture a person is coming from is the sign of respect, love, and appreciation.
Gifts for Groups
In most cases, you won't have to buy things for a bunch of people but only for those who you want to surprise for the occasion. However, in some situations, you might feel like you want to give a little something to everyone in a particular group. Maybe you want to give Christmas gifts to your office team or a group of friends at college. If that's the case, pick one gift that everyone can use or essentials you can give to each group member.
Pro tip: If you decide to give a gift only to one person in the group, make sure to do it in private. You don't want the others to feel left out, even if it's completely normal to buy things only for people you want to surprise.
Surprise
How to Surprise Someone with a Gift? Give them the present secretly! If you're wondering how to give someone a gift without them knowing, we have a simple solution for you. All you need to do is to think of a way to deliver the gift and not be seen. That way, you don't even have to bother with what to say or do for the gift-giving not to be awkward. Although we do recommend leaving something that will give that person a hint about you being the sender. You should make sure he or she at least suspects on you, so you can see the reaction!
Here are some suggestions on how to secretly give gifts:
Send it via the mail or some other delivery service

Ask your friends or family to deliver the gift (someone who is not a familiar face to the receiver)

Leave the gift on the office desk

Leave the gift on the front porch or somewhere else in the backyard (if you have access, don't break in!)
For more information about a particular topic, you can take a look at our article about How to Give Your Crush a Gift Secretly. We have some super cute suggestions for you there!
Conclusion
Now you're all set to pick and give a gift! How do you like our suggestions? We tried to answer the most burning questions about how to give someone a gift without being awkward. Hopefully, we succeeded, so you feel much more comfortable and secure about the entire gift-giving thing. We wanted to armor you up with some confidence and ease the burden of social norms. We know how picking and giving gifts can be challenging, especially during the holiday season, when your list of tasks doesn't seem to have an end. With our article, you should have more time for yourself, to relax and enjoy the holidays, and worry less about possible awkward social situations. Keep our tips in mind and you'll be just fine!
ESTIMATED TIME DESIGNING AND UPLOADING THIS ARTICLE
ESTIMATED TIME RESEARCHING AND WRITING THIS ARTICLE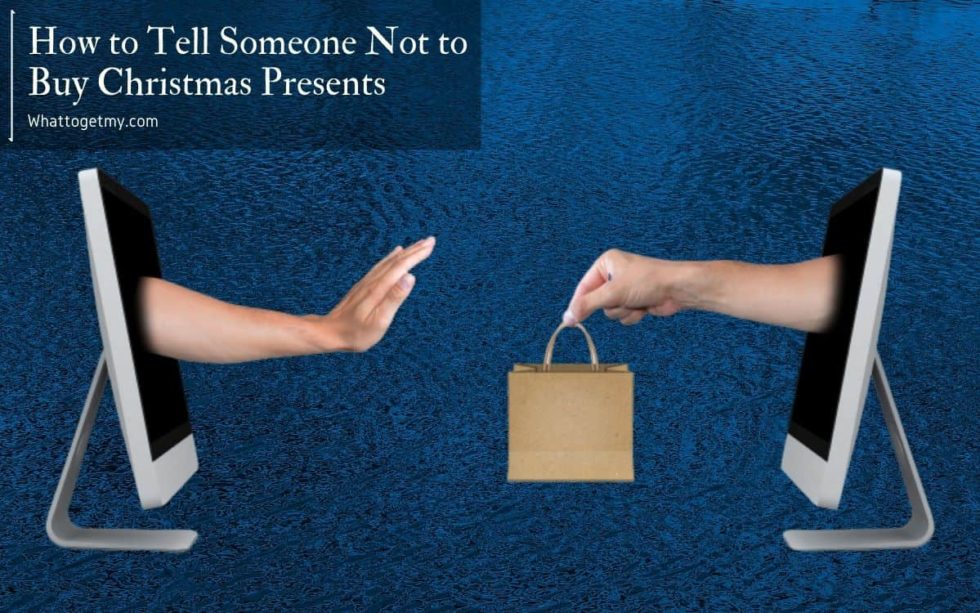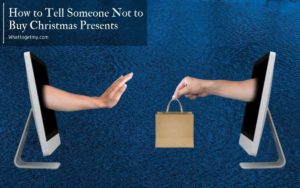 How to Tell Someone Not to Buy Christmas Presents
17 Things to Do with Toddlers on Long Island WhatToGetMy Instructional Article These days, Christmas has maybe become something distant. Like it's happening far away, and you're only there to give and receive gifts. Don't get us wrong, we don't think Christmas will ever lose
Read More »