How to Plan a Wedding With Step-By-Step Instructions
WhatToGetMy Instructional Article
Just got engaged and want to know how to plan a wedding with step-by-step instructions while trying to keep your stress level to a minimum. For some people planning their own wedding is the dream they have been waiting for almost their entire life, they are excited and can't wait to get started.
For others trying to figure out how to plan a wedding step by step could seem overwhelming and daunting, but if you focus on one step at a time, you will succeed.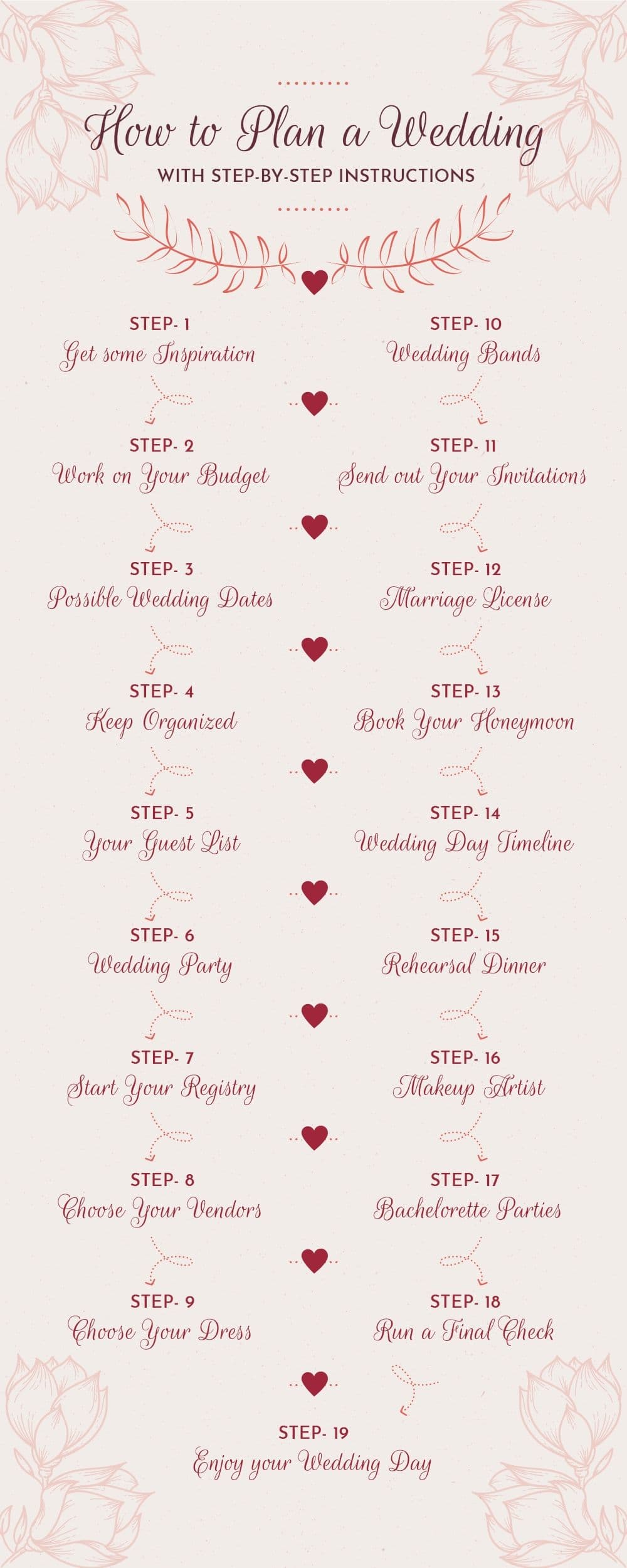 Source Link: https://whattogetmy.com/how-to-plan-a-wedding-with-step-by-step-instructions/
Here are Some Basic Step-by-Step Instructions for a Wedding Plan:
Step 1:
Get some Inspiration
Get some inspiration by doing some research on wedding websites, paging through bridal magazines, Pinterest, social media and anywhere else that you can think of. Think of things like:
The type of wedding that you and your partner would like,

The type of ceremony that you want,

The theme and colors,

The type of venue,

The dream wedding dress.
Then sit down and discuss your ideas with your fiancé and get his input on your ideas and consider his ideas and then make some decisions together.
Step 2:
Work on Your Budget
Once you have settled on your ideas, then it is time to work on your budget together. You'll need to decide on how much you can afford to spend on your wedding by looking at what you have saved if family members are able to contribute to your wedding and how much you will need to save every month to reach your agreed amount.
Working on a budget is probably the worst part about planning a wedding but it is the most important because, without proper planning and a budget that you need to stick to, none of the other fun wedding plans will be possible.
Step 3:
Choose Possible Wedding Dates
Look at the calendar and come up with a couple of possible wedding dates that both you and your partner love. This will give you some idea when you choose and book the venue as well as how much time you have to save money to reach your required budget amount.
Step 4:
Keep Organized
Get yourself a file or folder that contains some dividers and plastic sleeves and make sections for every part of your wedding. Start with your budget, your research, quotes, and contacts from each vendor, guest list and your bridal party. Keeping everything organized and in one place will help planning your wedding a lot easier.
Step 5:
Work on Your Guest List
Write down all the people that you and your partner would like to invite to your wedding, then go through it carefully to refine it some more as it is just not possible to invite everybody that you have ever known. Remember that wedding venues charge you per guest which could become very expensive if you invite too many people.
Step 6:
Choose Your Wedding Party
While you are working on your guest list, you can work on who you will choose to be part of your wedding party and ask them if they will be willing to take on the important roles. Your bridal party can be as small or as big as you would like it to be and generally consist of:
Maid or matron of honor,

Best man,

Groomsmen,

Bridesmaids,

Mother of the bride,

Mother of the groom,

Father of the bride,

Father of the groom,

Flower girl,

Ring bearer,
Step 7:
Create and Start Your Registry
Sit down and create your own registry checklist as your guests, especially those who are close to you will ask about it as soon as they have heard the big news. They will either want to get you something for your engagement or something for your wedding. You can start off with the basic items first and later on if and as you want, you can make changes to it, but for now, you have something set up for those who ask early.
Step 8:
Research and Choose Your Vendors
This step of planning your wedding is the most time-consuming step and needs to be done early enough as many of the best wedding vendors are usually booked many months in advance. You will want to pick the best vendors that will suit your needs perfectly. You will need to spend some time looking at all of your options for each vendor very carefully as this will help save you money and give you the peace of mind that you will get exactly what you have agreed upon.
8.1: Ceremony and Reception Venues
Start off by choosing a few different venues that are within your budget for your ceremony and reception and schedule to visit each one before you make a decision. Once you and your partner have decided on the one and have signed the contract, your wedding date will be officially set.
8.2: Caterer
If the venue you have chosen does not offer a caterer on site, then you will need to research and choose a private caterer. You will be looking for a caterer that will give you an excellent service, offer a few different ideas and menu variations and that can be a little flexible on their prices.
8.3: Flowers and Decorations
You can now decide on your table arrangements, centerpieces, and decorations for your venue if needed. Research and choose a florist that will take care of all your flower arrangements that will match your color scheme and theme. If you feel that your venue needs more than flowers and would like to add some more decorations, there are plenty of places that you can purchase decorations for good prices. But don't overdo it.
8.4: Choose Your Photographer
When you research photographers it is best to look at the photographer's blogs and or their websites where you will see the up to date work that they have done. Choose a couple of different ones that fit with your style and go meet with them, ask questions about the different shots that they offer as well as their prices before you make your choice.
8.5: Band/DJ/Musician
Your next step is to choose your entertainment for the day. Look and listen to a few different options and decide on the one that best fits your taste and style. Discuss and work out a playlist with them and make sure that they will stick to it.
8.6: Research and Choose Your Wedding Stationery
Research and decide on the stationery that will help you to come up with the perfect wedding invitations and save-the-date cards that will convey all the correct information about your wedding and will help capture the mood of your event.
It is best to send out your save-the-dates at least four to six months before your wedding which will give your guest enough time to make the necessary arrangement.
Traditionally wedding invitations are sent out at least two months before the wedding to give your guests plenty of time to RSVP.
8.7: Decide on Wedding Favors and Thank You Gifts
Giving your guests wedding favors is a really nice way to thank them for joining you to celebrate your wedding day. When deciding on what wedding favors to give your guests it is best to keep it simple by giving them something that is practical and they can keep.
When deciding on thank you gifts for your wedding party, keep in mind that they are the people that have done all the hard work to help make your wedding day come to light. Thank you gifts for them should be thoughtful to each individual person and the tasks that they performed.
Step 9:
Choose Your Dress
When it comes to choosing your wedding dress, do as much research as possible by looking through bridal magazine and websites to get a few different ideas and styles so that by the time you visit a bridal store, you have some idea of what you are looking for.
Choosing a wedding dress should be done as early as possible as it can take months for your dress to be properly tailored to you with many fittings to go through along the way so that it is perfect for your special day.
Take this time to decide, discuss and arrange with your wedding party for the bridesmaids, flower girls dresses, and even the groom and groomsmen attire to wear for the day.
Step 10:
Choose and Buy Your Wedding Bands
When it comes to choosing and buying your wedding bands, this should be done a couple of months in advanced. You should also keep in mind it should feel comfortable wearing it as you will be wearing it on a daily basis for many years to come and make sure that it suits your personal style and is within your budget.
Step 11:
Send out Your Invitations
Send your wedding invitations out at least six to eight week before your wedding day as this will give your guests enough time to RSVP and make the necessary arrangements to enable them to attend the event.
Step 12:

Make Arrangements for Obtaining a Marriage License
A marriage license is required before you can walk down the aisle so you will need to do your research beforehand as the requirements can vary from state to state, and even county to county. You will also need to give yourself enough time as most marriage licenses have a waiting period before they are issued or allowed to be used and sometimes even an expiration date. So do your research.
Step 13:

Plan and Book Your Honeymoon
Start off by choosing a location together, decide on how you are going to travel then book your accommodation and start planning an itinerary for the two of you to enjoy your first week or two together as a married couple.
Step 14:

Plan the Timeline of Your Wedding Day
By the time you reach this step, all of your main arrangements should be done, and you can now focus on your wedding day timeline by drawing up a time schedule the day's events. This will help things run more smoothly and ease some of your stress.
Step 15:

Check and Finalize Rehearsal Dinner Arrangements
Rehearsal dinners are usually held the evening before the wedding day and traditionally are arranged by the groom's family. But for your peace of mind, it's important to check that the arrangements have been done and you and your partner are happy with everything.
Step 16:

Book Hairstylist and Makeup Artist
Meet with your chosen hairstylist and makeup artist a couple of weeks before your big day to discuss your options and if you choose to cut and color your hair it will give your hair enough time to settle. Make the necessary arrangements with them for some practice sessions which will help with giving you a few extra options for hairstyles and makeup.
Step 17:

Bachelor and Bachelorette Parties
It is now that time to attend your bachelor and bachelorette parties, it is also time for you to relax, take a deep breath or two and have some fun, you have earned it.
Step 18:

Run a Final Check
Your wedding folder should contain all of the important wedding information that you need. It is now time to run your final checks by contacting your vendors one by one and making sure that everything is going according to plan, payments have been made where they should have been. Finalize your guest list and seating charts from your RSVP's, print out your wedding menu cards and make sure that your vows have been written. Finally, double check that your honeymoon plans are all in order.
Step 19:

Enjoy your Wedding Day
It has finally arrived, your wedding day and it is time for you, your partner and wedding party to enjoy every minute of your special day with your friends and family.
By following this basic how to plan a wedding with step-by-step instructions can be smooth sailing and a huge success if you focus on one step at a time, set a budget and stick to it and keep organized with one file or folder with everything to do with your wedding all together.
ESTIMATED TIME DESIGNING AND UPLOADING THIS ARTICLE
ESTIMATED TIME RESEARCHING AND WRITING THIS ARTICLE