What to Do Instead of a Wedding Reception - 13 Unique Wedding Reception Alternatives.
WhatToGetMy Instructional Article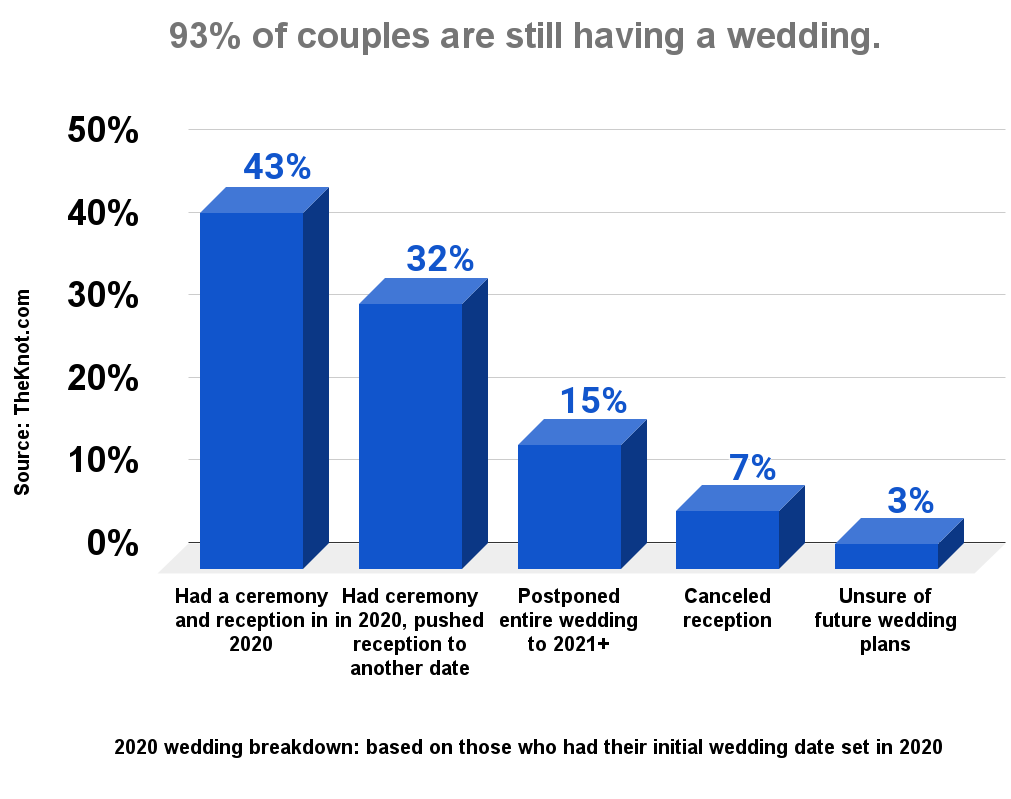 Maybe you are part of the 32% seen in the above chart from TheKnot.Com who have had their wedding but haven't had their reception yet and are contemplating what to do. Or maybe you want to be part of the 7% and cancel the entire reception altogether. Or perhaps you fall within the undecided 3%. Hopefully, by the end of this article, we would have provided you with cool wedding reception alternatives for you to know what alternative wedding reception ideas to run with for your big day.
You can also check out our article on How to plan a wedding step by step instructions as you plan your big day.
Do You Have To Have A Wedding Reception And Is It Tacky To Have A Wedding Ceremony Without Reception?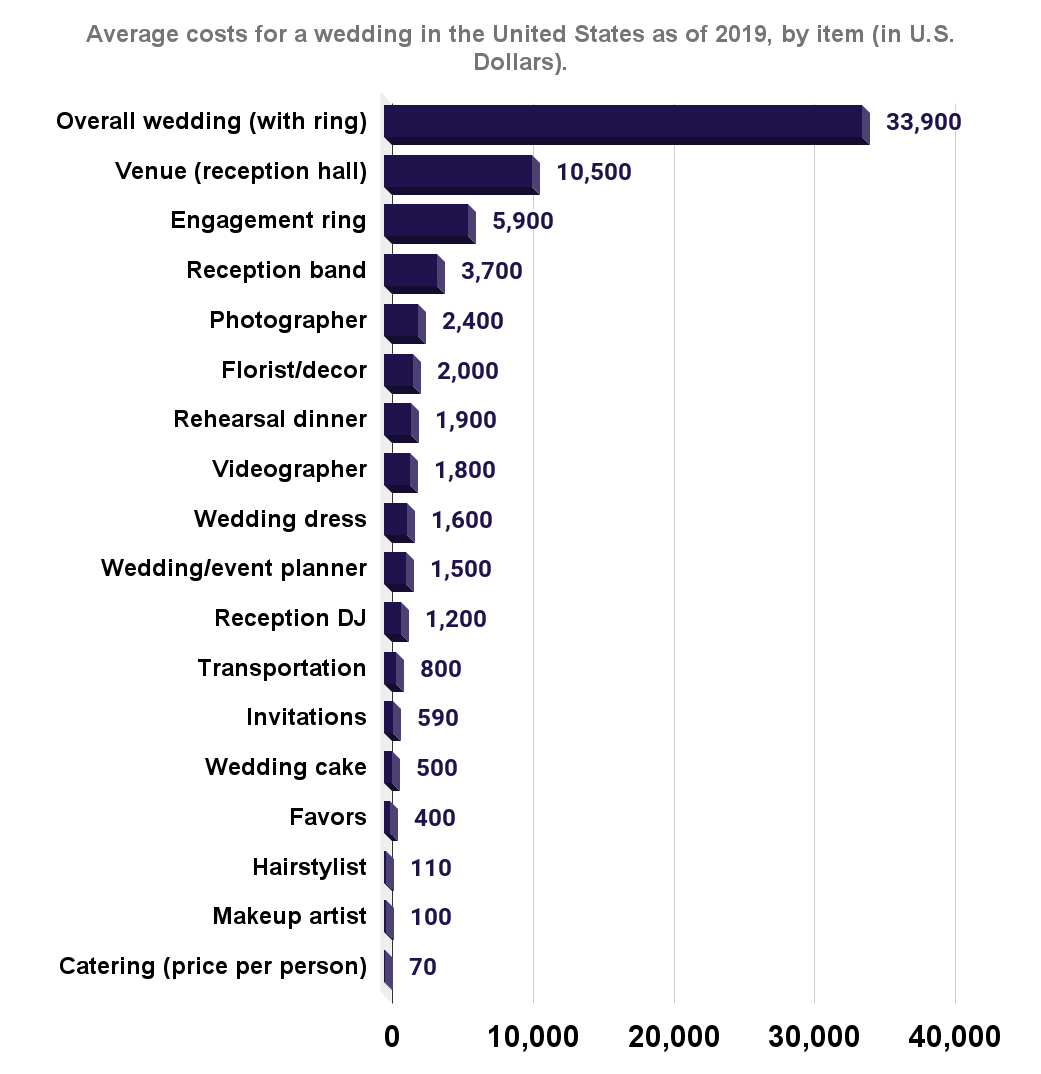 Source: Statista
While having a wedding reception is a tradition that is commonplace, there is nothing wrong with not having one. It is certainly not tacky if you choose to have a wedding ceremony without a reception. Increasingly, people are opting for this option because of the high cost of weddings, in particular the reception component as seen in the chart in this section. By cutting out the reception, a significant amount of the budget is reduced.
Thus, the answer is that you do not have to have a wedding reception if you don't want to. It will not be tacky if you choose to have a wedding ceremony without a reception. Ultimately the deciding factor is your wedding budget and what works for you.
Check out this related article on Unique things to do at a wedding reception.
What Determines Whether You Have A Wedding Without Reception?
3 main factors determine whether or not you will have no wedding reception for your big day:
1. Your budget.
This is always the main deciding factor of whether or not you will have a wedding reception. If you are on a tight budget, cutting down on an elaborate wedding reception will save you significant money.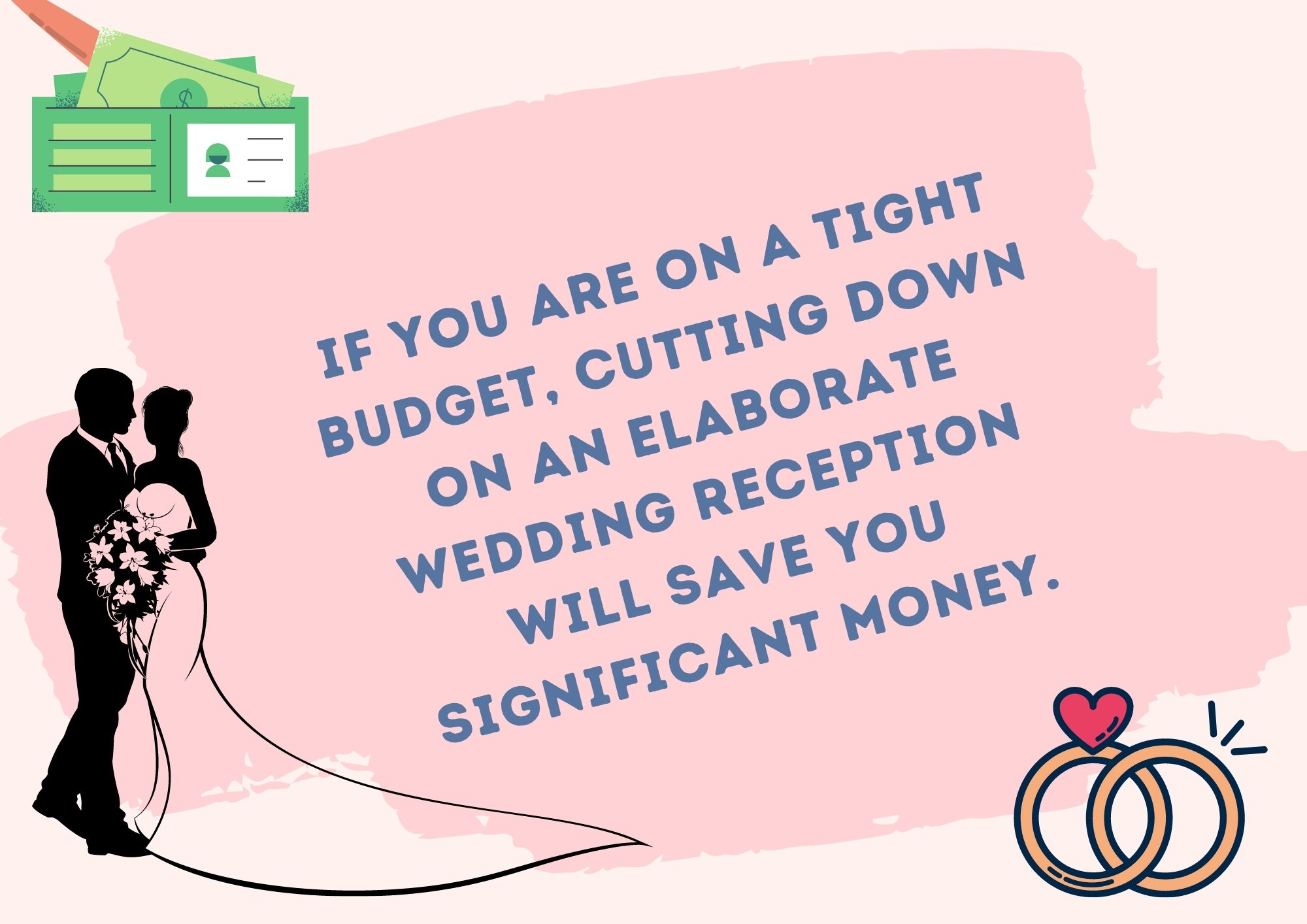 Sometimes it is best and wiser to save the money for an elaborate reception towards building up your new home with the essentials you will need. It is better not to have a wedding reception than to have one and then be in debt afterward.
All the wedding reception alternatives suggested in this article are very cost-effective and won't have you overstretching your finances.
2. Your personal preferences and tastes.
Whether or not you have a traditional wedding reception or a wedding without reception is also determined to a large extent by your personal preferences and tastes as a couple. Suppose you are both not big on following traditions slavishly and like to create your practices. In that case, you may be more inclined to ditch the traditional wedding reception and develop your own unique non traditional reception ideas. And this article has a good selection of such unique wedding reception alternatives for you to choose from.
3. The overall theme of your wedding.
Themed weddings generally also set the tone for how the reception will look. If you are having a destination-themed wedding, for instance, your reception is likely to follow the same theme. If you eloped for your wedding as another example, you probably wouldn't have a reception as commonly understood, but rather a quiet, intimate wedding dinner instead of a reception.
Check out this article on Who sits where at a wedding reception.
Weddings Without Receptions – 6 Unique Alternative Wedding Reception Ideas.
Try out any of these 6 unique alternative wedding reception ideas for a different feel to the traditional wedding reception.
1. Tea party.
Make it a bourgeoisie intimate affair by having a tea party with close friends and families. And for help on how to organize the best tea party as your alternative wedding reception idea, our article on How to throw a tea party has all the helpful tips that you need.
2. Cocktails/Mocktails get-together.
Get your friends and family together for cocktails and/or mocktails at your favorite cocktail spot or in your lounge. There is no need for an elaborate reception when you can sit around, sip cocktails, and celebrate your love with family and friends.
3. Weekend getaway.
If you'd rather have your reception just for you and your beloved, then make it a weekend getaway to a dream destination on your bucket list. Use it as a weekend to enjoy yourselves and enjoy all the fun activities at your weekend getaway destination.
4. Pool Party.
Who says a pool party can't be a unique alternative wedding reception idea, especially if you and your friends love fun around the pool. Get out your bikinis and pool party gear and have the time of your married life celebrating love and splashes in water hehehe. To help you with your planning, you will find our article on What to bring to a pool party helpful.
5. Picnic outing.
A picnic outing is a perfect alternative for the summer. Take out your picnic mats and find a park that means something to the both of you – it could be the park where you first met, shared your first kiss, had your first picnic, and the likes. Picnics are usually a bring your own affair, and there is no reason you can't use the same for your wedding reception alternative. You can, however, provide drinks and snacks as add-ons. This will also help save you costs significantly.
6. Intimate family and friends dinner.
Opting for a wedding dinner instead of a reception is also another excellent wedding reception alternative. Make it a small intimate dinner with family and friends either at home or at your favorite restaurant. This alternative saves you costs and ensures that you have only the closest ones around you as you continue celebrating your love.
Wedding With No Reception – 7 Non Traditional Reception Ideas.
Maybe you're looking at the first list and thinking that they are not so non traditional. You will love this list of 7 non traditional reception ideas. These are eccentric ideas and are sure to have you spoilt for choice over which to pick over the other. They are all so uniquely distinct that you can try them all without even feeling like you're overdoing things.
7. Games night.
Who says you need to have the routine sit around fancy tables and go through the motions of a traditional reception. Make it a fun night with games, games, and lots of games. You can call it a Games Night Wedding Reception just to make it sound really fancy.
There is no limit to what type of games to play with this wedding reception alternative. You can choose to have it at a gaming arcade, a bowling alley, a recreational hall, or even at home. You can choose to have various games or be specific on the types of games like bowling and video games.
This is a fun theme/alternative that lets you have as much fun as you want to have with close friends and family as you continue in the celebration of your love. You can make it even goofier by remaining in your wedding gown and suit while at the game so that you and your guests can still remember that it is a wedding reception alternative lol.
For more ideas on games you can play, you can check out our helpful articles on 15 Interesting Question games to play with friends and 15 Exciting Games to play with 6 people.
8. Paint and Sip Party.
Paint and sip parties, also known as canvas paint parties, are the in-thing now. They can be as exotic as you want them to be. Think of canvas, paint, and paintbrushes. This non traditional reception idea is the perfect opportunity to have as many painted portraits of you and your newlywed spouse. Have your pictures be the focus of the canvas paint party, and have a good laugh at the skills of your guests in making paintings of you and your spouse.
To learn more about canvas paint parties and how to organize a perfect one, check out our excellent and helpful article on How to throw a canvas paint party.
9. Barbeque, camping, and outdoor cinema combo package.
Think of a fun-packed outdoor camping weekend with your family and friends. You can use your backyard for this fun wedding reception alternative if you have a large backyard. If your backyard isn't big enough, you can still opt for free places like the beach or park and still have a fun-packed outdoor camping weekend.
Decorate your camping site with memorabilia that take your guests on a journey to your relationship until your nuptials. Have barbeque and thrill your guests with all your love stories, both fun, quirky, and gloomy.
Include fun bits like scavenger/treasure hunts of items unique to your love story. Wrap it all up with an outdoor cinema experience that starts with a short video of the both of you and then ends with a movie that resonates deeply with the both of you.
10. Food fiesta/bazaar.
This one will appeal to food lovers. And if your friends are also foodies, they will love this theme. Make it a larger-than-life food fiesta with an assortment of dishes from all over the world. If you have both traveled significantly, you can tell your travel story through the dishes served at this food fiesta. You can even have a cooking competition as part of the celebration/festivities. We all love food, so you can be sure that this is one wedding reception alternative that your guests will still talk about many days later.
11. Cruise ship getaway.
If you don't want to elope to have your wedding but still don't want everyone to come to your reception, this is another option. Make it a VVIP reception alternative with your very close-knit circle. Wine, lobsters, oysters, scallops, mussels, and fine dining overlooking the ocean are perfect ways to wrap up your wedding celebrations.
You may like this related article on Sailing vacations for couples.
12. Wine and cheese tasting outing.
Your wedding reception can be the perfect excuse to check out that new wine vineyard you've been dying to check out. And you can talk to them about booking out a section of the vineyard and decorating it for a small reception. Have your guests try out the wine in the vineyard and treat them to some cheese and other snacks and treats. The ambiance of the vineyard will bring a different flair to the occasion and make it memorable.
13. Hike and picnic at the top of a mountain.
If you both enjoy hiking, then you can't not try this. Share your special day at the top of the highest mountain you have both hiked or would want to hike to. And if you have family and friends who are also hiking enthusiasts, embark on the journey with them and have them share the special moment with you both.
Frequently Asked Questions.
1. What do you think about having a wedding dinner instead of a reception?
Having a wedding dinner instead of reception is a good wedding reception alternative to opt for, especially if you are not big on having too many people at your wedding reception. It will not only ensure you have only those you want around, but it will also save you costs significantly.
2. Or do you think that it is better to have a wedding reception without dinner?
This depends on you and what you want. If you feel that a wedding reception best reflects your personality and preferences, then rather have a wedding reception. Ultimately, it is up to you to determine what works best for you when it comes to the question of whether or not to have a wedding reception.
3. How about having a wedding ceremony only, no reception?
While this is not usually the norm, there is absolutely nothing wrong with having a wedding ceremony only with no reception. The 7% in the first chart in this article are all the evidence one needs of the fact that there are people who choose to have a wedding and not have a reception. Therefore, it is perfectly okay and normal to have just a wedding ceremony with no reception.
4. What about having a party instead of a wedding reception?
A party is another excellent wedding reception alternative you can opt for instead of a wedding reception. Go for it. And in this article, you will find several unique party ideas to try out.
5. Do you have to have a reception after a wedding?
No, you do not have to have a reception after a wedding. It is perfectly okay to choose not to have one, for whatever reasons you may have.
ESTIMATED TIME DESIGNING AND UPLOADING THIS ARTICLE
ESTIMATED TIME RESEARCHING AND WRITING THIS ARTICLE