Happy 9th Birthday Daughter gift
WhatToGetMy Instructional Article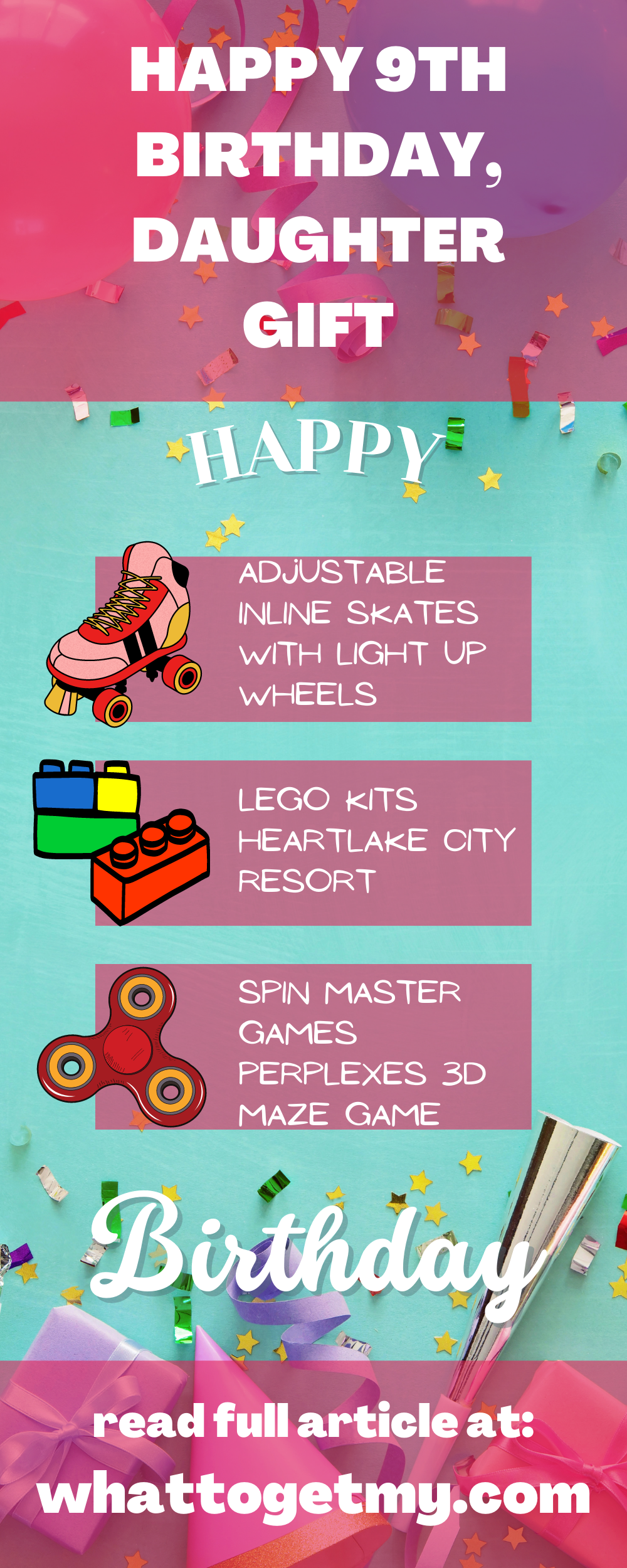 HOW TO CHOOSE GIFTS FOR 9-YEAR-OLD DAUGHTERS
Let's look at what to think about when buying a present for a girl this age and our top 20 recommendations. It's that awkward period in a girl's life when she's trying to figure out who she is. They're on the verge of puberty and experiencing changes.
They get captivated by things for an extended time, but their preferences may shift depending on the weather. They might be interested in establishing a new collection or pastime. To test their skill and ingenuity, craft gifts are a terrific choice.
Girls this age will acquire an interest in keeping schedules or keeping a journal or diary to document their experiences. They may also begin reading independently and develop a strong thirst for new literature.
Girls may go through a physical growth spurt and begin to show an interest in sports. Gifts that keep them moving and get them out in the fresh air are a fantastic idea.
Make sure the present you choose is age-appropriate and consistent with your family's values. If you're attempting to reduce screen time, you won't want to buy video games.
Consider these 20 fantastic gifts for 9-year-old daughters.
ARTS AND CRAFTS
For 9-year-old girls, arts and crafts are ideal. They've reached the age to start working on tasks independently. This helps their self-esteem and allows them to express their creativity.
DARICE 131-PIECE DELUXE ART SET
This high-quality 131-piece art kit includes everything a 9-year-old daughter needs to explore her creative side. Whether it's just drawing or sketching, painting, adorning objects, or working on a homework project, there's something for everyone.
Everything is kept in one place in the wooden case, so you know where it is when you need it. 
PROS:
It's made with a portable wooden case which makes it durable.

Less expensive

It comes with different varieties of colors and art supplies
Cons:
Takes time to arrange due to its many pieces
PRODUCT SUMMARY
One of the best 9th birthday gifts for daughters interested in arts and crafts.
Click here to view it on amazon
OUTDOORS AND ACTIVITY
Getting youngsters outside and participating in active pursuits might be difficult at times. A present aimed toward outdoor pleasure can help children get away from screens, whether Snap chat, video games, or television. Games, scooters, skateboards, or even a basic ball game are all possibilities.
NBA STREET BASKETBALL FUN BALL BY SPALDING
Maybe your 9-year-old daughter enjoys shooting hoops and is a basketball lover. It's a fun way to stay active, so why not encourage it with this Spalding pink and purple basketball? It's the same size as WNBA balls, so it's perfect for little girls.
PROS:
Ultra-durable

Shipped inflated and game-ready

Deep channel design for superior control
CONS:
PRODUCT SUMMARY
Good for kids to learn basketball basics on dribbling, shooting, and passing. Playing basketball makes it easier for children to interact and build lasting relationships with their friends.
Click here to view it on Amazon 
ADJUSTABLE INLINE SKATES WITH LIGHT UP WHEELS
Skating is both enjoyable and beneficial to one's health. These inline skates are soft and comfortable, with vibrant pink and purple decorations. They're also supported with an ankle strap, clasp, and laces.
It incorporates light-up wheels, so your child will be visible even in low-light situations. It also means that they will appeal to her more as she progresses. The firm also supplies a safety gear set that includes knee and elbow protectors and wrist guards.
PROS:
High quality

Super smooth light-up wheels

Soft and comfortable
CONS:
PRODUCT SUMMARY
An exceptional birthday gift for 9-year-old daughters, perfect for exercise.
Click here to view it on Amazon 
4. NERF REBELLE AGENT BOW
Who doesn't aspire to be a superhero like Wonder Woman or a rebel like Katniss Everdeen when they grow up? This stylish bow with nerf-dart arrows will pique her interest. She may encrypt hidden messages in the darts and offer the decoder to her friends to decipher.
The decoder and quiver of arrows are stored on the bow, which also incorporates an electronic red sight dot to aid in perfecting your shot.
PROS:
Has three message darts and a decoder to reveal secret messages

It's inexpensive and can store the detachable quiver and decoder on the bow

Arrows whistle as they fly
CONS:
Can't replace the strings
PRODUCT SUMMARY
A gift to make your daughter feel like a superhero.
Click here to view it on Amazon
TOYS AND GAMES
Toys and games are kids' favorites for all ages. Even with the changes with time, it remains. There are also a few ones that will intrigue 9-year-old girls.
LEGO KITS HEARTLAKE CITY RESORT
Lego kits appeal to children of all ages, masculine or female, large or small. It comes with 1017 pieces to construct a hotel for the four tiny figures. It comes with a dolphin, and windsurf board is among the many accessories available for imaginative play. The statistics can also be deconstructed to modify their appearance and clothing.
PROS:
Comes with a carry-along storage case

High quality

Super creative for girls
CONS:
It's expensive

Not for kids under three years.
PRODUCT SUMMARY
This unique building set is the best toy for creative girls and boys to inspire imagination and play.
Click here to view it on Amazon 
Gaming is a popular pastime among both girls and boys. This handheld system makes a great present, with a wide range of games, including Mario Brothers, Pokémon, Minecraft, and Zelda.
I like that using this type of console does not require you to give up your iPad, computer, or television when your youngster requests screen time. Nintendo 3DS games are compatible. The power adapter is not included.
PROS:
It comes with a charger

High quality
CONS:
PRODUCT SUMMARY
Best gaming console to gift your daughter for her 9th birthday
Click here to view it on amazon
SPIN MASTER GAMES PERPLEXES 3D MAZE GAME
Is your 9-year-old daughter capable of completing the Perplexes maze? This 100-challenge translucent plastic sphere will keep your toddler entertained and engaged. To get the silver ball along the track to the finish line, rotate it 360 degrees.
This fascinating maze is portable and keeps young minds occupied as they attempt to solve it.
PROS:
Durable

Gift able

Sturdiness
CONS:
PRODUCT SUMMARY
A very challenging game that keeps your kid's mind engaged and active.
Click here to view it on Amazon 
JEWELRY AND CLOTHING
At age nine, the girls begin to create their styles, which makes them appreciate jewelry and clothing gifts. Accessorizing with jewelry is a superb approach for them to do so. Alternatively, opt for snug nightwear, colorful shoes, or warm, cozy boots.
SUPER STORAGE LENOX CHILDHOOD MEMORIES JEWELRY BOX
When opened ballerina appears, the perfect gift to preserve her jewelry is an exquisite silver-colored jewelry box. She'll dance to the music if you get her going.
There are conventional storage sections for rings, earrings, and other small items. A little mirror stands behind the dancer and may remove the tray to reveal a concealed chamber.
PROS:
Crafted of metal

Eligible for Lenox breakable replacement program

Plays fur Elise
CONS:
PRODUCT SUMMARY
Lovely jewelry box perfect for a birthday gift for your 9-year-old daughters
Click here to view it on Amazon 
DISTANCE 925 STERLING SILVER SEA MERMAID CRESCENT MOON PENDANT
This elegant mermaid pendant is 925 sterling silver and features a blue-colored gemstone. The 18-inch Rolo chain comes with a 2-inch extension, allowing it to be worn long or short.
Young girls like mermaids, so surprise them with a crystal-encrusted tail in their favorite color.
PROS:
Comes in a pretty gift box

It's an 18-inch chain

Very affordable
CONS:
A bit thinner and lighter
PRODUCT SUMMARY
The Sea Mermaid Necklace Material is hypoallergenic 925 sterling silver, Oxidation, Classic style, unique style, love symbolizes the love of life, give her the best gift
Click here to view it on Amazon 
BIG GIRLS' UNICORN PAJAMA
Unicorns may be mythological, but a 9-year-old does believe in them. Girls adore this monster in every form, and this pajama set is no exception. The top has a huge one, and the shorts are completely covered. This lovely set is machine washable and made of very soft cotton.
PROS:
100% Cotton

Machine washable

Inexpensive
CONS:
Selecting the right color might be hard
PRODUCT SUMMARY
A proper birthday gift that can be given out to your daughter on her 9th birthday
Click here to view it on Amazon 
BEARPAW ELLE MID-CALF BOOT
For girls and women of all ages, sheepskin and suede boots have become a fashion statement. These from Bearpaw are available in 18 various hues and will look great in your 9-year-closet. 
They're also not simply for cold weather. During the summer, pair them with shorts for an extremely attractive and fashionable look.
PROS:
Warm and comfortable

Super cozy

Inexpensive
CONS:
Super stiff and runs small
PRODUCT SUMMARY
A very affordable birthday gift for your daughter regardless of the weather.
Click here to view it on Amazon 
SKETCHERS KIDS ENERGY LIGHTS SNEAKER
These Sketchers sneakers will brighten your 9-year-old world or at least her feet. Built-in lights with customizable sequences may be recharged via USB and turned on and off using a button on the tongue.
The sneakers are gleaming silver, navy blue, and royal blue. 
PROS:
Dual-charge USB cable

Rechargeable battery

Rubber soles
CONS:
PRODUCT SUMMARY
A wonderful gift to light up your 9-year-old's world
Click here to view it on Amazon 
TECHNOLOGY AND ELECTRONICS
VTECH KIDIZOOM SMART WATCH DX2 INTELLIGENT WATCH
If you're not ready to give your 9-year-old a smartphone for selfies and gaming, this VTech smart watch might be a nice compromise. It contains two cameras for taking photos, videos, and selfies, which can then be turned into new watch faces or sent to a computer via USB.
You can choose between 55 analog and digital faces. It's splash proof and features a monster catcher game and a motion sensor to track steps. It's beneficial to get girls moving, and it has parental control.
PROS:
Easy-to-use touch screen

Dual cameras

Built-in rechargeable battery with included USB cable
CONS:
PRODUCT SUMMARY
The KidiZoom Smart watch DX2 looks just like a grown-up watch but is made just for kids!
Click here to view it on Amazon 
FIRE HD 8 KIDS EDITION TABLET
Is your 9-year-old girl ready for a tablet of her own? This one from Amazon Kindle may be what you're looking for. She can listen to or read books, play games, watch her favorite shows, and much more with a year's subscription to Amazon Free time.
A sturdy case, parental controls, and a two-year warranty are many great features. Also, it has 32GB of internal storage that can be expanded to 1TB via a micro SD card. It also boasts a built-in speaker and microphone, dual-band Wi-Fi, and 12-hour battery life.
PROS:
Lasts up to 12 hours

Built-in speaker

Parental control
CONS:
PRODUCT SUMMARY
A reasonable gift for a 9-year-old
Click here to view it on Amazon 
STEM AND EDUCATIONAL GIFTS
Numerous pleasant games and activities can aid in the growth of a 9-year-old. To supplement their educational curriculum, you might choose from the subjects of science, technology, engineering, and mathematics.
EXCITING EXPERIMENTS WITH CRAYOLA COLOR CHEMISTRY SET FOR KIDS
With this color chemistry set, you may make your exploding volcano, glow-worm, slime, etc. The kit contains everything you'll need for 16 different experiments. Can complete Thirty-four additional science exercises with the help of some common household materials.
Although adult supervision is advised, the directions are simple to read and follow.
PROS:
16 out-of-the-box experiments

Developed and approved by Crayola Scientists

Easy to read the instruction booklet
CONS:
PRODUCT SUMMARY
The Crayola color chemistry set for kids is full of colorful educational activities.
Click here to view it on Amazon 
16. COZMO BY ANKI
Cozmo is one of the most animated robots I've ever seen, and "cute" doesn't do him justice. With the Cozmo app for iOS or Android, you can program him to perform various tasks. Just make sure you don't irritate him when you're playing games with him, or he'll throw a fit.
PROS:
Durable

High Tech

Higher camera resolution
CONS:
PRODUCT SUMMARY
This robot is functional, educational, and has lots of fun. Any 9-year-old girl will love this STEM gift, and so will mom and dad.
Click here to view it on Amazon 
17. CRYSTAL GROWING KIT
This kit incorporates molecular science, and it will get your 9-year-old daughter enthused about producing crystals. Girls adore a little sparkle, and this package includes everything they'll need to grow a variety of crystal shapes and types.
The simple instructions guide you through each step, making this a fascinating and enjoyable science experiment.
PROS:
USB Powered LED Light-up Display

Easy to charge

Comes with a micro USB cable
CONS:
Adult Supervision is a must
PRODUCT SUMMARY
Great Gift, although this is extraordinarily educational, it's also wildly entertaining for children of all ages, making it an excellent gift for kids of all ages!
Click here to view it on Amazon 
18. MAGIC TREE HOUSE BOXED SET
Your 9-year-old daughter will be enthralled and enchanted by this New York Times bestseller book set. The four books included are dinosaurs Before Dark, Mummies in the Morning, The Knight at Dawn, and Pirates Past Noon. It's available in book, Kindle format, and audio CD format. She may enter Annie and Jack's world from the tree house in the woods as they experience amazing adventures in the past.
PROS:
Great stories

Bestselling chapter book series

Available in paperback, Kindle, or CDs
CONS:
The receiver might not like reading
PRODUCT SUMMARY
These books have been firm favorites with kids, teachers, and parents for over 25 years.
Click here to view it on Amazon 
19. ROCK JAM ELECTRONIC INTERACTIVE PIANO KEYBOARD
Do you have a 9-year-old daughter who enjoys music? This keyboard, which comes with an adjustable stand and a stool, might be the perfect present. It also includes headphones, allowing children to practice anytime they want without bothering the rest of the household.
A free iPad software called Piano Maestro includes 30 songs for your child to master. It listens and responds in real-time. Numerous compositional choices include a sustain pedal and over 200 tones and rhythms.
PROS:
Sheet Music Stand

Keynote Stickers

In-built Stereo Speakers
CONS:
Delivery might come in late
PRODUCT SUMMARY
There's a free Piano Maestro iPad app that has 30 songs for your child to learn
Click here to view it on Amazon 
20. KIDS COOKING AND BAKING SET
Everything a girl needs to make delectable cupcakes and cookies is included in this package. This cute miniature cooking and baking set is a fun toy for your little chef. It also comes with a chef's hat and apron so that it may be used as a dress-up game. Aside from that, it comes with four different cookie molders in various shapes.
I like that the package is constructed of BPA-free plastic, which gives moms peace of mind while their kids are busy playing games.
PROS:
Great quality

Durable BPA-free plastic
CONS:
PRODUCT SUMMARY
Functional kitchen utensils made for little hands, great gift for kids.
Click here to view it on Amazon 
FAQ
WHAT TO GET FOR YOUR DAUGHTER ON HER 9TH BIRTHDAY?
The BEST gift ideas for a nine-year-old girl– include ideas for
Games,

Music,

Electronics,

Toys,

Sports,

Crafts,

Books, and more!
SUMMARY
So much fun, nine-year-old girls! They are, in my opinion, a lovely mix of childlike and tween-aged girls. They adore their mothers and enjoy spending time with them. They are, nevertheless, becoming increasingly self-sufficient and social. It's a wonderful time for moms to continue shaping and teaching their children while also enjoying spending time with them! Many gift suggestions are provided here to alleviate the worry of selecting the wrong birthday present.
ADDITIONAL GIFTS FOR A 9-YEAR-OLD GIRL
The best gifts aren't always able to be delivered to your doorstep. Maybe your daughter has always wanted to do something? Or perhaps there's a special place she'd like to visit.