7 + Top Romantic Bedroom Ideas For The Happy Couple (2022)
We all crave a little more love in our lives, and there's nothing better than romantic bedroom ideas to add some spark to that relationship. 

The most important task your bedroom has to accomplish every day is to radiate romantic vibes. 

When setting the mood for romance, colors work like magic.
We all crave a little more love in our lives, and there's nothing better than
romantic bedroom ideas
to add some spark to that relationship. Your bedroom is the temple of intimacy and relaxation, where you want to feel comfortable and rested, especially if your space is designed for two. 
Because of the privacy your bedroom affords you compared to other areas of the house; you have much more freedom and flexibility once you've covered the basics. That makes deciding on the romantic décor easy part. 
At one time or the other, you will need romantic bedroom ideas for you and your significant other. Read on for a taste of our delightful bedroom ideas that we think will inspire you to indulge in all your decorating fantasies.
How can I make my bedroom look romantic?
Your bedroom must radiate romantic vibes. We are talking about plush throws, gauzy canopy beds, mood lighting, and evocative artwork. Walk through these romantic bedroom ideas for couples and singles alike. 
Open Air Design
Open spaces give to romance what wings give to birds. You will need the right climate for an open-air design; if you have it, it's worth considering for the romance factor alone. Let everything slide open to let in the breeze.
Special Lighting
Ever wondered why hotel rooms feel dreamier and more romantic than the average bedroom? Borrow ideas to bring home! Pendant lamps will add spice and shine of beautiful shades in your bedroom. Perfect for mood lighting!
Lacquer Your Walls
When it comes to setting the mood for romance, colors work like magic. Consider lacquer paint on your walls for that sleek and sexy feel. Prioritize romantic colors like red to heat things even more. To complete a balanced feel, go with some matching bedding and traditional sconces to polish it all off.
Intimate Sitting Area
If you have a spacious bedroom consider an extra place to hang out that is not your bed. You can have a more intimate living room. Two armchairs will do just fine. Angle them towards each other and throw in a small coffee table, a candle, and another decorative item.
Light a Fire
Romance and fire are siamese twins. A bedroom with a fireplace will ignite passion and leave you craving for more. While the fireplace will be the main attraction, play with a little paint and stone on the wall to make your bedroom feel like an old-world sanctuary.
Create a Cocoon
Be creative with curtains for an added sense of privacy. Hang curtains in front of your bed to create your world floating in privacy and insulated from the prying eyes. Throw in a fluffy comforter for the added effects.
Stay Grounded
Use a low-profile bed to catalyze the pace for sexy bohemian energy. Soft beddings will also hasten the mood.
What is the best color for a romantic bedroom?
1. ROMANTIC REDS
In our common culture, red is associated with love, with pink placed a close second. Make no mistakes, painting a room red is a slippery slope. It is a strong color that gets pulses racing. Is that the vibe you want for your bedroom? Make sure to balance romance and excitement without overpowering your space.
2. DREAMY BLUES
Blue colors evoke feelings of calm and coolness, offering a welcoming atmosphere perfect for relaxation and romance. Just the refreshing reprieve that you need when things get too hot. Darker, smoky blues will work well for your bedroom, as they don't distract or overwhelm the eye too much while giving voice to your decor.
3. SHADES OF ORANGE
The color orange evokes memories of sweetness and energy, both of which are important to a healthy romance. Different shades will trigger different feelings. Bright, saturated oranges will generate feelings of brightness, happiness, and fun, encouraging youthful playfulness. Darker and muted oranges, on the other hand, tame some of this energy without becoming boring or dull. The orange shade you paint in your bedroom will depend on your unique romantic style.
4. BROWN TONES
The color of chocolate and nature is no doubt at the heart of romance. Indeed it is to be found at the foundation of love. At face value, brown doesn't seem romantic. But when you consider that chocolate, widely considered the most romantic treat, is brown, you can't miss the connection. Rich brown tones are warm, intimate, and never overbearing. They are natural and earthy and work great in the background as the decor does the rest. Make sure to balance your room with lighter shades like whites, oranges, greens, and blues.
5. PASSION PURPLES
Purple was reserved for royals in ancient times. Though red and pink are considered the two most romantic colors, nothing beats purple when it comes to making a bold statement. Although purple might not be as stimulating as red shades, violets and plums are calming. Purple will add warmth and intrigue to your bedroom. This color goes well with some white and gold features. 
6. DEEP GREENS
Romance is life, and life is romance. Green is the color of life itself, with different shades, the same as grass, leaves, and vegetation. Bright green might be overdoing things, but deeper, darker forest greens are great for bedroom interiors. Green can evoke protective, lively, and calming feelings all at once. Green goes well with white, beige, brown, and orange.
How do you decorate a romantic bedroom on a budget?
Get the Sheets
Budget constraints mean you have no option but to think small instead of big. You cannot afford a new bed, but you can still add plenty of romance to the space by replacing the linens. Consider an inexpensive option for the bedspread that blends with the wall color and other room decors.
The options you have will include a patterned design that adds some visual interest to the space. A modern floral print can add a sexy and stylish look to the room. When it comes to the sheets, you can be extravagant. Consider Egyptian cotton as a basic option. For a little more romance, go for silk or satin sheets.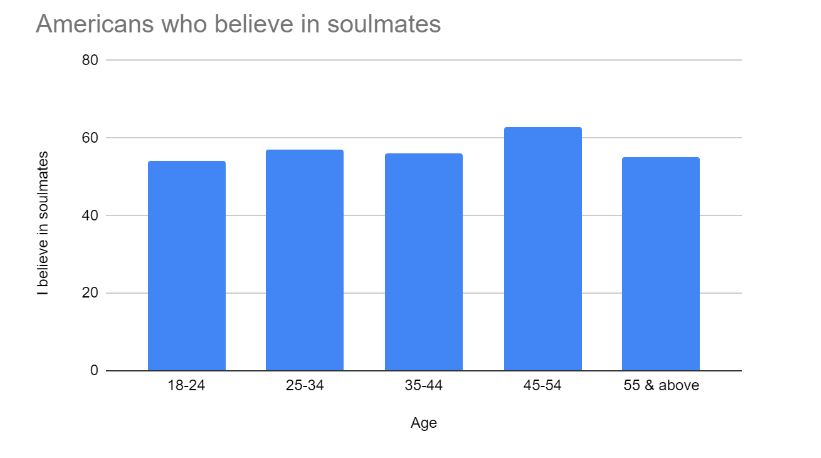 How U.S. adults from different age groups responded when asked if they believe in soulmates
Set the right mood for your bedroom by creating a romantic vibe. Lighting is your friend here. The best things in life are free, so you dont have to burn a hole in your wallet to get the right look. Candles are cheap, and candlelight is as romantic as it gets. Use pillar candles whenever you want to soften your lighting. Because candles are an ideal way to add some romance to your bedroom when you're on a budget, opt for scented candles to engage more of your senses.
DIY Artwork
Avoid expensive artwork for your bedroom. Instead, create that romantic look by personalizing your wall hangings. Exploit your wedding pictures or photos of you and your better half. Print them in black and white or sepia for an elegant, artsy tone to give the display a more romantic look.
Make use of other items that are significant – the sheet music from your wedding song or ticket stubs from your first date, or other mementos – to create something that generates sweet nostalgia.
What is the most seductive color?
Wearing the color red will make you more attractive to the opposite sex, that is according to science.
While science reveals that red is the most attractive color to men and women, the two genders are attracted to the same color for different reasons.
According to one study, women are attracted to men wearing red because it sends signals of status and dominance.
"We found that women view men in red as higher in status, more likely to make money, and more likely to climb the social ladder," study co-author Professor Andrew Elliot said.
"And it's this high-status judgment that leads to the attraction."
Men, on the other hand, are attracted to women who wear red for more primal biological reasons, a separate study found.
"Our research demonstrates a parallel in how human and nonhuman male primates respond to red," the study's authors wrote.
"In doing so, our findings confirm what many women have long suspected and claimed – that men act like animals in the sexual realm.
"As much as men might like to think that they respond to women in a thoughtful, sophisticated manner, it appears that at least to some degree, their preferences and predilections are, in a word, primitive."
What is the true color of love?
Red is synonymous with 'I love you.' Try to bring up an image of a typical Valentine's Day, and the evidence is there for all to see. Red is also the color of masculine energy. Red is associated with excitement and energy, and when it comes to love, red sends signals of passion, lust, and desire. The physical effect of red on us has become steeped in symbolism and culture.
If you are not a fan of red and prefer alternative colors to express love, then you could try apricot, peach, or pink.
How can I make a romantic night for him at home?
Variety is the spice of life. While you can do many romantic activities with him any day of the week, sometimes all you need is that romantic night with him at home. Dinner-and-a-movie date night might be worn out, or the weather's not cooperating. Still, there are many ways to connect and make memories with your better half or a new catch in an adult-only way, many of which are as fun and unique as your relationship. Enter at-home date nights.
Remember, your relationship can still be exciting without artificial or expensive additives. We've got romantic date night ideas for you, whether you're not in the mood to go out or your wallet feels a little light. Some of our ideas are free, while others are super affordable. We have thrown in some DIY elements just to spice things up. To keep that spark alive, try creating something together or one of these fun activities we've listed for you below.
Cook Dinner at Home
If you are sick and tired of the hassles of getting a reservation, the inconvenience of waiting for a table, or the yelling over restaurant chatter, stay home and cook a gourmet dinner. Pull out the candles, switch on the stereo, and try your hand at a fancy new dish.
Watch Old Movies
You can drown in variety these days, but try mixing up your TV time by sampling outside your usual Netflix queue. Look for some childhood favorites, so you both walk down memory lane and share a piece of each other's history. When it comes to setting the mood for romance, you can't beat nostalgia!
Camp Out. Inside!
Camp in the living room to reconnect with each other. Make sure to unplug for the night. Grab the kids' blanket or spread it out in your sleeping bags by the fireplace. Then enjoy an indoor picnic and tell campfire stories. No phones are allowed!
Film Your Own Cooking Show
Grab your smartphone, gather your ingredients, tie on your aprons and shoot yourselves making dinner, then giggle while watching it over dessert.
Celebrate Christmas Anytime
Reignite the holly jolly spirit of the holidays any time of the year by stringing some twinkle lights around the living room and putting on your Christmas sweaters. Bake something special, watch a cheesy Christmas romance movie, or just dance around the house to carols.
Frequently Asked Questions:
Q: How do you make your bedroom more conducive to romance?
You can spice up the bedroom by trying the following: Light the candles, choose another snuggle corner, place a mirror in the room, set the scene from your favorite movie/ novel, romantic massage impressive food.
Q: What are some decorating ideas for a vintage and romantic bedroom theme?
Use items at flea markets and second-hand stores; wear and tear will give depth of character that makes a vintage-style room feel lived in. Consider using a vintage trunk instead of a coffee table to add that rustic element to your living room. Create your rustic ottoman by placing a piece of fabric-covered foam on top of a classic wood milk crate. Paint planks of wood in white and place them on the back of your shelves to easily add a rustic look to your living room.
Q: What are romantic colors for a bedroom?
Pinks and reds will add a romantic flavor to a bedroom. Be careful not to overdo it. Take time to balance it out with some neutral tone.
Conclusion:
You need romance in your bedroom to make that space feel more inviting and intimate. You can achieve that with well-chosen decor. It is not lost on us that pulling off a romantic makeover may seem impossible when you're on a budget. Our advice is that you tackle this challenge head-on by focusing on small touches that greatly impact the overall feel of the room. Do not underestimate the staying power of baby steps. Even in limited doses, the right colors and textures can transform your bedroom into the ideal romantic haven.