FUN THINGS TO DO AT THE BEACH AT NIGHT
WhatToGetMy Instructional Article
Why do some people look for fun things to do at the beach at night? When everything at the beach is closed, it is dark and much colder than during the day. During the day especially in the summer, the beaches are always crowded with thousands of men and women laying around everywhere, kids running around and screaming, parking is so difficult to find and can be expensive.
At night, you can park in any parking you want and it is for free in most places, there is no blazing sun, there are no crowds because everyone has gone home to sleep and you can walk down the beach at night, looking at the moon, staring into the horizon, and there is absolutely nobody around.
It is so quiet and peaceful that you can sit and listen to the sound of the ocean while the waves rolling in, with the wind blowing gently on your face and through your hair, and on a clear night when the moon is full you can see the horizon with moonlight reflection in the water.
Not to mention the fun things you can actually do on the wide open beach which is almost anything that you want to do like plan and have a romantic date on the beach in privacy, you can have a bonfire party and there are many other fun activities you and some friends can enjoy at night on the beach.
ROMANTIC DATE IDEAS FOR THE BEACH
You couldn't get more romantic than a date night on a beautiful beach, with a soft and gentle ocean breeze blowing through your hair and on your face. The soft but cool sand between your toes and the only sounds you can hear is of the waves that are crashing gently against some rocks and the seagulls cawing as they hover above the ocean somewhere in the distance. It is all so peaceful and even therapeutic relieving you of any stress that you might have had.
FUN THINGS YOU CAN DO AT THE BEACH AT NIGHT WHILE ON YOUR ROMANTIC DATE
Start your date night at sunset
Start your romantic date night a little before sunset because there is very little that is more beautiful than watching the sunset over the ocean.
Stroll along the water together


Take a stroll along the water together and let the cool water run over your feet as you walk and talk. You can even have a little fun by splashing each other as you kick the water towards each other.
Hold hands


To make your romantic date even more special and to really intensify the experience, hold your partner's hand while you take your stroll along the water.
Moonlight Picnic


A moonlight picnic is amazing, magical, intimate and very romantic with complete privacy as not many people will be around. Visit the beach in advance and set everything up in a secluded spot by laying out a blanket with some pillows, have a campfire going, a cooler packed with great food and drinks and have a friend help to watch over everything until you arrive there.
HAVE A BONFIRE PARTY WITH YOUR FRIENDS
A Bonfire party with friends is definitely high on the list of fun things to do at the beach at night, but before you organize one, make sure that your specific beach allows for fires and if you need a permit to have a bonfire, make sure that you get one.
It is always a lot of fun to have a nice fire going on a cool night with some friends, having endless conversations while you all stare into the flames, great music playing, some dancing and then roasting some marshmallows is a great way to spend some time on the beach at night.
OTHER FUN THINGS TO DO AT THE BEACH AT NIGHT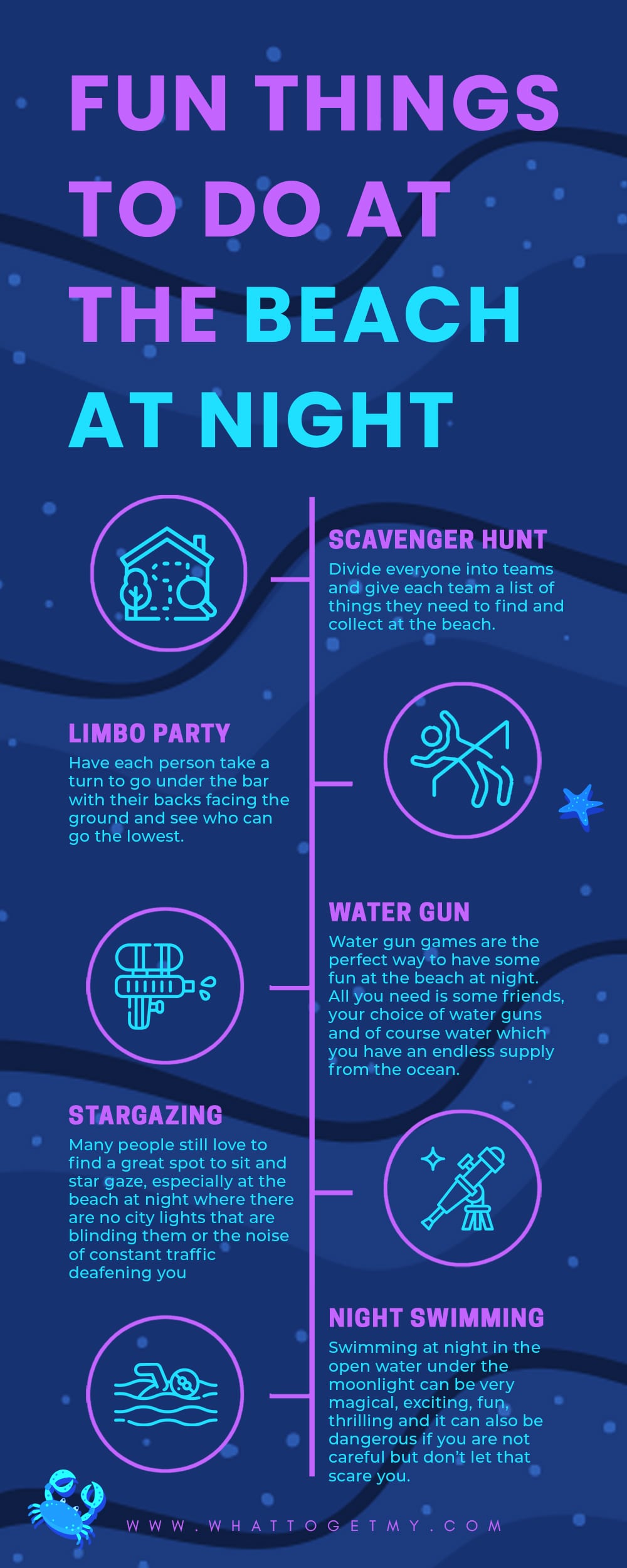 Source Link: https://whattogetmy.com/fun-things-to-do-at-the-beach-at-night/
A Scavenger Hunt on the beach
To start your scavenger hunt on the beach with your friends, have a list of items that you have hidden all around you in the sand. Then divide everyone into teams and give each team a list of things they need to find and collect at the beach.
You can have your friends hunt for items like driftwood, sea shells, rocks, crabs, something that is round, something hard or soft, a feather, the list could go on.
Once it gets dark, gather some friends and go to the beach and make the evening more thrilling and exciting with a glowing beach ball, football, glowing Frisbees, badminton birdies or even some glow sticks, watch how the bright colors illuminate under the moonlight sky and have some fun for hours throwing, kicking or chasing each other on the sand.
A limbo party at the beach is always a lot of fun because you can always make your own with pool noodles or jump rope. Have each person take a turn to go under the bar with their backs facing the ground and see who can go the lowest. Playing fun beach tunes while each person has their turn, makes it a lot of fun while they to try to go under to the beat of the music.
Water gun games are the perfect way to have some fun at the beach at night. All you need is some friends, your choice of water guns and of course water which you have an endless supply from the ocean. Some games ideas that you can play are:
Beach Ball Race – To play this game all you will need is inflatable balls and water gun for each person so that you can have a race with them shooting their balls with the water gun and the first ball over the finish line wins the game.

Classic Water Gun Fight

– Where everyone chases each other and shoots water. This is so much fun especially in the dark on the beach because you can sneak up on each other while they are reloading their guns with water.
Water Gun Capture The Flag – To play this game you will need two flags of some sort, you can even use water balloons and each player will need a water gun. Then divide players into two teams and each team must defend a flag or water balloon while trying to capture the other team's flag or popping their water balloon.
Watercolor Fun: Each player will need a water gun and liquid watercolors. Then fill the water guns with the watercolors and have a colorful water fight while wearing white t-shirts. Whoever has the most colorful t-shirt by the end of the game loses.
Guitar playing around a campfire on the beach
A clear night full of stars down at the beach while sitting on some washed up logs, a couple of friends and a campfire that warms you up. Add a guitar and maybe a couple of different instruments like a harmonica to the mix and you will get the recipe for a very fun night.
Some of the favorite campfire songs that are loved by most and are fun to play on the guitar are:
Jimi Hendrix – Hey Joe
Creedence Clearwater Revival-Proud Mary
Neil Young –  Heart of Gold
Elton John – Tiny Dancer
The Rolling Stones – You Can't Always Get What You Want
Red Hot Chili Peppers – Soul To Squeeze
Sublime – What I Got
Janis Joplin – Me And Bobby McGee
Bob Dylan – Don't Think Twice It's Alright
The Doobie Brothers – Long Train Runnin'
If you are not into playing any musical instruments then you can bring a music player and enjoy your favorite playlist instead. You and your friends can discuss and share fun facts about music genre, artists and songs all night while enjoying a bottle of wine or some chilled beer.
Many people still love to find a great spot to sit and star gaze, especially at the beach at night where there are no city lights that are blinding them or the noise of constant traffic deafening you.  At the beach, at night the only sound you hear is that of the waves gently crashing against the shore and you have a wide open view of the stars and the horizon which is a peaceful way to enjoy a little quiet.
Hunting ghost crabs is a fun thing to do at the beach at night because all you really need is a beach, a quiet night, and a flashlight. Ghost crabs are tiny and pale creatures that can sometimes be seen on the beach during the daytime but they usually come out at night in greater frequency since it is cooler and the beach is less busy. To find them and maybe catch one, use your flashlight to scan the beach for movement, they are difficult to spot at first but you will. Once you have spotted a ghost crab, aim your flashlight right at him, he will freeze for a few seconds before scampering away.
Build Sand Castles, forts or animals
No trip to the beach is complete without having some fun building a sandcastle, fort or sculpturing an animal. Even try digging deep down into the sand which could be a bit of a challenge at night as the deeper you go the darker the hole will become. But do be aware that digging a hole can be a deadly trap as the walls can crumble in quick which are powerful enough to suffocate any person that has been buried.
The tradition of being buried in the sand
Being buried in the sand with making funny shapes on the sand on top of the buried person's body has always been so much fun to do but there is also a serious health risk to it. There have been quite a few cases of people and children contracting a flesh-eating parasite from the sand called a Hookworm which enters the body through the skin and can lead to a number of complications.
Night swimming in the ocean
Swimming at night in the open water under the moonlight can be very magical, exciting, fun, thrilling and it can also be dangerous if you are not careful but don't let that scare you. When swimming at night it is crucial to put safety first and find out about things like the tide schedule, the currents, the weather conditions, if it is jellyfish season or unusual events in the water like is it known for sharks to swim closer to the shoreline at night.  Always make sure that you have at least one person with you, do not go too far and it is a good idea to wear a reflective armband or tape on your wrists so others can see you.
Fishing at the beach at night is an exciting experience as night fishing can provide you with some great catches and even heart-stopping moments. There is less competition, you don't have to worry about sunburn, fish come closer to the shoreline to feed at night and often during the summer the wind dies at sundown, so the water is usually calmer than during the middle of the day.
Enjoy the silence around you
Another fun thing to do at the beach at night is to find a nice spot to sit, turn off your electronic gadgets, relax and embrace the calm and almost silence the beach offers you at night. Watch the moonlight reflect off the sea and listen to the waves rolling while it relaxes relieving you of some of your stress.
Finding fun things to do at the beach at night is not difficult because it will always be fun no matter what you do there, although there are many options to choose from as long as you put safety first and you are not alone because being with friends will make your experience so much better.
ESTIMATED TIME DESIGNING AND UPLOADING THIS ARTICLE
ESTIMATED TIME RESEARCHING AND WRITING THIS ARTICLE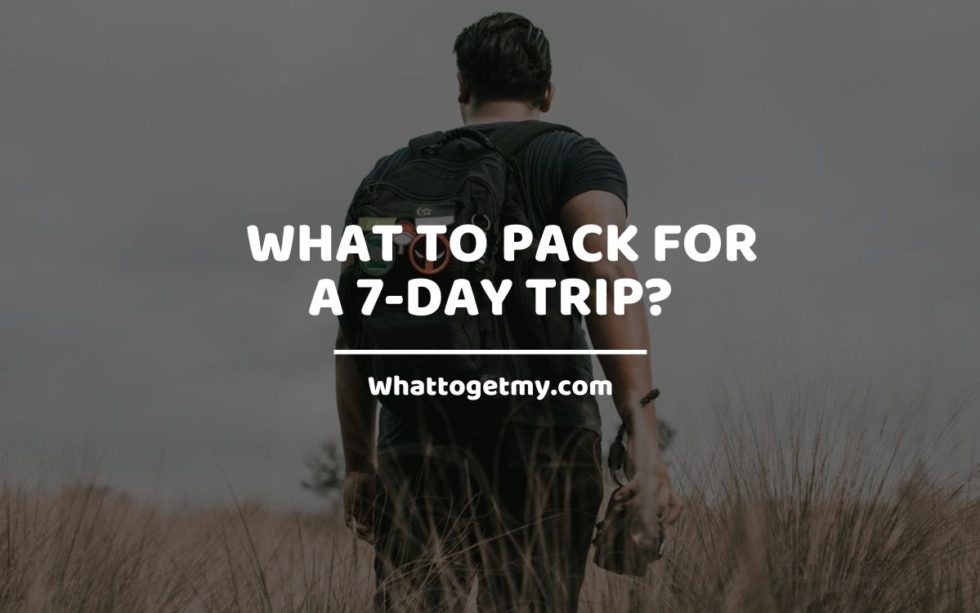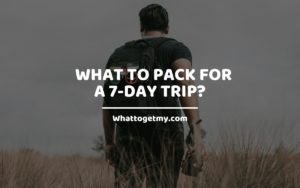 What to Pack For a 7-Day Trip?
What to Pack For a 7-Day Trip? WhatToGetMy Instructional Article Packing ain't easy. You don't know what to pack for a 7-day trip, should you bring a backpack or a suitcase, how many clothes do you need. Relax, we've got you covered! We'll go through
Read More »