Fun Things to Do With 1000 Dollars
WhatToGetMy Instructional Article
Do you have a thousand dollars to blow up and are you wondering what cool things to spend your money on? This is the article for you.
They say "all work and no play makes Jack a dull boy". No one wants to be dull Jack. Fun is good and you should not feel guilty about spoiling yourself with good things. After all, you only live once.
This article has been subdivided into three
What to do with a thousand dollars for thrill-seekers

Best way to spend 1000 dollars for hobby seekers

Things to buy with 1000 dollars for shoppers
What to Do With a Thousand Dollars for Thrill-seekers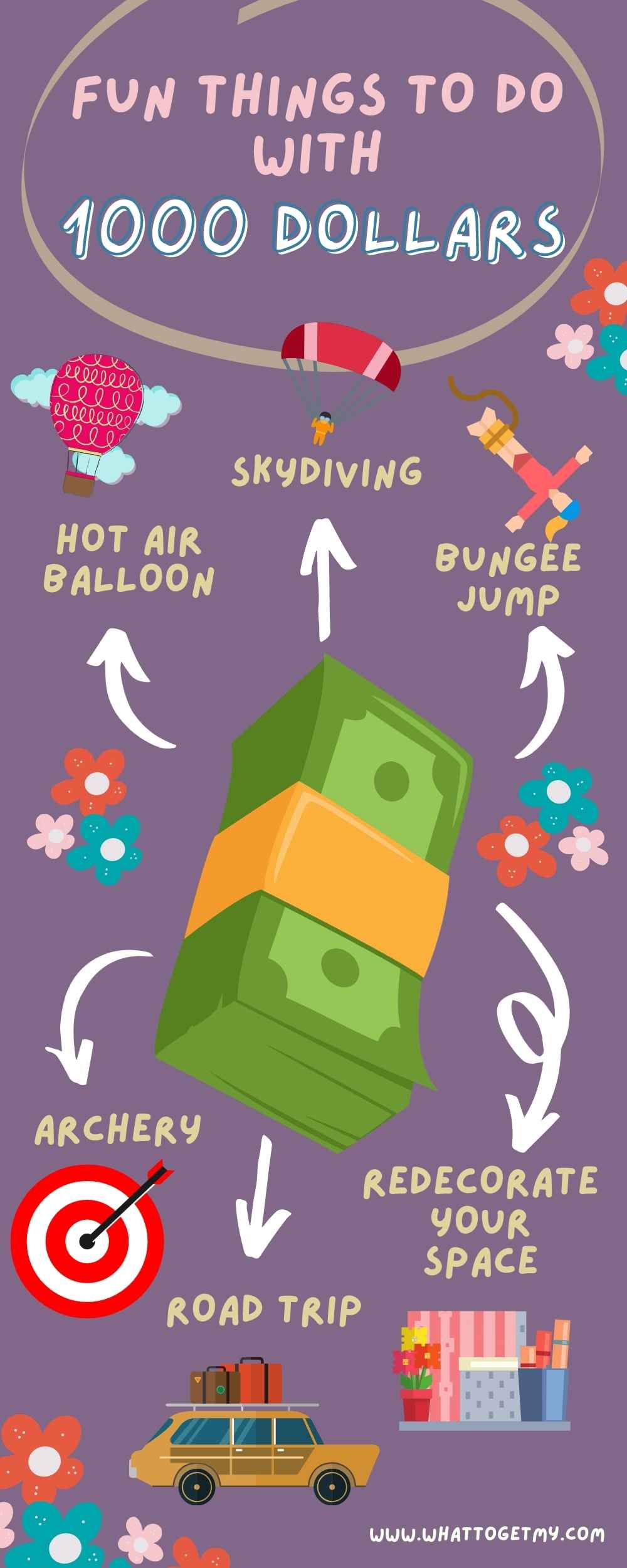 Source Link: https://whattogetmy.com/fun-things-to-do-with-1000-dollars/
1. SKYDIVING
If you haven't tried skydiving before, perhaps it's time to shake off some imaginative goosebumps, brave up, and go for the thrill. It is a once in a lifetime experience and you deserve to know how it feels like. The average cost of skydiving is between $200 and $350 and this might be inclusive of certain packages offered by the company such as a video or photo shoot while skydiving. The skydiving cost should get you a very experienced, highly rated, and certified instructor and the right gear that will keep you and your instructor safe while having a blast time skydiving.
In case you are wondering how safe skydiving is, here is something to reassure you need to know. In 2019, the United States Parachute Association (USPA) reported 2,522 skydiving injuries out of  3.3 million estimated sky jumps. It brings it down to approximately 1 in 1, 310 skydives. It is pretty much safe.
FATALITIES PER 100 000 JUMPS BY YEAR. SOURCE: USPA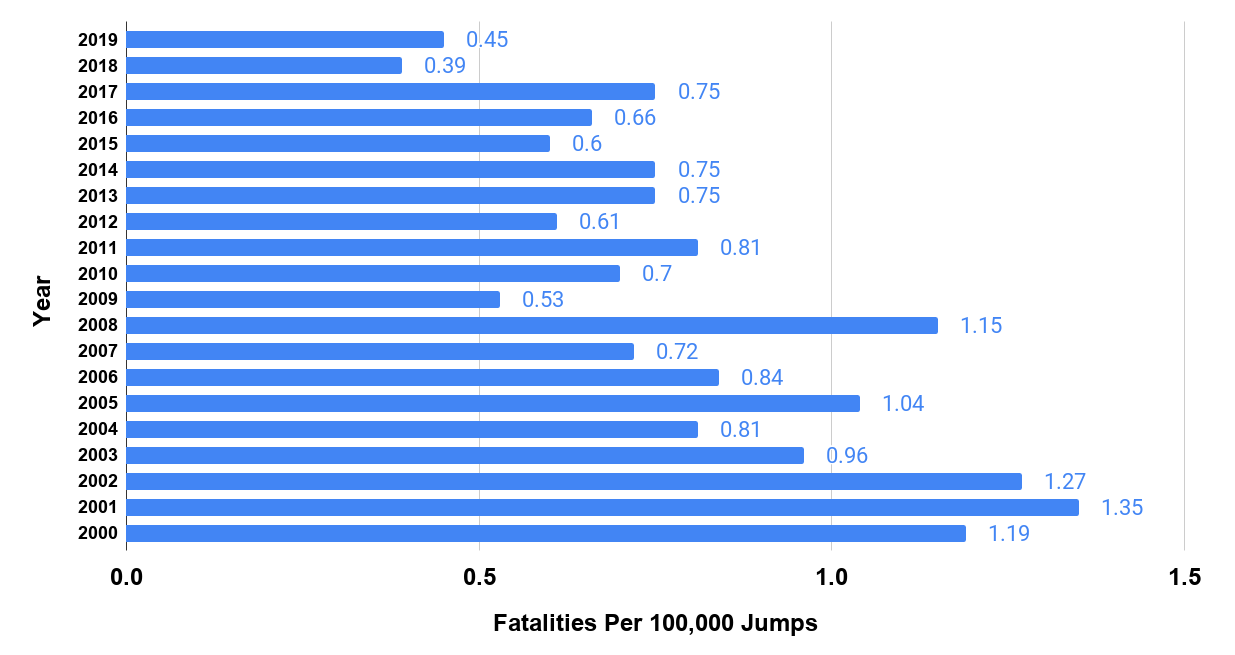 2. HOT AIR BALLOON TRIP
Another electrifying experience you can get is viewing landscapes from thousands of feet above the ground. Hot air balloons trips are fun and cost between $200 and $400 per adult. If you have an active imagination that thinks more about the negative side of things than the positive, you may have to reconsider this trip. The goal is to have fun, explore the world around you, and be happy. Hot air balloons are safe. They have one of the fewest fatality rates in the world. But before you get on one, there are a couple of things you need to know. 
Your trip is dependant on the weather

Dress appropriately, for example, pants instead of skirts, and warm clothing in cold weather. 

Go prepared. Go with your wallet and some snacks. Trips usually last for an hour or more.

Be nice, friendly. 

Landing can be shaky or bumpy therefore if you have a physical condition that could lead to more discomfort due to the landing, you may have to reconsider this trip.
3. BUNGEE JUMPING
You can already feel the adrenalin rush just by imagining the jump. Bungee jumping is one of the go to activities for serious thrill seekers and it is definitely not for everyone. The average cost of Bungee jumping is $250 per person and the five best places to try Bungee jump are;
Navajo Bridge, Marble Canyon, Arizona: 467 feet. You can book with Bungee Expedition

Perrine Bridge, Twin Fall,   Idaho: 500 feet. By Bungee Expeditions

High Steel Bridge, Shelton, Washington: 365 feet 

Stratosphere Sky jump, Las Vegas, Nevada: 829 feet

Rio Grande Bridge, Taos, New Mexico: 680 feet
Before you go on this adventure, ensure that you book at the right time and that you go with a reputable team. Although the fatality rate is really small, this is not an activity you do with just anyone.
4. SHARK CAGE DIVING
Have you thought of sharing a space with one of the toughest and fiercest predators in water? If you are a thrill seeker, this is a cool way to spend your money. With nothing less than $200, you can start off this adventure. Other costs you have to consider are; deck fee, transportation to and from your lodge, photos with Sharks and sometimes, dive cages may be hired. A thousand dollars will do a whole lot of good for you on this adventure and if you have more dollars to spend, you could consider taking a flight to South Africa for this thriller. Other helpful information;
Go prepared. Go with your swim suits, towels, sunscreen and cloth change because most dive companies do not offer this.

Go with cash since there are additional expenses to be made

If you're bleeding or have any sort of wounds, you may have to reconsider this adventure. The smell of blood attracts these predators.

Ask questions before you make a final booking with any dive company. You do not want to go for a free dive whereas you wanted a cage dive and via versa
Best Way to Spend 1000 Dollars for Hobby Seekers
5. A ROAD TRIP
Take a road trip to somewhere you've never been before and experience a different way of life for a couple of days. This adventure could end up being fun, exciting, confusing, strange or depressing and that fine. The uncertainty of what you might experience somewhere else is one of the motivations for the trip. One thing is certain, you will learn something new. You could ask a friend or two to go with you, it makes the experience worthwhile, plus costs can be shared. A thousand dollars should cover your fuel tank going and coming back, snack and 2-4days lodging. This is definitely one of the best way to spend 1000 dollars
What you need to remember;
Ensure that you pack properly. It will help you cut out unnecessary costs and leave you with more cash to spend on important and fun things. Check out

what to pack for a 5 day trip

, it provides you with a good checklist of what you'll need for different trips including road trips. 

Grab some snacks. It can be a life saver. You can pick out a good number of snacks from our article

gifts for snackers

.
6. ARCHERY
If you've never tried Archery before, perhaps it's time to learn how to use a bow and an arrow. You can be one of the cool people we watch on our screens if you get to perfect your skills. Lessons for adults cost between $30 to $60 an hour and this might be inclusive of the equipment. A thousand dollars might cover 10+ lessons depending on the additional fees you might be required to pay. This activity will improve your focus, confidence, coordination, strength, patience and interpersonal skill. Remember, doing something you've never done before is one good way to spend money.
7. ARTS & CRAFTS
If you're generally a creative person and you've always fancied art, acquiring art tools might be the best way to spend 1000 dollars. First, you have to identify which type of craft you want to get you hands on. You might not be good in painting but fare better with collage art, paper quilling, pottery, fashion designing, card making, origami, doll making, jewellery making and many more. A little reading and online videos should help you assess your capability. When you've identified what you want to do, search for the tools needed and try to acquire them. Find useful tools for card makers, crafters and scrapbookers here.
8. DANCE LESSON
If you were asked "can you dance to save yourself?" what would your reply be? Of course no should demand such from you but what if you could say yes? What if you could surprise people who thought you could not dance including yourself? There are other benefits to dancing too. Look at it as a fun way to burn calories, challenge your brain, improve your balance, boost your mood and improve cardiovascular activity.  The cost of each dance lesson is dependent on the type of dance and coordinators but budget between $60-$100. It could be less.
If you are looking for more hobbies to spend on, check out our articles on
Things to Buy With 1000 Dollars for Shoppers
9. TABLE TENNIS SET
Bring the fun to your house and stay active. Get a table tennis set and invite your boys or ladies over and have them compete with you. It is a fun way to keep your social life active, exercise, improve your coordination and balance and keep the brain alert. You should check out STIGA indoor table tennis.  It is a solid brand known for quality Table tennis sets. This product is easy to assemble, easy to fold and of great quality. You will also need to get this Ratchet set if you're new to the game. These are cool things to spend your money on.
10. REDECORATE YOUR LIVING SPACE
A thousand dollars will not afford a good interior decorator but you can do this yourself.  It's time to organize your sitting room, bedroom or any room you've been wishing to upgrade and make that space work for you. You can do this by clearing away so many things that you truly don't need and introducing only a few items into your space to pimp up your space. There are lots of online videos and articles that could you through this process but here are a few things to buy with 1000 dollars;
11. SPEND ON THE PEOPLE YOU LOVE
With a thousand dollars, you can surprise a person you care about with something beautiful or make their wish come true. It is a good way to spend money. If you are looking for something special to get your mom, dad, siblings, girlfriend, boyfriend, husband, wife, daughters or son, make a quick search on our page and you will not be disappointed. Here are some of the article you might want to look at
12. GET A GADGET
Get  that gadget that you've always wished for if a thousand dollars can buy it or change old gadgets that are giving you a hard time. This Microsoft Surface Pro 6 might interest you. It has good battery life, picture resolution, good screen resolution, 8GB Ram, lightweight and good replacement for heavy laptops.
FREQUENTLY ASKED QUESTIONS
What can I do with 1000 dollars?
There are lots of amazing ways to spoil yourself with 1000 dollars. Thrill yourself with amazing activities such as a Hot air balloon trip, Skydiving, road trip to somewhere you've never been before and many more. Make sure you have fun when you can and when you do, do not feel guilty about spoiling yourself with good things.
What can you buy with 1000 dollars?
Upgrade your closet, get new home equipment, if you are into tech, spoil yourself with a new gadget. Opportunities like this don't come everyday. If you have the time and money money to blow up, ensure you have fun.
CONCLUSION
If you were wondering what to do with a thousand dollar or if you were looking for cool things to spend your money on, we hope we've helped you identify the right activity or item to spend your money on. If you feel like you have everything and you still don't know what to do with your $1000 dollars, check out our article on what to buy when you have everything.
ESTIMATED TIME DESIGNING AND UPLOADING THIS ARTICLE
ESTIMATED TIME RESEARCHING AND WRITING THIS ARTICLE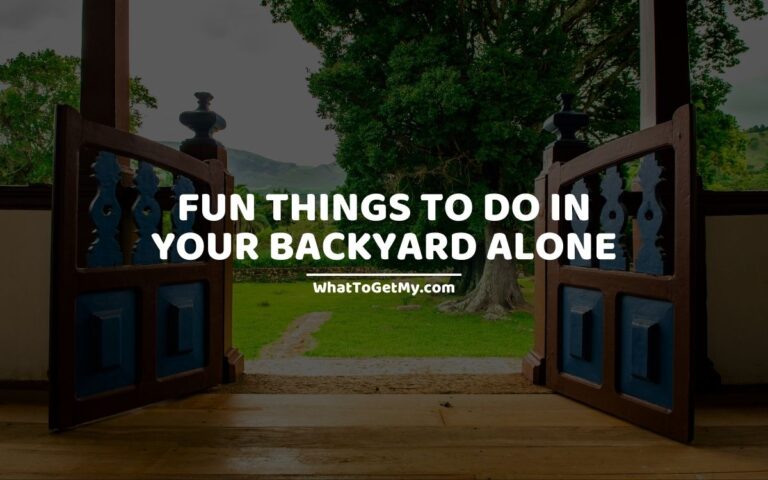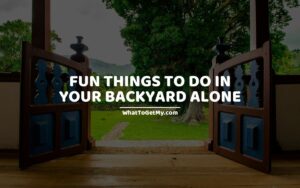 25 Fun Things to Do in Your Backyard Alone
25 Fun Things to Do in Your Backyard Alone WhatToGetMy Instructional Article Working in the twenty-first century takes up so much of our time that we have little time for other activities. When we do have time, we are engrossed in the use of our
Read More »