Buying inexpensive gifts for nieces and nephews does not have to be a difficult task at all as their parents are the ones that will get them the gifts that they actually asked for, the things that they want or the things they need.
If you want to be the popular aunt or uncle, you can give them some awesome inexpensive gifts that they will least expect to get and do not know that they actually want until they receive them.
Before you decide on what gifts to get, you do need to look at your nieces and nephews ages to allow you to buy an age-appropriate gift and will make a huge difference to whether they will love the gift or not.
There is always a bit of confusion about what ages actually fall under what age group especially the preteens and teenagers, to clear it up, here is the official breakdown:
0–4 Months (Newborn)

5 months – 1 1/2 years (Baby)

1 1/2 to 3 years (Toddler)

3–5 years (Preschooler)

6- 9 years (Child)

10–12 1/2 years (Preteen or "Tween")

13–17 years (Teenager)

18–21 years ( Young Adult)
To make it a little easier for you to make a decision on a gift idea, we have grouped the ages in birth to 6 months, 6 months to 24 months, 2 – 6 years, 5 – 7 years, 8 – 13 years and 14 – 18 years.
There are many toys that operated with batteries, some are long life batteries, rechargeable and are included and some are not. If you are finding that most of the awesome inexpensive gifts for your nieces and nephews require batteries, it is best to buy a bigger pack to cover all the toys and to last.
As an Amazon Associate we earn from qualifying purchases. We may earn a small commission for our endorsement, recommendation, testimonial and/or link to any products or services from this website. Thank you, your qualifying purchases help support our work in bringing you real daily gift ideas.
Birth to 6 Months
The baby stage is the cutest and one of the easiest age groups to buy for as there are so many choices, apart from the clothes and toiletries that their mother already received at the
baby shower
, there are also plenty of soft toys to choose from that are so adorable and educational too like bright and colorful rattles and teddies for them to hold on to which makes them a perfect inexpensive gift for nieces and nephews.
Our Gift To You: Find out how to download This Free Printable Holiday Activities (To do list) Card For Your NIECES or NEPHEWS at the End of This Article.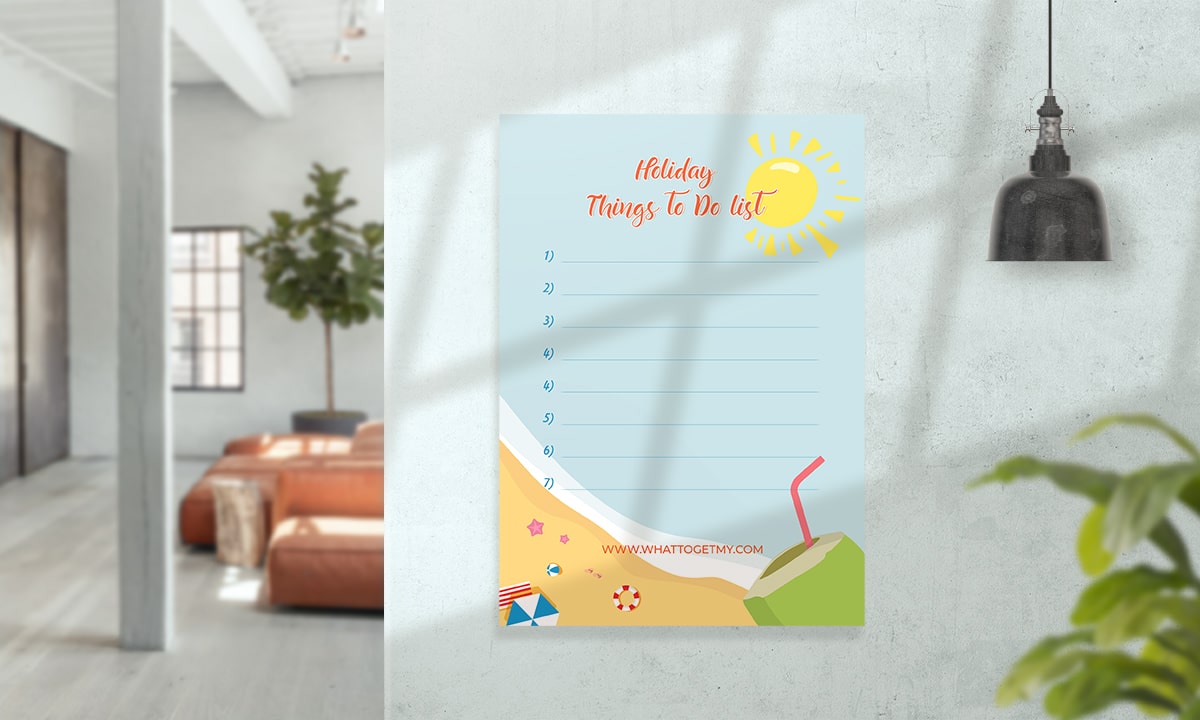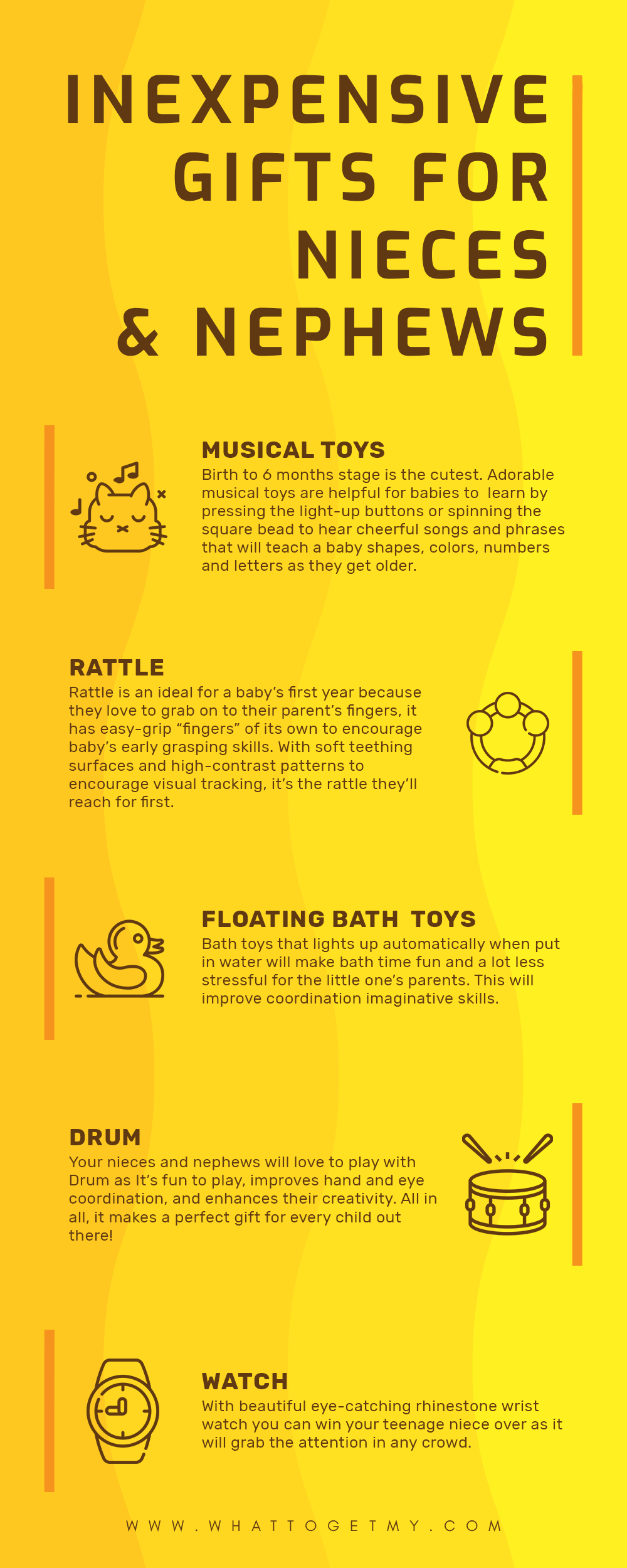 Source Link: https://whattogetmy.com/inexpensive-gifts-for-nieces-and-nephews/
This adorable purple Lil' critters musical beads with its easy-to-grasp ring strengthen a babies motor skills and allow them to cuddle and learn by pressing the light-up buttons or spinning the square bead to hear cheerful songs and phrases that will teach a baby shapes, colors, numbers and letters as they get older. 2 AAA batteries (ACDelco AAA Batteries, Alkaline Battery, 48 Count Pack) included for a demo, use new batteries for regular use
Customers that have purchased this critters musical have had only positive things to say and are extremely satisfied as they feel that it is a great gift to keep them occupied and good size for a small baby.
This rattle is an ideal for a baby's first year because they love to grab on to their parent's fingers, it has easy-grip "fingers" of its own to encourage baby's early grasping skills. With soft teething surfaces and high-contrast patterns to encourage visual tracking, it's the rattle they'll reach for first.
Customers that have purchased this rattle have had only positive things to say and are extremely satisfied as they feel that it is perfect for a small baby to grasp due to the circular handle and the material is soft enough for the baby to put it in their mouth.
6 Months to 24 Months
At the 6 months to 24 months stage, they become little explorers, they want to see, touch and hear everything, taking in all into their small little minds. A good and inexpensive gift idea for nieces and nephews would be bright and interesting bath toys or something they could make a noise with while they play like a soft drum set.
With this fun floating 8 piece characters bath toys that lights up automatically when put in water will make bath time fun and a lot less stressful for the little one's parents.
Customers that have purchased these light-up rubber bath toys have had only positive things to say and are extremely satisfied as they feel that it helps excite little ones about bath time and to keep them busy so moms can bath
Remo Kids Percussion Floor Tom Drum
Your nieces and nephews will love this fun Floor Tom Drum. It's a well designed item that produces high-quality sound. The drum features an acousticon shell for a better performance, a pre-tuned drumhead, and beautiful rainforest design. It's suitable for kids who are three years old or older. It's fun to play, improves hand and eye coordination, and enhances their creativity. All in all, it makes a perfect gift for every child out there!
Customers that have purchased this drum have had only positive things to say. They are extremely satisfied with the overall design and sound quality. They also feel this is a great musical toy that improves kids imagination and creativity.
2-6 years
At 2 – 6-years-old are the exciting years, eager to learn and love to express themselves through either drawing and painting or dancing, laughing and singing, the more noise they can make the better for them.
Imagine the smiles and laughter that this piano musical mat will bring any child while they are excited by the colorful colors, singing and dancing to the flashing lights and the animal sounds it makes.   3*AA Battery ( ACDelco AA Batteries, Alkaline Battery, 40 Count Pack )
Customers that have purchased this piano musical mat have had only positive things to say and are extremely satisfied as they feel that it is easy and fun to use with piano and animals sounds and it folds up nicely for easy storage.
This is an awesome gift for 2 – 6 years old, having fun water painting, scribbling and doodling as it is 100% mess free with a cartoon animal pattern around the mat and letters, numbers at the back to catch their attention. The pens included do not run out easily as all they have to do is fill them with water to keep them working.
Customers that have purchased this aquadoodle mat have had only positive things to say and are extremely satisfied as they feel that it is a great gift for kids to enjoy some creativity with no mess involved from painting.
5 to 7 Years
Very eager to learn, impress you and explore their surroundings are the 5 – 7-year-old, they do still love to express themselves through either playing games on their own or with others or they love to explore the garden and all it different type of bugs by catching them and bringing them to show you.
If you have nieces and nephews that love a brain twisting challenge and puzzles, then this is a great gift for them. This game is perfect for developing problem solving and strategic thinking skills.
Customers that have purchased this kanoodle game have had only positive things to say and are extremely satisfied as they feel that it is a great idea, fun for the kids and will help improve their mental skills.
Kids love to explore the outdoors, especially all the different creepy crawlies in their garden, which makes this gift perfect for them as they can catch the bugs with the great tools that are provided and learn about them while enjoying the fun activities and puzzles in the colorful activity booklet.
Customers that have purchased this bug catcher have had only positive things to say and are extremely satisfied as they feel that it is has lots of good quality containers and tools for catching bugs and it also helps the little bug lovers learn about a lot of different bugs.
8 to 13 Years ("Tweens")
The pre-teens or "tweens" age as they are known as, is a difficult one to buy for as they are starting to show interest in a variety of different topics and are not little anymore and they are also not a teenager yet. They want to be acknowledged as a "Big Kid". So great inexpensive gift for your nieces and nephews at this age would be an exciting and interesting game where they can make up their own stories or for those that enjoy experimenting with things would be a crystal growing kit.
This game is a huge amount of fun and will sharpen your niece and nephew's wits and hone in on their imagination with a creative story generator. Rory's story cubes can be played alone or with others
Customers that have purchased the Rory's story cubes have had only positive things to say and are extremely satisfied as they feel that it is lots of fun, help's to get their imaginations going and a homework helper.
With this crystal growing experiment is the perfect gift for a your niece and nephew who  are interested in science or geology and will encourage them to challenge their imagination while they learn about beautiful crystals as they watch them grow in a multitude of colors.
This crystal growing experiment received great reviews from customers as they feel that they are lots of fun to watch grow on a daily basis and makes a great ornament to display too.
14 to 18 Years
Teenagers are the hardest to buy for because if you do not get them something that they like or enjoy doing, then all you will get from them is an attitude. All boys like things that fly and it would be a bonus for them if it had some cool colors too. Girls tend to like unusual jewelry of some kind so a watch wrap would be a great gift.
This lightweight helicopter is easy to fly with simple operation, it is specially designed for beginners and the color light makes the flying ball become more and more beautiful.
This flying plastic helicopter received a great review from a customer because they had so much fun testing it before giving it as a gift.
CdyBox Fashion Rhinestone Watch
With this beautiful eye-catching rhinestone wrist watch you can win your teenage niece over as it can be worn as a watch or a decorative bracelet and will grab the attention in any crowd.
Customers that have bought this rhinestone wrap bracelet have given the product good reviews overall with receiving compliments from other people seeing the watch but some have commented on the size of the watch being too small.
Trying to figure out inexpensive gifts for nieces and nephews is not at all that difficult to do, all you need to do is to take into consideration their age and their interests. Buying gifts for someone else's children could be a lot of fun too as you can buy them the most unusual gift that is which is the messiest and noisiest gift and you can have a good laugh about it too.
Get This and So Many More Free Gifts on Our New Marketplace, Spark Resort!
ESTIMATED TIME DESIGNING AND UPLOADING THIS ARTICLE
ESTIMATED TIME RESEARCHING AND WRITING THIS ARTICLE
Try our AMAZING GIFT FINDER TOOL! Find GIFTS with 1 CLICK!