How to Include Nieces and Nephews in Wedding - 15 Ways to Include Them on Your Special Day
WhatToGetMy Instructional Article
You don't have to crack your head wondering how to include nieces and nephews in your wedding because there are several ways to do so that will be a win-win for both you and them.
It is quite a wonderful thing when you are close to your nieces and nephews especially when it comes to a wedding. They will help create an atmosphere of cheerfulness as they celebrate this important event in one of their favorite uncle's or aunt's life.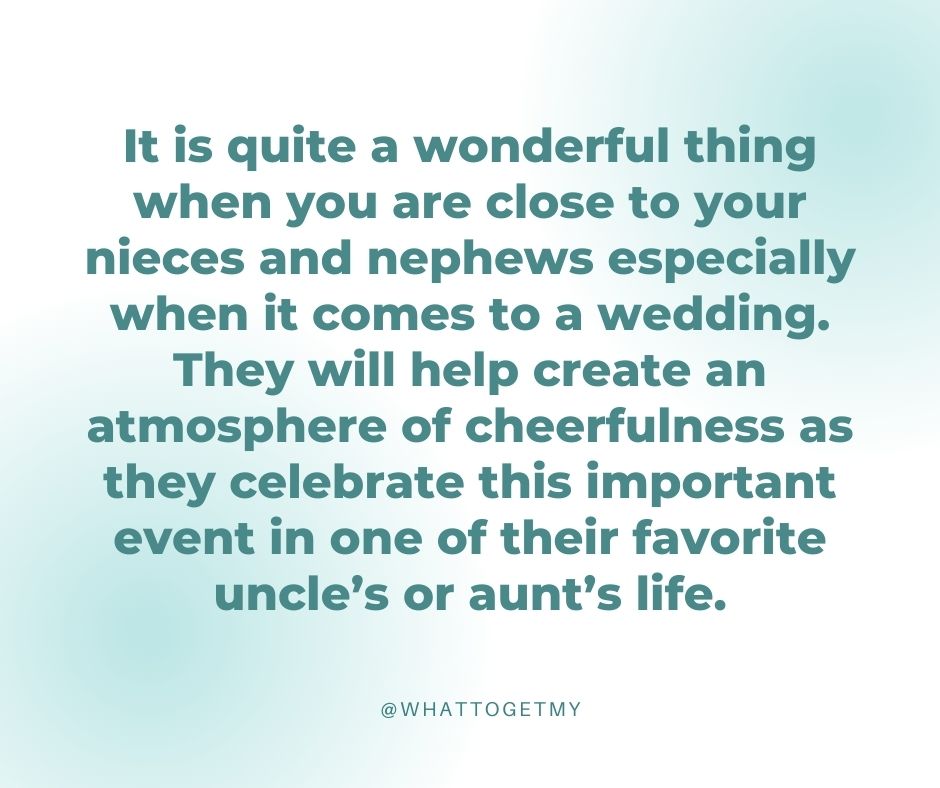 Even though they are there to celebrate, they would most likely also want to help you out on this day and feel included. This means that you now have to find some roles for them that will not be so much pressure that they don't have a good time but will also make them feel gratified at having helped out.
When someone mentions nieces and nephews, an image of children usually pops into their minds, yet as we all know, they can be adults as well. With that in mind, this article will cover ways to include nieces and nephews of all ages so that you are sorted regardless.
1. Leading the Procession
Include your nieces and nephews in the wedding party by having them lead the procession to the altar. This is best suited for your younger relatives as it would make for an adoring sight.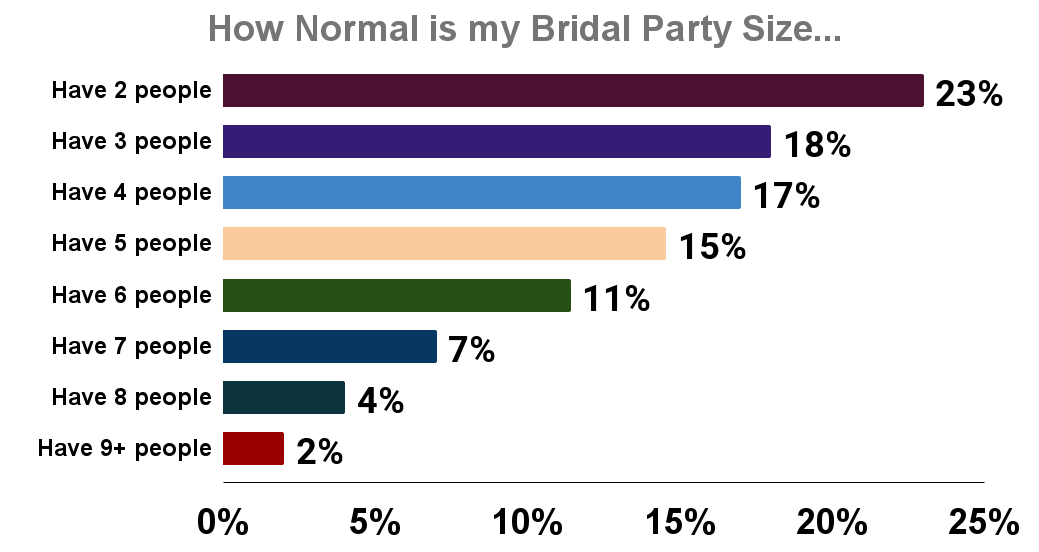 This chart by SheKnows shows that you are free to have a large wedding party so you can include all your nephews and nieces – and your partner's – in the procession. This eliminates the appearance of favoritism. They can then split at the front and head back to their seats so the altar isn't crowded.
2. Bearing the Rings
A cute job for nieces and nephews at a wedding would be to act as the ring bearer who will approach the altar to deliver the ring. They can then pass it on to the best man or best lady, who will hold onto the rings until they are needed.
Ideally speaking, a child between four and ten years of age would be best as they can understand instructions better. Also, be sure to pick a child that does not get scared of people looking at them as they work down the aisle.
Oh, and one more thing, please style them in the same attire as the bridal party if you can. If you can't, a matching color would be acceptable.
3. Flowering Your Way as the Flower Girl
You are unique, and because you are special, you simply must walk on flowers as you approach the altar. Choose a niece ( or nephew) to be the one who spreads these flowers as a special honor. If you have several nieces, they can all share the role of making for a more flowery affair.
4. Bridesmaiding and Groomsmenning
A perfect wedding idea for nieces and nephews would be to make them bridesmaids or groomsmen. Watch your guests brim with delight at the cuteness of having your younger relatives as junior bridesmaids and groomsmen styled in matching outfits and doing the needful for their uncle or aunt.
For the older relatives – depending on how close you are – they could be actual members of your wedding party as bridesmaids and groomsmen, with all the responsibilities that come with it minus financial, of course.
5. Usharing the Event
Need to know how to include older nieces and nephews in a wedding? Look to the ushering department. You will need people to welcome the guests, guide them to their seats and other relevant locations such as the event hall and the reception area, and respond to the requests of the guests.
Even though your older relatives would be perfect for this role, the younger ones can be used as well, provided they are old enough to understand the nitty-gritty of being an usher.
Check out this Guide on Who Sits Where at a Wedding Reception.
6. Doing a Reading
Nieces and nephews during the wedding party, can be used to bless the couple or provide entertainment to the guest by doing a reading. They can read poems, blessings and affirmations or even passages from literature and movies such as "From Beginning to End" by Robert Fulghum."
The trick to picking the right niece or nephew is to find one that isn't too young, they can't read eloquently, but not too old that the scene isn't absolutely adorable.
7. Photographing as Amateurs
View the wedding from the perspective of a child or young person by making them amateur photographers for the day. You could provide them with disposable cameras to capture the event and anything they thought exciting in it but be sure to advise them not to interrupt the wedding proceedings as they do so.
Of course, this isn't only limited to the younglings, as your older nieces and nephews can also help out.
8. Decorating the Venue
How to include nieces and nephews in your wedding? Use them for decorations. Your nieces and nephews might not only have great ideas for your wedding decor but can also help set it up if you decide not to go with professionals. They could even create some arts and crafts for extra measure that would help ensure a simply sublime sight. Needless to say, you should monitor them to ensure that there won't be tears from you at the wedding.
Check out these Ideas for a Cheap but Classy Wedding Reception.
9. Officiating the Nuptials
If you don't plan on going the traditional route, then an excellent job for nieces and nephews at your wedding would be to officiate the ceremony. They could get ordained in a simple process with the relevant authorities, and declare their favorite aunt or uncle, married.
You get a bonus point if a niece or nephew is already a religious figure who can officiate a wedding.
10. Styling and Making You Up
Style up your wedding with one of the ways to include nieces and nephews being to get advice from them for the wedding attire. They can help you shop for suitable patterns and colors by drawing upon their knowledge of current styles and fashion trends. Of course, we don't want you looking outlandish on your special day so maybe leave this to the older relatives such as nieces and nephews in their twenties.
On the day of the wedding, your nieces or nephews with an eye for makeup can also be of service in helping you look even more drop-dead gorgeous than you usually do.
Check out these Creative Things to Do with Your Wedding Dress.
11. Present a Talent Show
You could also include your nieces and nephews in the wedding party by having them entertain the guests with a talent show. You could select a single talented relative or have them perform as a group in anything ranging from dancing to singing, acting, and even performing a magic show. We anticipate a lot of clapping and murmurings of approval from your guests.
Here are Unique Things To Do at a Wedding Reception.
12. Using Them as Messengers
Nieces and nephews during the wedding party can also be used as messengers to allow you to communicate with others during the wedding. You can give them little notes to pass to people for things you need or need to be done. You can also use them to call people to your side when the message requires direct communication.
Apart from messages that get things done, you could make your spouse smile by sending sweet messages to them via your nieces and nephews.
13. Bringing Them up to Dance
Having kids dance on stage at a wedding is fast becoming the common trend in weddings. You have a choice of inviting kid nieces and nephews to the dance floor before your first dance with your spouse, so they perform a sort of mock dance to welcome you. Or, you could dance first and then invite the kids to dance and dazzle the crowd before others join in.
14. Hosting the Event
Are there any of your older nieces or nephews that are absolutely a delight when they host events? If yes, you could use them as hosts for your wedding reception. With them being part of the family, they can throw in some funny personal stories – that you authorize, of course – to keep the crowd laughing and entertained.
15. Family Processional
Show everyone how proud you are of your family and where you get your dazzling looks from by having them walk in after the wedding party has walked in. You could categorize the procession according to their role in the family. For instance, nieces and nephews could walk in together, followed by cousins, siblings, and parents.
Frequently Asked Questions
1. How do you involve nieces and nephews at a wedding?
They could be ring bearers.

They could be flower girls and boys.

They could help decorate the venue.

They could do a reading.

They could host the event.

They could lead the processional.

They could act as messengers.

They could act as ushers.

They could officiate the wedding if they are old enough.

They could present a talent show.
2. How do you include multiple children at a wedding?
By having them do a reading.

By using them as ring bearers and flower girls.

By having them lead to the processional.

By giving them a special table.

By having their attire match yours.

By having them dance before or after your first dance as a couple.

By using them as ushers for the event.

By asking for their help decorating.

By encouraging them to present a talent show.

By having them as junior bridesmaids and groomsmen.
3. How do I incorporate my family into my wedding?
They can be with you at the altar.

They can have a family procession before or after you get to the altar.

Putting up the family crest – if you have one. You could also put up anything else that reminds you of your family.

A family member could sing.

Some members of the family could have a reading of blessings or poems, such as parents and siblings.

Having the children perform certain roles in the wedding, such as ushering.

Dance with a member of your family, such as your dad for daughters and your siblings.

Using your grandmothers as flower girls.

Using a member of the family to officiate the wedding.

Encourage family members to showcase their talents individually or collectively in a talent show.

Make your parents the witnesses to the signing of the wedding register.
In Conclusion
Nieces and nephews to many people are much like their own kids, so we understand the need to include them in your wedding. Therefore, we hope that we helped you with how to include your nieces and nephews in your wedding.
For the younger ones, do try to ensure that you either have someone monitoring them in their roles; or practice enough that they don't need to be monitored.
ESTIMATED TIME DESIGNING AND UPLOADING THIS ARTICLE
ESTIMATED TIME RESEARCHING AND WRITING THIS ARTICLE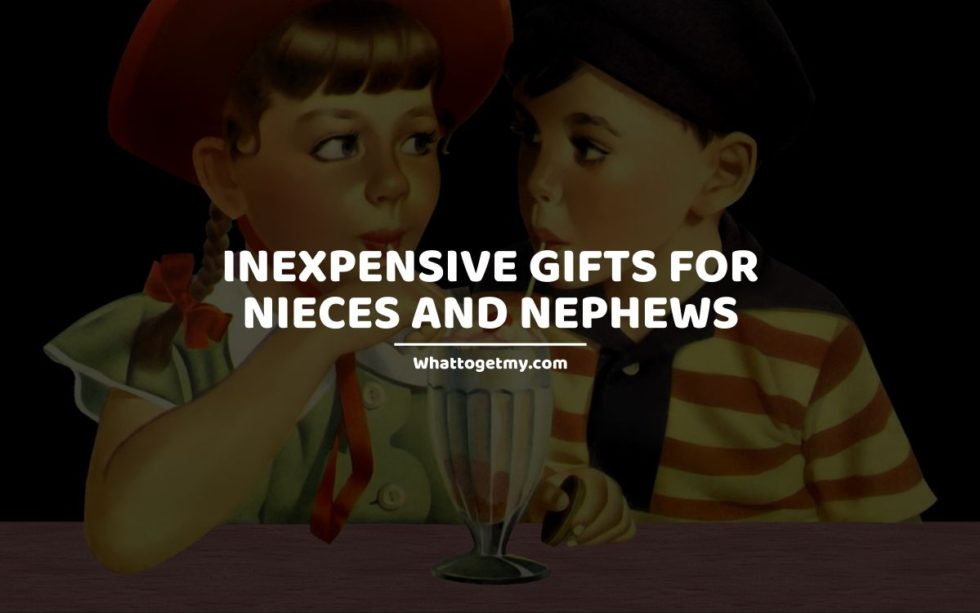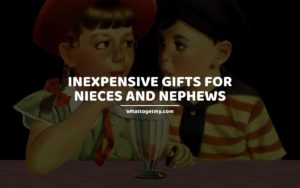 INEXPENSIVE GIFTS FOR NIECES AND NEPHEWS
Buying inexpensive gifts for nieces and nephews does not have to be a difficult task at all as their parents are the ones that will get them the gifts that they actually asked for, the things that they want or the things they need. If
Read More »