The Top Guide on Who Sits Where at a Wedding Reception
WhatToGetMy Instructional Article
A wedding reception is a celebration that follows once two lovebirds have walked down the aisle during their official marriage ceremony. The wedding reception is like an after-party that enables friends and family of both the bride and groom to socialize and recreate.
A traditional wedding ceremony is not complete without a wedding cake, special toasts and speeches, lively entertainment, and dancing. Some wedding receptions have a receiving line, while the bridal party prefers to make a grand entrance in others.
A receiving line consists of the bride and groom, their bridal party, and family members, where they greet and welcome their guests and receive their good wishes. On the flip side, in a grand entrance, the guests arrive before the bridal party and are the ones to welcome them with song, dance, and well wishes. A Master of Ceremony or a toastmaster is responsible for overseeing an effortless grand entrance by the bridal party.
While making seating arrangements is not mandatory, it is essential to determine who sits where at a wedding reception to make the most out of an occasion as promising as a wedding reception.
What to consider
There are numerous ways to create an effective seating order for a wedding reception, from seating charts to place cards or escort cards.
A seating chart is a detailed plan of how to arrange tables and the seating order for a wedding reception. Planning for seating arrangements for your wedding reception saves on the confusion and the time spent by guests looking for seats. Establishing a wedding seating chart etiquette will also ensure that each table is occupied to capacity.
Seating charts help you visualize where and how to seat your guests at a wedding reception. You can build your seating chart with a wedding seating chart generator or have a wedding planner do the heavy lifting.
When creating a seating chart, make sure that it is comfortable. Leave enough space for guests to move around and mingle freely between each table. At the onset of the COVID-19 pandemic, you must factor in social distancing protocols at all stages when planning seating arrangements. Have an alphabetical wedding seating chart so that guests can locate their names and seating areas quickly. Most importantly, see that the seating chart is easy to read and understand.
First things first, determine the number of guests in attendance for the wedding reception. A seating arrangement may not be important if you have less than fifty guests. However, this should not stop you for making one. In a recent survey, 46% of couples who were getting married said that if guests numbers reduced significantly, they would expect an adjustment on the price paid for the venue for the wedding reception.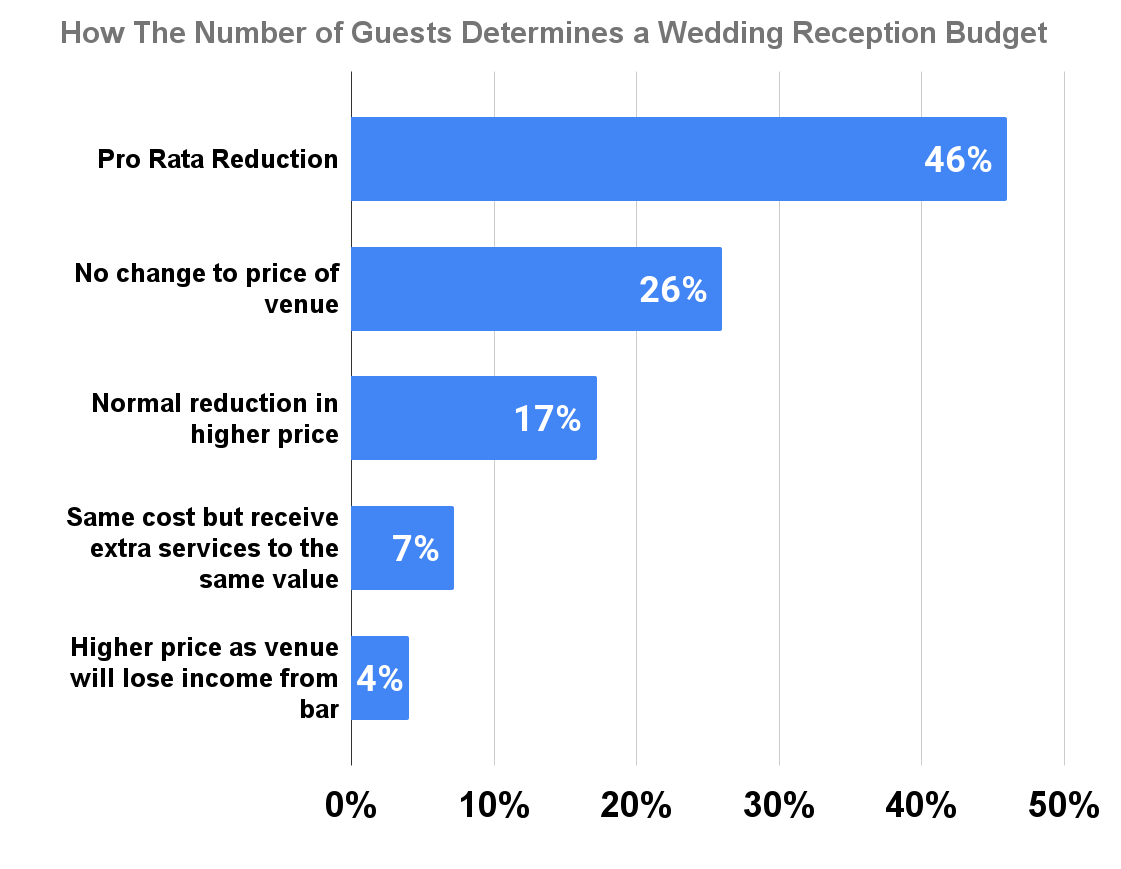 Categorize your guests into groups. The VIPs often comprise the bride and groom's parents, siblings, grandparents, and immediate extended family. Close friends and colleagues to the bride and groom are two categories in your reception style seating. There should also be a floor plan with a setup for the dance floor, the DJ, and the buffet.
Secondly, when arranging tables for a wedding reception, adopt a mix and match approach by combining familiar guests with new faces. Since the wedding reception is a time for your friends and family to socialize and get to know one another, mixing and matching their seating styles will encourage them to interact and get to know one another.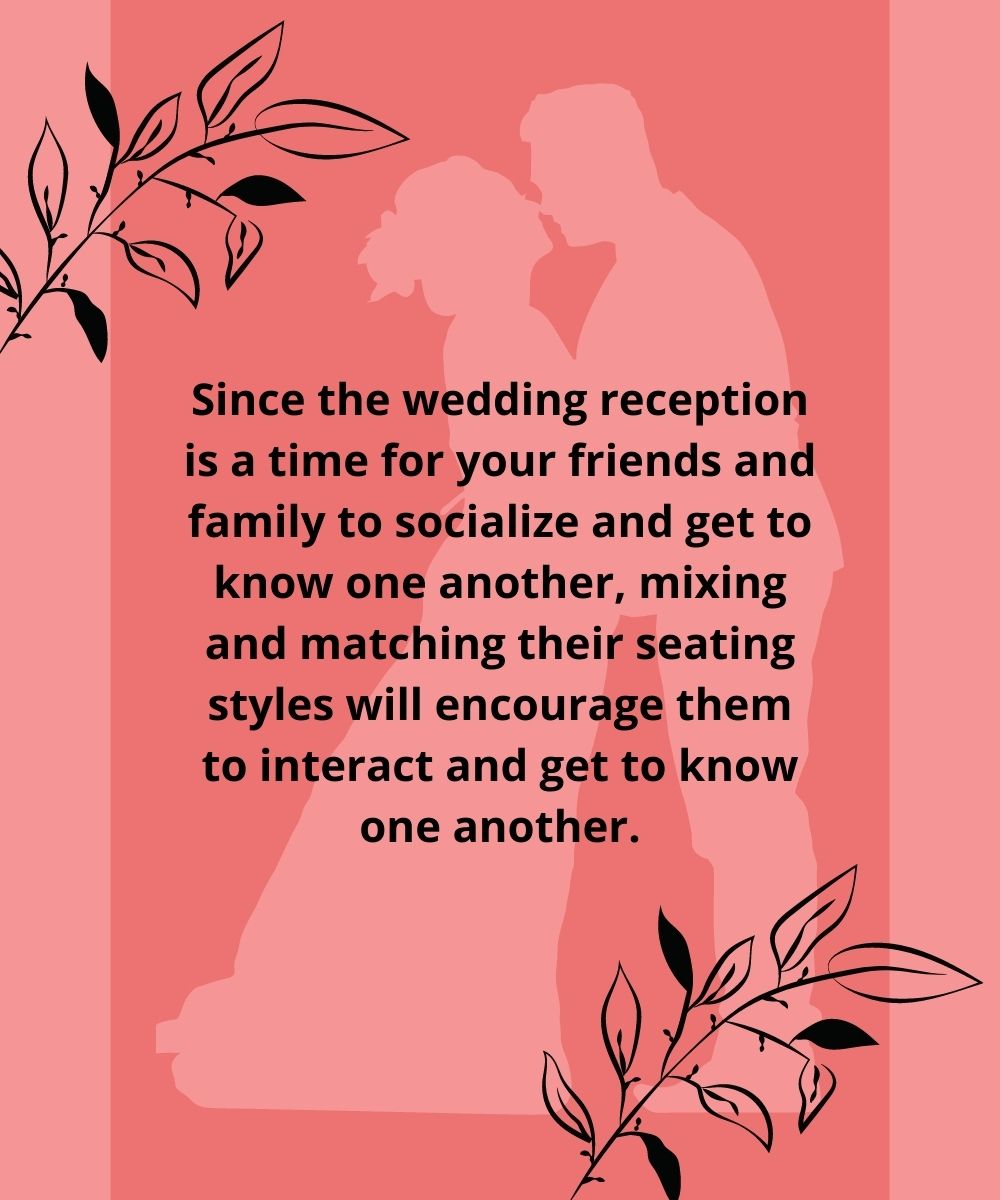 Wedding seating chart etiquette
When it comes to who sits where at a wedding reception, the planning team must observe wedding seating chart etiquette. Before designing a seating order for your wedding, consider the table shape or design that tickles your fancy. The form of the table will dictate how many guests it can accommodate at a go. It would be best if you have the floor plan of the wedding reception venue to help you design a sitting arrangement that is spacious and navigable for your invitees.
Begin with the head table seating arrangement. To guarantee that head table seating protocol is adhered to, consider a design or structure that will ensure that bridal table seating is at a prime location in the wedding reception area. Choose a focal point that is centrally located. Have the head table facing the family and friends so that the bridal party can see and interact with their esteemed guests.
The bride and groom sit next to each other at the bridal table, and their seats are marked with some form of decoration such as flowers. Traditionally, the groom sits on the bride's right-hand side while the best man sits to her left. The maid of honor usually sits to the groom's right.
On the other hand, the married couple can have a sweetheart table. A sweetheart table is a small table that seats only the bride and groom, and it usually stands alone. The rest of the bridal parties are then arranged around near the rest of the bridal team. With the many distracting moments and intense activities of the day, a sweetheart table allows the married couple to re-group and enjoy a few intimate moments together.
Family tables
You have decided on the head table seating arrangement. The next step is to determine the placement of family tables. The organization of family tables is a matter of preference. Some couples prefer to have both sides of the family sit together at one table, while others opt to keep them separate.
Deciding where to seat parents at a wedding reception has never been easier. Try to assign each parent a table of their own to head. Allocating tables will give your parents the independence to choose additional family members and close friends. Parents' deciding on their seating arrangement this way takes the weight off the shoulders of the married couple and makes planning the rest of the ceremony more efficient.
Incorporate a childrens' table in your seating chart design. Children are very social and prefer to move around a lot; it is, therefore, practical to have them grouped in one designated seating area to make the event more manageable. Depending on your wedding reception venue, you can allocate the seating area for children closer to a playground area to allow them to access it easily.
Place cards or escort cards?
Place cards or escort cards to guide your guests to their seating area during a wedding reception party.
As per custom, put place cards at each table with their designated seats. This method directs guests at a wedding reception to specific sitting areas, hence the name place cards, from a simple card to a creative template.
On the other hand, escort cards are displayed at the wedding reception entrance. These types of cards are sorted in alphabetical order, and they contain the name and table number of each guest. Unlike place cards, guests using escort cards have the freedom to choose which seat to occupy.
Conclusion
Seating plans are optional. Some people believe that a seating plan is not necessary and that visitors will use their intuition and judgment to find a suitable place to sit. Suppose you aim to throw a wedding reception that is smooth sailing; incorporate a seating arrangement. Include a deadline for when your invitees should have RSVP'd for their attendance since the number of RSVPs will show you how you should arrange the venue for the wedding reception and a guest's allocated seat.
The bride and groom can give valuable information regarding seating arrangements for their wedding reception. The newlyweds are aware of which guests, when paired together, will hit it off immediately or which ones they should keep far away from each other.
Having a seating chart for your wedding reception will keep your guests' minds at ease, allowing them to engage in the wedding celebration and let loose fully. Seating arrangements also provide a map for staff serving guests at a plated dinner service-style wedding reception.
Frequently Asked Questions
1. What is the purpose of a seating chart at a wedding?
A seating chart visually represents how guests will sit at a wedding reception. A seating chart helps to curate a highly organized party; it also guarantees that you will fill the seating area.
2. Who sits at the bridal table?
The bridal table at the wedding reception accommodates the bride, groom, the maid of honor, the best man, and the bridesmaids. As is common practice, the bride sits on the groom's left side and by the right-hand side of the best man.
3. How do I place tables and guests on a seating chart?
Placing guests on a seating chart does not have to be as tedious as it sounds. One approach you can try is to divide your guests into groups. Different groups include immediate family, friends, colleagues, honorary guests, and kids. Cultural practices vary, and some traditions require that the seating order for a wedding follow gender rules instead.
4. How should I list names on a seating chart?
You can list names on a seating chart in alphabetical order to make it easier for guests at the wedding reception to locate their sitting area. You can share a digital copy of the seating chart with guests who confirm attendance and place a chart at the wedding reception entrance.
5. Who should have a reserved seat at a wedding reception?
While all your guests are VIPs, you may decide to have a few specially reserved seats. Honorary guests or important public figures should have a reserved seat at a wedding reception. The married couple could also consider booking a chair for their immediate family and closest friends.
6. How do you display a seating chart for a wedding?
You can opt to display the seating chart for a wedding at the wedding reception entrance. The entry is a central location and accessible to all guests who will first view it before finding their table. Outsource the services of an usher or appoint some close family members who will guide the guests to their respective seating areas. Alternatively, why not go digital? Share a soft copy of the seating chart with guests who have RSVP'd before the wedding.
7. Do the bride and groom's parents sit together at a wedding reception?
Yes. Traditionally, the bride and groom's parents usually sit together with their siblings or the newlyweds' grandparents at the same reception table. If the officiant is in attendance, they can join the nuclear family at their table.
You may also like this article on Unique Things To Do At a Wedding Reception.
ESTIMATED TIME DESIGNING AND UPLOADING THIS ARTICLE
ESTIMATED TIME RESEARCHING AND WRITING THIS ARTICLE