7 Unique Things To Do at a Wedding Reception That Will Leave Your Guests In Awe
WhatToGetMy Instructional Article
Ring! Ring! Ring! Chime the wedding bells as you sashay outside of the church as the newlywed couple in town. You have waited for this moment for a lifetime; when you can finally call each other husband and wife. Planning a wedding can be nerve-wracking and downright stressful. At every turn, obligations and approvals demand your attention. Besides, let us be honest. What is a wedding without a reception to celebrate the newlyweds? Whether you are a minimalist or love a grand wedding, these unique things to do at a wedding reception shared below will leave your guests in awe.
A wedding reception is usually the party after newlyweds have officially exchanged nuptials in the wedding ceremony. The reception can be both formal and social. What happens at a wedding reception? A fundamental part of the occasion, wedding receptions are all about fun, flair, and family. The families finally come together as one to celebrate the newfound union between the newlyweds.
How long a wedding reception will take depends on how you curate the program. People across the world have different cultural practices during a wedding reception.
Wedding reception activities can be both traditional and non-traditional. Different cultures around the world celebrate newly married couples in their personalized ways. For example, the French have the Le Pot de Chambre. In this ritual, after the wedding reception, guests would get all the leftover food and drink together and place it all into a chamber pot. This pot is then presented to the newlyweds to drink. They believed that this gave the couple energy for their special wedding night.
Some important things to consider while planning your reception are setting your intentions. Would you like the reception to be memorable? Or would you prefer that both families and guests leave having bonded with each other? Or maybe both. Whatever the case, setting an intention or expected outcome will guide your planning on fun wedding reception ideas.
Next, note down the number of guests who will be in attendance. Depending on the number of guests you have invited, this will help you determine what crowd control measures you need to have in place on the big day. Thirdly, carefully curate a systematic program that will ensure the smooth execution of the reception from start to finish. Ideally, a good program should help you deal with contingencies promptly while simultaneously entertaining your guests.
According to a recent survey, a wedding reception takes up most of the budget allocation by at least 42%. This goes to show how vital it is to plan something worth your while.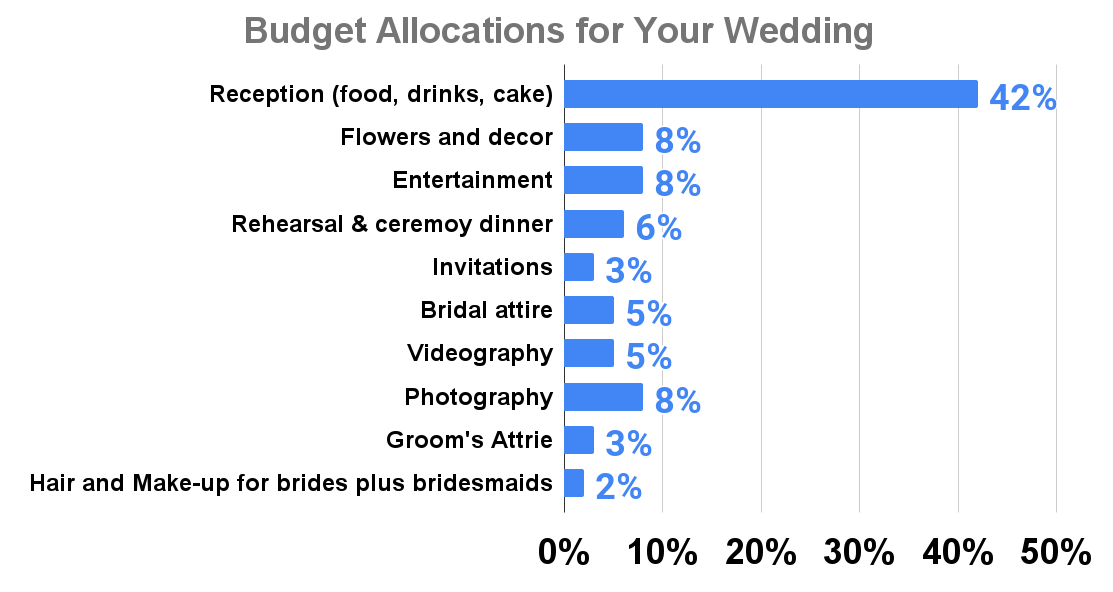 There are many types of wedding receptions, including an indoor reception, an evening reception, a garden reception, to name but a few. The list is endless and will change based on your location, preference, and budget.
Discover and learn seven non-traditional wedding reception games and activities that are one of a kind and sure to leave a lasting impression on your friends and family.
1. Create a dance train
Follow the leader! A dance train is a fun activity for a wedding reception. Following the leader works wonders for wedding ceremonies that have taken place in a church, with the reception taking place in an alternative location, such as a garden or in-door venue. To get your guests to loosen up as they await the arrival of the bridal party, you may have the master of ceremony create a dance train for guests to participate.
2. Play a trivia game
Trivia makes for ideal games to play at a wedding reception; they are also a sure-fire way to keep your guests engaged and entertained. Create a trivia by preparing a set of questions about the characters of the bride and groom or things that they like to do. Guests then have to answer with facts about the bride or groom to confirm how well they know the newlyweds. Include a reward for the most accurate answers to make the experience noteworthy.
3. How about some drinking games?
A non-traditional wedding reception activity is setting up drinking games for your guests. If your wedding reception has an open bar, include an array of drinking games for your guests to indulge. You can play some beer pong games that are wedding-themed. Alternatively, you can set up a make-your-own cocktail bar. For this to work, have the bartenders set up different bases for three popular cocktails that your guests will have filled out before the wedding. Your visitors will then choose the base they prefer and top up with other ingredients to make their cocktail. Personalizing this process will make your guests feel valued and remembered.
4. Wedding karaoke
Have you considered having a karaoke machine at your wedding reception? Well, look no further. It's time to get your guests to sing their hearts out to you. Set up the karaoke playlist beforehand to make this activity enjoyable. The playlist should include only wedding-themed songs about everlasting love or love songs that both the bride and groom enjoy listening to and slow dancing.
5. The mix and mingle
The mix and mingle is a perfect game if your reception is buffet-style and will elevate your reception out of this world. The policy of this wedding reception game entails someone leaving having made one new friend at the reception. Chances are, a guest at your reception is often in the company of a friend or family member with whom they already have a solid rapport. Once your guests have worked up an appetite and it's time to serve, you can have your master of ceremony call out clusters of tables in a systematic manner. At this juncture, they should inform the invited that once they have packed a hot plate, they must sit at a different table altogether. The mix and mingle game encourages socialization and fosters new relationships as guests chow down a hot plate.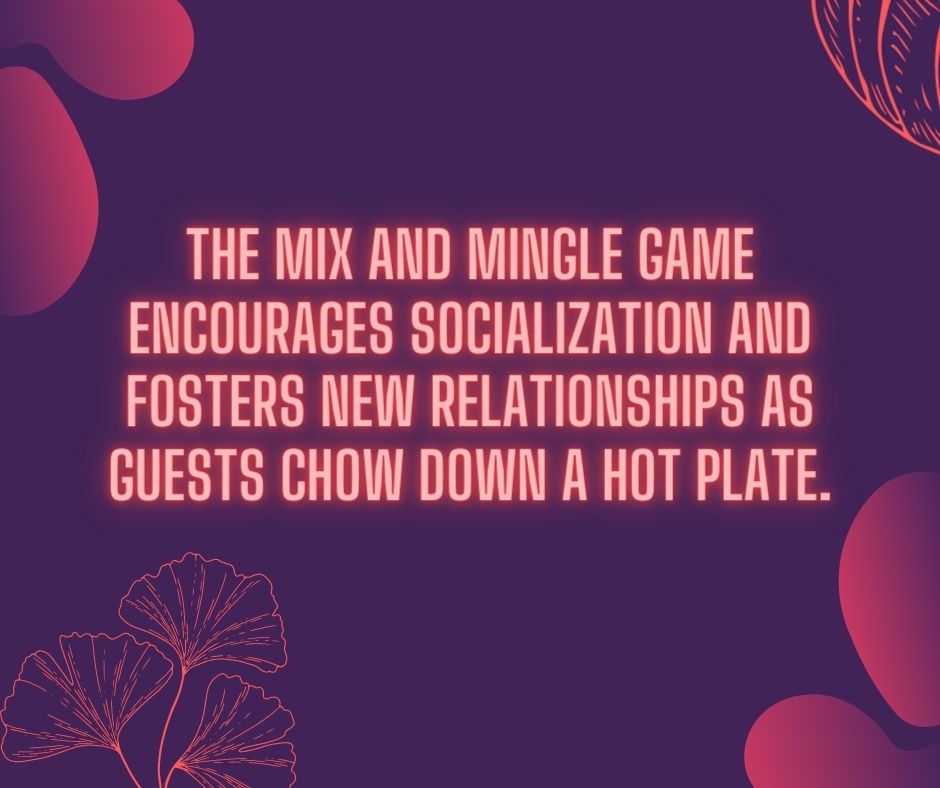 6. Bridal party choreography
What better way to include a Hallmark moment in the wedding reception program than to have the bridal party prepare a choreographed dance routine? Dance is a fun wedding reception activity guaranteed to entertain your guests and have your reception etched in their memories. The entire bridal team comes up with a simple dance routine with movements that their guests can mirror easily. Your guests will find it easier to be involved in the action this way. The bridal party choreography will spice up a wedding reception and turn it into one big dance party!
7. Set up a photobooth
A photobooth is nostalgic. It takes us back to when dating in high school involved going to a theme park to get to know your crush a little better. Set up a photo booth to entertain guests at a wedding reception. You can add a twist by having a professional create several large cardboard frames, each uniquely designed as per the wedding theme. Encourage the guests to use the photo frames to pose for photos. Add a little spice to the photo frames by including quotes about love and marriage. Portable photo frames allow for the photobooth to be partially mobile.
After all is said and done, your wedding reception only happens once. Based on this reason alone, it should be a momentous occasion. The wedding reception is a time for your guests to get social and celebrate your newfound commitment in style. Including the unique wedding games and activities suggested will get the party going and give your guests a chance to bond with each other.
Frequently Asked Questions
1. How can I entertain my guests at my wedding?
There is no limit to what you can do when entertaining guests at your wedding. You can hire a professional band with a knack for wedding ceremonies or otherwise have such a repertoire. You can also get an entertaining master of ceremony to tickle the fancy of your guests and keep them smiling the whole time.
2. What are some unique entertainment ideas for my wedding reception besides dancing?
Some unique entertainment ideas you can try for your wedding reception is to commission a talented artist to paint a picture of the reception as it is happening. Creating something as memorable as a still painting of the day for your guests will allow them to leave with a piece to remember the auspicious occasion. Check out some more unique ideas here.
3. How can I make my wedding reception unforgettable?
A sure way to make your wedding reception one for the books is to set up a photo booth and wedding karaoke machine. Ensure that you appoint a professional photographer and videographer to capture the best moments.
4. What are some fun wedding reception ideas I can have on a budget?
Who says you cannot ball on a budget? Some fun wedding reception ideas that are also pocket-friendly are to hold your reception at a family-owned restaurant or premises. Instead of paying for a venue, you can channel that money towards a handsome supply of food and drink. You may limit the number of guests to your reception and hold it in your backyard. Alternatively, you can ask for donations from your guests in kind by asking for help with the food on the particular day instead of gifts.
5. Are games a good idea for my wedding reception?
While some cultural practices may not allow for fun activities at your wedding reception, games are a good idea to include in your wedding reception program. The games serve to remind your guests that they hold a special place in your heart.
6. What are some fun activities for my wedding reception?
Fun activities at your wedding reception will also depend on the age range of your guests. You can start with light and fun games – such as a trivia – that will allow both children and adults to participate. When it is time for the evening party, you can introduce some drinking games.
7. How can I make a small wedding fun?
Schools of thought are different when it comes to wedding receptions. Some believe that receptions must be a grand occasion. Others prefer a minimalistic celebration. While the fun may be in the numbers, it is possible to have a good time with some unique activities. With a limited number of guests, you may opt to have a destination wedding.
You may also like this article on How To Plan a Wedding With Step-By-Step Instructions.
ESTIMATED TIME DESIGNING AND UPLOADING THIS ARTICLE
ESTIMATED TIME RESEARCHING AND WRITING THIS ARTICLE