What to Serve at Wedding Reception - 31 Food Ideas for Wedding Reception
WhatToGetMy Instructional Article
Wedding receptions are one of the hallowed wedding traditions. Deciding what foods to serve at a wedding reception will go a long way to ensure that you and your guests have an incredible wedding reception.
4 Tips for catering for wedding receptions.
These four tips will come in very handy to have the best dishes for a wedding reception.
1.
Find out if the reception venue allows you to bring your meals.
This is perhaps the most important tip to remember. You don't want to make elaborate catering plans only to find out that you have to take them all back on the day of the reception. Some venues are particular about having to be responsible for catering. Others may have a third party they outsource it to and who they insist their clients should make use of. So, be sure to find out the position with the venue before you commence your catering plans.
2.
Let your catering and food choices reflect your uniqueness as a couple and tell your love story.
Want to avoid bland and uninteresting? Consider letting your catering choices tell your love story.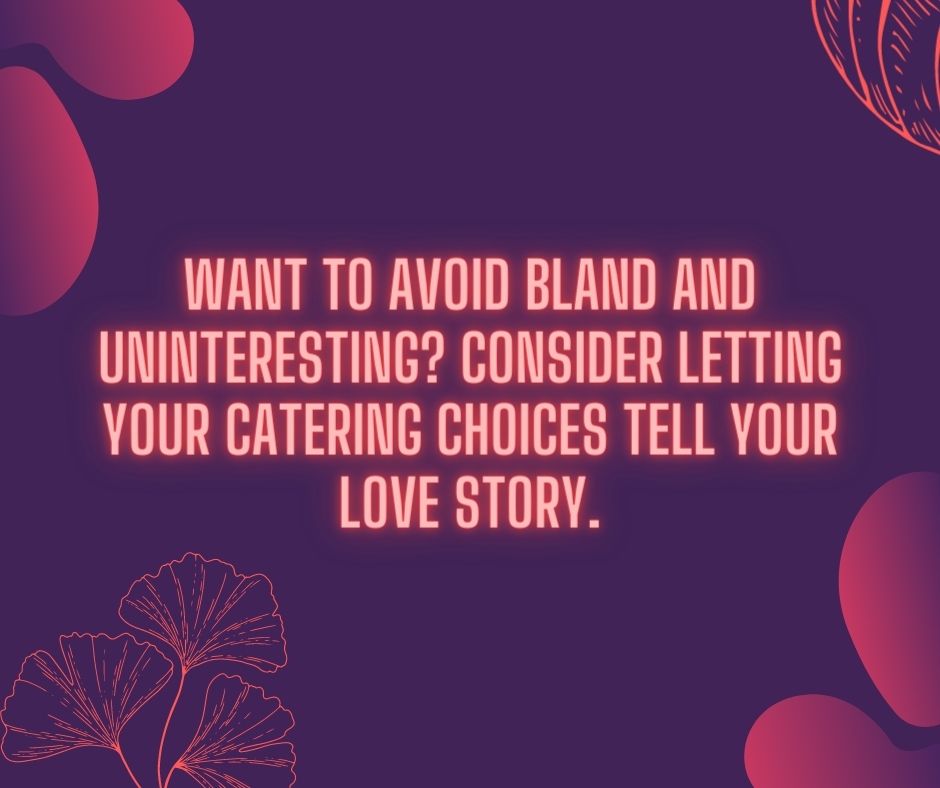 Maybe it's that favorite dessert from that restaurant that you both love. Or perhaps the meals you both ordered on your first date or the exotic meal you had while on holiday. Going with this type of theme has a way of bringing an extra personal touch to the reception and having your guest connect with and be a part of your love story.
Get your guests to get a feel of the personal touch by having notes beside each meal detailing the story behind the meal. This will leave them with stories to tell even long after the reception is done.
3.
Unless you have a lot of money to splurge on the reception, options that entail fewer logistics and fewer food items are more budget-friendly.
Wedding receptions can be quite an expensive affair, as seen in the survey shown in this chart as gotten from Statista. And unless you are looking to spend a fortune on the wedding reception with 4 – 5 course meals, waiting staff, and the whole shebang, options such as finger foods and pre-packed snacks neatly arranged on a table for guests to pick on their way out or laid out on their tables would save you both time and money. Indeed any idea that entails fewer logistics and less elaborate and exotic meals will save you some bucks.
4.
Find out in advance from your guests if they have any particular dietary requirements or allergies.
This should typically form part of the wedding invitation and reception RSVP card. Asking your intended guest their dietary requirements will go a long way in ensuring that you don't spend lots of money on food choices that most of your guests may not eat, thus leading to wastage.
What To Serve At Wedding Reception – 31 Food Ideas For Wedding Reception.
You can't go wrong with these 31 sample menus for wedding receptions, depending on the type of wedding reception you decide to settle for.
2 Wedding Reception Food Ideas For Summer.
We all love summer weddings because they are a chance to enjoy the outdoors and have an outdoor wedding reception if you feel like having one. Whether you want to have your summer wedding reception indoors or outdoors, try out any of these wedding reception food ideas for summer.
1.
A Hawaiian-themed menu.
This theme is perfect for a summer wedding reception by the beach. You can have all beach favorites on the menu, including cocktails. With this theme, many seafood snacks and finger foods like prawn cakes and cocktail shrimps will add glam to the day. You can also try out mango and pineapple chunks on skewers.
2.
Good old backyard barbeque menu.
If you have your summer wedding reception in an outdoor backyard, make it a backyard barbeque wedding reception with assorted barbeque favorites like meat kebabs, meat and cheese trays, and smores.
4 Wedding Reception Buffet Menu Ideas.
With buffet-style menus, it is always best to appropriately label all food items on display, especially for those who are vegan or vegetarian.
You can try out the following yummy wedding reception buffet menu ideas that also have food items that can be eaten by a vegetarian or vegan:
3.
Assorted kinds of pasta, meatballs, sweet chili chicken sticks, beef kebabs, assorted veggie rolls, and dessert.
This is a good buffet option if you love pasta and want to give your guests a good taste of assorted kinds of pasta. Consider also having pasta options that are vegan and vegetarian friendly.
Combine the pasta with meatballs and sweet chili chicken sticks, and beef kebabs for an exotic range of meat selections for your guests. And for the vegan or vegetarian, they will enjoy their pasta with veggie rolls.
4.
Spanish rice, barbeque chicken, cucumber, green peas, diced sausage and cabbage salad, green salad, cream tart.
Another yummy wedding reception buffet menu idea that will have your guests coming for seconds and thirds. And if you don't know much about Spanish rice and how it is prepared, check out a helpful recipe here.
5.
Roast carrot and cucumber kebabs, roasted butternut, stir-fried broccoli and cauliflower, doughnuts, and cream tart.
This is a purely vegetarian and vegan option that would be loved if most of your guests are vegan or vegetarian or if you are vegan and/or vegetarian.
6.
Fried sweet potato sticks, flour-coated french fries, buffalo wings, beef and pork kebabs, veggie rolls, roasted butternut, and cream chocolate cake.
This buffet option is an assortment of favorite snacks that would be a delight to indulge in at a wedding reception.
11 Wedding Reception Snack Ideas.
Opting for snacks on your wedding reception food menu is very cost-effective. It is also logistically more manageable as you will need nothing more than disposable serving items, thus making it easy to clean up afterward.
Try out these sumptuous and mouth-watering wedding reception snack ideas
7.
Tortilla wraps stuffed with coleslaw and shredded meat pieces.
Choose between shredded chicken or minced meat. You can also vary with tuna chunks.
8.
Mini beef burgers or chicken burgers.
These snacks work well as an accompaniment with other snacks listed in this section because of their small sizes.
9.
Meatballs with sweet chili sauce/dip.
Another traditional favorite.
10.
Caprese skewers (are made up of tomatoes, mozzarella, basil, and a drizzle of balsamic on a skewer).
This exotic vegan/vegetarian alternative will be enjoyed by vegans/vegetarians the most.
11.
Grilled chicken breasts or buffalo wings with flour-coated French fries.
A finger-licking snack that will have your guests wishing they could take some home.
12.
Small pizza slices, sausages, and quesadillas.
This is a decadent variation to pastries and puffs.
13.
Fruit salad and several salad options.
This menu item will be an addition to other snacks rather than a stand-alone option.
14.
Roasted bacon-wrapped chicken breasts topped with cheese and flour-coated French fries.
Another yummy treat that your guests wish they could go with doggy packs to enjoy later.
15.
Assorted puffs and pastries.
Puffs and pastries will always save the day for any occasion. Make it a medley of you and your spouse's favorite pastries gathered over the period that you dated each other.
16.
Tarts – Danish tarts, cream tarts, apple tart crumble.
Those with a sweet tooth would enjoy this snack selection.
17.
Ice-cream scoops on cones.
We all love our ice-cream scoops. Spoil your guests with signature ice cream scoop flavors on mini cones.
2 Pasta Bar Ideas For Wedding Reception.
Try out these two pasta bar ideas for a wedding reception.
18.
Tuna pasta salad.
The tuna bits in this pasta salad make it an enjoyable pasta bar option on your menu.
19.
Zucchini pasta.
A healthy menu option for vegans and/or vegetarians.
3 Classy Bbq Wedding Reception Menu.
If you are going for the barbeque option and looking for classy options, try out any or all of these three classy bbq wedding reception menus.
20.
Classic beef kebabs glazed with barbeque sauce, roast potatoes, and butternut served with red wine.
Tickle their taste buds with this classy menu option. The kebabs and roast potatoes, and butternut will leave an enjoyable sweet and savory after taste.
21.
Chicken, beef, and pork skewers with sweet chili sauce dip, roasted vegetables, veggie rolls, and rose wine.
Meat lovers will love this menu very much.
22.
Butternut Soup, Lamb chops, couscous, and roasted vegetables served with red wine.
Lamb chops and butternut soup are as classy as it gets. Your guests will feel like they are dining in a 5-star restaurant with this classy bbq wedding reception menu. 
List Of 9 Finger Foods For Wedding Reception.
Serving finger foods at your wedding reception would save you costs and be logistically more manageable. Spice up your wedding reception menu with these decadent finger foods for a wedding reception
23.
Vegetable and spring rolls.
24.
Spicy buffalo wings.
25.
Quesadillas.
26.
Meatballs and savory sauces
27.
Dessert.
Desserts like doughnuts, fruit tarts, petit fours, ice cream, cookies will spice up any wedding reception.
28.
Cupcakes and all things cake.
We've put the cake in a separate category because cake stands in a class of its own when it comes to dessert and sweet things. Cake flavors like death by chocolate, red velvet, carrot, and vanilla are all-time favorites at weddings.
29.
Meat, cheese, crackers, and tortilla trays with dipping sauces.
30.
Meat kebabs and dipping sauce.
31.
Mini chicken and beef wraps.
Frequently Asked Questions.
1. What are some sample menus for wedding receptions?
This article's meals and menus are good sample menus for wedding receptions.
2. What is the best food for a wedding reception?
There isn't the best food for a wedding reception because we all have different tastes and preferences. Whatever foods reflect your preferences, tell your love story, and don't overstretch your budget will be the best foods for your wedding reception.
3. How about wedding reception food station ideas?
The answer to this question will depend on the food stations you decide to set up. You can set up a starter food station, a main course food station, a finger food and snack food station, and a dessert food station. Depending on the food stations you go for, you can then choose food items that fit into each food station and make up wedding reception food station ideas.
4. What is some simple food for wedding reception?
Finger foods and snacks are usually the most straightforward options for simple foods for a wedding reception.
5. How about wedding reception food ideas on a budget?
Finger foods and snacks are also the best wedding reception food ideas on a budget. The Hawaiian-themed menu will equally not cost as much and could be pulled off on a budget.
6. Can you suggest any reception dinner ideas?
The menu options in the buffet section will make for good reception dinner meals.
7. What are some lunch wedding reception menu ideas you can suggest?
All the meals and menus listed in this article will create good lunch wedding reception menu ideas.
Conclusion.
To plan the best wedding reception food menus, consider the four tips listed in this article, and you won't go wrong with putting together the best foods for a wedding reception. We also help you with some helpful sample menus for wedding receptions by suggesting the best 31 decadent wedding reception menu to help you with catering for your wedding reception.
ESTIMATED TIME DESIGNING AND UPLOADING THIS ARTICLE
ESTIMATED TIME RESEARCHING AND WRITING THIS ARTICLE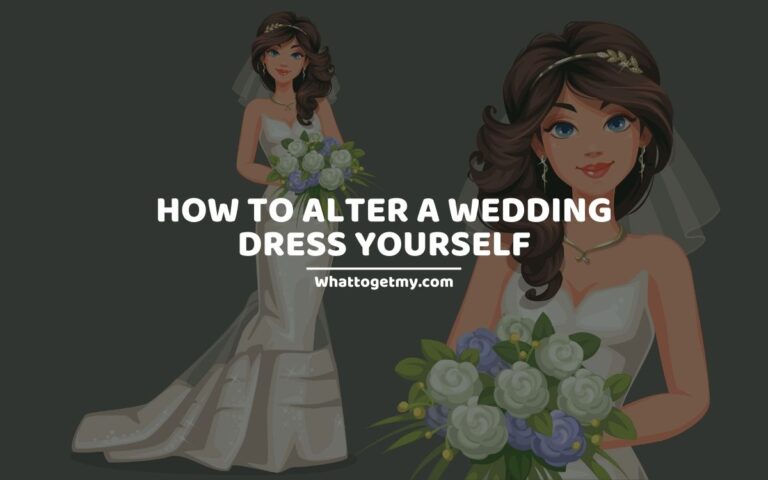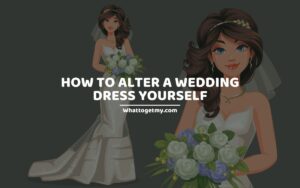 13 Ways: How to Alter a Wedding Dress Yourself
13 Ways: How to Alter a Wedding Dress Yourself WhatToGetMy Instructional Article Once you have the right wedding dress to use on your wedding day, you might be wondering how to alter a wedding dress yourself? Do you find Hemming a wedding dress hard to
Read More »