5 Ideas for a Cheap but Classy Wedding Reception
WhatToGetMy Instructional Article
With the rising costs of weddings in the United States, throwing a wedding together without overspending seems impossible. However, there are many ways to provide a beautiful and classy wedding reception on a budget. By following these tips, you will be sure to wow your guests and give you the peace of mind that your wedding will not be too expensive.
Many believe that weddings should be lavish celebrations of romance and elegance. However, some couples may want to have their wedding on a budget.
Many couples would like to skip the pomp and circumstance to save for a down payment on a house.
If you want to throw a wedding on a budget, consider following these tips that will save you money and create a beautiful day for you and your spouse to remember.
1. Picking a Venue
While getting married at a plantation or elegant country club is an attractive option for some, plenty of wedding venues can provide stunning scenery and ambiance at a lower cost.
When choosing a wedding venue, think about places that are already naturally beautiful. You might also want to consider an area with symbolic meaning for you and your partner. Some ideas may include:
A bookstore or record shop – If you spend a lot of time in either one of these locations, you might have a good rapport with the owners. Ask to reserve the location in advance. Depending on the location's layout, you may hold your ceremony and reception in the same area.
A bookstore is suitable for a small, intimate group of people. Try to limit your guests to 40-50 people depending on parking and building occupancy rules. Check with the business owners on safety procedures.
A Family Member's Backyard – We all have a family member with an impeccably manicured lawn. Their backyard may serve as the perfect location to say "I do." With some rented chairs, an altar, and flowers, you will have a picturesque wedding venue on a budget in no time.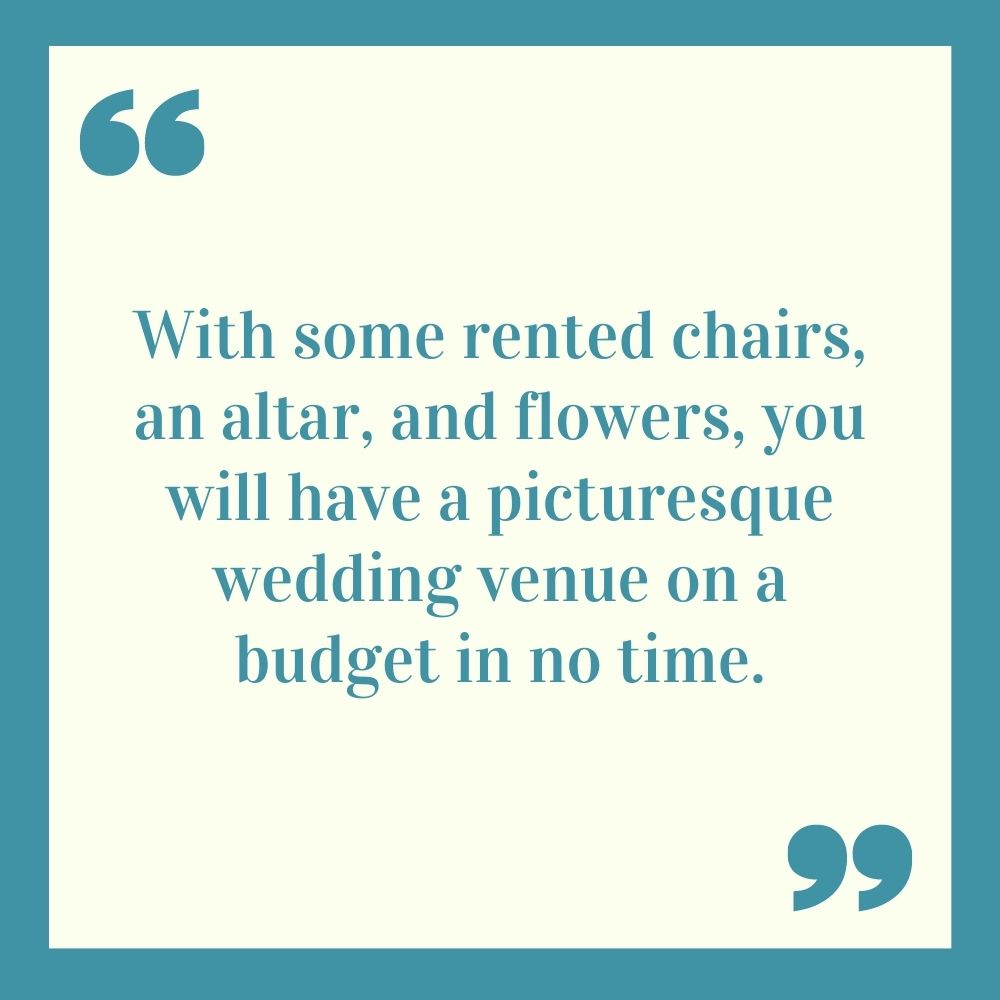 Similar to a family reunion, try to keep it intimate. When weddings occur in residential areas, there is often not enough parking or space for 100+ wedding guests in a single-family home. While this is one of the cheapest wedding venue options, consider the logistics of throwing a ceremony and reception in a residential neighborhood.
National/State Parks – Are you and your partner nature lovers? Consider having a wedding with the beautiful natural backdrop of your local flora and fauna. There is a wide array of state and national parks throughout the United States. You'll be able to wow your guests and provide a cheap venue with breathtaking views.
Unlike the other two venues, a national/state park will have all the space you need. From parking to restrooms and campsites, you can throw as big of a ceremony as you'd like in this wide-open space. Before booking, however, check with a park ranger to learn the rules of all the park areas. Be sure to relay these rules to all your guests so everyone can have a fun, safe, and respectful time at your event.
2. Food
One of the most important aspects of a wedding is food. Many couples choose to cater using a private company or restaurant. While this is a fine example of traditional wedding etiquette, there are plenty of options that will ensure your guests will leave your wedding full and happy.
One of the most obvious ways to decrease reception food costs is by reducing your guest list. Instead of feeding 200 people, consider cutting down your guest list to ensure enough food for everyone. You do not want to invite too many people without the means to feed them.
Rather than using a catering service, you may want to consider enlisting the help of your friends and family. Instead of gifts, ask some guests to bring a potluck item with a small placard that includes the dish's ingredients (for allergy warnings and safety).
One of the best parts about a wedding is the different cultures and family members that come together for this special event. Bringing a meal that symbolizes this will make for great conversation and happy bellies all around!
Remember that not every reception includes a sit-down meal with seating charts and whole serving staff. Instead, consider serving small plates and appetizers to your guests instead of a heavy meal. With this option, food costs should be lower, and you'll be able to dance the night away without feeling sluggish.
3. Decor
Everyone wants their wedding to look gorgeous, lavish, and classy. Some brides spare no expense to have the wedding of their dreams and often spend upwards of $35,000 on their wedding alone. While this is a perfect option for those who can afford it, here are some tips on how to decorate your ceremony and reception hall to make it look like you paid a fortune.
Paper lanterns are a must for cheap lighting. If you want to add some affordable ambiance to your venue, consider hanging up paper lanterns. These lanterns will brighten up your space and create a vibe that you can't get with overhead lights. There are so many paper lanterns to choose from; you will find your perfect color scheme in no time.
Garland is an elegant alternative to ornate floral pieces. You can get faux eucalyptus garland from Amazon as centerpieces for your tables. If you use natural eucalyptus, be sure to use it sparingly or accent another fake plant. While the smell of eucalyptus is refreshing and great to put in the shower, it can often be a bit overbearing, especially around food.
Thrift store shopping is a great way to give your wedding a unique and eclectic feel. You can find decorative cups, mason jars, and candleholders at your local thrift store. You can pair these containers with decorative pebbles, tea candles, and faux flowers. Mix it up and have fun! This idea is a cheap and fun way to accent your tables without having to spend an outrageous amount on floral centerpieces and decorations.
4. Entertainment
Your guests might not be dancers, and that's okay! You don't have to order a DJ for your wedding reception. Perhaps some guests may be grateful that there's not a dance floor at your wedding. You may want to reserve a small space to use as a dancefloor so you can have your first dance as newlyweds. You should not spend an excessive amount of money on a DJ and dance floor rental if you are not a confident dancer. Instead of spending money on a traditional DJ or band, here are some fun and cheap entertainment tips that are sure to give your guests a night to remember.
Photo Booths are a great way to give your guests something to do during the reception. Weddings are perfect events for guests to show off their Instagram skills. Why not provide them with the entertainment option by adding a photo booth to your reception? You can find fun, themed props on Amazon for under $20. You can also include a phone stand with a ring light so people can time their photos and put a show on for the camera. A photo booth is a cheap way to entertain your guests so they can make memories to last a lifetime.
Yard games are another fun and cheap entertainment idea that will bring your guests closer together as they mingle on your big day. The traditional dance floor can often be awkward and intimidating. By having games such as ring toss, cornhole, and giant Jenga, guests can ease into conversations and engage with one another during the reception.
Also, note that several of your guests might bring their children along to the wedding reception. It may be your best interest to create a small activity area for the children. Include art supplies, toys, and crafts that are sure to keep them occupied during the event. You could even tell them to create unique pictures or keepsakes for the bride and groom to cherish forever.
5. Party Favors
You may be dreading the traditional act of putting together party favors to give out to your guests. As the guest list grows and your budget dwindles, you may need some cheap party favors for your wedding guests. Here are a couple of party favor ideas that are sure to give your guests an affordable and practical gift to remember your special day.
One of my favorite gift-giving strategies is giving something reasonably priced, sentimental, and practical. You can emulate this strategy by thinking about your target audience. Who will be getting these party favors, specifically? Are they all close family and relatives? Consider giving them customized notepads featuring the color scheme of your wedding. Are your guests mostly young professionals? Try giving them a set of customized pens to use at their desk. Are all the people you know professional servers or bartenders? Offer them a bottle opener to keep in their back pocket. You can easily add your wedding date or your and your partner's names to any items. These gifts are sure to be functional in your guests' everyday lives and are cheaper and better than any dust collecting knickknacks.
Polaroid pictures are back in style. You can get an instant camera like this on amazon. Set up a table with instructions for your guests to take photos of themselves. You can give them an option to take them home or place them in a folder so you can scrapbook their pictures as a keepsake from your big day. This option is a cheap way to ensure that your guests leave with a memory and not just another knickknack.
Another cheap and classy gift idea is a small picture frame with your wedding date. Suppose you choose to include a photo booth or a polaroid table; your guests will have some memories they would like to display. A small, customized picture frame like this one is a great way to send your guests home with a memory that will last a lifetime. You can also purchase plain frames and decorate them yourself! Decorating your favors yourself is another way to save money and remind everyone of your style as they display your frugal wedding favor in their home.
Conclusion:
As you can see, there are many cheaper alternatives to wedding ceremonies and receptions. The traditional route can be very costly and is often not economically sound. If you and your partner have financial goals you would like to achieve in your first year of marriage, please consider using these tips to help you save money on your wedding costs. The average price of weddings has been on a steady incline since the 1990s. Many couples in 2021 will find themselves paying 20% more than in previous years due to higher demands within the wedding industry after 2020. This chart displays the rise and fall in the cost of weddings, with 2021 projected to be the highest year.
Because the wedding industry is currently increasing at an astounding rate, you may not get your first choice in wedding vendors, especially if you'd like to operate on a budget.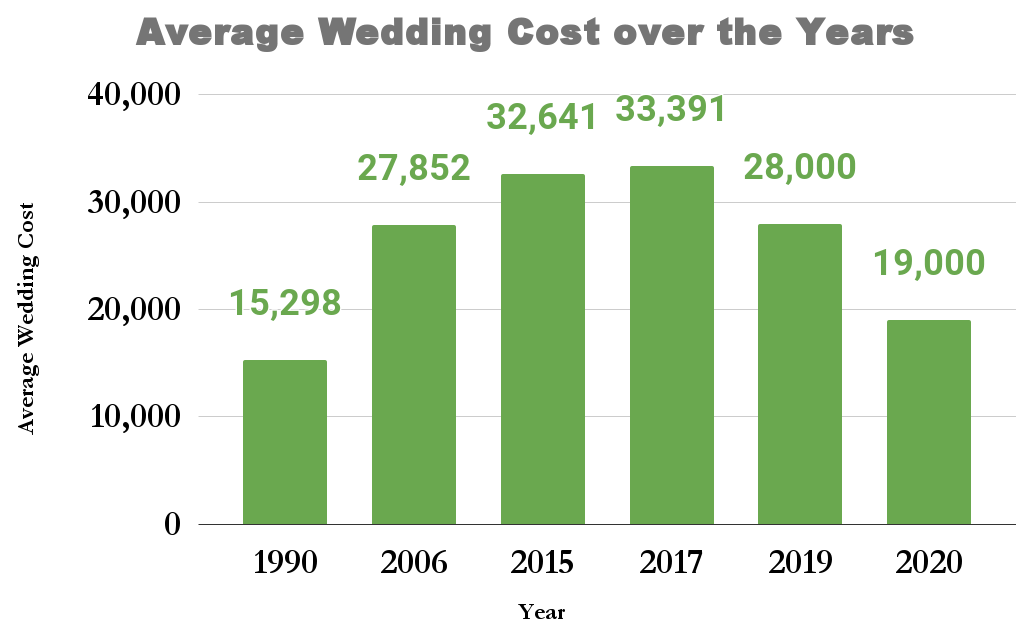 Suppose you can follow some of these tips. In that case, these cheap wedding reception and ceremony ideas are guaranteed to keep you and your guests happy, entertained, and fed on a budget.
FAQ:
1. How do I throw a cheap wedding reception?
The best way to throw a cheap wedding reception is to start with a budget. Think about all the aspects of a traditional wedding that you could live without spending a fortune on, such as fresh, custom-cut flowers or a band. While these things are necessary for some receptions, this will be your big day, and you can cut costs by eliminating frivolous expenses.
2. How to decorate for a wedding on a budget?
If you'd like to decorate your wedding for cheap, there are plenty of elegant decor options that can be found online or at thrift shops. Your decor does not have to be perfect and uniform. If you would like to decorate your wedding on a budget, don't be afraid to use fake garland, mismatched jars, and fairy lights. Don't feel pressured to overspend to make your wedding look fancy. The decor you choose should accurately reflect you and your partner's style.
3. Is there a way to feed wedding guests for cheap?
One of the best ways to feed wedding guests cheap is to offer snacks and appetizers as they mingle. Instead of a large dinner, consider serving small plates with many options like cold cuts, veggie platters, cookies, etc. If you'd like to have more of a meal, ask a couple of friends and family members to cook for your wedding in place of gifts. By catering from within, you will be able to provide your guests with a fabulous potluck of famous dishes that everyone can enjoy.
4. Does my wedding have to be in a church?
Contrary to popular belief, you can get married anywhere. Many business owners will rent out their location for you to serve as a reception and ceremony venue. It would help if you also considered hosting your ceremony somewhere outdoors like a beach or a park. These places will have the most necessary amenities for many people as long as you ask for permission first.
5. How do I entertain my guests at my wedding reception for cheap?
If your family and friends don't like to dance, don't bother spending money on a DJ and dance floor. Instead, think of things that your friends and family might want to do together that allow them to mingle and bond together. Yard games, puzzles, and an activity table are only a couple of options that will leave your guests with a closer connection to others and the newlywed couple.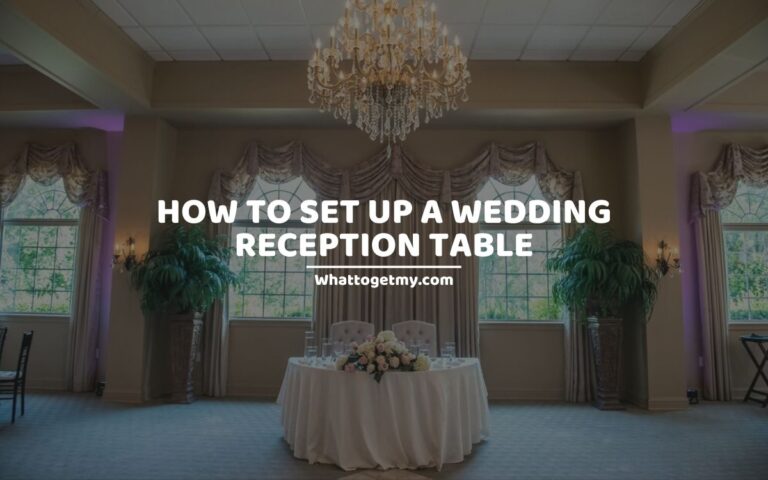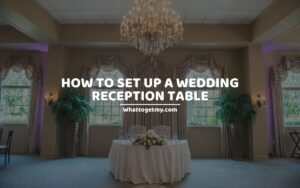 How to Set Up a Wedding Reception Table
How to Set Up a Wedding Reception Table WhatToGetMy Instructional Article The wedding reception tables are the ribs of any reception hall or venue. They give structure to spaces. When properly fleshed out (decorated), wedding reception tables can give the entire event the 'Oh la
Read More »