9 Creative Things to Do with Your Wedding Dress
WhatToGetMy Instructional Article
After flipping through magazines, trying on a couple of wedding gowns, and finally getting the perfect one; after walking down the aisle in that gorgeous gown, and have now started the life you dreamed of with your husband, what do you do with your wedding dress? That's a tough one right? Picking that dress was not easy in the first place and the experience of wearing it for your wedding makes it of sentimental value. It is understandable if the thought of letting the dress go has been unsettling for you but since you've reached this point, it is only best to pick the best idea that will be worthwhile. In this article, you will find creative things to do with your wedding dress that you will not regret.
Before we get our list rolling, you might be interested in our article "fun things to do after you get married".  We also have amazing gift and date ideas for your wedding anniversaries like;
We have subdivided this article into two namely;
Ideas for wedding dresses after the wedding, and,

Creative ideas for old wedding dress
IDEAS FOR WEDDING DRESSES AFTER THE WEDDING
You cherish your wedding gown but you are not willing to let it sit any further in your wardrobe. You've probably had it for a few weeks, months, or years and you want to put it to good use instead of hoarding it. Here are a couple of things to do;
1. SELL IT
If your wedding dress is a few days, weeks, months, and years old, and you don't mind making a couple of bucks back for it, we encourage you to sell. Do you know that the market size for wedding gowns has consistently been on the rise since 2012? In 2020, it was worth 3.13 billion. It's a big market and you can surely take a bite from that apple. If you don't know how to go about selling it, search for online shops that buy preowned clothing. You can also advertise it on social media. People will not hesitate to buy a gorgeous wedding gown. Mind you, this is 2021 and there are a lot of creatives out there that are willing to transform a wedding gown or any outfit into something unique. If the wedding gown is many years old, there are still people that are madly in love with vintage designs. Try this option first and see what happens. Here are a couple of sites that might be helpful;
Bridal gowns and bridesmaid gowns market size in the United States from 2012 to 2021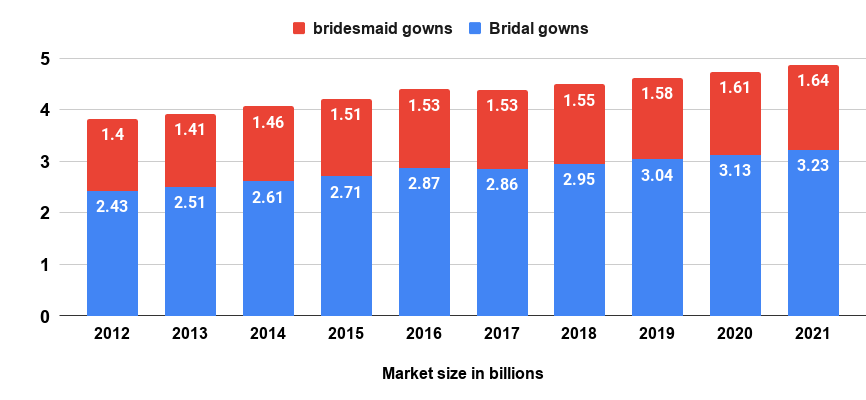 2. RENT IT
Another way to make a little extra cash is to rent your gown. Not every lady is looking forward to owning a wedding gown and there are many other ladies that cannot afford to buy one too. These women will gladly rent a good wedding gown for their occasion. The next question would be "how do I start renting my gown". Your best bet is to meet with event planners. This set of people are always in contact with your market audience. Some event planners will readily buy the gown off your hands if you wish to sell it. If you don't find an event planner, try advertising your gown. If you are going with this option, it is important to have a good rental contract for purposes of insurance.
3. MAKE ALTERATIONS/ MAKE SOMETHING NEW
If you love the wedding dress and you still have a second thought about letting it go, maybe you shouldn't. Consider altering it to make a new and gorgeous outfit. You could have a tailor make something unique out of your gown. After all, there are many more special occasions that will warrant you to look as gorgeous as you did on your wedding day, like your silver or golden anniversary. Alteration might cost you a bit but it will be worth it.
4. PASS IT DOWN
Do people still pass down their wedding dress to their children? Absolutely! Even to their grandchildren. If it is your wish to pass on your wedding gown to your daughter or granddaughter, do not throw the idea out the door just yet. We understand that fashion trends evolve rapidly and it would take a while before your child grows up to wear it but hey, what if your gown is a tangible piece of you they would live to cherish in the future. Secondly, the average cost of a wedding isn't a piece of cake except you are wealthy (check below for statistics). A wedding dress should be one less thing to worry about. The only discomfort attached to passing down a wedding gown is insisting that the recipient wear the gown as you have worn it. Nobody wants to stress about something like a wedding gown. Once it's been passed on as a gift, it's best to remove your mind from it. Let your child or grandchild decide what to do with it. They should be able to alter it for prom, wedding, or any occasion they deem fit without having to feel guilty about tampering with your emotions.
We don't see the average cost of weddings declining anytime soon. Chart: Statista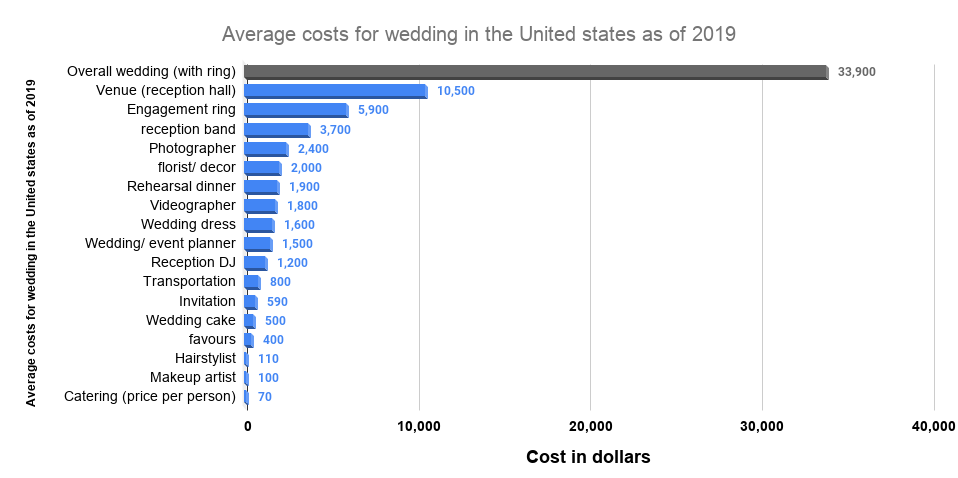 5. DONATE IT
If you are absolutely certain that you no longer want the dress, you can do good by donating it to an organization that will help out some other person. Examples of these organizations are;
6. FUN POST PHOTOSHOOT
Usually, weddings are super crowded with activities that leave little room for a lot of other things. Since your wedding gown will no longer be of use to you, do a post-shoot. Play in the sand or beach with your partner. Box your gown and take on an adventure. Hey, a desert or safari picture with your gown won't be a bad idea.
CREATIVE IDEAS FOR OLD WEDDING DRESS
You can cut the wedding dress and make a few creative items for yourself and or other people;
7. PERSONAL ACCESSORIES & HOME DECOR
There are a good number of DIY videos and articles on how to make a purse, bracelet, earring, brooch, hairband, embroidered handkerchief, and other personal fashion accessories from used wedding gowns. Your gown might also be able to make cute kitchen curtains, throw pillows, a table dresser, Christmas decors, artificial flowers, and some napkins.
8. CHILDREN'S TOYS AND ACCESSORIES
Make special plush toys, bands, shoes, and clothes for babies and see how cute they will look in them. You can also make your children's christening clothes and first special event outfits and accessories from your wedding gown.
9. KEEPSAKE ITEMS FOR YOUR CHILDREN
You can buy items like journals, eyeglass cases, purses, keepsake boxes, picture frames etcetera, and make decorative covers for these items. Your children will cherish these items for a long time.
FREQUENTLY ASKED QUESTION
1. What do people do with their wedding dress after weddings?
They either decide to keep it for posterity, make alterations on it for another occasion, sell it, rent it, donate it or make DIY crafts from it.
2. Can I preserve my wedding dress myself?
Yes, you can preserve your wedding dress for yourself if you wish to. It holds a lot of memories.
3. What to do with old wedding dress after divorce
Perhaps you should consider donating it or selling it if the dress would evoke sad memories. You can make plush toys and accessories for children and donate them.
CONCLUSION
Your wedding dress holds a lot of value even after the wedding is over. There are many creative things to do with it if you choose not to keep it. You can sell it, rent it, donate it or even make useful decorative items and accessories from it. Whatever you decide to do with your wedding dress, we hope that it benefits you or someone else.
ESTIMATED TIME DESIGNING AND UPLOADING THIS ARTICLE
ESTIMATED TIME RESEARCHING AND WRITING THIS ARTICLE