What to Write in an Anniversary Card to Husband: 15 Things to Write in an Anniversary Card to Husband
WhatToGetMy Instructional Article
THINGS TO WRITE IN AN ANNIVERSARY CARD TO HUSBAND
1. HAPPY ANNIVERSARY, MY LOVE
One of the best and easiest anniversary gifts is a DIY anniversary card for husband. This is precious because, unlike store-bought cards, it gives you room to be creative, innovative, as well as expressive. In a DIY anniversary card, you can write whatever you want and give yourself so much room to express your love for your husband.
2. [NUMBER OF YEARS] DOWN, FOREVER TO GO
Another great anniversary card ideas for him is to have the card mention how many years you have been married. This is a great reminder to both of you on how far you have come and a chance at the reflection on what you can do to make your marriage better than it has been.
3. LOOKS LIKE YOU ARE STUCK WITH ME FOREVER
A funny thing to write in your anniversary cards for him is to tell him that he is stuck with you forever. This is light and fun humor is based on the fact that marriage is forever and therefore the number of years he has already spent with you are few compared to how many more he has left with you – it is quirky, smart, and funny,  and he will appreciate the banter.
4. I LOVE YOU LIKE A FAT KID LOVES CAKE
This is such a funny anniversary message because it replays the implication that your love is as pure and strong as that of a fat kid whose kryptonite is cakes. In a way, you are saying that he is your weakness and you can't control yourself around him. It is a great way to get your husband to smile on your anniversary and also oddly feel good about himself.
5. THANK YOU FOR KEEPING UP WITH ME
Another good sentiment for an anniversary card is to write "thank you fore keeping up with me." instead of the usual happy anniversary wishes to your husband. This is a great way to express your gratitude for all the ways that your husband understands you as a human – he knows when you are moody, or tired, or irritated – and what he does after the fact to ensure that you are doing and feeling better. Most people tend to overlook emotional labor in relationships but it is one of the hardest things a person can do – and it would make him feel good that you recognize his efforts and that you appreciate what he does for you.
6. LOOKS LIKE WE MADE IT!
This line from Shania Twain's "Still the One" makes one of the best things to write in a greeting card for an anniversary to your husband, especially for your first year anniversary. It is a victory message that you not only made it to get married, but you have also made it one year into the marriage – which is supposedly the hardest one of them all because in the first year you are learning about how to live and co-exist with each other peacefully. You are going to run into some arguments but if you make it through the first year, you will be able to make it through almost anything.
7. YOU ARE MY FAVORITE PERSON, FOR NOW – FOREVER.
If you are wondering what to say in anniversary card to husband, try telling him he is your forever person. This is sweet, reassuring, and reaffirming at the same time. Usually, when people have been together for long periods of time, they tend to get too comfortable and familiar with each other they stop affirming their love for each other and assume that the other person knows how they feel about them. This can lead to misunderstandings and it is easier and best to always remind each other how you feel – and this message does exactly that. It lets your partner know that you cherish them now as you did before as you will forevermore.
8. I LOVE YOU, [INSERT CUTE PET NAME HERE]
The simplest things to write in an anniversary card to husband are sometimes the best things. A simple "I love you" goes a long way in affirming someone's validity and importance in your life.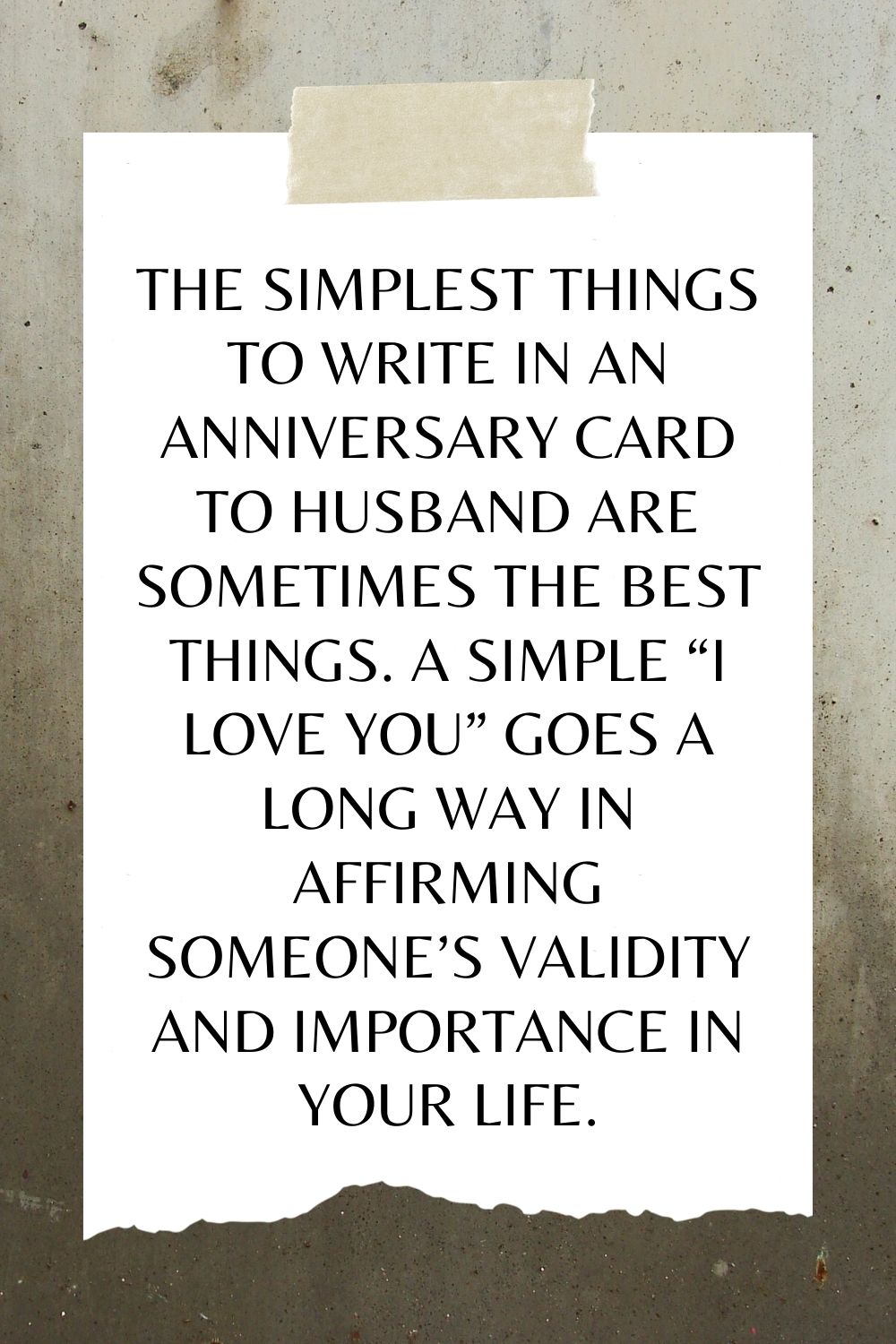 Using a pet name that only you know makes the whole thing just a little bit more intimate – like an inside joke that only you two know about. It is secure, fun, and light.
9. YOU ARE MY FRIEND, PARTNER, LOVE OF MY LIFE, AND BEYOND.
Another thoughtful thing to write in an anniversary card to husband is to let him know just how much he means to you and how much of your life he encompasses. Not only is he your husband, but he is also your friend and the love of your life. This shows him that you think he is an important part of your life and you enjoy and cherish him in every aspect of it.
10. I KNOW SOULMATES ARE REAL BECAUSE HOW ELSE DO I EXPLAIN OUR LOVE?
One of the most romantic things to write in anniversary cards for husband is to affirm to him that he is your soulmate. Even in the most healthy marriages,  most people tend to wonder if the person they married considers them to be their soulmate- you telling your husband this might just be the affirmation he needed that you are to him what he is to you and that your soul tie is real.
The concept of soulmates is widely believed in the United States of America. According to this study conducted by YouGov, the majority of people across all ages (in spite of gender) believe in the existence of soulmates. This means that your husband is more likely to believe that soulmates are real than he is to not believe in them. Make sure you affirm his belief through your anniversary gift to him.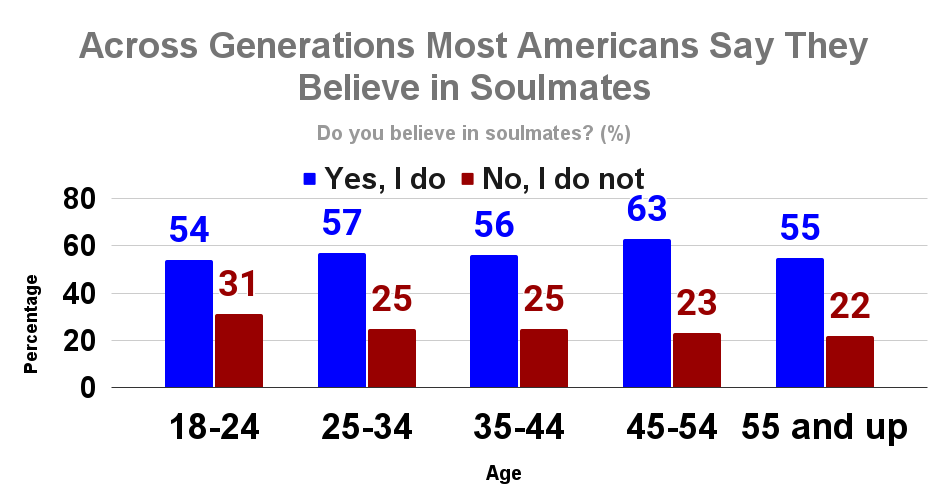 11. YOU ARE THE PERFECT LIFE PARTNER, I COULDN'T ASK FOR A BETTER ONE
Another great thing to write in an anniversary card to husband is to let him know just how perfect he is for you. Let him know how good of a husband and partner he has been to you over the years and how grateful you are that he is a man of his word and that he still treats you like he just met you, even after so long. Tell him all the things he is doing perfectly, all the things you appreciate him for.
12. I AM BLESSED TO HAVE YOU IN MY LIFE
A good thing to write in an anniversary greeting card for husband is to tell him just how lucky and blessed you feel to have him in your life. Again, this is just so you reaffirm and reassure him that he is doing something right.
13. I HAVE LOVED EVERY DAY OF OUR LIVES TOGETHER FOR THE PAST [INSERT NUMBER OF YEARS HERE], I CAN IMAGINE IT ONLY GETS BETTER.
 The best anniversary cards for husband is one that is bold and expressive. Tell him just how amazing your years together have been, but not only the years, the days too. Even when you were mad at him, or sad about life and other events, let him know you still loved him and you are looking forward to spending the rest of your life with him.
14. I CHOOSE YOU, EVERY DAY AND EVERY NIGHT.
One of the best anniversary cards for husband's messages is telling your husband that you choose him over and over – every day above anyone else. Love, as we all know, comes down to choice – we choose who we love, and we choose to stay with them through thick and thin – for better or worse. Telling someone that you choose them affirms them and it is a nice thing to hear from someone you love and choose, too.
PS: Take a look at some of the romantic anniversary night ideas to inspire you to do more than just get your husband some cards for your anniversary.
15. THANK YOU FOR BEING A GREAT FRIEND, LOVER, AND FATHER FOR ALL THESE YEARS. I LOVE AND APPRECIATE YOU
And lastly, but definitely not least in importance, the best thing to write in an anniversary card to husband is to thank him for the years of love and affection. Showing gratitude for the love that other people extend to us is a sign that we do not take them for granted and that we are thankful for what they do for us. Buying your husband a gift for your anniversary will show your gratitude better than your words could, therefore as an alternative, here are some ideas on what gifts you can get for your husband on your anniversary for different years (that are symbolic): What to Give Your Husband for 20th Wedding Anniversary, What to Get Husband for 25th Silver Wedding Anniversary, and 30th Wedding Anniversary Gifts for Husband.
FREQUENTLY ASKED QUESTIONS
1. How do you say happy anniversary to your husband?
It is quite easy to say happy anniversary to your husband. However, after many years together, you might want to spice things up and broaden the way you tell your husband "happy anniversary." The 15 ways above can also be translated into verbal communication, instead of just writing them in a greetings card. Make sure you write from the heart and draw from experiences to make your wishes special and unique to you and your husband alone.
2. How do you write a heartfelt message for anniversary to your husband?
Writing a heartfelt message for your husband on your anniversary is easy when you write from the heart and draw from your shared experiences in marriage. Write what you feel and what you have experienced, write what he has done for you and how that made you feel, write about the time he took you on a vacation and how wonderful that was.
3. How do I write a love message to my husband?
Writing a love message to your husband should be easy because you know him better than anyone and you know how he likes to be loved. If he wants words of affirmation, give him that – affirm what he does for you and your family, show him gratitude for the little things, and tell him you love him every chance you get.
CONCLUSION
In conclusion, we have shared with you some beautiful anniversary quotes that can replace a good old bland "happy wedding anniversary to my husband" message. We hope that these have inspired you on what to write in your next greetings card to him on your anniversary.
ESTIMATED TIME DESIGNING AND UPLOADING THIS ARTICLE
ESTIMATED TIME RESEARCHING AND WRITING THIS ARTICLE