If you are looking for the best 30th anniversary gift to get your husband, our gift suggestions have got you covered. Usually, pearl gifts are given to couples celebrating their 30th anniversary and while it is easier to pick out these gifts for women, it is hard to find pearl gifts for men. A few online articles suggested that giving men diamond gifts is equivalent to giving a lady pearl gifts. We took this into consideration in our gift search.
In this article, we've identified the best 15 items we think befits a 30th anniversary celebration. They do not carry 30th-anniversary logos on them and are not pearl gifts, but the quality of these items is commendable.
Before you scroll down, we've written a sister article called 30th anniversary gifts for parents. You might want to check it out for more interesting gift ideas.
As an Amazon Associate we earn from qualifying purchases. We may earn a small commission for our endorsement, recommendation, testimonial and/or link to any products or services from this website. Thank you, your qualifying purchases help support our work in bringing you real daily gift ideas.
Quick Overview: 30th Wedding Anniversary Gifts for Husbands
1. DIAMOND AND SAPPHIRE CUFFLINKS
A cufflink like this one by Luxurman is one of the best gentleman gifts you can get for your husband as an anniversary gift. It is absolutely stunning and unique too. The brand offers a year warranty for this product and 30 days return.
Product summary
Other products sold by this brand have positive reviews, we are confident that you will like these cufflinks. These cufflinks will have a lot of admirers.
2. 

STRONGER WITH YOU PERFUME
Perfumes are good anniversary gifts and if you are going to get one for him, it would be nice to put in enough effort in your selection. The goal is to impress him while expressing your love. We recommend "Stronger With You" original perfume by Giorgio Armani. The scent is bold and daring. It has a romantic undertone to it but this is subjective. Just a little spray lasts the whole day. It is a coincidence that the name of this perfume fits the occasion but we are glad it does.
Pros.
The scent is long-lasting

It smells great
Cons.
When it comes to buying perfumes online, the biggest problem a lot of customers face is finding the original brand. With this particular seller, customers that have bought this perfume have positive reviews about it. This is reassuring of the quality of the perfume. However, we notice that this seller is a few dollars more expensive than other sellers.
Product summary
If you rarely get him perfumes as gifts, consider getting this perfume as part of your anniversary gift to him. You may also consider getting this Armani Code
3. 

RADO MEN'S WATCH
This Rado wristwatch is a perfect 30th wedding anniversary gift and we recommend it. It is an analog watch with a stainless steel strap; it is water-resistant, anti-shock, anti-stretch resistant, and hypoallergenic. The blue dial is beautiful. He won't be expecting this luxurious gift.
Product summary
This is a sleek watch. Definitely worth the price. You may also love this RADO leather watch
4. 

BAKER RYE CO. SKINCARE START PACK
A lot of men are not fuzzy about skincare routines. So far they look good, they are fine. However, the skin goes through a lot of stress each day and when it is not taken care of, it could make us age fast.  You can introduce him to the world of skincare by getting him this luxurious skincare starter pack by Baker Rye Co. It's a good start if he does not have a skincare routine. It's a simple 3 step skincare product. The pack comes with a moisturizer, toner, and scrub.  These products have been specially formulated to get rid of dead cells, and dirt; reduce skin pores, and keeps the face moisturized. This is one good skincare pack out there.
Product summary
If he has an established skincare routine and he is particular about it, it might be best to get him something else as an anniversary gift.
5. 

PROFESSIONAL DARTBOARD
Make his free time a little more interesting and get him this dartboard. Men love reasonably challenging games and a dartboard is one. It will help him destress and be alert. Depending on where he chooses to set it up, he could have fun competitions with his friends, children, or you. He might even pick it up as a hobby.
Product summary
This is a lovely 30th-anniversary gift.
6. 

OFF-GRID TRACKER X D2 STEEL KNIFE
If your husband enjoys hunting, and or fishing; if he is a camper or works with a tactical unit, get him this highly recommended survival knife. This is a tough knife that can be used to handle a lot of rough field activities. It is corrosion-resistant, easy to sharpen, and durable. He will find this unique and useful.
Product summary
From customer reviews, it is easy to tell that this is a well-made knife.
7. 

LOVERS STATUE
Something to have around his library or on his reading-desk will be this lover's statue. It is really pretty and romantic. A beautiful note or message to him will add to this statue.
Product summary
A gift like this also depends on the personality of your husband. This could be a 'by-the-way' gift. Something you could place on his reading table or somewhere in his library.
8. 

DIAMOND-CUT FOUNTAIN PEN
If your husband is the study type, this luxurious fountain pen will be a lovely gift. It comes with four ink cartridges, an ink converter, sterling silver polishing cloth, a certificate, and 3-year warranty card. The fitting of the pen is made from solid brass with platinum. This pen is beautiful. It also has a stamp.
Product summary
This is a luxurious gift that befits the occasion. Your husband will be appreciative of this gift.
9. 

BLACK DIAMOND MEN'S BRACELET
One thing we love about this bracelet is the color. Your husband can comfortably wear this bracelet anytime he wishes without fear of it drawing so much attention at first glance. In addition, this bracelet will add a touch of class to his outlook. This bracelet is made with 7-carat black diamond and rhodium-plated gold.
Product summary
It is a stunning piece. We recommend that you get it.
10. 

CRYSTAL DIAMOND DECANTER
If your husband enjoys whiskey, consider getting him this diamond decanter by Belliari. Everything about this decanter looks luxurious including the packaging.
Product summary
We highly recommend it
11. 

ARMANI TIE SET
A collection of quality ties is worth giving and we recommend this Armani tie set. The ties are made with silk material and carry the brand's logo.
Product summary
A lovely gift
12. 

WEIGHT STACK MACHINE
If your husband is a fitness fanatic; always jogging or spending time at the gym, consider getting him fitness equipment as 30th anniversary gift. We think he will appreciate this weight stack machine.
Product summary
It will make a good anniversary gift.
13. 

LUXURY LEATHER SHOES
Add to his formal shoes by getting him these Boldini Luxury leather shoes. It is made with pure grain leather and a synthetic sole. The shoe is made in Europe and is perfect for any formal occasion. It is stylish and beautifully designed.
Product summary
This is a classy shoe.
14. 

PROFESSIONAL GOLF TRAINING SYSTEM
Another thing to keep him busy anytime he is bored will be this golf training system. If he loves golf, he will be excited about this gift. If he is not too familiar with the game, he might pick up golf as a new hobby. If he absolutely hates golf, do not buy this system for him. This professional golfing mat is made to mimic a real-life golfing field. The mat has a heavy-duty rubber base that makes the mat lay flat on the floor and as well roll up easily and stored. The mat can be used indoors and outdoors.
Product summary
This will be a good distraction for him
15. 

VINYL RECORD PLAYER
If he is into classic music and or if he generally loves vintage items, a vinyl player might just be the perfect gift for him.
Pros.
Most customers are impressed with the overall quality of this vinyl player. They consider it to be a "value for money" item.

It has modern features such as a USB port that allows a person to convert vinyl records into MP3 music. It has ports for external speakers. It also allows for Bluetooth connectivity.

It has a warranty except on man-made damages
Cons.
It might be initially difficult to learn how to use this vinyl player
Product summary
This player is highly recommended by customers that have used it. You can make this gift a little more special by engraving his initials or a short message on the vinyl. If you consider this option, do not engrave on the vinyl player immediately until you are sure it is in good working condition. The brand noted that their warranty is not applicable to customers that damaged their vinyl.
FREQUENTLY ASKED QUESTION
What do you give for a 30th wedding anniversary?
Usually, pearls are given as 30th anniversary gifts, however, finding pearl gifts for a man is tasking. It is equally rare. Diamonds were suggested to be a better substitute and we factored this when compiling this gift list. We've identified 15 amazing gifts for husbands that we think befits a 30th wedding anniversary. The gift items include luxurious wristwatches, bracelets, cufflinks, decanter, pen, games, and grooming kit.  These gifts were chosen for their quality, design, and reviews. They are unique and classy.  A lot of effort went into selecting this gift because we want you to choose the best gift for the occasion.
CONCLUSION
30th anniversary gifts are not easy to come by and that is why we've made your search a little bit easier. We understand how special the moment is for you and your husband and that it only takes two passionate and understanding partners to get to this feat. We understand the sacrifices this man has made for you and how you would want to treat him to something special. This is why we made an extra effort in our gift selection. Even if you do not find something from our gift list, we are confident that our gift ideas could act as a guide in your gift hunt. We hope that this article has been useful to you.
ESTIMATED TIME DESIGNING AND UPLOADING THIS ARTICLE
ESTIMATED TIME RESEARCHING AND WRITING THIS ARTICLE
Try our AMAZING GIFT FINDER TOOL! Find GIFTS with 1 CLICK!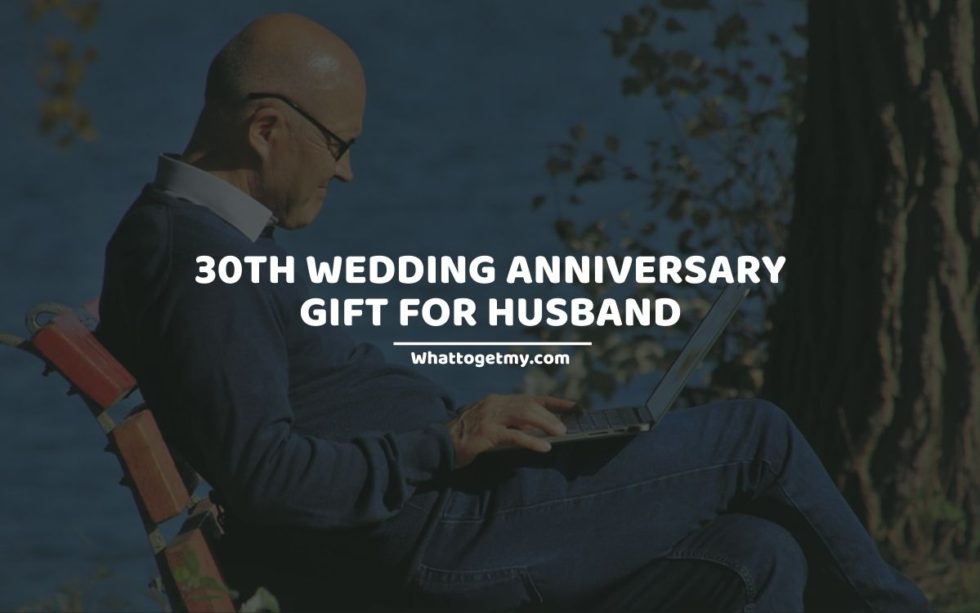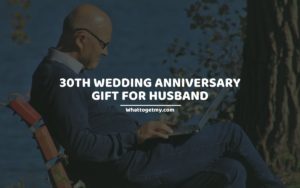 15 Perfect 30th Wedding Anniversary Gift for Husband
If you are looking for the best 30th anniversary gift to get your husband, our gift suggestions have got you covered. Usually, pearl gifts are given to couples celebrating their 30th anniversary and while it is easier to pick out these gifts for women, it
Read More »