When you have been with someone for as long as 30 years, getting them a present should not be a hard task at all.
However, we all need help with coming up with new ideas to spice up old gifting techniques.
This article brings you some of the best, thoughtful, and traditional 30th wedding anniversary gifts you can get for your wife.
You are here because you are probably wondering what to get your wife for your 30th anniversary. This can both be the easiest gift you have ever gotten her and equally the hardest. This is because after 30 years of being together, you know what she likes and dislikes and it can be very easy for you to pick out items that she will adore – at the same time, after 30 years of being together, you have probably exhausted all of your gifting ideas and getting her some of her favorite items will just look redundant and be repetitive of presents from previous years.
An important aspect to consider when getting a wedding anniversary gift for your wife is how much to spend on the gift. Usually, the longer you have been married the more it is expected of you to spend more money. However, this is not a requirement as you should only spend what you are comfortable with. Find out how much to spend on a wedding anniversary gift from this article.
Finding the best 30th anniversary gift ideas for her can and should be fun especially when you are trying to find new items to surprise your wife with. We have come up with a list for a couple of things that you can get your wife for your 30th wedding anniversary below:
As an Amazon Associate we earn from qualifying purchases. We may earn a small commission for our endorsement, recommendation, testimonial and/or link to any products or services from this website. Thank you, your qualifying purchases help support our work in bringing you real daily gift ideas.
Quick Overview: 30th Wedding Anniversary Gift for Wife
30TH ANNIVERSARY GIFTS FOR HER
1. 

CALVIN KLEIN EUPHORIA PERFUME
This is an amazing 30-year anniversary gift for your wife. It is beautiful, and a thoughtful way of expressing your love for her on your anniversary. The scent will make your wife smell good and feel confident.
Product summary: This is a very delicious smelling scent from Calvin Klein. Your wife will smell amazing with just a few drops of the spicy scented spray which is mild and compliments other scents on her body instead of overpowering them.
2. 

DIAMOND EARRINGS
Quite the classic anniversary gift for women, you can never go wrong with a pair of diamond studs. Their versatility makes them the best studs because they can be worn for any occasion and styled in different ways as well
Product summary: This ½ carat pair of diamond earrings is made from natural diamonds that are conflict-free. It is beautifully layered with multiple small diamonds on top of each other which creates a mesmerizing ear stud. This is something your wife will definitely love wearing and showing off!
3. 

EMERALD BROOCH
If you are looking for a different idea for your wife on your 30th anniversary then this brooch is just the right thing for you. It makes a bold fashion statement and can be color-coordinated with a lot of outfits, its versatility is the best feature because it has so much potential for the ultimate fashionista.
Product summary: This broach has colorful emerald crystals and other eco-friendly materials. It comes in a box which makes it easier to wrap and gift.
4. 

JEWELRY ORGANIZER
A jewelry organizer is the best gift for a woman for your 30th wedding anniversary if your wife has a lot of jewelry that needs to be sorted.
Product summary: The jewelry organizer comes in both black and white in color on the exterior which is made of leather material. It, however, has a soft velvet interior which makes it ideal for storing jewelry and other valuable personal belongings.
5. 

LUXURY SPA BOX
This is a very relaxing 30th wedding anniversary gift for your wife. Get this pack for your wife and let her soak herself in a comfortable bath with all her favorite bath salts and oils – you may even offer to join her in the bath and have a romantic anniversary in the bath.
Product summary: This gift basket has items that have calming effects when used. The amazing smells act as a form of aromatherapy which not only helps in relaxation but also works as a stress reliever.
BREATHTAKING 30TH ANNIVERSARY GIFTS YOUR WIFE WILL TRULY LOVE
6. 

PEARL NECKLACE
Pearl gifts are considered to be the traditional gifts for 30th anniversary. You can get any kind of pearl gift for her, but we have chosen this necklace because of its authenticity, rarity, and uniqueness.
Product summary: The necklace comes with a silver chain that you can get in different lengths according to preference on how long or short your wife would like it to be.
7. 

DIAMOND RING
This beautiful diamond ring is the perfect 30th-anniversary jewelry ring for your wife to upgrade her original wedding ring because let's face it – she has been wearing her original for 30 years and even though she may be very fond of it, it wouldn't hurt to get her a backup ring or even an upgrade! After all, diamonds are a girl's best friend.
Product summary: This stunning diamond ring is 14k white gold and is made up of many small diamonds that surround the ring with the center diamond weighing ⅓ carat.
8. 

MICHAEL KORS HANDBAG
If you are looking for what to buy for a 30 year anniversary that is stylish and chic, then look no further! This MK bag is beautiful, practical, and classy. The perfect gift for your working woman.
Product summary: The handbag comes in 13 different colors to choose from which makes it easier to gift depending on the color(s) your wife likes.
9. 

PAIR OF HEELS
Another 30th wedding anniversary gift for your working woman is this pair of high heels. These will make your wife feel confident, tall, and ready to take on the day!
Product summary: The shoe comes in a variety of 18 different colors which make them easy to choose, although if in doubt – stick to black.
30 YEAR ANNIVERSARY GIFTS FOR COUPLES
10. 

PHOTO ALBUM
What is the best 30th-anniversary gift? Most people will say that the best gift of any kind is one that has sentimental value behind it and what better way to express sentiment than with a photo album filled with the couple's best, firsts, worsts, and ordinary moments.
Product summary: This photo album has an area where you can write special messages making the gift that much sentimental and special.
11. 

WINE GLASSES
These are a good 30th anniversary present for wine lovers. You may even decide to gift them with their favorite wine along with these gorgeous glasses.
Product summary: These stemless wine glasses are great for both red and white wine. They are more stable and sit a bit more sturdy because of their flat surface.
FREQUENTLY ASKED QUESTIONS
What is a traditional gift for a 30th anniversary?
A traditional gift for 30th anniversary is pearls – of course, this depends on whether or not your wife appreciates pearls. However, traditional gifts do not necessarily have to be limited to material things it can also transcend towards acts of service. For example, you can make your own traditions within your household and do things as a family that brings you closer together and affirms the love you have for each other. Here are some Romantic anniversary night ideas that can become a tradition in your household.
What do you give for a 30th wedding anniversary?
You can offer couples celebrating their 30th wedding anniversary any of the items for gift ideas listed above. However, if you are looking to give them a more unique experience, you may decide to organize a vow renewal ceremony for them, plan and book them a second honeymoon, or even surprise them with a romantic night out. Check out this article for inspiration on what to give couples for their 30th wedding anniversary.
PS: Follow this link if you are looking for cute and thoughtful 30th wedding anniversary gifts for your parents
CONCLUSION
When you are trying to find the perfect gift for your wife for your 30th wedding anniversary, it is best to assume that you already know what to get her at this point in your marriage. However, if you are trying to surprise her and get her items either outside of her comfort zone or items you think she may like, then tread carefully and get some inspiration from the items listed in this article.
ESTIMATED TIME DESIGNING AND UPLOADING THIS ARTICLE
ESTIMATED TIME RESEARCHING AND WRITING THIS ARTICLE
Try our AMAZING GIFT FINDER TOOL! Find GIFTS with 1 CLICK!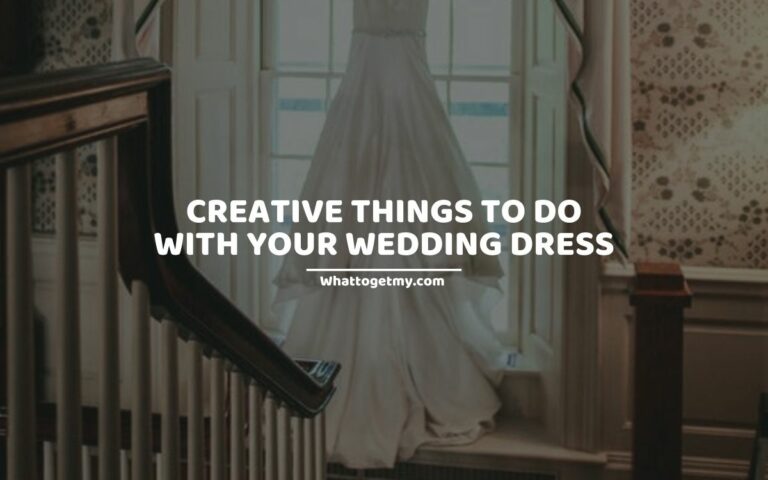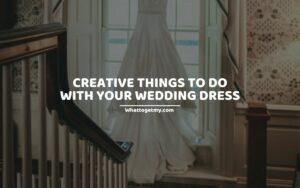 9 Creative Things to Do with Your Wedding Dress
9 Creative Things to Do with Your Wedding Dress WhatToGetMy Instructional Article After flipping through magazines, trying on a couple of wedding gowns, and finally getting the perfect one; after walking down the aisle in that gorgeous gown, and have now started the life you
Read More »