If you don't know what to get your parents for their 30th anniversary, we have just the right selection of the best 30th anniversary gifts for your parents for you to choose from.
Our parents are the best gifts we have and they never fail to give us gifts. From milestone birthday gifts such as giving us 18th birthday gifts, to giving us gifts after graduating from college, mom and dad have always made us feel special with their gifts.
And now, it is your turn to show them how much you love and are grateful for them and how they've kept the family together for the past 30 years of their marriage. In the next section, you will find 9 of the best parents 30th anniversary gifts to spoil your parents with.
If you also need some suggestions on how much you should spend on buying a wedding anniversary gift for your wedding anniversary, we have a helpful article on How much to spend on wedding anniversary gift that can be of help.
As an Amazon Associate we earn from qualifying purchases. We may earn a small commission for our endorsement, recommendation, testimonial and/or link to any products or services from this website. Thank you, your qualifying purchases help support our work in bringing you real daily gift ideas.
9 Best 30th anniversary gifts for parents.
Celebrate this important milestone with your parents with these 9 cool 30 year anniversary gifts for parents.
1. 

Personalized Wedding Anniversary Sundial with Stand.
This beautiful sundial with a stand is such a beautiful decorative piece to mark your parents' special occasion. It's such a sturdy and remarkable piece that will remind them of how far they've come every time they look at it.
Pros.
It is sturdy.

It can be used both indoors and outdoors in the garden.

It can be personalized.

It is a beautiful decorative piece.

Customers love the quality and craftsmanship of this gift item.
Cons.
It can only be personalized up to 80 characters.

It is a little pricey but a worthwhile purchase. You can however opt for the less pricey option that does not come with a stand.
Product summary and our recommendation.
Every customer who has purchased this as a gift gush so much about it and how much the recipients love it. Your parents will also love it very much.
2. 

Personalized Napa Valley Wine Barrel Canvas Wall Decor.
This is such a minimalist yet very beautiful and classy wall decor that will wow any parents who receive it. The beauty of this wall decor is not just in the wine barrel, although that is also certainly very nice. It is in the personal touch added to it. It brings a lively ambiance to any living space where it is placed and still makes the statement that it is an anniversary wall decor.
Product summary and our recommendation.
Just like all the happy customers who received this gift item to celebrate their anniversary, this is one canvas your parents will love to hang conspicuously in the house.
3. 

Customized 30th Anniversary Photo Frame For Parents.
Have your parents in tears with this oh so sweet and sentimental photo frame with a sweet thoughtful message. We love that it is written "Mom and Dad" which shows clearly that it is an anniversary gift from their children. The wood is also high-quality and would stand out in a regal fashion on the mantelpiece.
Product summary and our recommendation.
Mom and dad will be so moved by this photo frame that has sweet thoughtful anniversary messages on it.
4. 

Bible Verse Personalized Anniversary Family Tree Artwork.
This is the perfect gift if your parents are of the Christain faith. It has the central biblical passage on love and this would hold a depth of meaning for them because it is one of the foundational philosophies for marriage in the Christain faith.
Pros.
It is a beautiful decorative piece.

It is stretched out and ready to be hung.

It comes with a Bible passage and personalized with their name and wedding date too.

You can choose between 31 different colored canvas
Cons.
One customer complained that the size was small but this is likely because they ordered the small size. This size is the biggest and will stand out.
Product summary and our recommendation.
For the Christian parents celebrating their 30th wedding anniversary, this is one gift you won't go wrong with. They will love it very much.
5. 

Custom Engraved Wooden Anniversary Photo Album.
A remarkable and one-of-a-kind photo album that can also be a scrapbook. The wood cover means it will preserve the memories inside for a long time. To make this gift very special for your parents, you can get their close friends to also contribute to its content by bringing their favorite pictures with your parents and writing a special anniversary message next to their pictures. Also, do the same with the pictures you put inside. This will make it very special for them.
Product summary and our recommendation.
This gift will truly stand out if you have it stocked up with memorable pictures before giving it out as a gift.
This 50th Anniversary Custom Photo Album is also so cool if your parents are celebrating their 50th anniversary.
6. 

Personalized 30th Anniversary Bone China Commemorative Plate.
This gift will appeal to your parents if they love bone chinaware. It comes with a lovely and clear printed 30th anniversary message which will stand out beautifully when they stand it on their tabletop or mantlepiece.
Product summary and our recommendation.
Your mom especially will be taken by this beautiful 30th wedding anniversary keepsake. Don't forget to appropriately personalize it with a fitting message.
7. 

30th Anniversary Coffee Mug Gift Set.
Mum and dad will be smitten with this funny yet cute and amazing mug gift set. It comes in just the right colors and a beautiful gift box. The golden spoon and lid it comes with also make them a one-of-a-kind gift mug to give mom and dad.
Product summary and our recommendation.
This will be a remarkable gift set to give mom and dad on their 30th anniversary. They will have a good laugh off it and also enjoy using it very much.
Hot tip!
You can also combine it with this Mom and Dad Wine Tumbler Set.
8. 

Funny 30th Wedding Anniversary Couples Coffee Mug Gift Set.
If you're looking for a truly funny gift to give your mom and dad, this is the one for you. They will laugh so hard, especially your dad.
Product summary and our recommendation.
A very funny 30th anniversary gift that would have both spouses in stitches.
9. 

Happy 30th Anniversary Mom and Dad.
We love this gift very much because of the sweet 30th anniversary poem on it for your mom and dad. The message is such a heartwarming reflection of how much encouragement their marriage is to you and the family. It will warm their hearts very much.
Product summary and our recommendation.
A truly beautiful and heartwarming gift to give mom and dad as they celebrate their 30th wedding anniversary.
2 Other amazing gift ideas for parents 30th wedding anniversary.
Sometimes, the best gifts are experiences. And with a major milestone like a 30th wedding anniversary, your parents will love experiences as much, if not more, than gifts. These will be great experiential gifts to surprise them with as they celebrate their marriage milestone.
You will like this related article on How to ask for experiences instead of gifts.
1.
A surprise anniversary celebration with family and close friends.
In 30 years of marriage, they've shared some very fond memories with the family and with some very special and close friends. Nothing will make them happier like a celebration of love where they have all the people they walked the journey with, in one place.
In addition to buying them any one of the 9 gifts listed in the earlier section, plan a surprise anniversary celebration for them. Remember to impress upon every one that it is a surprise so that they don't ruin the surprise before the day.
Check out our two helpful articles on Anniversary celebration ideas with family and Wedding anniversary celebration ideas with friends to help with very great ideas on planning the surprise celebration.
Another cool feature you can add to the celebration party or dinner or lunch is to have a congratulatory video with sweet congratulatory messages from everyone played during the event.
Couple this with the cool personalized scrapbook photo album in the earlier section with everyone's favorite picture with them and a sweet message written next to the pictures. You are guaranteed to have your parents in tears with these sweet sentimental additions to the celebration.
2.
A surprise all expenses paid anniversary vacation trip.
Imagine the look of surprise and joy on their face when you give them plane tickets and reservations to a very romantic getaway destination to celebrate their 30th wedding anniversary.
You can make it a couples' sailing vacation if their anniversary falls in the summer. Or just a quiet vacation somewhere.
This will also make any 30th anniversary memorable because they get the chance to celebrate in a different location and start making new memories for the next many years of their marriage.
You will also like this related article – 15 amazing 40th wedding anniversary gifts for parents.
Frequently asked questions.
What are some creative anniversary ideas for parents?
You can try out the last 2 gift ideas in the last section of this article. They would be creative anniversary ideas for your parents' anniversary.
What to get parents for 30th anniversary?
You can give them any of the 11 gifts listed in this article and you would make them very happy.
What are some good anniversary gifts for parents from daughter?
Any of the 11 gifts listed in this article will also be great anniversary gifts for a daughter to give her parents on their 30th wedding anniversary.
What should you do next?
Now that you know what will be the best and perfect gifts to give, no need to wait or waste more time. Go ahead, plan a surprise anniversary celebration or vacation for them and spoil them with most or all of the 9 gifts listed in this article. Congratulations on your parents' feat and 30th wedding anniversary.
ESTIMATED TIME DESIGNING AND UPLOADING THIS ARTICLE
ESTIMATED TIME RESEARCHING AND WRITING THIS ARTICLE
Try our AMAZING GIFT FINDER TOOL! Find GIFTS with 1 CLICK!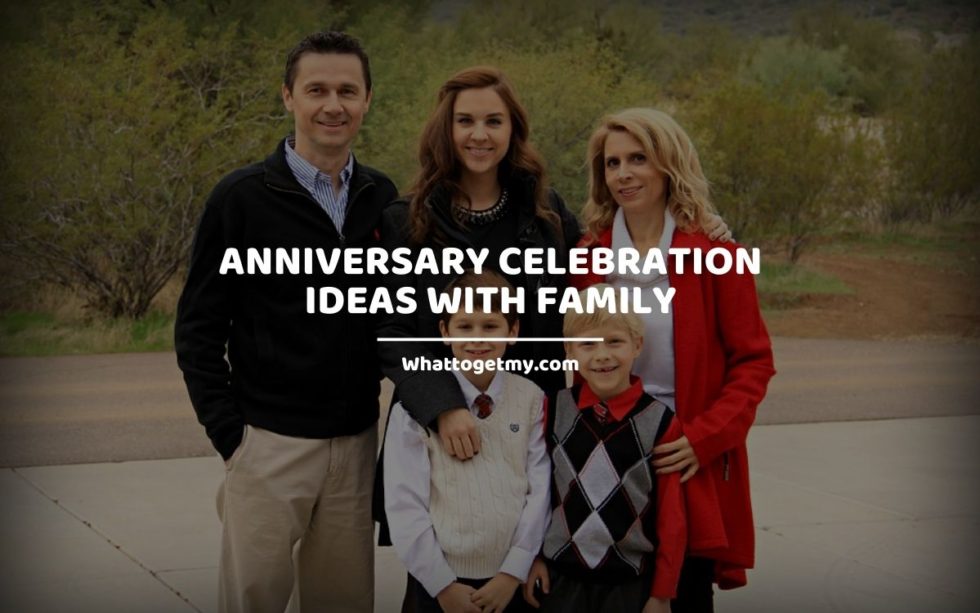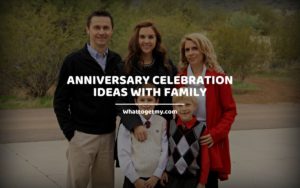 Anniversary Celebration Ideas With Family
Anniversary Celebration Ideas with Family WhatToGetMy Instructional Article Are you about to celebrate an anniversary with your family? Congratulations! It's one of the most special days for all parents out there. Before kids came along, you have probably tried some of the Romantic Anniversary Night
Read More »