Getting gifts for hunters can be quite tasking when you do not know anything about hunting.
You should learn about your partner's interests in hunting, the equipment they use, and what kind of animal they hunt in order for you to get them their most preferred gift.
Continue reading this article for inspiration on what gifts you can get the hunting men in your life.
When looking for gifts for hunters you may have a hard time finding just the right gift especially when you don't know anything about hunting or hunting equipment. There are a lot of hunting equipment and it may be overwhelming to figure out which one is the right one or which one your boyfriend or husband might prefer.
In order for you to find the perfect hunting gifts you will have to consider a couple of things:
1. Consider what your hunting boyfriend expresses he may need or complains that he is running out of. This will help you pinpoint exactly what to get for him as a present.
2. You will also have to pay close attention to the items that your hunter already has. This will help you find brands and items that he already uses and trusts.
3. You may also want to consider what kind of animal your husband hunts because different animals require different sized equipment.
Once you have carefully observed and considered these things, you can go ahead and make an informed decision and get your man a gift he will both appreciate and get a lot of usage out of.
However, just in case you have observed and considered and you have still come up short of gifts to get your man, here are a few items that can help you find the perfect gift for the hunter in your life.
As an Amazon Associate we earn from qualifying purchases. We may earn a small commission for our endorsement, recommendation, testimonial and/or link to any products or services from this website. Thank you, your qualifying purchases help support our work in bringing you real daily gift ideas.
Quick Overview: Gifts for Men Who Hunt
GIFTS FOR MEN WHO LIKE TO HUNT
1.
ZIPPO HAND WARMER
This Zippo hand warmer is the perfect hunting gear for men who hunt in the winter or in cold places/mountains. It helps keep their hands warm and its size allows for it to be carried around and not slow them down.
Product summary: The Zippo hand warmer heat lasts for up to 12 hours which is perfect for hunters during the winter to keep warm for extended periods. They also come in a variety of colors which make them perfect for gifting because you can select the color that best fits your hunting man.
2. 

PLANO STORAGE TRUNK
A storage trunk is practical hunting stuff for men who go on multiple day hunting trips. The trunk can be used to transport hunting gear when going to the hunting site and it can be used as a storage box for the hunt when returning.
Product summary: This trunk has wheels which makes it easy to carry around either when empty or filled with the day's hunt. The size of the trunk makes it convenient for transportation.
UNIQUE HUNTING GIFTS FOR HIM
3. 

ARCHERY SET
The best deer hunting gifts for men is this archery set because of its strength, design, and speed. It is perfect for right-handed people and has a perfect aim.
Product summary: This bow and arrow set is perfect for adults who are skilled in archery or those who are just starting out. The set comes in 2 colors, black and white, to choose from and within it includes an arm-guard, finger guard, arrow rest, string nocks, and bow case.
4. 

BINOCULARS
If you are wondering what you can get a hunter for Christmas then this set of binoculars is just the perfect thing you have been looking for. They are powerful and can produce clear vision even in the dark which makes them perfect for hunting in not so perfect conditions.
Product summary: These binoculars are made of rubber and are waterproof. They have HD vision and night vision. They are the perfect gadget for hunting and targeting both during the day and night.
GREAT HUNTING GIFTS FOR MEN
5. 

ANTLER MOUNTING KIT
This is a great cheap hunting gift idea for men who like to make trophies out of their hunt. It is especially great for mounting animal antlers and is suitable for both big and small animal horns.
Product summary: This mounting kit is coated in high-grade steel and is designed for mounting both small and big skulls. It also rotates 180 degrees which makes it easy to install and face in any desired direction.
6. 

TWO WAY RADIOS
These are the perfect birthday gifts for hunters who hunt in pairs or groups. It is the best way to communicate during hunting when separated or when trying to circle an animal or cover more ground. The radios allow hunters to share location and information with their hunting buddies without any problems or interference.
Product summary: These radios can be used as safety calling devices for animal alerts. They also tune into 10 weather channels so that the hunters can anticipate the weather before they go hunting, and this is very handy.
CHRISTMAS GIFTS FOR HUNTERS
7. 

BUCK KNIVES
Buck knives are the perfect Christmas gifts for men who like to hunt because of their sturdy handles which makes them an easy tool to use for carving animal skin.
Product summary: This knife is specifically designed for hunting and it has a thin pointed tip which is great for making hollow cuts. The knife is made of a wooden handle and comes with a leather pouch.
Check out this article to get more inspiration on what Christmas gifts to get for husbands
VALENTINE'S DAY GIFTS FOR MEN WHO LIKE TO HUNT
8. 

HUNTING BOOTS
These hunting boots are the best hunting gifts for husbands and boyfriends simply because of their design, look, and comfortability. They are light and store heat which makes them great for walking long distances.
Product summary: These Rocky men's hunting shoes are 100% synthetic and have foam in the soles for comfortability. Although not waterproof, they are perfect for hunting in dry areas and during the dry seasons.
9. 

PERSONALIZED HUNTING KEYCHAIN
This is the perfect personalized hunting gift for him. It is simple and yet endearing and it will remind him of you whenever he is on his hunting trips. This little gift shows him in such a sweet and subtle way that you love him.
Product summary: This deer keychain comes in silver and is perfect for holding all the important keys together. Although small, it can carry its weight and accommodate many keys.
FREQUENTLY ASKED QUESTIONS
What items should you include in hunting gift baskets for men?
For the ultimate hunting survival kit, you are going to want to pack your hunting man a couple of items that he will find useful on his hunting trip. Some of the items you can include in a going away hunting gift basket are; a flashlight so he can see his way through the dark, pine spray scent to blend in with nature and still smell good, dressing gloves for the protection of his hands, and a cooler box to keep his catch and other items in. This article will give you a little bit more insight on what else you can put in a hunters gift basket.
CONCLUSION
In conclusion, when getting the hunter in your life a gift, you may want to consider a couple of things before you start looking for items to purchase. Consider the brands they already use, the type of animal they like to hunt, and all the hunting equipment he keeps complaining about is wearing out. This will help you find the perfect gift for him and surprise him with a gift he will not only appreciate but get a lot of use out of.
RELATED ARTICLE: Gifts for Casual Hikers
ESTIMATED TIME DESIGNING AND UPLOADING THIS ARTICLE
ESTIMATED TIME RESEARCHING AND WRITING THIS ARTICLE
Try our AMAZING GIFT FINDER TOOL! Find GIFTS with 1 CLICK!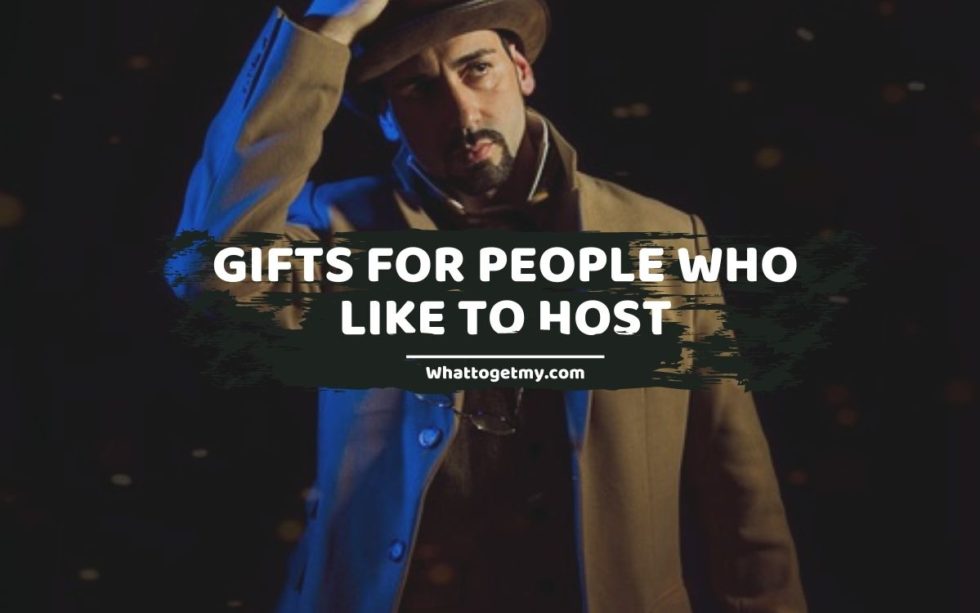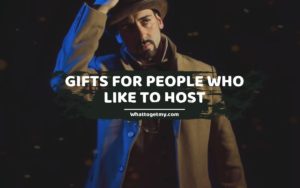 21 Amazing Gifts for People Who Like to Host
In this article, you will find a number of items you can get as gifts for male hosts, couples, wedding hosts, and party hosts. Are you having a hard time finding the right gift for your host? We've made your search easier. Whether your host
Read More »