So your child is turning 18 already? Congrats! You probably feel like it was just yesterday when she or he crawled around as a toddler, and now you're supposed to give a gift to a grown-up girl or boy. Time surely passes fast!
Now, you probably want to get something special for the big day. We all know that the 18th birthday is something special, and it should be remembered. Therefore, we did a thorough market research and tried to find a product that would make your child happy. Here's what we found:
As an Amazon Associate we earn from qualifying purchases. We may earn a small commission for our endorsement, recommendation, testimonial and/or link to any products or services from this website. Thank you, your qualifying purchases help support our work in bringing you real daily gift ideas.
Quick Overview: 18th Birthday Gifts from Parents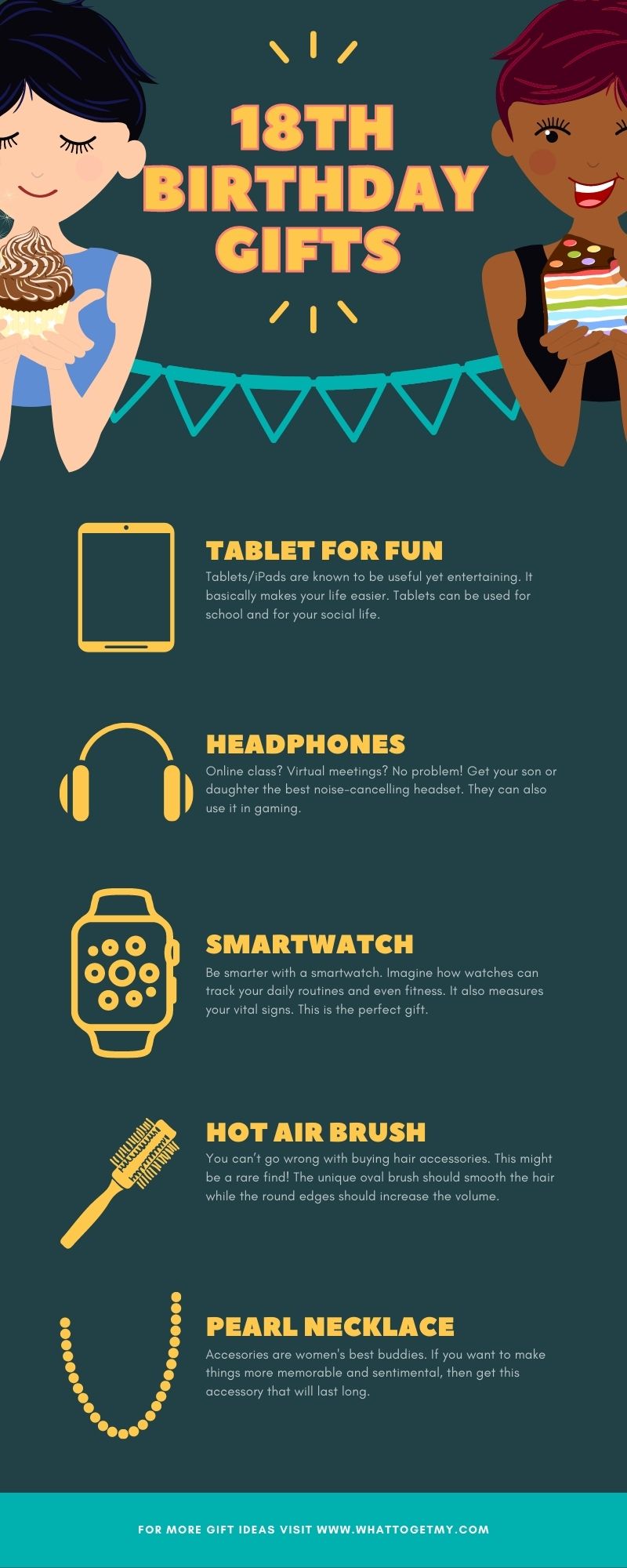 Source Link: https://whattogetmy.com/18th-birthday-gifts-from-parents/
Apple iPad for More Fun Wherever You Go
Our top pick is the 9.7-inch Apple iPad. Your child will be thrilled with it, especially when he or she sees all those extra features. The device has a touch ID fingerprint sensor, powerful speakers, and a durable battery. The back camera has 8MP while the front one has 1.2MP – good enough for a lot of selfies, that's for sure. Buyers also love the solid construction and impressive durability. Also, the device is incredibly stylish, and it comes in three unique colors.
Apple iPad is a perfect gift for both boys and girls turning eighteen. It's a useful and fun gift, and your child with adore it. The company did a remarkably good job with this one, updating it with a lot of new features to improve the overall user experience. In case you want to keep your child in suspense, to make an even bigger birthday surprise, you should check out our article on How to Give Hints About a Gift. It will give you a lot of useful ideas on how to make things more fun!
Incredible Music Experience with COWIN E7 Noise Cancelling Headphones
We are pretty sure we suggested giving noise-canceling headphones as a gift several times before, but we really can't help ourselves. It's just such an incredible device that we all should have one within hand's reach! Now, when it comes to choosing the headphones, we recommend Cowin E7 as one of the best products within the category. Along with an impressive noise reduction feature, the headphones produce high-quality sound and deep bass. They have a built-in microphone, allowing for a Bluetooth connection, and work for up to 30 hours in this mode. Additionally, the earcups swivel 90 degrees and allow for more comfort.
Cowin E7 headphones are one of the best on the market. They are the most popular products within the category, and buyers are thrilled with them. Of course, due to the budget-friendly price, they have their flaws, but they are still an impressive device we could recommend to everybody. P.S. In case you want to surprise your child big time with the gift, we recommend following our tips in the article on How to Surprise Someone with a Gift.
TOZO T10 Bluetooth 5.0 Wireless Earbuds for Active People
If your child has an active lifestyle, instead of big headphones we recommend earbuds. They are perfect for athletes, active people, and travelers. Of course, anyone can use them. The Toso earbuds are one of the most popular on the market. They feature advanced Bluetooth technology and produce high-quality sound with incredible bass. They allow for rocking favorite songs wherever you are. Along with being easy to use, these earbuds are also built to last. They are waterproof and quite sturdy. Additionally, they run up to 3.5 hours on a single charge and 9 hours in the compact charging case, included in the package.
With these earbuds, you can say goodbye to tangled wires. They are perfect for active people who need something portable and hassle-free. If your child is one of them, Toso earbuds are an excellent 18th birthday gift! Pro Tip: For more ideas on how to surprise your child with a gift, you can take a peek at
4 Creative Ways to Give Birthday Presents
.
EasySMX Wireless Controller for Gamers
If you're looking for birthday gifts for 18-year-old boys, we recommend EasySMX Wireless Controller. Although we also strongly recommend it for girls who enjoy games. The device features an ergonomic design that allows for more control and easy maneuver. It fits your hand naturally thanks to the textured rubber material and feels comfortable at extended use. The controller is easy to use, recharges rather quickly and provides hours of fun. It's compatible with computers as well as phones. Without a doubt, your child will be thrilled with it!
If your child is a gamer, this might be the perfect gift for him or her. The device is reasonably priced, comes with some great features, and allows having hours and days of fun. Who could ask for more? Also, if you get two of these, you can play games with your child during the birthday. That will be fun! For more ideas on how to spend the special day together, you can take a look at 13 Fun Ideas on How to Celebrate 16th Birthday Without a Party.
Be Stylish with Samsung Galaxy Smartwatch
Fitbit Versa 2 Health and Fitness Smartwatch is a universal device that makes one of the best 18th birthday gifts for him or her. You can get it for any active person in your life, from children to seniors. It's so practical and useful that we should all wear one!
Firstly, the device has built-in Alexa that allows you to check the news, weather, set timers and alarms, control appliances in the house, and much more. Secondly, it keeps track of your heart rate during the day to help you understand your habits and improve lifestyle if needed. It also tracks steps, calories, overall activity, and much more. The device provides so many useful and fun features that we don't want to spoil things for you. We'll let you explore it on your own. We only have to say that the watch is incredibly useful and that all buyers over the market are thrilled with it.
Keep Your Hair Styled with Revlon One-Step Hair Dryer & Volumizer Hot Air Brush
So, if you have a hard time coming up with birthday gift ideas for an 18-year-old female, we are here to help you out. Whatever the occasion, you can't go wrong with buying hair accessories. Here we have a unique Revlon device to suggest. It's a hair dryer and volumizer brush that makes hair beautiful in a few simple steps. The unique oval brush should smooth the hair while the round edges should increase the volume. The brush has 1100 watts, and it's safe for use close to the scalp. It's quite powerful and promotes fast drying, which can be very useful when on the go or running late. Additionally, the device comes with a 4-year warranty, and the customer service is fast to answer all the questions.
Without a doubt, this 2-in-1 product will make stylizing hair a lot easier. It's efficient, fast, and leaves beautiful results. Still, if you want to make sure that your daughter will love something like this, you should ask her. In case you don't know how to do it without revealing the gift, you can find some tips here: How to Ask Someone What They Want for Their Birthday.
VIKI LYNN Black Pearl Pendant Necklace, a Perfect Sentimental Gift
Those who are looking for 18th birthday gift ideas for daughter from dad will love our suggestion. We recommend a black pearl necklace. It's a beautiful piece of jewelry, made of silver and gold plated. Your daughter will fall in love with it and wear it wherever she goes. It's a perfect sentimental gift that will always remind her of you!
The black pearl necklace is suitable for all possible occasions, from Christmas to birthdays. You can give it to your daughter, mom, wife, or any other person in your life. It's a truly beautiful and sentimental gift.
GOOLEEN Beard Trimmer for Growing Boys
One thing that 18-year-old boy is going to need is a quality beard trimmer. These days, having maintained, long beards has become imperative. So, your growing son will probably use a trimmer in case he decides to grow a beard. We recommend Goolen, one of the most popular grooming kits at the moment. The set doesn't only include a beard trimmer but also hair clippers, a nose and mustache trimmer, and a precision trimmer. Additionally, it has combs that allow for stylings beard and hair with ease. The trimmer can work for up to 90 minutes, and it rechargers rather quickly. It's compact, portable, and quite durable. You'll also be pleased to know that the device is washable and easy to clean. All in all, it's quite convenient and comes with all the necessary pieces for easy use.
The grooming kit is what every boy needs. Goolen is one of the best you can find, and it has a lot of extra pieces and features. We recommend it not only for parents but also for grandson 18th birthday gifts.
Conclusion
Picking an 18th birthday gift is a challenging task. At this age, children want to be perceived as adults. Therefore, you want to get something useful, a gift that will show your child how you think about him or her as a grown-up person. For that reason, our 18th birthday gifts from parents are more handy, convenient gifts than sentimental ones. We thought that would be a better option. Besides, you can always include a thoughtful card or poster that will show your child how much you love him or her.
P.S. Our final advice is to throw a memorable party for your child! It can be a big-time event or an intimate gathering for friends and family, but it should be the one that he or she will remember for the rest of life.
ESTIMATED TIME DESIGNING AND UPLOADING THIS ARTICLE
ESTIMATED TIME RESEARCHING AND WRITING THIS ARTICLE
Try our AMAZING GIFT FINDER TOOL! Find GIFTS with 1 CLICK!