Finding and then picking gifts for an 18-year-old boy can be a difficult task. As a lot of the time, they don't tell you what they would really like. They can also be very particular about the things that they want or may need. 
This only makes choosing the best gift for him even trickier for you. So you find yourself asking, what do 18-year-olds want for their birthday?
But one thing you do know is that because 18 is a milestone birthday. It is the time in his life where he leaves part of his childhood behind and enters into adulthood. You want to find something that he would find useful going forward in his life's journey.
Whether his next step is to go off to college, start his first job or if he has no clue to what he wants to do with his life yet. He may even have plans to go on an adventure and travel part of the world before he settles down into something that will define the rest of his life.
No matter what his plans are for the very near future, there are many gift options that could be useful to him that he would like and enjoy. 
If you sit and think about the boy in question, about what makes him who he is and who he is to you. Whether he is your son, grandson, friend, boyfriend or if you are looking for 18th birthday gift ideas for brother. 
There should be certain qualities about him that stand out to you. Think about the things that you know he likes and if you don't know him that well, ask someone who does know him.
Then break down your options into different categories of what any 18-year-old boy would like and how he would fit into them. It will help make deciding on a gift a lot easier for you. 
Categories that you could consider are:
Clothing

– Think about the types of clothes, shoes, and accessories that he likes to wear.

Sports and activities

– If he enjoys playing a particular sport or if there are certain activities that he loves doing. A few ideas would be sports clothing either for supporting a team or for going to the gym, exercise equipment or a fitness tracker.

Personal items

– Think about the types of personal items that he likes to use like electric shavers or toothbrushes

Music

– All 18-year-old boys love listening to their preferred music. This could be through headphones or playing a device that blares it out at top volume even while in the shower.

Tech items and accessories

–

Items that fall in this category could anything from Laptops, wireless chargers, an Amazon Echo and Fire TV sticks, an action camera, and items for gaming.

Educational and Inspirational Books

– The right type of books would be a great help for an 18-year-old to gain some valuable insight and inspiration for his future.

Bedroom or dorm room items

– Ideas could be a bean bag chair for him to chill in or a mini-fridge to keep his beverages cold.

Car accessories

– Car accessory gifts may not seem like much to some but items like a trunk or seat organizer and seat covers are extremely useful and practical gifts
Personal and practical items – Items like a wallet, a good watch, neck chains, wrist bands, and even a backpack make great gifts for an 18-year-old boy
As an Amazon Associate we earn from qualifying purchases. We may earn a small commission for our endorsement, recommendation, testimonial and/or link to any products or services from this website. Thank you, your qualifying purchases help support our work in bringing you real daily gift ideas.
Quick Overview: 18th Birthday Gifts for a Boy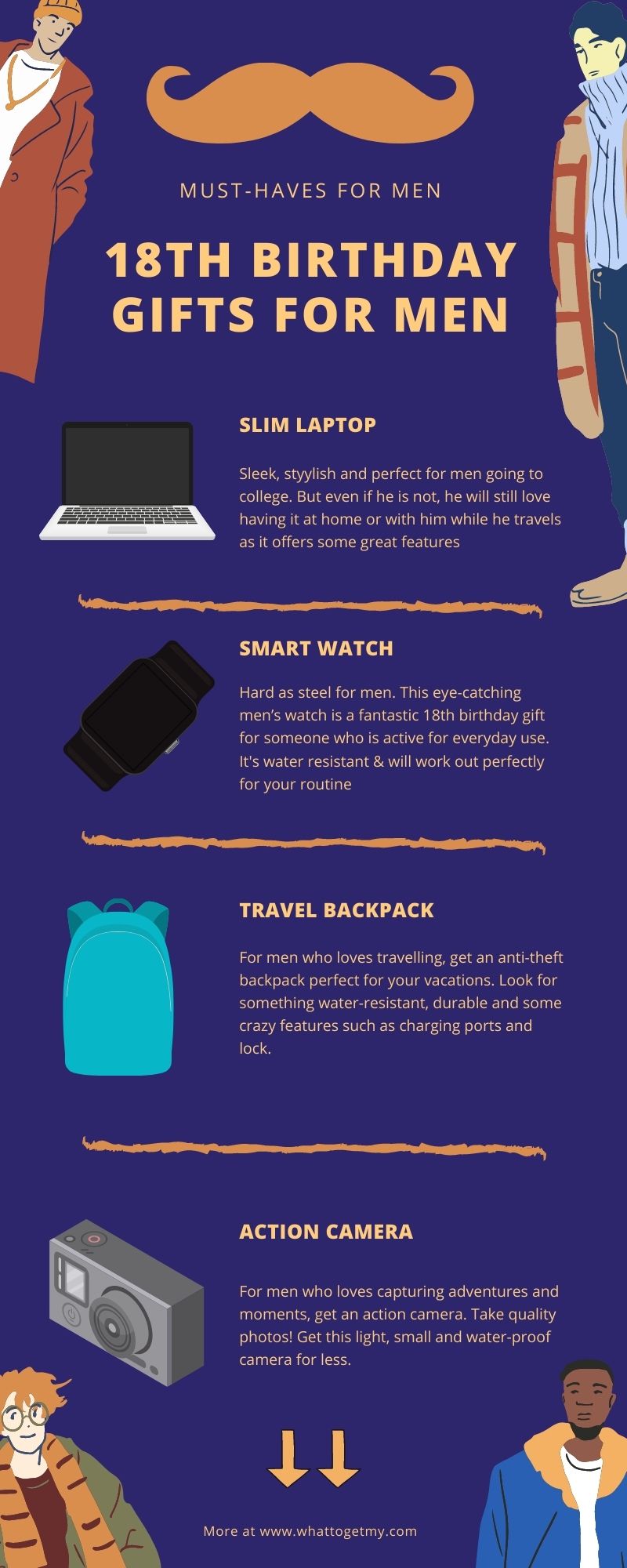 Source Link: https://whattogetmy.com/18th-birthday-gifts-for-a-boy/
Acer Aspire 5 Slim Laptop
This Acer Aspire 5 Slim laptop makes the perfect 18th birthday gift for a boy. It is the type of gift that will come in very handy especially if he is going off to college. But even if he is not, he will still love having it at home or with him while he travels as it offers some great features. 
The Acer Aspire 5 Slim Laptop is equipped with Windows 10, a 15.6 inches Full HD IPS display. It is fast enough for him to navigate through different websites, play games and watch movies.
The majority of customers that have purchased this Acer Aspire 5 Slim Laptop are extremely satisfied. They are impressed with how quickly they can navigate between programs and different websites. They find that this laptop is compact, light and very portable.
Invicta Men's 15145 Pro Diver Stainless Steel Watch
This eye-catching Invicta men's watch is a fantastic 18th birthday gift for someone who is active and wants to wear it every day. It is water-resistant which will work out perfectly if your 18 years old forgets to take it off. 
It also looks sporty but stylish at the same time and is comfortable to wear with its large face and polyurethane band.
Those customers that have already purchased this Invicta men's watch love how great it looks on. They say it is comfortable to wear and easy to read as it has a large face and a great weight.
Travel Laptop Backpack
This modern-looking water resistant travel laptop backpack is perfect to use for college, work and travel. It features an anti-theft design, durable zippers, and a USB charging port and lock. There are multiple compartments to hold a laptop, water bottle and other items that you wish to include. The padded straps make it comfortable and easy to carry around where ever you go.
Many customers that have purchased this Travel Laptop backpack found that it is the perfect backpack for their needs. They have also found it to be comfortable to carry with the padded straps and can use it for college, work and while they are traveling.
FUGU Big Bean Bag Chair
This fun foam filled bean bag chair makes the top of the list of 18th birthday gifts for a boy going off to college. He can place it in his dorm room and use it while he is studying or just chilling. This comfortable bean bag chair is huge and comes in 12 different colors for you to choose from. It will expand to its original shape and full size when he gets up, relieving the pressure and fluffs it.
Many customers that have purchased this FUGU bean bag chair are extremely satisfied with their purchase. They have found them to be well made, soft and very comfortable.
Portable Waterproof Bluetooth Speaker
This adorable Bluetooth speaker is perfect for and an 18-year old boy who loves music. With this speaker, he can listen to his music while he takes a shower as it comes with a suction cup and a sturdy hook. It is waterproof so he will not worry about splashing it with water while he put on his best performance. There are also 4 amazing colors to choose from that will suit him perfectly.
Customers who have purchased this VicTsing SoundHot C6 Portable Waterproof Bluetooth Speaker are happy with this product. The found that it is easy to use, the battery lasts long, the sound is clear and is loud enough for their needs.
Campark ACT74 Action Camera
This action camera is great for shooting video and taking good quality photos. It is small and light and has a waterproof case so can be used for different underwater activities. It is also perfect for capturing everyday activities and special occasions like college parties and music concerts. It will make a wonderful gift for an 18th birthday as he will be able to capture every moment of his journey forward into adulthood.
Customers that have purchased this Campark ACT74 Action Camera love everything about it. They find that it is a great action camera that records great quality videos and takes great quality photos. It is small but powerful and is waterproof which is perfect for underwater activities.
Something Special for his 18th birthday
Gifts that are useful are always the best kind of gifts to give someone. But as for 18th birthday gifts for a boy, there needs to be a little something extra. Something that is special to ensure that he never forgets it. 
Some 18th birthday gifts from parents ideas that will bring it all together perfectly:
Make him a time capsule
Choose an item or memory which could be a photo from his first 18 years. Put it into an airtight container that is waterproof and bury it in a hole you have dug. Make a sign or plaque that will help remind him where it is so that he can dig it out in a couple of years.
This great idea will give him the opportunity in the future to see how far he has come in 5 years, 10 years or 15 years. It does not matter how long you choose to bury the time capsule. 
Make a jar of 18th birthday Wishes
If you do not like the time capsule idea, then make him a jar of 18th birthday wishes. Get the whole family and all his friends involved in this one. Have everyone write a birthday wish for the birthday boy and place them all in a jar. 
He will have fun taking one out at a time and reading them. They can be anything that the participants want them to be. They can be funny, inspirational or just Happy 18th Birthday.
18 balloons for his 18th birthday is an idea that is similar to the jar above, except you will use balloons. Take 18 balloons and place an 18th birthday wish in each of the balloons before blowing them up. 
Book a Limo for him
It is easy to figure out how to celebrate 18th birthday for daughter but a son might have planned to go out and party with his friends you can surprise him by booking a limo for him to drive around in. He will have fun going from one place to the next with his friends in style and you will have peace of mind that nobody is driving around while intoxicated.
An Experience gift
An experience gift is a gift that they will love and cherish the most. Help him create an amazing memory of his 18th birthday by giving him an exciting and fun experience for the day. You could choose something nearby that you know that he would enjoy. It could be:
Skydiving
Helicopter ride

Jet Skiing

Bungee jumping

Hang gliding

Ziplining
Choosing and deciding on 18th birthday gifts for a boy does not have to be very difficult. Take some time to think about him and the things that he likes to choose a great useful gift that you know he will love. Add a personal touch by doing a little something extra for him to make it more special. You will then have a very happy boy on his 18th birthday.
ESTIMATED TIME DESIGNING AND UPLOADING THIS ARTICLE
ESTIMATED TIME RESEARCHING AND WRITING THIS ARTICLE
Try our AMAZING GIFT FINDER TOOL! Find GIFTS with 1 CLICK!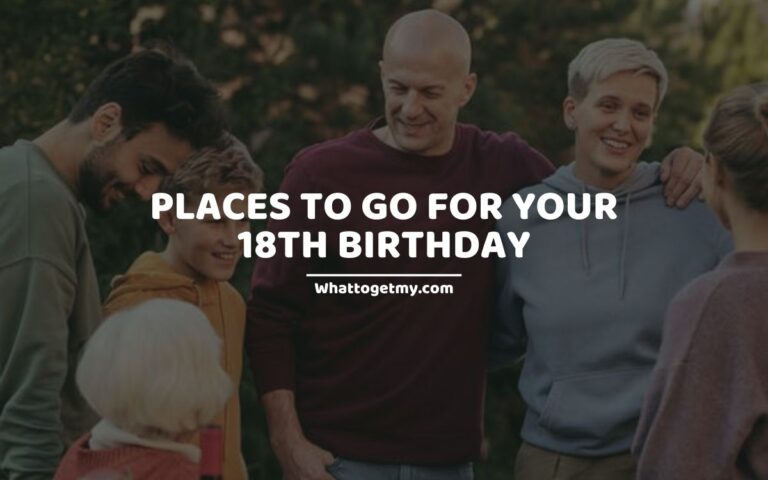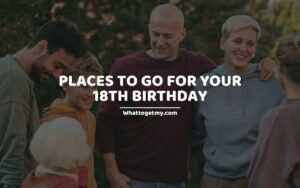 27 Places to Go for Your 18th Birthday
27 Places to Go for Your 18th Birthday WhatToGetMy Instructional Article Well now, look who just became 18, look who just became an adult. First of all, congratulations on reaching this milestone. You have just reached the age of freedom and responsibility and the keys
Read More »