How to Celebrate the 18th Birthday for a Daughter
WhatToGetMy Instructional Article
Finding ways of how to celebrate the 18th birthday for a daughter can be stressful as you want to make sure that she will have the perfect day and that it will be a day that she will remember for many years to come.
Planning an 18th birthday for a daughter should be so much fun to do as it is an important event in everyone's life. It marks the end of childhood and is the entrance into adulthood with all the privileges that come with it. It is a stage in your life that brings freedom, independence, and a lot more responsibilities.
The 18th Birthday party is a special event and should be celebrated with friends and family and with some new and innovative ideas so that the birthday girl feels extra special not only on the actual day but also that it will be a memorable event that she will always remember.
Creating a memorable day for her can be planning a big event by throwing a party, a small gathering of close family and friends or by giving her and some friends an exciting experience depending on your budget and what she would really like to do to celebrate it.
Before you decide on how to celebrate an 18th for a daughter, discuss the options with her to find out what sort of celebration would she like. If you are planning some sort of surprise for her there are many ways to go about it.
You do not have to give her all the exact details, all you are really looking for is a general idea of whether she would like to have a big party, a small event at home or would rather prefer to do something completely different than she has ever done before.
Planning a big event with a party
If your guest of honor decides that she wants her 18th birthday to be celebrated as a big event with a party. Take into consideration whether you want to include some surprise elements or not, ask her to come up with a special theme for the party or decide on a theme based on her interests or hobbies.
Some theme ideas:
'Remembering your Youth',

get all the guests to dress up in their favorite kiddies television characters or characters from their favorite fairytale.

With this theme, you can organize some of her favorite classic kiddies party games like pin the tail on the donkey and a piñata to smash like crazy to get some candy.

Mocktail Party

,

you can serve non-alcoholic beverages like pina-colada, lemonade, and mixtures of fruit juices to her friends in some mocktail glasses with paper umbrellas as decoration.

A photo booth party

,

this would be a theme focused around selfies so arrange to have some fun photo props and set up a decorative background, lighting, and have a photographer. Then let the guests go wild and create memories for her to keep for years to come.

Cosmetics and makeup theme party,

if it is an all girl's party you can have professionals come in to do nail art, hair braiding, and makeup

.
A pool party

is a great way to spend a birthday on a hot day with some fun and exciting water games, pizzas, soft drink and any other fried finger food that they will enjoy.
When arranging and organizing a party it would also be a good idea to prepare the following:
Party favors matching the theme for when guests leave the party. 

Organize a few varied engaging games for all the guests to have some fun.

Play your 18-year-olds favorite music.

Ensure that there are enough food, snacks, and drinks for everyone.
Small gathering for a 18th Birthday celebration Ideas
If it has been decided that for your daughter's 18th birthday celebration she does not want a big party, she just wants something small with close friends and family. To make the day more memorable you can go big on a special gift for her and have a small celebration, here are a few ideas: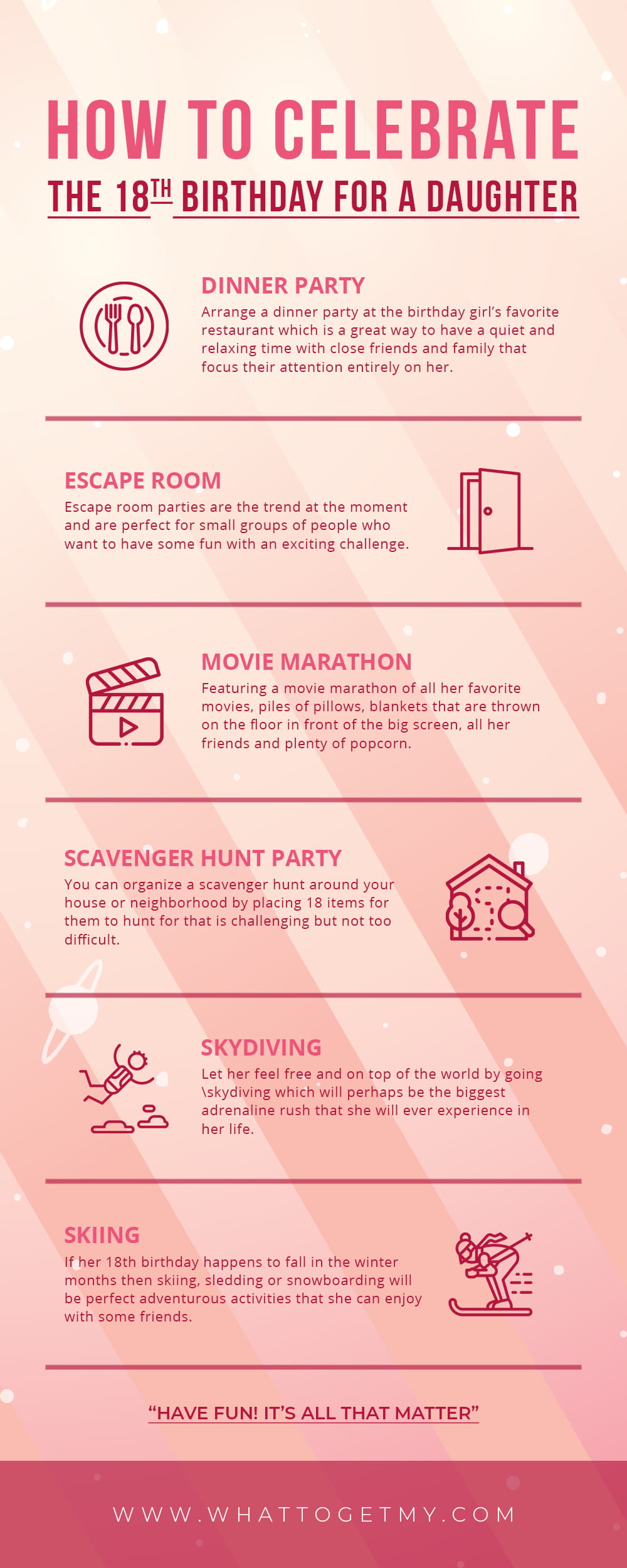 Source Link: https://whattogetmy.com/how-to-celebrate-the-18th-birthday-for-daughter/
Arrange a dinner party at the birthday girl's favorite restaurant which is a great way to have a quiet and relaxing time with close friends and family that focus their attention entirely on her.
Throwing a game night party for a tight-knit group of friends and family to celebrate her 18th birthday can be a lot of fun, especially if you feature plenty of party games that will fill the night with plenty of laughter.
Escape room parties are the trend at the moment and are perfect for small groups of people who want to have some fun with an exciting challenge.
A movie marathon party is a great way to celebrate the 18th birthday of a movie fanatic in the comfort of her own home. Featuring a movie marathon of all her favorite movies, piles of pillows, blankets that are thrown on the floor in front of the big screen, all her friends and plenty of popcorn.
You can decorate your house in a period from the past for the birthday girl that loves everything vintage. Having everything from the decorations, food, and drinks to match the theme and even ask all her guests to dress in vintage costumes.
Adventure Scavenger Hunt Party
This will make a great way to celebrate the 18th birthday, especially with a group of energetic people as they enjoy going to a party that is fun and requires their involvement. You can organize a scavenger hunt around your house or neighborhood by placing 18 items for them to hunt for that is challenging but not too difficult.
Giving an exciting experience
There is nothing more exciting than letting your daughter go out on her 18th birthday and experience things that she has never experienced before but always wanted to and who better for her to experience them with than her closest friends.
Let her feel free and on top of the world by going skydiving which will perhaps be the biggest adrenaline rush that she will ever experience in your life. Once she leaves the plane she will discover the experience of freefall which is far beyond any rush and when the parachute deploys she will experience the world from a completely new angle.
A wonderful idea for her to celebrate her 18th birthday is for her to feel the excitement of paragliding or parachuting with your friends. It is the closest she can get to the feeling of flying like a bird.
A way to get her heart pumping is for her to experience the amazing thrill of bungee jumping.  She can try different techniques like the swallow dive, the back dive, the bat drop or the elevator jump that will make her feel as free as a bird.
If her 18th birthday happens to fall in the winter months then skiing, sledding or snowboarding will be perfect adventurous activities that she can enjoy with some friends.
A hot air balloon ride would also be an amazing experience for her to celebrate and enjoy her 18th birthday with her friends.
Another great way for a daughter to celebrate her 18th birthday is to go to the amusement park with her friends. With all the exciting rides and thrilling roller coasters, she is bound to have a great experience that she will not forget.
A celebration of an 18th birthday for your daughter on a cruise can offer the best experience and leave lasting impressions on her and her guests. You can book a cruise that has a dance floor, disco balls, lasers, and some lively music or a one with a smaller indoor space for her to unwind and dine with a quality meal while sailing.
All inclusive Adventure Party
For an all-inclusive adventure party, it is best to arrange it over a weekend as it will involve plenty of excitement while partying outside with physical activities, great food, and fun. You can book a cabin out in the woods close to a lake or river for your daughter and her friends to stay in.
The adventure activities for the weekend could include kayaking, bushwalking or hiking, sailing, caving, water skiing, tubing and maybe some horseback riding.
Other Ways to celebrate
If your daughter does not want the whole adventure celebration but a more relaxed way of celebrating her 18th birthday with her friends, here are some ideas:
If you are looking to surprise her with something special on her 18th birthday, giving her unexpected tickets to her favorite band is a great way to bring a smile to her face and build lasting memories of her birthday.
Make her 18th birthday an event to remember by taking her and a few of her close friends to a day spa for a day of total relaxation and a makeover. She can get her hair cut in a new style with maybe some bold color streaks and if she wears glasses, she can exchange them for attractive lenses. This is a great way for her to mark her transition from a school girl to an adult.
Young adults love to get away from parents and everyday life to relax and experience a little independence, even if it is only for a couple of days. Book a hotel suite for your daughter and a couple of friends that have a pool, day spa and allow for some extra cash for food deliveries or for them to go out on the town and experience the nightlife without supervision.
She can spend a night going to clubs with her friends where she can dance the night away. Let her decide if they want to go to a specific club that they were not allowed in previously or if she would like to try a few different ones that are close to each other.
A road trip for an 18th birthday will give her a sense of freedom she can go to places with her friends that she has always wanted to go. However, be sure that she has prepared a checklist for what to bring on a road trip like a road map, enough food, and a first aid kit, as well as the vehicle that they will be using, is in good working condition.
If she doesn't like the idea of staying in a hotel, you can rent a cabin in the mountains or woods for her and her friends to spend the weekend. You can arrange for some activities or games for them to do, but remember they are adults now and will always find ways to keep busy.
A special gift of words of wisdom
This will need to be arranged well in advance of the 18th birthday as you would need to get every member of the family and maybe even her friends to write down some great advice and, or lessons they have learned about life, business, relationships, and love. Collect them all and create a keepsake scrapbook to help the birthday girl make a good start on her road to adulthood or to help get her through some hard times in the future.
When looking for ways of how to celebrate the 18th birthday for a daughter, there are so many different things to choose from of things that you can do to celebrate her 18th birthday, you just need to find out if she would prefer to celebrate it with a big event, a small gathering or would she rather enjoy an exciting experience with her closest friends.
ESTIMATED TIME DESIGNING AND UPLOADING THIS ARTICLE
ESTIMATED TIME RESEARCHING AND WRITING THIS ARTICLE
Try our AMAZING GIFT FINDER TOOL! Find GIFTS with 1 CLICK!