20 Clever Wording Ideas to Ask for No Gifts on Birthday Invitations
WhatToGetMy Instructional Article
Need interesting and clever wording ideas to ask for no gifts on birthday invitations? In that case, you've come to the right place. We know what you're probably thinking. You (or your kids) have too much stuff, from clothes to toys. You have so many things around you that there isn't even enough room for everything. Naturally you're anxious about getting even more unnecessary things and you want to prevent this from happening.
We hear you and want to help you fight the culture of consumerism in the most polite way possible. We realized that it's difficult to find proper wording that says "no more gifts", so we've gathered some examples to make things easier for you. After all, you don't want to offend your guests. You just want to help them not to spend excessive amounts of money on things you and your kids don't need
Watch the video version of this article:
Before you continue scrolling, we'd like to mention a few things:
A gift-free party doesn't mean that you or your kids won't receive any gift at all. It just means you're trying not to hoard items and clutter up your living room.

If you happen to receive some gifts, don't open them right away to avoid awkward situations. Thank the guest for the present but keep the gifts away from the party area.

Minimalist lifestyle doesn't suit everyone but it's proven that having fewer things makes us appreciate the things we do have.
Why do people choose gift-free parties?
Everyone has personal reasons to step away from the culture of consumerism. People want to teach their kids about different values and life choices. We can say that the most common reasons for throwing gift-free parties are:
Environmental reasons – the most common gifts, especially given to kids, are made of plastic. Kids often like a limited number of toys and play with them all the time. Other toys end up in the trash after some time. Of course, a lot of people donate the clothes, toys, and other things they don't need. However, all things end up in the trash sooner or later and when those things are made of plastic it has a huge impact on the environment. People who live like minimalists have a smaller environmental footprint.
Emotional reasons – gifts are a part of some people's love language. However, a lot of people argue that giving gifts has become meaningless. Christmas or birthday shopping turned into last-minute visits to the mall and finding impersonal gifts.
Showing solidarity – a lot of people have financial troubles. More than half of Americans are living paycheck to paycheck and some just can't afford to get expensive gifts. They also don't want to stand out with a less valuable gift, so they just decline social occasions that require gifts. This leads to isolation and distance from social circles. To show solidarity with people who are struggling, a lot of people opt for gift-free parties because they care more about sharing a happy experience with friends than receiving expensive (and often not needed) gifts.
Decluttering the home – over the years people received a lot of stuff. Some presents don't have a particular purpose and they become a part of the home's décor. Naturally, people end up with too much unnecessary stuff, so it's understandable they don't want more.
As you can see, there are many valid reasons why people are throwing gift-free parties. Your motive might be very similar but you still don't know how to politely decline gifts on an invitation. Let's go through some of the usual wording for "no gifts", so you can choose the ones you like the most.
Being polite and direct
Although being direct is difficult, usually it's more efficient than giving hints. Don't be afraid to just say that gifts aren't necessary. You just need to be polite about it, so people don't get offended. Sometimes just adding "please" is enough but that entirely depends on your social circle.
You can discuss this subject with your friends and family to hear their opinion. Start the general conversation and let it flow naturally. You'll get valuable insights if you're not afraid to ask. Your closest friends will understand your reasons while others might be a bit confused. That's why it's worth repeating the "No gifts" request on the invitations.
"No more gifts" on invitations
There are a lot of ways to phrase "no gifts" on the birthday invitation. You can also add a bit of humor, but make sure the request is clear. You should use simple and direct but polite language. Here are some of the examples we've found in our research:
Please no gifts, we just want to celebrate with you.

Please bring only your company and your appetite.

The only gift we need is your company.

No gifts please. We just need your loving presence.

Your presence is present enough

. We'll be so happy to celebrate with you!

Gift us only with the honor of your presence.

Give us the only gift we need – your company.

We hope to celebrate this day with you only, no gifts, please.

Your presence at the celebration is enough of a present.

Your presence is our gift

.

Your presence is the best gift we can hope to receive.

Your good wishes are the only gifts that we wish to receive.

Your loving presence in our lives is a gift, we request no other.

Bring your enthusiasm and nothing else, please no gifts.
If you want to add a bit of humor in your no gifts wording for a birthday party, try something like:
Toys are so passe, hugs are in! No gifts, please.

Your presence is strictly required for drinking, dancing, and singing. Just no gifts, please.

We love guests who don't bring gifts.

No gifts and we mean it from the bottom of our hearts.

Gifts are strictly prohibited, this is just a party for fun.

Make our day special with hugs and kisses, no gifts please.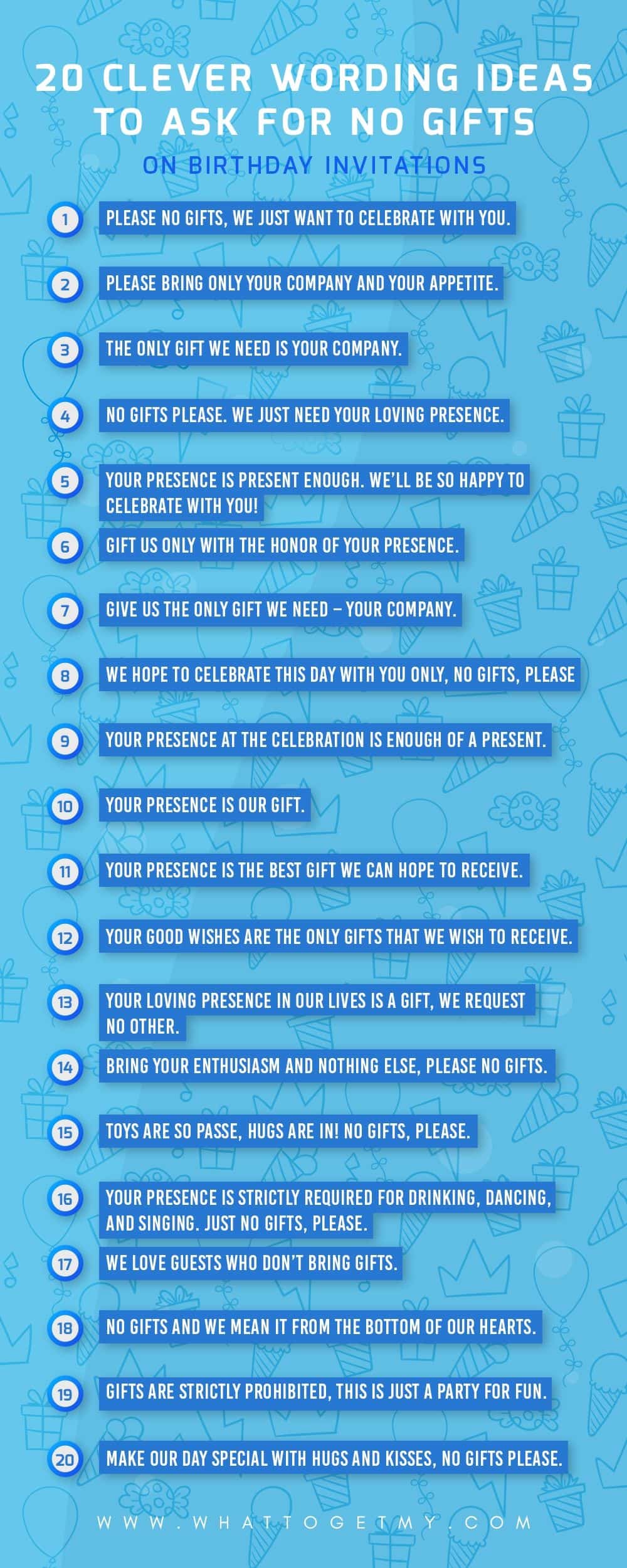 Source Link: https://whattogetmy.com/clever-wording-for-no-gifts-on-birthday-invitation/
Ask for a non-material gift
Gift-giving is a part of our culture, so some people might feel guilty for not bringing a gift to a party. You could make things a bit easier for your guests if you ask for a non-material gift instead of strictly sticking to "no gifts" policy.
You can, for example, ask for a thoughtful note/card, maybe even a letter or a poem. Anything that's not a financial burden on the guest can be a nice alternative. You could say that you're building a time capsule for the birthday boy/girls and that you would be thrilled if the guests could add something (from letter to photographs/drawings).
Charity donations as gifts
It's becoming very popular to donate to charity in someone's name as a gift. The act is selfless and generous but you should be careful. With inadequate wording, you could sound self-righteous and not grateful for someone's gifts.
To avoid this, feel free to explain the reasons why your guest should give charity donations instead of gifts. You could explain how you've (or the birthday boy/girl) recently found a cause to support. If you feel the passion to change the world, don't hesitate to share it and inspire others.
You can put the suggestion of charity donation on invitations next to "no gifts" wording. Add a simple statement that your family recently started volunteering at the local animal shelter (zoo, soup kitchen, etc.) and leave a link to the charity. You don't even have to ask for monetary contributions. Instead, ask for help with volunteer work as a gift.
Gift cards instead of gifts
Giving gifts cards instead of gifts has become very common. People don't want to get the "wrong" gift, so they opt for this alternative. It's also very beneficial with piling up things and decluttering, so you should definitely consider suggesting to your guests to get gift cards instead.
We discussed some of the ways of how you can ask for gift cards on birthday invitations. You'll find the information you need for polite wording of this simple request. Gift cards have become the new social norm, so you really don't need to worry about offending anyone. Even more, people are relieved to hear this request because they don't have to stress about getting the perfect gift.
Monetary presents as an alternative
We've also talked about giving money instead of gifts for birthdays. This might not be the most common practice but it's very convenient to receive monetary presents. Guests also like the idea, although it might seem awkward at first. However, close family members actually like the option to give cash presents because that way, they'll be sure you'll get exactly the items you need.
In times of constant financial burden, monetary presents can make your life a bit easier. When people ask questions about your birthday wishes and you say that you need, for example, clothes, you might not get the colors you like or even the right size. With monetary gifts, you can get clothes fit for your taste, right? It's simple and convenient.
A few tips on throwing gift-free parties
In the end, we'd just like to share a few tips on throwing a gift-free party.
The ideal scenario is that everyone listens to your suggestion and you actually have a gift-free party. However, the social norm to give gifts is very strong, so some guests might still bring presents. In this case, you should politely thank the guest for the present and put them away in another room or a closet. Get them away from other guests who respected your wishes for no gifts. You don't want to make an awkward situation of having a pile of gifts in front of everyone when you explicitly said no gifts.

Don't make the big deal about the presents. Instead, encourage everyone to enjoy the time spent together and having fun at the party.

No gifts also means no gift-opening ceremony. Don't open the presents you received because you'll just make the guests that didn't bring a gift feel bad. Stick to your guns and leave the gifts in the other room. Also, kids don't hide their excitement/disappointment about certain gifts which usually leads to offending the gift-givers. It's best to let this tradition fade away and leave gift-opening for later.

Naturally, you shouldn't give out goodie bags. You wanted to fight receiving too much stuff, right? Then you shouldn't give excessive stuff either. If you asked your guest to skip giving gifts, you need to follow that rule too. Otherwise, your guests will feel weird to attend a party with no gift, enjoy your food and drinks then leave with a return gift. Party favors would just make everyone feel uncomfortable.

The sooner you start with "no gifts" policy, the easier it will be for your family and friends to adjust. Your kids will learn about gratitude when they receive 2-3 gifts instead of 20+ gifts they usually get.

Throw one fun party! Shift the focus from gifts entirely. Fill the time with interesting activities, choose uplifting music, and prepare tasty food. Experiences are remembered for much longer than received presents.
Conclusion
Speaking about experiences, hear this out. Even when you find the perfect wording for no gifts on birthday invitations, you'll hear a lot of questions from guests about what they can do instead. We already mentioned some alternatives but we have one more. Experiences are very valuable, especially for kids. If close family members ask about a gift, suggest them to give an experience (such as a trip to the zoo, going to the cinema, etc.) instead. Sounds perfect, right?
ESTIMATED TIME DESIGNING AND UPLOADING THIS ARTICLE
ESTIMATED TIME RESEARCHING AND WRITING THIS ARTICLE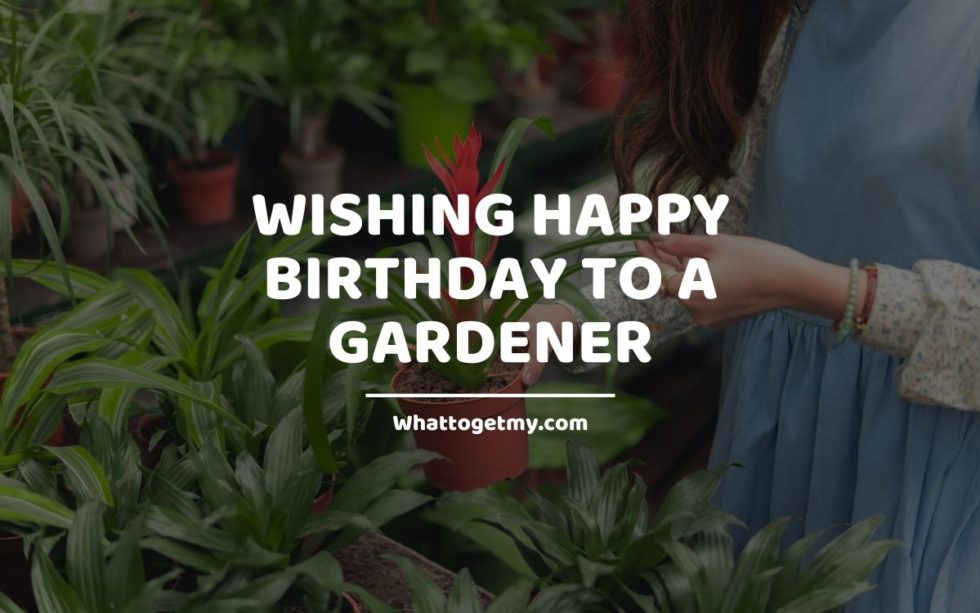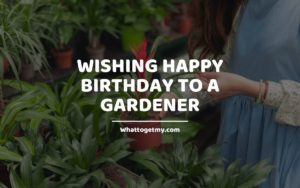 Wishing Happy Birthday to a Gardener
Wishing Happy Birthday to a Gardener WhatToGetMy Instructional Article In today's world where a lot of us are obsessed with technology, some people enjoy spending time with nature. We're talking about gardeners of course. If you know one that has a birthday coming, you need
Read More »