What to Do on Your 25th Birthday - 25 Things to Do on Your 25th Birthday.
WhatToGetMy Instructional Article
Fun things to do for 25th birthday;

25th birthday themes; and

Birthday ideas for a 25 year old female.
Turning 25 is no small feat. You are a quarter of a century old and on your way to the big 30 which is the next milestone after the 25th birthday. A 25th birthday is one of the milestone birthdays that should not go uncelebrated.
Choosing a 25th birthday celebration can oftentimes be daunting, and at other times confusing. However, in this list, we give you a list of 25 ideas for celebrating your 25th birthday which would suit any personality and preference. Whatever your unique personality type, you would find one or more 25th birthday celebration ideas that would work for you.
Check out these related articles on Things to do for 21st birthday without alcohol and What to do on 21st birthday without friends.
Ideas For Celebrating Your 25th Birthday – 25 Things To Do On Your 25th Birthday.
Your 25th birthday is an exciting milestone that should be celebrated in a special way. Whatever your personality and preferences, you are sure to find ways to celebrate your 25th birthday in the list of 25 things to do on your 25th birthday below.
14 Fun Things To Do For 25th Birthday.
In the past 12 months, which of these activities did you participate in while on leisure trips? Source: Statista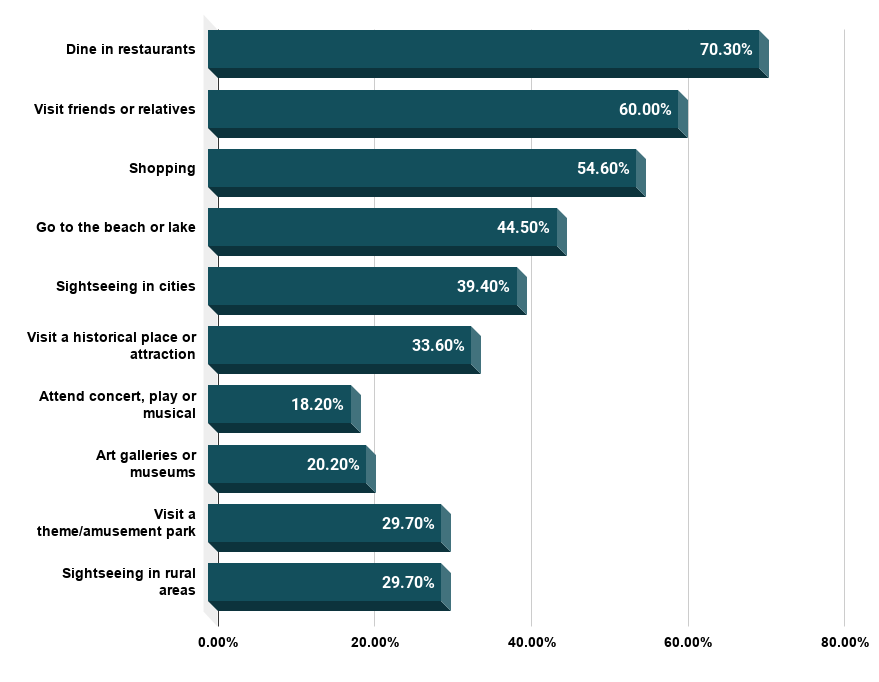 Who says a 25th birthday celebration should be dull and unexciting! You are a quarter of a century old and that is no small feat. Celebrate the milestone in a fun way with any of these exciting and fun ideas also seen in the above chart as favorites among Americans.
1. The traditional birthday party celebration.
An all-out extravagant birthday party is a fun way to celebrate your 25th milestone. This birthday party is a time to reminisce and celebrate you and the past 25 years of your life. Make the party memorable and super-exciting with these ideas:
Find a theme that excites you and reflects your personality and turn your party into a themed party. And if you don't know what 25th birthday theme idea to try out, we give you a few 25th birthday theme ideas in the next sections. Read on to find out what these themes are and you are sure to find one or two that you would love.
Have your guests dress up according to the theme.
Having your guests dress up according to the theme of your party adds extra dazzle and shine to a themed birthday party. Plus who doesn't like to play dress-up?! Your guests will be thrilled to have an excuse to dress up.
Decorate your venue with pictures that celebrate your life in 25 years.
Your 25th birthday is all about celebrating you and all you've done in a quarter of a century. And nothing speaks more volumes than pictures. Have your party venue strategically decorated with your favorite pictures of the different periods in your life. You can even add a short video of your life in brief which you get to play for your guests during the celebrations.
If you are on a budget you can still have a fun 25th birthday party. Check out our helpful article on How to throw a cheap birthday party for adults for ideas on how to still have an awesome birthday party on a budget.
2. Club hopping – 25 clubs for 25 years.
There is no better excuse to take the party to the clubs and get wasted like the 25th birthday. Make it more thrilling by trying out as many clubs as possible in one night or week depending on how you want to spin it.
You can make it a 25 for 25 club-hopping with each club representing each year of your life. Each club can also be symbolic of each year they represent. However you want to spin it, this will be balls of fun.
Remember to go with your friends for the laughs and a good time. And if you are feeling bold and daring, you can even try out stripping in a strip club on the night of your 25th birthday.
3. Adrenaline-packed adventure birthday.
Popularity of selected adventure activities with United States travelers as of March 2014, by age group. Source: Statista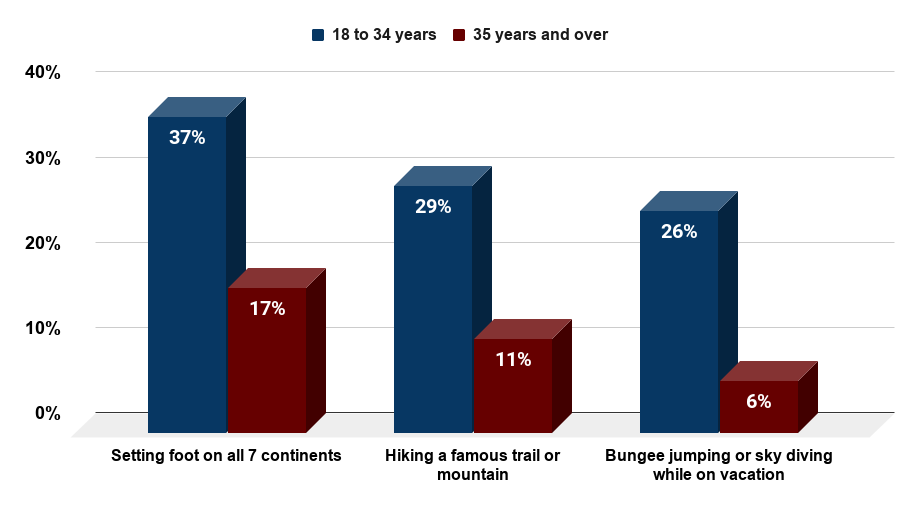 Make it an adrenaline-packed birthday by engaging in heart-racing adventure activities like bungee-jumping and sky-diving. Show your young and free self by making it an adventure-packed 25th birthday celebration. And if you haven't done any adrenaline-pumping adventure activity, no better time than your 25th birthday to get started.
4. Road trip.
Most popular RV vacation activities in the United States as of June 2014. Source: Statista
Road trips are another exciting fun birthday activity packed with fun. The more variety of activities you have on your road trip, the more exciting it will be. The chart above shows exciting road trip activities that Americans love to enjoy on a road trip. So why not plan an exciting road trip birthday outing with your friends that involve,
If you would be making the road trip with your significant other then you would like this article on 19 Fun things for couples to do on a road trip.
5. Hiking with friends.
This is another popular and fun birthday activity to do. Find a hiking trail and spend the day getting your juices flowing while enjoying nature.
6. Holiday.
Take a holiday vacation outside your comfort zone. There are several places to vacation in the Americas, especially in North and South America. But if Europe is your preference then why not walk the streets of Florence in Italy or check out Kefalonia Island in Greece.
Check out this related article on 10 most affordable places to live in Europe.
7. Weekend getaway with friends.
Or if you do not want to go too far away, you can instead opt for a weekend getaway to a small town you've always wanted to visit but haven't visited yet. Having a weekend getaway with your friends is a good way to celebrate your 25th birthday as it also allows you to bond some more with your friends. Make it an exciting weekend away by,
8. Personal retreat.
If you want to spend time alone on your 25th birthday before having a party or celebration with friends and family, that is another good way to get started on the next phase of your adulthood. Your personal retreat will be a good time for sober reflections and planning the next phase of your life, or at least the next year.
But it doesn't have to be all serious with no fun because as they say, all work and no play make Jack (Jill) a dull boy (girl). Have fun with all or most of these activities:
9. Month-long celebrations.
Who says the 25th birthday has to happen only in one day. You can make your whole birth month one filled with celebrating your birthday each day. You can spice it up by coming up with 25 things to do for a 25th birthday bucket list of sorts. And for each day you tick something off your list. You can then use the remaining 5 or 6 days of the month to have the main birthday celebration depending on which birthday activity appeals to you from our list.
10. Backyard barbeque party with close friends.
A small intimate barbeque with close friends is a great option to settle for if you do not want to throw an elaborate party and also want a small circle of friends to celebrate the day with you. Add some fun games to the barbeque party to make it extra special and exciting.
11. Pool party.
This is a definite must if your 25th birthday falls in the summer. Bring out your bikini and/or shorts and have a wild water party with cool music and cocktails. You and your friends are sure to enjoy it.
12. Beach party.
And if you prefer a larger pool party out in nature with beach sand under your feet then a beach party is the best option to go for. The beauty of having a beach party is that you have so much space to have as much fun as you want. You can choose to bring back your childhood by building sandcastles, or you can play a good old game of beach volleyball, or just laze around and get sun-tanned. Whatever your forte, fun is guaranteed with a beach party.
For help on what to take to your beach party check out our article on Things to bring on vacation to the beach. And if you're considering having the beach party at night, our article on Fun things to do at the beach at night has the answers for you.
13. Karaoke party.
If you and your friends are lovers of karaoke then you will love this birthday idea. Bring out your music box or go with your friends to a karaoke bar and sing your hearts out as you mark your turning a quarter of a century.
14. Intimate dinner with family and close friends.
And if all you want is to be around close friends and family to mark your big 25, then make it a small intimate dinner. You can have this dinner at home although a restaurant will be nicer. Should you choose to have it in your home garden, be sure to spice it up with a little decoration and light music.
4 Amazing Birthday Ideas For A 25 Year Old Female.
For the young lady in your life turning 25, any of these 4 awesome birthday ideas for a 25 year old female will appeal to her.
15. Spa day treatment.
A good day of pampering and spoiling is a good way to get a 25 year old female started on her birthday celebration. This would bring a big smile to any 25 year old female as a way of celebrating her special day.
16. Shopping spree.
This would be an absolute delight for any 25 year old female. Who would say no to buying a new set of fashion items. It is a good excuse for her to buy that sneaker she has been eyeing or those Ray-Ban shades she's been craving.
17. A Tea/garden cheese and wine tasting party with friends.
Ladies love their tea/garden party with their friends and it doesn't matter what age they are. Cheese and wine tasting is always a feature of such tea/garden parties.
If you want to take it to a different scenery, you can ask a wine vineyard within your proximity about the possibility of hosting it in their gardens. This would make it extra cool and special.
18. Festival and/or concert outing.
And if she's a lover of music like Taylor Swift, Beyonce, and the likes, buying her tickets to attend a live concert by one of her favorite artist(s) will make her day. And if she loves carnivals and there is one taking place, a carnival or festival outing would be a cool addition to the birthday celebration lineup.
Don't forget to check out our article on Birthday gifts for 25 year old woman to choose a befitting birthday gift for her.
7 Awesome 25th Birthday Themes.
And if you are looking for a 25th birthday theme, you can try out these awesome 25th birthday theme ideas.
19. The Caribbean and/or Haiwan themed birthday.
If you're thinking of a summery floral party with bohemian floral dresses and flower headbands together all the works, then you're envisaging a Caribbean and/or Haiwan themed birthday. Have your guests dress up according to the theme. It would be even cooler to have the party at the beachside or in Hawaii if you are traveling as part of your birthday celebrations.
This article on Gifts for someone living in Hawaii has a good list of items you may find useful for planning your Hawaii/Caribbean-themed party.
20. 25 Minutes of humanitarian service.
Making giving a part of your birthday celebration is a good generosity activity and a great way to celebrate your milestone birthday. Imagine being remembered as the 25 year old who chose to make a difference in the lives of others as a way of celebrating their birthday.
With this theme, you don't have to do more than dedicate 25 minutes of your time volunteering and helping out at a shelter or home for the elderly. You can choose to do this in just one day or you could make it a month-long exercise during your birth month. Whichever model you go for, the persons whose life you are touching would be deeply moved by your altruistic gesture.
Check out this article on 3 Ways to show generosity to others for ideas on some generosity activities you can embark on as humanitarian service to celebrate your 25th birthday.
21. Charity-themed celebrations.
This theme would work well if you want to make your humanitarian service more than just a 25-minute service. You can instead organize a charity-themed birthday celebration where you ask for gifts (usually monetary) that you then donate towards an identified charity. 
You can make it a charity event with any of the following flavors:
Check out this helpful article on How to give a charity donation as a gift for more helpful ideas on making this fun and successful.
22. 25 for 25 themed birthday.
This is a theme that allows you to wing it whichever way you want. You can choose to wing it as,
23. Sports-themed birthday.
This theme would appeal more to a 25 year old guy. It would also appeal to a 25-year-old lady who loves sports. Make it a theme around their favorite sport.
You may like this article on Sports gifts for teenage guys.
24. Retro themed.
This is another fun theme that allows you to play around with it. You choose the year that appeals to you and have your party themed around the dressing and lifestyle of that year.
25. Parisian themed.
Parisian-themed parties are quite the grand affair and are usually super fun. We have written a helpful article on Paris themed party ideas for adults that provides very colorful ideas for you to play with.
Frequently Asked Questions.
1. What are some quarter of a century birthday ideas I can try out?
All the ideas in this article are great quarter of a century birthday ideas to try out as you celebrate your 25th birthday.
2. How about 25th birthday celebration ideas for (her, him)?
Aside from the ideas in the section on "Birthday Ideas For 25 Year Old Female", all the celebration ideas in this article works for both male and female celebrants.
3. What do you call your 25th birthday?
It is usually referred to as a silver birthday celebration because 25 years is often described as a silver jubilee.
4. Where should I go for my 25th birthday?
You can travel or hold a celebration in any of the places listed in this article.
5. What should I do for my 25th birthday alone?
Generally, most activities can be done alone. You can take yourself shopping alone, have a personal retreat alone, or vacation alone. You can also treat yourself to a spa treatment alone.
Conclusion.
The 25th birthday celebration is a milestone celebration that should be memorable and enjoyable. Any of the activities and ideas listed in this article will give you an unforgettable 25th birthday celebration.
ESTIMATED TIME DESIGNING AND UPLOADING THIS ARTICLE
ESTIMATED TIME RESEARCHING AND WRITING THIS ARTICLE
Try our AMAZING GIFT FINDER TOOL! Find GIFTS with 1 CLICK!