11 fun ideas for how to throw a cheap birthday party for adults
WhatToGetMy Instructional Article
Birthdays are meant to be celebrated by having fun with friends and family. But throwing a birthday party can be very expensive.
So how do you throw a cheap birthday party for adults?
If you think about it for a little while
What makes a party, a party?
Having a successful party is all about bringing all the amazing people in your life together. It is to celebrate a special birthday occasion with the guest of honor. This is why you are looking for birthday ideas for your husband, boyfriend, wife or girlfriend.
A birthday party is also all about having fun together for a couple of hours while eating delicious food and enjoying great music.
All the other extras like decorations are merely something to help put the guests in a partying mood. 
Many will argue that to throw a successful, fun and special party, you need to spend a lot of money. As it costs a lot of money to have a great venue, decorations, the best food, drinks and even activities to keep your guests entertained. And if your guests are all happy and are having fun, your guest of honor will be happy too.
This is partly true because it is not necessary to buy the best of the best of everything to enjoy a birthday party.  It is also not necessary to buy everything from a store as this will only work out extremely expensive for you which will cause you to be miserable while you recover financially. 
There are many different ways that you can make a birthday occasion special. And a memorable one too, without it costing you a fortune.
It all comes down to proper planning and budgeting your birthday party plan the right way.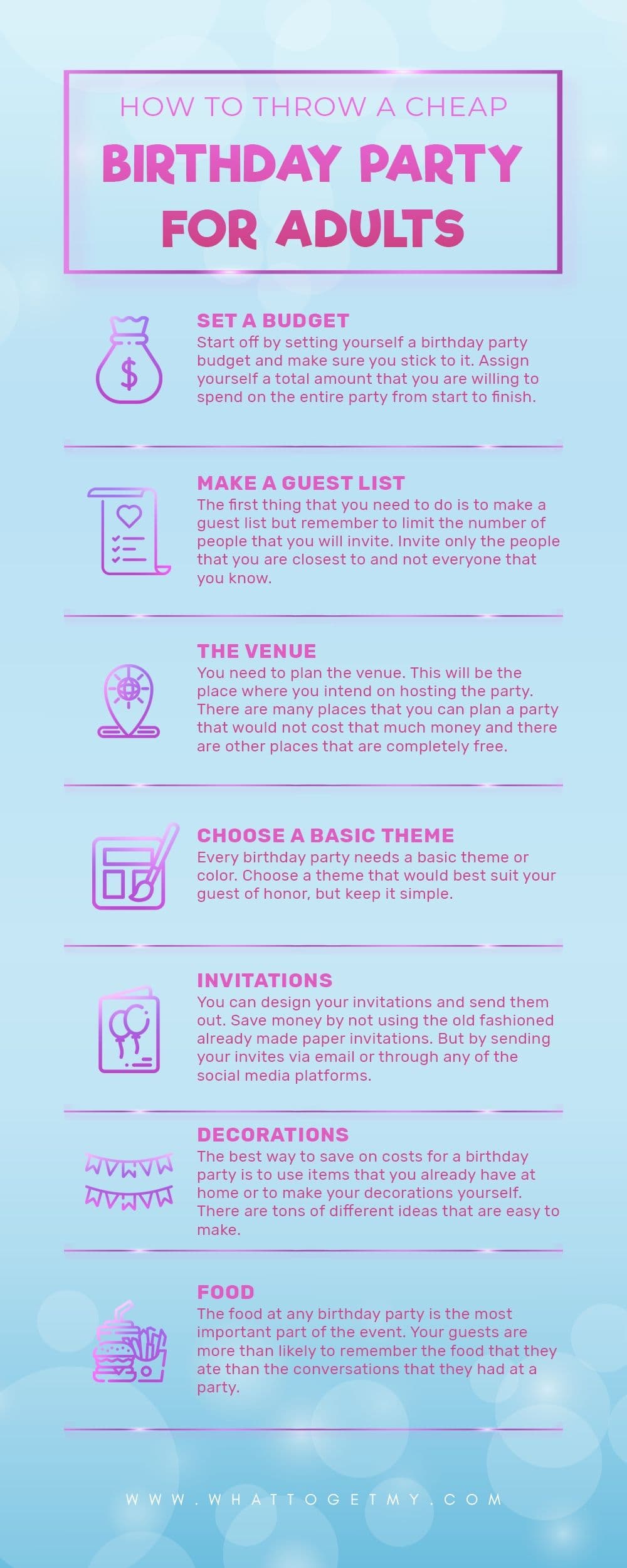 Source Link: https://whattogetmy.com/how-to-throw-a-cheap-birthday-party-for-adults/
Set a budget
Start off by setting yourself a birthday party budget and make sure you stick to it. 
Assign yourself a total amount that you are willing to spend on the entire party from start to finish. 
Make a list of all the things that you think that you will need for the party by putting them under the following main headings:
The Venue

Your guest list

Decorations

Invitations

Food  for your guests

Drinks

Music

Photos
With these main items in mind, you can allocate a realistic amount next to each item. This is the amount that you would be willing to spend on each of them. You do not have to split the amount equally between all items. Decide which items are more important to you and your guests and for that item you can spend a little more. Have a look at the items and choose one or two that you could spend a little less.
Don't worry, we will help you by giving you some low budget birthday party ideas for adults. These birthday ideas will help you plan a nice birthday party on a tight budget.
Make a guest list
The first thing that you need to do is to make a guest list but remember to limit the number of people that you will invite. Invite only the people that you are closest to and not everyone that you know.
The more people that you invite the more expensive everything else on your party planner can work out to be.
The venue
Once you know how many people you're inviting, you need to plan the venue. This will be the place where you intend on hosting the party.
There are many places that you can plan a party that would not cost that much money and there are other places that are completely free.
For a few ideas, you can look at hosting your birthday party at:
At your home or the home of a friend or family member

Parks – some may be free while others charge a small amount per table

Renting a hall can sometimes be cheaper than other places as some allow you to rent half a hall depending on the size of your guest list.

Other options could be, to have a riverside party, at a campsite or even on a beach but you do need permission for this.
Choose a basic theme
Every birthday party needs a basic theme or color. Choose a theme that would best suit your guest of honor, but keep it simple. 
This one can be a difficult one because there are so many amazing theme ideas out there that it becomes easy to overspend. Before you know it you have purchased everything to match the theme from plates, cups, napkins to the decoration and your entire budget has been blown.
To keep costs down you can choose a theme that is easy to put together with things that you already have. You can then add a couple of small things to it for example if you already own plain white or black plates, use them and add a few fun table accessories to it. You can use things like: 
Colored paper streamers which will help bring more color to a table.

Items that you own that could match the theme like favorite sports team or music artist.
Here are some theme ideas that are inexpensive to put together:
Black and White party theme ( or any two colors)

A favorite sports party theme

The guest of honor's age party theme

The first letter of the guest of honor's name

Pool party theme

Games party theme

Favorite movies, books, television shows or music theme
Invitations
Once you have chosen your theme you can design your invitations and send them out. Save money by not using the old fashioned already made paper invitations. But by sending your invites via email or through any of the social media platforms. 
This way your guests will be able to RSVP almost instantly which will help you to calculate your guest list numbers easier and much sooner.
Decorations
Decorations for adult parties aren't that important unless it is a milestone birthday. The guests at adult parties are generally more focused on socializing so if you would like to decorate, keep them to a minimum.
The best way to save on costs for a birthday party is to use items that you already have at home or to make your decorations yourself. There are tons of different ideas that are easy to make.
Here are a few ideas:
You can create your own centerpieces with items like colorful paper flowers that you make yourself

You can look for free printable posters and banners that will match your theme

You can make different colored water jars

Dip ordinary balloons or candles in a different color paint or glitter

Make homemade tassels from streamers or ribbons

Homemade festive garlands

Your own backdrop by using wrapping paper, ribbons, different colored balloons or streamers

Hang homemade paper fans from the ceiling
If you are uncomfortable with making your own decorations or do not have the time. Go to different stores that sell cheap decorations, like a dollar store but be careful not to overspend. 
You can even ask a friend or family member who you know loves to make homemade items to help.
Food
The food at any birthday party is the most important part of the event. Your guests are more than likely to remember the food that they ate than the conversations that they had at a party.
It can also work out to be the most expensive item on your party planner list if you don't take some time to think about it carefully.
To help you keep your costs down, there are a few options that you could choose from. These options would fit in perfectly with your theme and that will please your party guests. 
You could prepare one-pot dishes as they will save you time and money. Choose dishes that go with starches like pasta, rice, and potatoes as these can go a long way and feed a lot of people.

You can choose to plan meals that do not need meat to be the hero in the dish. Meat can be the most expensive ingredient in any meal, so if you minimize it in your party planning menu, you will be able to save a lot of money.

Ask close friends or family to help you out by bringing their favorite dish, salad or dessert. This will help you cut down on your meal cost. 

If you don't want to ask but some guests do offer to bring a certain dish, accept their offer.

Have a home-cooked barbeque dinner as this cooked often works out cheaper than a set menu with many different items on it.
A birthday cake or other desserts
If you want to serve birthday cake or other treats, an idea would to bake or make them from scratch yourself. It works out a whole lot cheaper than the store-bought ones.
You could also ask friends or family who love to bake to bring their favorite desserts or treats.
Drinks
Drinks with alcohol are another expensive part of throwing a party. Especially if you are going to supply everything yourself for all your guests. Many of your guests often have their own preferences for what they like to drink. 
This could get really expensive for you if you have to go out and buy a variety of different alcohol like beer, wine, and other liquor.
There are a couple of options that you could choose from that would lower your costs like:
Supply the food and even mixes for the drinks but ask your guests to bring their own alcohol.

You can make a large bowl of fruit punch for your guests to enjoy. It does not require you to use expensive alcohol to make it delicious as the fruit flavors will mask the taste of the alcohol anyway.
Music
To help you save money, don't hire a DJ. You can be your own DJ by using music that you already have. Make yourself a party playlist by sorting through your own music and have it playing in the background all through the party.
When your guests hear a song that they like and want to dance to, they will ask you to turn up the volume.
Photos
Document your day by taking lots of photos of all your guests. You can create your own photo booth with fun props and backdrops that you have made yourself. 
It is a good idea to ask a friend or family member to help out with taking the photos as you will have your hands full with other party related things.
After the party, you can then send the photos via email to everyone that attended along with thank you notes.
Party Games
If you are looking to add a little more fun and laughter to your birthday party you can add a couple of party games for adults. Many store-bought party games can work out expensive to buy as part of your party budget.
Bring out games that you already have and if you don't own any there are other alternatives that you can use that are cheap or even free.
Look online for free printable party activities and games for adults that are fun and easy to make ahead of your birthday party. Some ideas are as follows:
Murder mystery games

Never have I ever game

Truth or dare

Charades

Guess how many items in a jar

Bubble wrap races

Singing songs ping pong style
Another inexpensive birthday party idea is to get together with someone else in your group that has a birthday close to yours or your guest of honor. Plan and organize a party together this will save both of you a lot of money as you will split the expenses in half but can have twice the amount of fun.
Coming up with ideas for how to throw a cheap birthday party for adults will become easy once you put together a plan of all the things that you would need. Set a realistic budget and make sure that you stick to it. Buy only the things that you planned to buy and at the cost that you have allocated to each item of your plan.
ESTIMATED TIME DESIGNING AND UPLOADING THIS ARTICLE
ESTIMATED TIME RESEARCHING AND WRITING THIS ARTICLE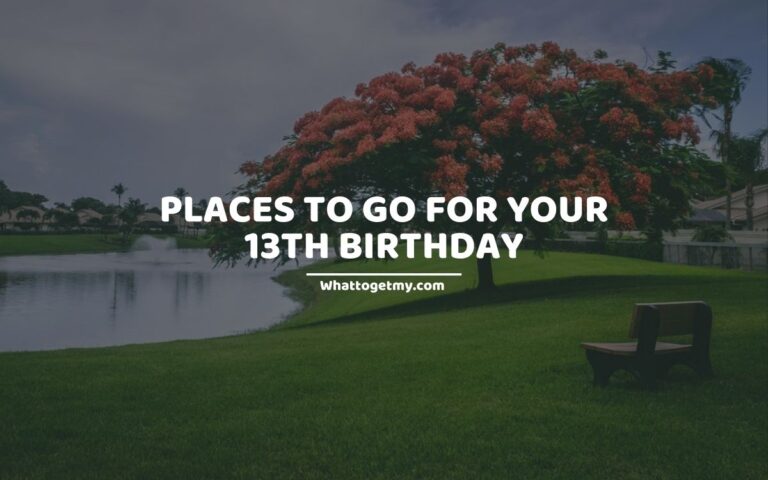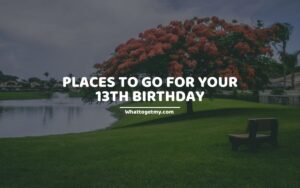 13 Good Places to Go for Your 13th Birthday
13 Good Places to Go for Your 13th Birthday WhatToGetMy Instructional Article Wondering where to have a 13th birthday party? Look no further because in this article we give you the full list of the top places to have 13th birthday parties. Ranging from birthday
Read More »