25 Tips And Ideas On How To Celebrate 40th Birthday On A Budget
WhatToGetMy Instructional Article
The big 40 is a milestone that should be as fun and exciting as possible. And fun and exciting do not always have to be about splurging. You can create the best experiences on a budget party, and this article gives you 12 useful tips on how to celebrate the 40th birthday on a budget, as well as 13 inexpensive 40th birthday party ideas.
Celebrating a 40th birthday party is one of the popular birthday searches, according to Wayfair, accounting for 32% of monthly birthday searches.
Most popular birthday party ages (based on the average number of searches per month). Source: Wayfair​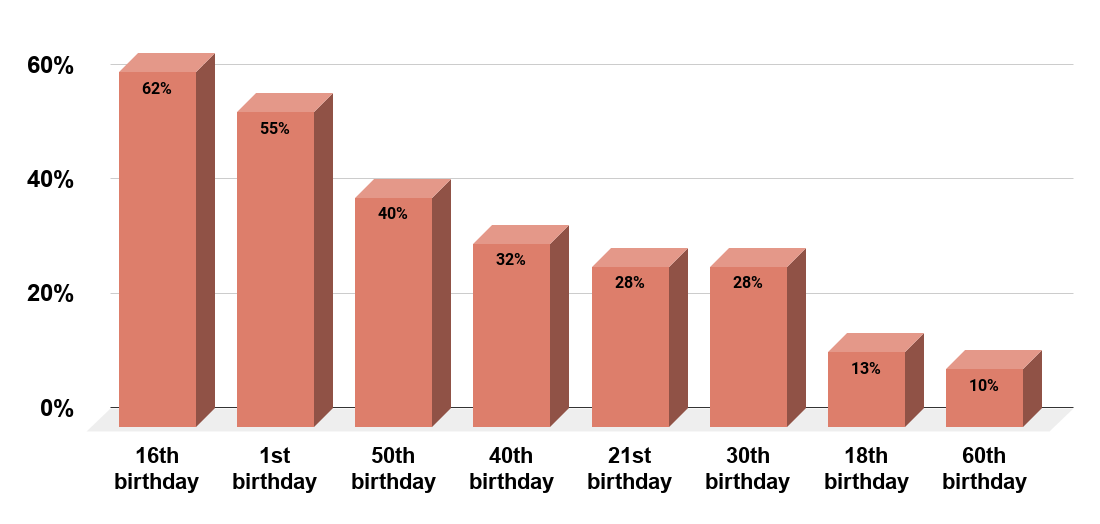 This comes as no surprise because turning 40 is a big deal and another milestone birthday to celebrate. Some even go as far as saying that "life begins properly when you turn 40". And so, maybe you are turning 40 or your loved one or friend is turning 40, and you don't have a lot to splurge on a party and/or celebration and you are looking for inexpensive 40th birthday party ideas. This article answers that question and will provide you with cheap 40th birthday party ideas as well as tips on how to throw a 40th birthday party on a budget.
Check out our other older birthday party related article on How to celebrate a 50th birthday without a party.
How To Throw A 40th Birthday Party On A Budget – 12 Tips For Throwing A 40th Birthday Party On A Budget.
Whether the birthday occasion is your husband's 40th birthday or for your wife or partner, having a small budget should not be a hindrance to a fun and enjoyable 40th birthday party. 5 things are essential to an enjoyable birthday party regardless of the age of the celebrant. These are:
The day and time of the occasion;

The venue and its decorations;

The theme of the party;

Food and dining;

Entertainment activities (music, games, etc.)
And if your 40th birthday party on a budget will be fun and exciting, these 12 helpful tips for these 5 birthday essentials are your best bets:
1.

Small and intimate celebrations are perfect on a budget.
A long guest list is the quickest way to run up costs at any birthday party. But, if you are on a budget, then you want to keep that guest list as small and manageable as possible. And luckily for their 30th birthday and above, most people prefer smaller guest lists rather than an elaborate guest list.
Have a guest list that is made up of just close friends and family members. These are likely the people the 40th birthday celebrant would like to have at his/her 40th birthday party. This guestlist will keep your costs very low and also be manageable in terms of pre-party and after-party logistics.
2.

Weekends and late afternoons will work best.
And the reason for this is because most people work during the week and have crazy and hectic schedules almost every day of the week.
And even on weekends, you want to settle for a time from late afternoon say from 4 p.m. so that you can accommodate everyone who will be in attendance, especially if there will be children in attendance.
A Saturday may also be preferred because most people like having their Sunday free and to themselves.
3.

Discuss the guest list and day and time with the celebrant unless you are planning it as a surprise.
This is important because only then can you pull off a party that suits the celebrant and also reflects his/her desires about who they want to celebrate their special day with.
Once you've drawn up a tentative guest list, discuss these with the celebrant and find out if there are still more people they want to be included or removed from the guest list.
Also ask them the suitability of the day and time both for themselves and the guests, since they would know the schedules and routine of the guests better than you would.
You will love this related surprise birthday article – Surprise birthday ideas for husband with family.
4.

Set a concrete budget with the celebrant.
Unless you're the one footing the bill, or perhaps it is your 40th birthday, it is important to ask the celebrant how much their budget is. The budget has to be determined from the beginning because it is the budget that determines the final outlook of the party.
5.

Choose a venue that will cost less and is still versatile enough for all aspects of the party.
Venues are usually one of the party components that take up a sizable chunk of the budget. But it does not have to be the case for your inexpensive 40th birthday party. There are still cool venues that will not cost a fortune and still allow you to have all the fun you want to have for your 40th birthday party. These are the top venues that are inexpensive and yet would allow you to have all aspects of your party present:
Your garden.
If your backyard garden is big enough to take up to 20 guests, why go far when you can host it there for free and still have as much fun as you want.
A park.
The greenery in parks and the large expanse of land they lie on makes them another choice venue for a birthday party. And since they are public places where everyone comes to, chances are you don't have to pay anything but simply seek and obtain permission. The downside with parks is that you won't have the desired privacy as everyone else will be there for their fun outing.
A beachside.
The beach is another fun location for your 40th birthday. It allows everyone to be laid back and relaxed while enjoying the beautiful scenery of the beach. With a beach theme, this location will make for a fun 40th birthday party. You can even opt to have the party a little later in the evening if the location of your beach and your city/town's policy allows for it.
Related article – Fun things to do at the beach at night.
A gym.
If your 40th birthday celebrant is a workout buff, he/she may love the gym as a birthday venue. You will have to be sure that they would love it before going for it.
A community hall or recreational center.
This is another good indoor venue that would not cost you much and allows you enough room for decorating and having fun activities. If you decide to settle for an indoor venue, this should be your number 1 choice.
A farm.
The farm is another beautiful scenic outdoor venue for any birthday party and would provide a wonderful backdrop for pictures too. You can decorate to your heart's desire and have as much entertainment as you want.
A poolside.
Who doesn't love a good ol pool party. Even at 40, a pool party is still as exciting as it was when we were younger.
A restaurant.
Restaurants are great especially if you just want a quiet birthday dinner with the family without an elaborate party.
A movie theatre lounge.
You can watch a movie and use a section of the lounge for a small intimate 40th birthday party, or you can just skip the movies and do the party. This option would also not cost you much as the cinema may not charge you for use and simply ask that you purchase the drinks from them.
6.

Outdoor venues usually allow for more diversity and fun.
The outdoors have the advantage of being roomier and allowing you to have as many fun and exciting games as possible. If your venue is an outdoor place like a beach, farm, or park, for example, you can have exciting games like musical chairs, fun party games like two truths and a lie, and the likes. You can even decide to have a bonfire if you so wish. And not to mention that you have more space to set up your tents and tables and other party decors, and even a jumping castle if you want (if you have children in attendance).
That's the beauty of an outdoor birthday party. Unless your party is in the middle of winter, an outdoor venue would be your best bet.
7.

Try as much as possible to use what you already have.
Your 40th birthday party is a celebration of life. Using nostalgic pieces of things that the celebrant owns as decorations would not only be a great cost-saving step, but it will give the party a very intimate and personal touch for the celebrant.
So, for example, you can use several pictures of the celebrant from their childhood to present pinned up around the venue, especially if you're going with a celebration of life theme. You can use flower pots in your house for decorations etc.
This is not an exhaustive suggestion but you get the gist – look around your house and/or that of the celebrant and take out as many items that you can use to beautify the venue. That way you don't spend a lot on decoration and still bring a very personal touch to the birthday.
8.

Choose a theme that will not require too much in terms of decoration.
Since the 40th is more about celebrating their life and the things that matter to them, this should not be too difficult. Less is more the older one gets. A theme that doesn't require elaborate decorations and dress-up is preferred by most people and it has the added benefit of being inexpensive.
You will also like our related article on 50th birthday dress-up themes.
9.

Getting guests involved in some ways will help cut costs.
This is a win-win because your guests will be thrilled at contributing and playing a part in the success of the party. This is not to say that you should start asking the guests to make financial contributions and commitments that most would not appreciate. You can get the guests involved in two ways:
Asking them to bring a dish when coming (and/or a bottle of wine).
This works best if you're going with a potluck theme. The beauty with this is that it saves you catering costs considerably. All you have to do is provide finger foods and (non) alcoholic beverages and you have an assortment of dishes from what the guests bring. Most guests are thrilled at getting involved in this way.
Asking them to bring gifts.
You can give them a cool gift theme to work with like 40 small gifts for 40th birthday gifts (check out our article on 30 small gifts for 30th birthday for inspiration), or 12 days of birthday gifts. When you give them a gift theme to work with it makes it easier and fun to buy the gifts. Our article on How to ask for presents on invitations provides useful tips on how to ask them for gifts should you decide that is what you want to do.
Or if your celebrant wants a charity themed gift, you can provide them with details of how to make their gift donations which will be passed on to the charity. You can also read our article on How to give a charity donation as a gift for more ideas.
Related articles: How to ask for money instead of gifts for birthdays and 30th Birthday gift ideas for best friend.
10.

Finger foods, light snacks, and inexpensive but sweet birthday cake alternatives are great budget birthday catering options.
Birthdays should not always be about having too much food. Sometimes having too much food takes away from the fun and excitement if the guests are too full to enjoy the fun-packed games you have lined up.
Whether you choose to go with a potluck theme or provide all the catering, finger foods, and light snacks is the best way to go. They are inexpensive and still enjoyable.
And who says you always need birthday cakes at a birthday party. There are sweet and yet inexpensive birthday cake alternatives that will be loved by all in attendance such as tarts and fruit salad. You can also check out our very useful article on 23 Delicious Birthday Cake Alternatives for more birthday cake alternative ideas.
11.

Keep the party relatively short and sweet.
You want to end the party on a high with everyone still excited and full of energy when they leave the party. The party should not last for more than 5 to 6 hours tops or people may start to get bored and lose interest in the party.
And the other reason why it needs to be short is because of people's busy schedules. Given that the weekend is a time for resting from a hectic work week, and refreshing for the work week ahead, you don't want to keep people too long so that they can get home early enough to rest.
12.

Having the party filled with fun games and entertainment will make the party an all-time winner and favorite for the celebrant.
This is a final important tip. Exciting games and music do not cost a fortune and will not only liven up your party, but it will make it fun and very enjoyable. Game filled birthday parties usually make for the best budget parties and this is no different for a 40th birthday party.
Fun games to play include:
Musical chairs. No one is ever too old for this classic fun childhood game. It's a great way to bring out the inner child in all who attend the party and would be greatly enjoyed.

Two truths and a lie.

Hot seat.

Board Games.

Card Games.
Our article on 15 Exciting Games To Play With 6 People has more exciting game ideas for 6 or more people that you can play at your party.
40th Birthday Party Ideas On A Budget.
With all the above tips on how to celebrate 40th birthday on a budget, these 13 themes are great inexpensive 40th birthday party ideas.
1.

Fashions Of The World Theme.
Have your guests dress up in styles that represent different fashions of the world that is loved by the celebrant. To make it fun and less expensive, leave it up to them to decide on the fashion style that works for them. Just let them know that the theme is a Fashions Of The World Theme and that they are allowed to go with any fashion trend anywhere in the world that appeals to them. You would be impressed by the variety of fashion and style your guest rocks up in. plus they would love the idea of being creative and dressing up.
2.

Retro Theme.
You can choose a retro theme like a 70's party, 80's party, and any other classic theme that appeals to your celebrant. This theme is also not expensive and mainly requires that your guests dress up in that theme. You can buy balloons and other inexpensive decorations for this theme and have a ball.
3.

Celebration Of Life Theme.
This theme is one that celebrates the life of the celebrant. It is also very inexpensive as it only requires you to have mementos of the celebrant's life around the venue as decorations. To make it more exciting, ask each guest to give you a picture they have with the celebrant and a short anecdote or birthday message under the picture and pin them all around the venue. It would bring a sense of nostalgia and add a very personal touch to the 40th birthday party.
4.

Charity Theme.
This is a theme that encourages generosity and is a favorite for people who love engaging in generosity activities like giving to charities and causes.
Your 40-year-old celebrant may have everything and not want any gifts. You can instead find a charity or cause that they are passionate about and make their birthday about raising funds for that charity. They would be very happy.
This theme does not need you to do anything but to have pictures of the charity or causes that people are giving to being pinned up around the party location.
Related article: No gifts wording on birthday invitations.
5.

Year They Were Born Theme.
This is another fun inexpensive theme that celebrates all the popular culture that existed in the year the celebrant was born.
6.

Potluck Theme.
With this theme, all your guests contribute to the food by bringing as many dishes as they want to come with, but at least one. This way you have a feast at little cost to you.
7.

12 Days Of Birthday Theme.
This theme is an adaptation from the 12 days of Christmas theme. You can ask the celebrant's friends to send their gifts in advance because you want to start the birthday celebration 12 days early. And on each day you surprise the celebrant with a gift culminating in a small birthday party on the 12th day. The 12th day should be their birth date.
8.

Adult Only Theme.
If you want a party with only adults and no children where you can have an adults-only game and dress-up theme, this is a great theme. It also doesn't require much except exciting adults-only games and adults-only decoration. If you're feeling bold, you can also ask your guests to come in adults-only outfits.
9.

Bingo Theme.
You can turn the birthday party into a bingo game night since everyone loves a good game of bingo.
10.

Back To High School Theme.
This one is exciting because who doesn't want to relieve their high school days. Have the celebrant's high school yearbook at the party so that everyone can look back and laugh. You can even make the pictures into a video slideshow that you play in the background at the party. To make it more fun, have the guests dress up in high school gear and play the music that was popular at the time when the celebrant was in high school. It's a fun inexpensive nostalgic theme that always works.
11.

Flavors Of The World Theme.
This is another international theme that you can combine with your potluck theme if your guests wouldn't mind. You can choose two or more countries outside of the U.S and serve exotic meals peculiar to those countries. Make it exciting by infusing their cultures in your decoration and dressing for the day.
This is especially a fun theme if your celebrant loves to travel a lot. You can choose the countries they have traveled to and have them relive their times in those countries with this theme.
12.

Game Of Thrones Theme.
If your 40th birthday celebrant is a lover of the popular TV series Game Of Thrones, they will be excited at having their favorite series brought alive at their milestone birthday celebration.
13.

F.R.I.E.N.D.S Theme.
This is another favorite theme for lovers of the popular classic sitcom F.R.I.E.N.D.S. Your celebrant and guests choose their favorite character to dress up as and you also have a F.R.I.E.N.D.S themed decoration and gifts too.
Frequently Asked Questions.
How can I make my 40th birthday special?
It all depends on the kind of things you enjoy. Doing whatever you enjoy doing on your birthday, will make it special for you. And if you want to have an inexpensive 40th birthday party, the ideas in this article will make the party fun for you.
How do you celebrate birthdays on a budget?
The ideas in this article can work for any birthday celebration on a budget.
Is 40 a milestone birthday?
Yes indeed, 40 is a milestone birthday and with the ideas in this article, you can make it a truly memorable milestone birthday you will always remember fondly.
Do you have some 40th birthday ideas for my husband on a budget?
The ideas in this article are also great budget birthday ideas for your husband who is turning 40.
Related article: How to make your wife's birthday special.
How about 40th birthday celebration ideas for him?
These 40th birthday ideas will also work for the special man in your life.
Conclusion.
Even on a budget, you can still have a fun and memorable 40th birthday party. The ideas in this article will help you in planning your fun and memorable 40th birthday party on a budget.
ESTIMATED TIME DESIGNING AND UPLOADING THIS ARTICLE
ESTIMATED TIME RESEARCHING AND WRITING THIS ARTICLE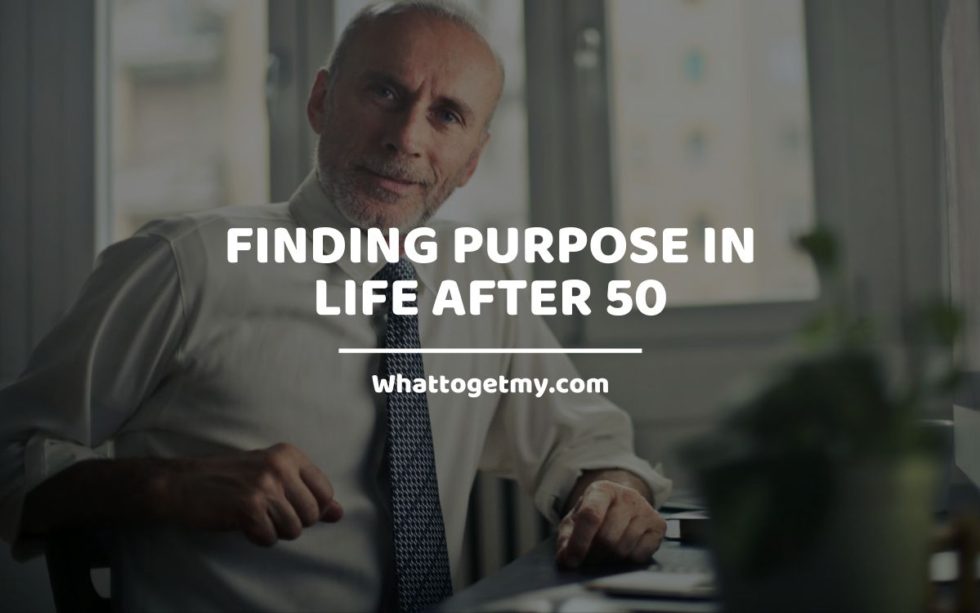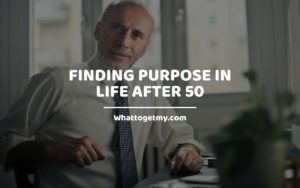 Finding Purpose in Life after 50
Finding Purpose In Life After 50 WhatToGetMy Instructional Article You have heard some friends around you talking about finding purpose in life after 50 which has piqued your interest, you find yourself wanting to know What it is?, Why is finding meaning and happiness in
Read More »