Searching for 30th birthday gift ideas is not easy at all. You want to do something different for this milestone in someone's life and make it memorable. The idea of giving a small gift for every year of life is so unique. First of all, you get to surprise someone with a pile of presents that looks huge! A single look at the mountain of gifts is enough to knock someone off his/her feet. Secondly, it will seem like you have put a lot of effort to arrange everything (which is completely true by the way) and make the receiver feel even more special. Thirdly, there's nothing more exciting than opening many gifts. You get to experience the thrill of surprise while unwrapping gift after another. In this case, the action repeats thirty times!
So, the overall idea is awesome, but it might be a little challenging to pull it off. You'll have to find just the perfect 30 gifts rather than trying to hit the numbers with whatever you find on the market. There's no use of giving things just for the sake of giving. Whether you're picking small or big gifts, you want to think things through and get something useful that will truly surprise the receiver. That might require a lot of research from your part. Luckily, you don't have to do it alone. We have suggestions for all the 30 small gifts for the 30th birthday! Yes, that's right, we made our list of the 30 best picks to save you some time and effort. With it, you'll be able to make your own list in a breeze and make the perfect surprise for someone who is turning 30 years.
Here are some things you might want to consider when buying 30 small gifts for the 30th birthday:
Coming up with 30 gift ideas is quite challenging, so consider splitting similar items into individual gifts. For example, you can get three different T-shirts and make three separate gifts from them.

We recommend wrapping up all 30 gifts into kraft paper. It's an inexpensive option and you can decorate it however you want.

You can even set an order and time for opening gifts. For example, #1 to be opened at 9 am, #2 to be opened at 10:31 am, etc.

Another option is to send a receiver to a scavenger hunt. Each gift can lead to the next one with a few simple directions. Keep in mind, though, that this would require a lot of planning.
As an Amazon Associate we earn from qualifying purchases. We may earn a small commission for our endorsement, recommendation, testimonial and/or link to any products or services from this website. Thank you, your qualifying purchases help support our work in bringing you real daily gift ideas.
Source Link: https://whattogetmy.com/30-small-gifts-for-30th-birthday/
1 luxury gift
1. A watch, a tablet, headphones, earbuds
What to get someone for their 30th birthday? One to two luxury and pricey gifts for starters. You don't have to go for more than that. Opt for something durable and memorable, preferably tech gadgets such as these above. Our top pick would be Canon PowerShot SX420 IS Digital Camera.
You can, of course, go for different types of products. For example, if you're shopping for an outdoor enthusiast, you can pick some of the products we included here Adventurous Gifts for Him.
1 experience
2. Organizing a road trip, a romantic getaway, dinner or lunch
The second gift can be an experience, you don't have to stick with material presents. It's enough to explore the kitchen, prepare a delicious meal, and light up some candles. The other presents can be waiting at the dinner table! Here you'll find even more similar suggestions here: Romantic Anniversary Night Ideas.
If you have a few more bucks to spend, consider booking a room or buying plane tickets, and adding them to the rest of the gifts.
2 mid-range gifts
3. Gift cards or monetary contributions
You also want to make sure you'll have at least two to three mid-range gifts in your pile. Gift cards are a smart solution as your friend gets to spend it in his/her favorite store. If you can't think of any store in particular, you can also go with common monetary. Don't be shy about giving money! These days, giving and asking for money instead of gifts is a common thing and people talk about it openly. Besides, who wouldn't like to find some money among all the other gifts?
4. A portable charger, a phone case, a cord organizer, a keychain, a GPS tracker
These are all mid-range products that are cost-efficient and very practical. You can pick whichever you want to expand the initial birthday gifts list. Our personal favorite is Spytec GL300MA GPS Tracker, but you can also take a look at other similar products at Gifts For Programmer Boyfriend. Don't worry, we added many unisex products in this article.
3 essentials
5. Skincare or beard products and makeup
Depending on for whom you're buying these gifts, you can pick a set of skincare products or other related items to compliment the gift list. When putting together 30 small gifts for 30th birthday for him, go with beard shampoos and oils. For girls, you can get some makeup. Our suggestions is the Bath and Body Gift Basket, a unisex set that will ensure more enjoyment with every next bath.
6. Bath bombs, salts, and oils
You can help someone who is turning thirty to stress less about aging by letting her/him enjoy the best bath ever. All you need to do is to include products such as bath bombs, salts, and oils on the list. Our favorite is LifeAround2Angels Bath Bombs Gift Set.
7. Insulated water bottles, tumblers, and mugs
For this one, we recommend Takeya Vacuum-Insulated Water Bottle that will help your busy friend stay hydrated during the day. You can also opt for other water bottles, tumblers, or mugs with gag prints. The choice is all yours!
3 favorite food and drink gifts
8. Favorite drinks
Get a bottle of the favorite drink depending on whether you're buying gifts for a whiskey, wine, or a beer lover. Tea and coffee are also in the picture, so you can order a set of coffee beans or tea bags from across the world.
9. Treats and sweets
We don't even have to explain this one! No one is too old for treats and we should all be spoiled with sugar sweets for our birthdays. This is especially true for those who are turning 30 years old because they mostly fear aging. Bring the memories and joys of childhood to them with a box or two of favorite treats, such as gummy candy or Leilalove Macarons. You can also go for the classic Godiva Chocolatier Gift Box.
10. 30 ingredients or full meals
Don't forget to include his/her favorite food on the list! Make a simple but amazing gag with buying 30 products such as hot sauces or adding 30 ingredients on the food. For example, you can get a pizza with 30 pepperonis or even 30 rolls of sushi. Sounds fun, right?
9 crafts
11. A homemade cake, pie, or cookies
Here's what we have in mind
12. Romantic letters and notes
You shouldn't skip writing letters and notes to a very special person in your life for the 30th birthday. You can write inspirational, romantic, or creative quotes. We suggest writing something in the number of 30 e.g. 30 reasons why I love you, 30 notes from friends and family, 30 open-when letters, etc.
13. A photo album or a photo collage for the office
Adding a photo album to the gift pile is a smart thing to do. It's a memorable gift and very easy to pull off. You can even make a collage for the office, bedroom, or any other room in the house.
14. Soaps or candles
Although it might take you some time to make soaps and candles on your own, believe us, it's worth it! There's nothing more unique than giving homemade soaps and candles as a birthday gift.
15. A handmade scrapbook or diary
A handmade diary or scrapbook has a special meaning and your friend will love it. He/she can track adventures during the new phase of life or set 'things to do when you are thirty' resolution!
16. A playlist on CDs or USB flash drive
Put all of your favorite songs on the USB flash drive and make several playlists for a very special person in your life. You can also put them on CDs in an old-fashion way and make a fun reference to your friend's age, that is if you can find CDs these days.
17. Birthday decoration
You can make someone super happy by leaving a morning message on the bathroom mirror or painting Happy Birthday all over the driveway. You can also get as many balloons as you can, fill the room, light up some candles, and bring out all the other gifts. It's simple yet incredibly romantic. Oh, and those who prefer gags should definitely try filling the lover's car with balloons!
18. Boxes
You can add another gift by simply filling a box with candies, notes, fruits, or any other small items that your friend likes (preferably in the number of 30).
19. A personalized poster, card, or sticker
Personalized gifts are often the best ones you can get for birthdays. Here are our two main suggestions: Chic 30th Birthday Wine Bottle Label Stickers for wine lovers, and 30th Milestone Birthday Beer Bottle Label Stickers for beer enthusiasts.
6 pieces of clothing and accessories
20. Socks, ties, scarfs, underwear
If you don't know what to buy for the 30th birthday, go with the basics. Buy sets of socks, ties, and scarves and wrap them up in a big box!
21. A T-shirt or a hoodie with a print
Do you want to try your luck with funny 30th birthday gifts? Get pieces of clothing with funny sayings and jokes. That will definitely make your 30-year-old friend look younger!
22. Personalized cufflinks, buttons, or gloves
Don't miss adding these little essentials to the pile!
23. A wallet, a bag, a backpack, a cardholder, a travel pouch
These are a must-have for travelers and those who have an active lifestyle. Besides, we all need an accessory update from time to time.
24. Sunglasses, hair bands
Ray-Ban or not, a pair of stylish sunglasses would also complement the 30 small gifts for the 30th birthday pile.
25. Slippers, sleeping masks, pajamas
Make someone's thirties better by improving his/her sleep! Comfy slippers and pajamas are sometimes that we all need for our beauty sleep. For more similar ideas, you can take a look at this article Best Gifts to Help Sleep Better You'll Wish You Discovered Earlier.
4 Home Items
26. A set of kitchen knives, a cutting board, and other kitchen utensils
Whether you're looking for 30 small gifts for 30th birthday for her or him, kitchen appliances and tools are a perfect addition to the pile. Our favorite item is a stylish Personalized Cutting Board by Be Burgundy.
27. A grill, a beer caddy, a cooler bag
Are you shopping for a beer lover? Get a cooler bag or a beer caddy. Have a grill master turning thirty? A new grill is a natural choice of gift.
28. Blankets, pillows
Keep your special someone warm and cozy in her/his thirties and henceforward. Start with Bedsure Fleece Blanket.
29. Pots, plates, jars, bowls
Make sure that your friend eats all the cookies and candies you provided from the best dishes, and get a unique jar or bowl.
+ 1 for Fun
3. Computer and board games
Lastly, pick one of the memorable 30th birthday gifts and spice things up for the party with a fun computer or board game! You can check out Catan The Board Game because it's one of our favorites.
Conclusion
Do you think it's easier now to find 30th birthday gift ideas? We hope so! We tried to include many different products on the list and give you an array of choices within each category. Hopefully, that saved you some time and effort and gave you a lot of new ideas too. Just remember, when buying 30 small gifts for the 30th birthday, you can easily spend a large amount of money if you're not careful. As we mentioned earlier, the best strategy is to stick with one to two bigger gifts, two to three mid-range ones, and then pick less expensive items to fill the quota. Luckily, you have a lot of our suggestions listed above, so you shouldn't have any difficulties with finding those 30 small gifts for 30th birthday!
ESTIMATED TIME DESIGNING AND UPLOADING THIS ARTICLE
ESTIMATED TIME RESEARCHING AND WRITING THIS ARTICLE
Try our AMAZING GIFT FINDER TOOL! Find GIFTS with 1 CLICK!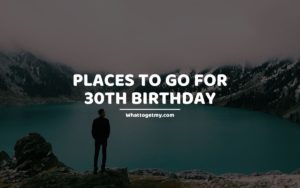 51 Magnificent Places To Go For 30th Birthday
51 Magnificent Places To Go For 30th Birthday WhatToGetMy Instructional Article Turning 30 is an exciting milestone and what better way to celebrate this milestone than a 30th birthday vacation. And that is exactly what this article offers you. It gives you the ideas of
Read More »