3 creative ways to How to politely ask for gifts on an invitation
WhatToGetMy Instructional Article
Asking your guests for gifts on an invitation is a situation that needs to be treated carefully. 
Although, most of the time it is not necessary to ask people to bring a gift to a specific kind of celebration. For example, a birthday, a wedding and a baby shower. It is kind of an unspoken rule going back centuries. If a person receives an invitation to these types of celebrations. The polite and proper thing to do is to bring a gift of their choice along with them.
Watch the video version of this article:
But if there are specific types of gifts that you would like to request from your guests like money or gift cards. Or if you are trying to decide on how to ask for experiences instead of gifts. Your next best option is to state your request either in person or on an invitation politely. But do keep in mind that requesting a specific gift on an invitation is usually not liked by many.
Although times are changing and many people are happy to receive ideas about what gift to buy you. But there are still many people that find it offensive and rude to request a certain type of gift from them.
This has led to people becoming more and more creative. They have found many ways around asking for something specific. They do this by using poems, catchy phrases, and even gift registries.
But before you rush off to get those invitations out, there are a couple of things that you should consider. They are:
The type of occasion that the invitations will be for 
On some occasions, like for a wedding or a baby shower asking for gifts on the invitation is acceptable. But only if the wording of the invitation is done correctly. But on other types of invitations, people do not like being told what to do. So if you want to ask for gifts, you will need to use a little creativity for those invitations.
The people that you will be inviting to your occasion
Many times we invite mostly close family and friends to our special occasion. And often they are happy to have been given some ideas of what gifts to get you for your occasion. But sometimes, there will be a distant family or acquaintances that you would also like to invite. These people should not be asked in any form to bring a specific gift. 
Asking for gifts on an invitation will depend on the occasion. It will also depend on the people you are inviting and the type of relationship you have with them.
Let us take a look at some of the main occasions that people enjoy celebrating. And see how to politely ask for gifts on an invitation.
A Birthday invitation
For a birthday invitation, it can be a little tricky because usually, people do bring gifts. Sometimes they are good gifts and sometimes they are not. The only way to stop people buying you items that you do not want or do not like is to ask for something specific.
So how to say gifts are welcome but the items, money or gifts cards that you would prefer?
Well, there are a couple of options that you could use. Some are sneaky and creative and others are straight to the point.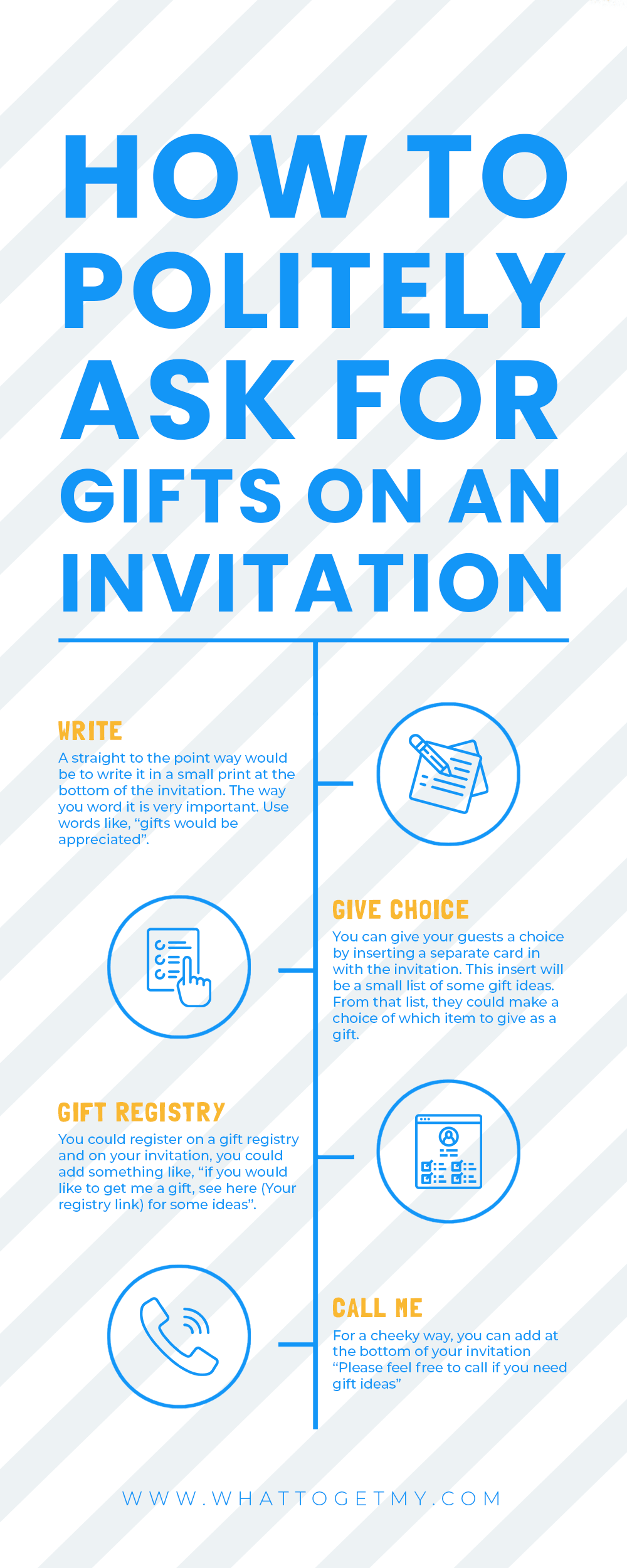 Source Link: https://whattogetmy.com/how-to-politely-ask-for-gifts-on-invitations/
Write "Gifts would be appreciated" on the invitation
A straight to the point way would be to write it in a small print at the bottom of the invitation. The way you word it is very important. Use words like, "gifts would be appreciated". Or state the type of gift for example "Gift cards would be appreciated". Keep it short and sweet. 
Give your guests a choice
This option works well for a child's birthday. You can give your guests a choice by inserting a separate card in with the invitation. This insert will be a small list of some gift ideas. From that list, they could make a choice of which item to give as a gift.
There is a downside to a handwritten list. If you don't control it in some way, you could end up with duplicate gifts.
Register on a gift registry
You could register on a gift registry or create one on Amazon. Then on your invitation, you could add something like, "if you would like to get me a gift, see here (Your registry link) for some ideas".
Add a call me for gift ideas to your invitation
For a cheeky way, you can add at the bottom of your invitation "Please feel free to call if you need gift ideas"
Asking for gifts on a wedding invitation 
Asking for gifts on a wedding invitation is acceptable to many. Especially, if it is done by registering with and using a wedding gift registry. All that you need to do is to write at the name of the registry at the bottom of your wedding invitation for example, "We are registered with (Name of the gift registry)". 
A poem to let your guests know that you have set up a registry is also a nice way of asking for gifts
An example is:
The only thing that we really want for our wedding day
is for you to be there to celebrate with us,
but if you would like to give us a gift,
we have a gift list at (Gift registry name), (The website it can be found on) and (gift list number).
All our love (The name of the Bride and Groom)
If you would prefer to receive money instead of items, your wording on your invitation is important. This is where the many poems that have been created come in handy as they are straight to the point but put in a really nice way. You can also take a look at some cute ways to ask for money as a wedding gift.
With many of the poems, they mention the reason why the couple doesn't want any item gifts, like for instance that they already have everything that they need. The poem also then gives the purpose of the money, like it will help pay for their honeymoon or repairs on their new home.
An Example of such a poem is:
We have been together for long
We have all that we really need
Your presence at our wedding is a gift enough
And if you are thinking of giving us something,
A contribution towards our dream honeymoon would be appreciated.
A baby shower invitation
Asking for gifts on a baby shower invitation is acceptable. The main purpose of a baby shower is to gather family and friends together to receive gifts for both baby and mom-to-be.
Many couples start purchasing some of the bigger and more expensive items for their new baby early on in their pregnancy. But by the time the baby shower has been planned, organized and the invitations go out there are still many items that are needed before the little bundle of joy arrives.
So if the main purpose of having a baby shower is to receive gifts, then the question is, how to ask for gifts on a baby shower invitation for the items that you actually still need?
This can be done in three different ways, which are:
Setup a baby registry with only the gifts that you still need
Your invitation would be as follows:
Join us to celebrate our new little one
Date:
Time:
Location:
Hosted By:
RSVP:
(Name of Mom and Dad to be) is registered at (Name of the baby registry)
Plan the baby shower theme around the items that you really need
For example, if you need diapers, plan a diaper theme celebration where your guests each bring a packet of diapers. You could also make it fun for your guests by setting up a prize to be won for the guests that do bring diapers.
Example of wording for your invitation can be something like:
Join us for a…or You're invited to a
Diaper shower
Honoring (Mom-to-be Name)
Date:
Time:
Location:
Hostname:
RSVP:
Diapers are all that they need
Asking for money or gift cards on your baby shower invitation
To ask for guests to give a gift card as a gift, write at the bottom the invitation that gift cards are welcome or will be preferred.
If you would prefer to receive money, you could set up a baby shower wishing well and on the invitation state something like,
Baby (Name) has all that he or she needs
If finding a gift is hard to do
Then we have a wishing well for you
Place a monetary gift in the well and make a wish
Another option would be to use an insert that you include in with the invitation stating the reason for wanting money instead of gifts. For example, you would prefer to set up a college fund for your bundle of joy or a childcare fund.
A Housewarming invitation
Asking for gifts on an invitation to a housewarming is best done by asking a friend or someone close to you to host it for you. They can plan, organize it and send out the invitations. This way it makes it more appropriate for them to mention gifts on the invitation.
They can add a message at the bottom of the invitation saying "feel free to contact me for gift ideas". Make sure that they have a list handy of a variety of gifts that your guests can choose. These gifts that you add to the list should also have different price ranges so that your guests feel comfortable in picking a gift that they can afford.
They can include a well-written poem on the invitation
For example, Your Name and your partner's name are all moved in, but it's looking a little dull and gloomy. Bring a little something to help add some cheerfulness.
Or if you would prefer to buy household items yourself or if you want to do repairs to the house, they can ask for gift cards on the invitation. For example, A gift card to Home depot would be appreciated to help them complete their repairs to their home.
Asking for gifts on a graduation invitation
Graduation is a cause for celebration for each and every graduating student and their parents. What better way to do that than to host a party where friends and family can join in on the celebration with you.
 But your only problem is that you want to know how to say bring gifts on the invitation?
The majority of friends and family that attend a graduation party generally do bring gifts with them. But for you to ask your guests to bring gifts is considered extremely rude and the only way around this is to ask your parents or a friend to send out invitations with a suggestion list inside.
Or they can then place a line at the bottom of the invitation that reads something like, "Your presence is all (graduate's name) needs, gifts are welcome". 
If it is a money gift that you would like then say something like, "Your presence is all we need but if you wish to help (your name who is the graduate) with their next step in their journey (this could be first home, paying off student loans or entering the first job market) a monetary would be deeply appreciated".
Asking for gifts on an anniversary invitation
If you are looking to celebrate an anniversary with close friends and family as a big one is coming up. You feel that there is no better way to celebrate it than to plan a party.  Once you've decided on the best anniversary celebration ideas with family and friends that you could possibly have. It will be time to send out the invitations, but you are wondering to yourself if you should ask for gifts on them or not.
Depending on the type of relationships that you have with all the guests that you intend to invite. Asking for them to bring gifts may be seen as rude, especially if you are inviting distant relatives that you don't know that well. But if you are close to all your guests, you could add a line to the bottom of your invitation that says "Gifts are welcome".
Before you can figure out how to politely ask for gifts on an invitation. You need to first consider the type of celebration that you are looking to have. Decide on the type of gifts that you would like. You also need to take a closer look at the guests that you intend on inviting. And then decide which way is the best way to ask them to bring you gifts.
ESTIMATED TIME DESIGNING AND UPLOADING THIS ARTICLE
ESTIMATED TIME RESEARCHING AND WRITING THIS ARTICLE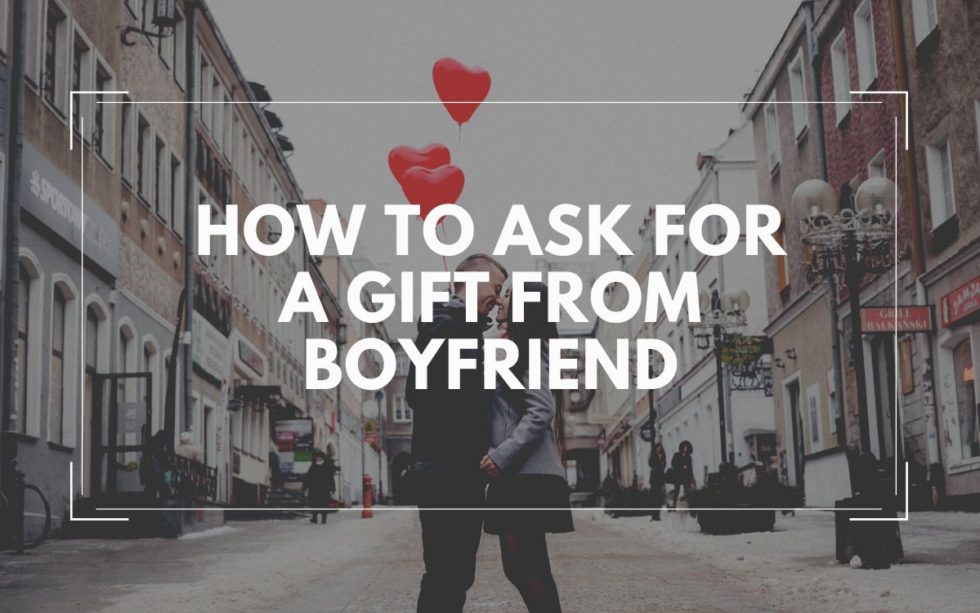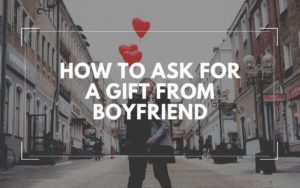 How to Ask For a Gift From Boyfriend
How to Ask For a Gift From Boyfriend WhatToGetMy Instructional Article My boyfriend never bought me a gift is a common sentence we hear these days. We don't know why, but men have difficulties to just go to the store and buy a gift. It's
Read More »