How to Give Ancestry DNA as a Gift
WhatToGetMy Instructional Article
DNA test kits can make very interesting gifts for family and friends. They are unique and provide a look into a person's ancestry.
The best thing about this gift is that it can be taken in the comfort of your home at a time convenient for you.
Home testing kits have become largely popular over the years with ancestry.com leading in the market of online DNA testing.
Continue reading this article if you want to find out how you can give ancestry DNA as a gift to your friends and family members.
At-home testing has become popular over the years and as of February 2019, more than 26 million Americans had taken the at-home ancestry test. Below is a graph showing the exponential increase in using DNA testing kits at home from 2015 – 2019.
Total number of people tested by consumer genetics companies through January 2019, in millions | Source: www.technologyreview.com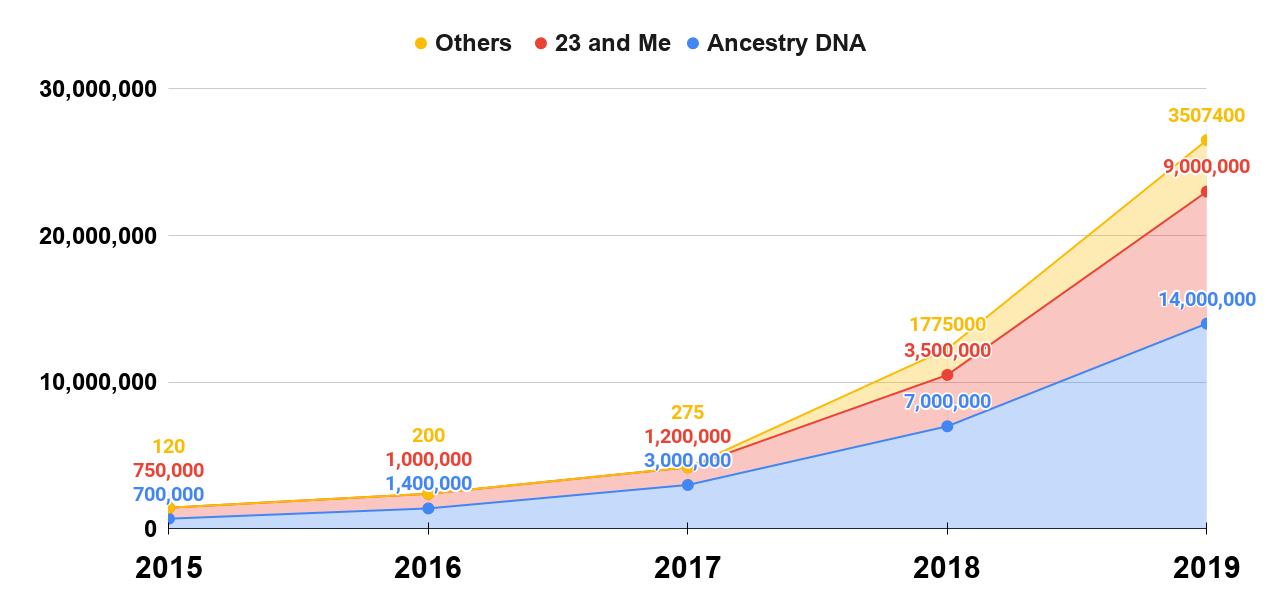 Giving DNA kits as a gift has become quite popular in the United States of America, here are a few pros and cons that you should consider before deciding to gift someone with ancestry DNA
Pros.
You get to learn cool facts about your family heritage and history.

You get to build a family tree and trace back your ancestry to many years ago – even know what region your ancestors came from.

It is fun to learn about your genetic makeup and how it ties you to people who share the same genetic makeup as you.
Cons.
The findings are not definite truths but rather they are estimates of the truth concerning your genetic makeup.

These results are not definitive of any health-related problems that you have or your ancestors might have had.

These results might reveal some family secrets that will put a damper on any festivity which is the opposite of what you want a present to do.

Your data might be shared with a third party thereby compromising your security
Before you proceed to give this as a gift, you need to weigh out the good versus the bad and decide if you want to still use ancestry DNA as a gift. If you decide to go ahead and do so, then continue reading this article to find out the different fun ways to present ancestry DNA gifts.
HOW TO BUY ANCESTRY DNA AS A GIFT
This is the easiest way to order an ancestry DNA gift voucher. You purchase a gift membership for your family or friend that you want to give a DNA kit as a gift. The following steps are how you order an ancestry DNA kit as a gift successfully:
⓵ Visit ancestry.com on their site and select 'select a gift membership'
⓶ Under gift membership, you will find three options "U.S. Discovery" "World Explorer" and "All Access." With U.S Discovery your friends and family get to discover their roots in America spanning out to 500 years at $99 for 6 months and $189 for 12 months. With the World Explorer – which is their self-proclaimed "most popular" option – your family and friends get to discover their family history both in the United States of America and other international countries for $149 for 6 months and $229 for 12 months. And lastly, with the All Access package, your family and friends get to uncover their family history everywhere including – but not limited to – files from the military of their ancestors for $199 for 6 months and $389 for 12 months.
⓷ Choose a gift plan that is suitable and affordable for you and your friend or family member(s) you are planning on giving the DNA gift and press the 'order now' button
⓸ When you place your order you will be directed to a checkout page where you fill in the information as prompted including the mailing address to where the gift is going and your bank details to pay for the purchase.
⓹ Shipping usually takes two weeks; 10 working days excluding the weekend and any public holidays.
⓺ When your friend or family receives the kit, they can then activate it by following the instructions that come with the package and sign up for ancestry.com if they don't have an account or log in to their account if they already have one.
TIPS FOR GIVING ANCESTRY DNA KIT AS A GIFT
⓵ Read the reviews from other customers so you can have a clear picture of what to expect in terms of quality, accuracy, and customer care. These are all important factors when it comes to knowing something as complex as a person's DNA. The more positive the reviews, the better chances you have of getting the best out of your subscription and the more worthwhile your gift is going to be.
⓶ Target promotions and discounts so that you can spend as less money as possible. The site's pricing tends to go down significantly during the holiday seasons, this is the right time to time your gift which means ancestry is cheaper to give an ancestry DNA Christmas gift than it is to give someone on their birthday in October.
⓷ Make sure that your recipient wants this gift. For some people, family can be a sensitive topic and they may not be as keen on finding out about things from the past or genetic makeup that link them to people they would rather forget. Before sending this gift – which has the potential to be fun and enjoyed casually – make sure that your family member or friend is someone who would be intrigued and interested in finding out their genetic makeup and other people who share similar DNA as them. Do not just do it because it is the popular gift of the season. Put some thought into your gift and consider your recipient's needs, always.
HOW TO GIVE ANCESTRY DNA AS A GIFT
⓵ You may want to surprise your recipient with the DNA kit on their special day – birthday, wedding day, father's day, mother's day, or even because it's Tuesday and you're feeling generous. For this to truly be a surprise, you may opt to not tell the recipient that you have sent an order their way and that they should look out for the mail delivery. It will definitely catch them off-guard when they get their ancestry gift in the mail. Here are some more ways on how to surprise someone with a gift.
⓶ You may opt to be upfront and tell your friend or family member to watch out for the mail because of a DNA purchase you bought for them – or better yet, you could just mention that there is a parcel coming their way without mentioning what their parcel is. This still keeps the suspense and builds anticipation for each day that passes and they are waiting for your mail knowing something is coming for them from you.
⓷ More elaborately, you may choose to ship the DNA kit to yourself. This way, you can wrap it up and decorate it the way you want it to be presentable – you can even add notes or a card if you want to. After this, you will then deliver the package to your recipient and watch their reaction to your gift.
Note: Remember that location also matters, make sure you schedule the perfect time and place and occasion to give this gift if you plan on giving it in person. Create a safe space and to an extent a scene for your loved one to get the full feel and the significance of a DNA test kit.
FREQUENTLY ASKED QUESTIONS
Aside from Ancestry.com where else can I purchase an ancestry DNA kit?
You can buy an ancestry DNA kit as a gift and even an ancestry DNA gift certificate off of other sites such as LivingDNA and MyHeritageDNA. To purchase a DNA kit as a gift off of LivingDNA, you have to order a kit for your recipient for $99 which includes free shipping. The delivery takes around 5-10 working days excluding public holidays.
On the other hand, MyHeritageDNA only costs $59 for DNA kits including shipping. When you press the 'order now' button, you will be redirected to a checkout page where you are given the option of buying the gift for one person or multiple people. After you have selected how many people (or person) you want to send the kit(s) to, you will be prompted to enter their mailing address and after which you will be required to enter your payment details. When all checks out, your order is cleared and it will be delivered in 4-7 business days excluding public holidays.
CONCLUSION
Just like with any form of a gift, the DNA test kit is only considered a good gift when it is something that the recipient will love and appreciate. The gift is always about the recipient and not the one giving it.
Also remember to consider all the implications – good or bad – that a gift such as a DNA kit could mean and bring forth because in as much as it is a fun gift to give, it can also have its pitfalls and if the bad possible outcomes outweigh the good possible outcomes then maybe you should consider other gifts or events as options.
All in all, it is really easy to order a DNA test kit from ancestry. All you have to do is visit their site and follow their prompts. It is straightforward.
ESTIMATED TIME DESIGNING AND UPLOADING THIS ARTICLE
ESTIMATED TIME RESEARCHING AND WRITING THIS ARTICLE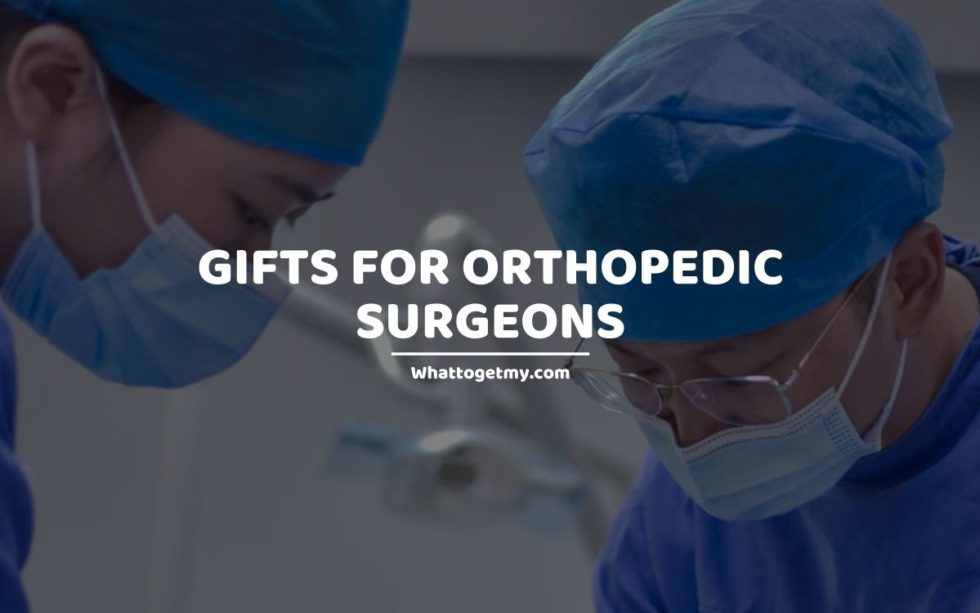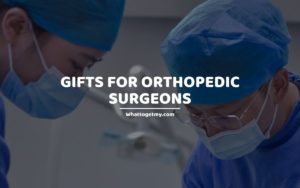 14 Best Gifts For Orthopedic Surgeons.
To buy a gift for an orthopedic surgeon, be sure to ask him/her if their hospital has any specific preferences for the giving of gifts. Personalized and functional gifts usually work best for orthopedic surgeons because, like doctors, they are very busy and may not
Read More »