You wish to show appreciation to some medical personnels but you are uncertain about what to get. More so, you don't want your intentions to be misunderstood by those you are giving the gift to and now, you are looking for small impersonal gifts to get. We understand your worry and we can help.
Medical professionals do not ask for gifts nor do they recieve it all the time. If you choose to show gratitude to them, you should not feel worried especially when your intentions are pure. So please feel free.
There are lots of 'thank you' gifts that you can get for doctors and other medical staff and we've helped you identify a few. Always remember, nothing is small and irrelevant, so far it is what you can afford. You will be surprised to know that they can easily tell your depth of appreciation and that makes them really happy.
As an Amazon Associate we earn from qualifying purchases. We may earn a small commission for our endorsement, recommendation, testimonial and/or link to any products or services from this website. Thank you, your qualifying purchases help support our work in bringing you real daily gift ideas.
Quick Overview: Gifts for Doctors Office Staff
1. MUG WINE GLASS SET
This coffee mug and wine glass set read "patient before" and "patient after" and on the box, it reads "Not all superheros wear capes; some wear shrubs". We think this is a unique gift to get for a doctor, nurse or medical assistant. The mug is 15oz and wine glass 17oz which is perfect. The package also comes with a free keychain.
Customers had only positive reviews about this set.
2. RETRO 51 PEN & PENCIL SET
Although many hospitals do supply the staff with stationaries, they still make a good gift. It will be lovely to pick out unique ones though. There are creative stationery like this Retro 51 pen and pencil set. The skeletal design on it is just beautiful and so far, this set is getting a lot of positive reviews. This set also glows in the dark.
Most customers were happy with the quality of this set, especially the pen.
3. MEDICAL DESK CLOCK
This is a unique office desk item you can get for any medical staff. The well detailed design is absolutely stunning. Around the little boxed clock are a miniature stethoscope, otoscope, medical emblem and hammer, all made with zinc alloy. This is a good thank you/christmas gift for your favorite medical staff. Find more office desk gifts in our article.
Highly recommended by customers that have purchased it.
4. BURTS BEES GIFT BOX
A self-care product is great. Yes they might be picky about the products they use, but this Burts Bees gift box will be appreciated. It includes a hand cream, foot cream, lip balm, hand salve, cuticle cream and Res-Q ointment. All products have been made with a blend of natural ingredients. This is a skin nourishing mini spa box anyone will love to have and your favorite medical staff will sure love to get their hands and feet pampered.
It would be nice if more attention is given to the condition of the products before delivery for better accountability. However, this is an amazing gift box.
5. GIFT BOX FOR NURSE
Here is a gift box for your favourite nurse. The boxes include a scented soy candle, insulated tumbler, funny socks, white straw and a cleaning brush. The quotes on each item are perfect. There is no doubt that this item will make a good gift. Find more relaxation gifts for nurses
This item is worth getting, the packaging is great.
6. PLUSH STOMACH
Are you looking for a funny but cute gift you can get for a surgeon? Well, we think this plush stomach is one ha ha. It is a funny thank you gift right? It is also a nice cuddle buddy.
Most customers were impressed with the quality and design. They consider it giftable and value for money.
7. YOU ROCK APPRECIATION KIT
You want to send a nice appreciation gift to the team of medical professionals that helped you through trying times? You can grab this kit and write down your thank you note. After you've inserted the 'you rock' cards and stones into the gift envelopes and velvet pouches, you can creatively pin roses to each envelope and then send the box. What's so beautiful about this kit is the quality of items in it and yet, at a very affordable price. The cards have metallic foil coatings and the stones are well polished. On both items, 'you rock' are beautifully engraved. This is a lovely appreciation box for a team of workers.
This kit has been rated high for features such as thickness, value for money, giftable and packaging.
8. THANK YOU KEYCHAIN
Let this keychain do the talking for you. This stainless steel keychain comes with three pendants; a heart pendant with 'thank you' engraved on it, a medical emblem pendant and a rectangular pendant with a quote that reads 'Medicine can cure, but a good doctor can give the strength to light from within…'
Customers that purchased this item were happy with their purchase. They considered it a perfect gift.
9. LAPEL WATCH SET
Get this high quality lapel watch set with glow pointers for your favorite nurses/medical assistants. They are made with silicone rubber with security pins attached to them. The dail can be detached from the casing for easy cleaning and sterilization of the silicon strap. This is an ideal pocket clip watch for medical professionals since it can be used for night shifts too.
Most customers were happy with their purchase.
10. STONE TABLE FIGURINE
Stone figurines make good sentimental gifts. We think you should get this 5 inch gold stone praying nurse figurine for your favorite nurse. It is a good inspirational gift item, well crafted and made with quality material. It bears an engraved quote that reads 'with a gentle hand, help me to heal and use my gift as you command'.
This figurine was considered giftable and value for money.
11. MEDIC BADGE HOLDERS
These badge holders will make a cute seasonal gift alongside some baked cookies. It has an alligator clip-on that can rotate 360 degrees while still giving you a good grip. The three piece set comes in different colors and designs.
They are good badge holders.
12. PAIRS OF SOCKS
Another cute christmas 'thank you' gift you can get for a medical professional will be these pairs of compression socks. Compression socks are noted to keep/increase blood circulation. While they are up on their fit for hours working, it will help with calf compression, prevent varicose veins and shin splint. It is a knee to lower thigh length socks, made with breathable material and double stitched.
Most customers had positive reviews about these socks. They consider it effective and highly recommend it.
13. STETHOSCOPE BROOCH
You can add this stethoscope brooch to a mug gift box and give as a gift. This is a simple yet elegant gift. It is well crafted and the red color is great. It has been made with durable alloy to last. This will make a sentimental gift.
The quality is good and the price is fair.
14. NURSE FRIDGE MAGNETS
People rarely think of fridge magnets but these can be added to a christmas gift box or purse. The 8 piece set comes in different designs and we think this is unique. Perfect for white boards and refrigerators. You can get a couple of this set for friends in the medical profession. Check out more retirement party gift ideas for nurses
Customers that bought them, love them.
15. COOKIE BOX
Oh yes, they lovely freshly baked cookies. Sometimes they work for really long hours and have little to put in their stomach. It will be nice to have freshly baked cookies with a cup of coffee during shifts but another good alternative is to them this box of chocolate cookies. Kirkland Signature cookies are really tasty, you would want more.
Most customers were happy with their purchase.
16. WOODEN STRING ART
We think that this lovely wooden art by Vilight will make a cool 'thank you'/christmas gift for doctors or nurses. The quote on it reads, 'By touching so many lives, you have changed the world'. It also has a string 3D stethoscope design on it which is stunning. This will make good office or home decor. It can be mounted on the wall or placed on a desk/shelf.
This is a unique item for medical professionals.
17. NURSE COSMETIC POUCH
You can fit in little cards, keyholders, brooch, lipstick and hand creams and give it to female medical staff as a thank you gift. This set comes with 4 makeup pouch pieces and they are made with polyester cotton material. It is a zipper pouch, beautifully designed for nurses.
Customers that bought it were impressed with the quality.
For more gift ideas, check out our articles on
FREQUENTLY ASKED QUESTIONS
What thank you gifts can I get nurses?
You can get mugs, keychains, brooch, cookies and makeup purses for them. These are just a few gifts we've mentioned from our list. There are many more gifts you can  get for them. It depends on how well you know them.
What Christmas gifts can I get for doctors and medical staff?
We mentioned some gift boxes, cookies, lapel watches, pairs of socks and many more. Every item on our gift list can make it to the christmas package you are preparing for them. It all depends on how creative you go about arranging the selected items you like  for delivery.
CONCLUSION
There are many gifts you can get for medical staff as a show of appreciation for the work they do and we have mentioned 17. There are many more and sometimes, the amount you choose to spend on them may be dependent on how close you are to them. The items we've mentioned are not personal and can be given to any medical staff you know. We hope that our article has been helpful to you.
ESTIMATED TIME DESIGNING AND UPLOADING THIS ARTICLE
ESTIMATED TIME RESEARCHING AND WRITING THIS ARTICLE
Try our AMAZING GIFT FINDER TOOL! Find GIFTS with 1 CLICK!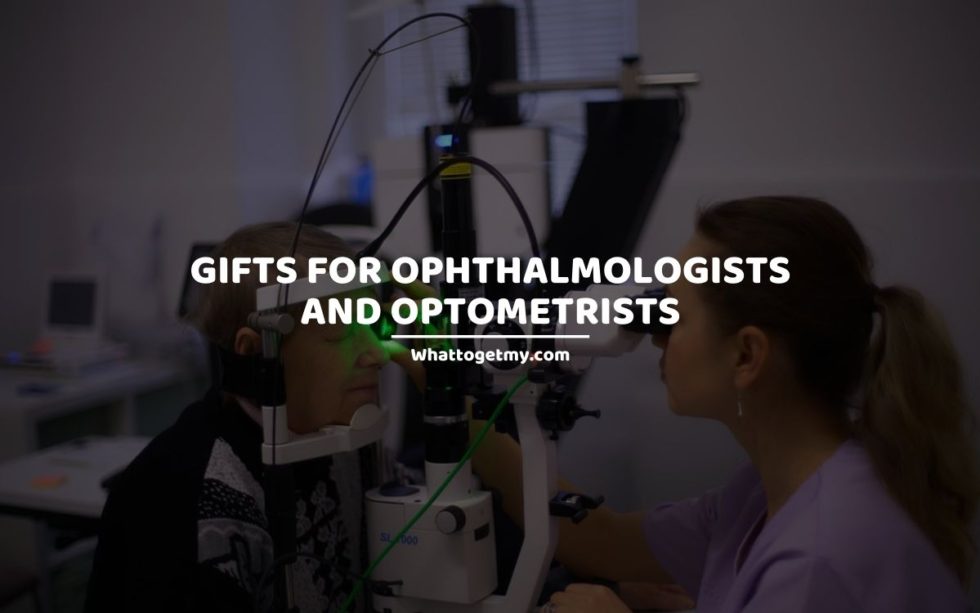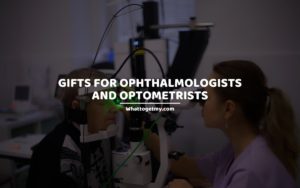 13 Thoughtful Gifts for Ophthalmologists and Optometrists
Ophthalmology is a branch of medicine that looks at the diagnosis and treatment of diseases that affect the eyes and eyesight. An ophthalmologist is a surgeon who specializes in treating eyes. An optometrist is not a medical doctor and can only diagnose, treat, and manage
Read More »