She spends so much time at her office desk, so you are thinking why not get great office desk gifts for her, the type of gifts that will make the time that she spends at her desk more comfortable, interesting, and much easier.
Many people do not realize that adding small items to a desk can make a world of difference to the person stuck there all day. These small items can help brighten up her desk, organize her desk, or remind her of the purpose of her spending all those hours at her desk. You can give them as office warming gifts,holiday gifts or just to remind her that you care about her comfort while she is working.
Some people may be well organized, extremely  productive, and may not choose how many hours they spend working at a desk due to their workload, which could lead to them working way into the night, but it does not mean that their desk has to be dull and uninviting. Adding a couple of small items to her desk that is maybe personalized office gifts will make all the difference, making it a little easier for her to get through her workload.
Other people spend a lot of extra time at their desks just because they are so unorganized which makes them less productive. You would be amazed by how many of these chaotic people are women who need to spend a lot of time looking for things amongst a clutter of many unnecessary items, ending up wasting so much of their valuable time that could be spent at home with their families.
Being organized helps reduce stress as well as keep a clear mind, and with a clear mind she will be able to be a lot more productive, and if she is a lot more productive then she would not have to spend too many unnecessary hours working at her office desk.
Before you can decide on what cool things to put on her desk to help her organize the clutter to become more productive, you can either help her or get her to first clean and get rid of anything on her desk that does not need to be there. Such things include stacks of papers that she hasn't used in a long time, magazines, little scraps of notes she has made, and especially empty food or drink containers that should have been in the bin a long time ago.
Then all it takes is adding a couple of simple items to her desk to brighten it up or items that she can use to further transform the remaining cluttered to look very professional and organized. It does not have to be too elaborate with a design theme or a bright color scheme in mind, instead she can keep it neutral for a very professional and sophisticated look.
Office desk gifts for women could be items as simple as a desk supplies organizer for all her pens, pencils, and other little items that she may have lying around on the desk, or a desk mat to protect her desk from some ugly scratches. A picture frame with photos of her loved ones that will brighten up her day or a rechargeable reading light that is easy on her eyes for those late nights will be super helpful too.
Spending long hours working on her laptop, could cause overheating so the best office gifts would be an adjustable laptop stand. That will help with the overheating as well as reduce the aches and pain in her wrists from all the typing. If she loves making notes of everything then, then you can get her a reusable notebook with pens, that she can erase when done and keep reusing it  to avoid a buildup of little scraps of paper everywhere. You can also get her funny office desk gifts that are still functional like a unique glasses holder.
If she happens to work from home and has her own office, then all of the suggested ideas in this article would also be perfect as home office gifts for her. These gifts are all very stylish and will also help her feel more professional, organized, thus reducing her stress levels.
As an Amazon Associate we earn from qualifying purchases. We may earn a small commission for our endorsement, recommendation, testimonial and/or link to any products or services from this website. Thank you, your qualifying purchases help support our work in bringing you real daily gift ideas.
Here Are Some Awesome Collection For Her.
Our Gift To You:
Find out how to download This
Free Printable Card
For Her at the End of This Article.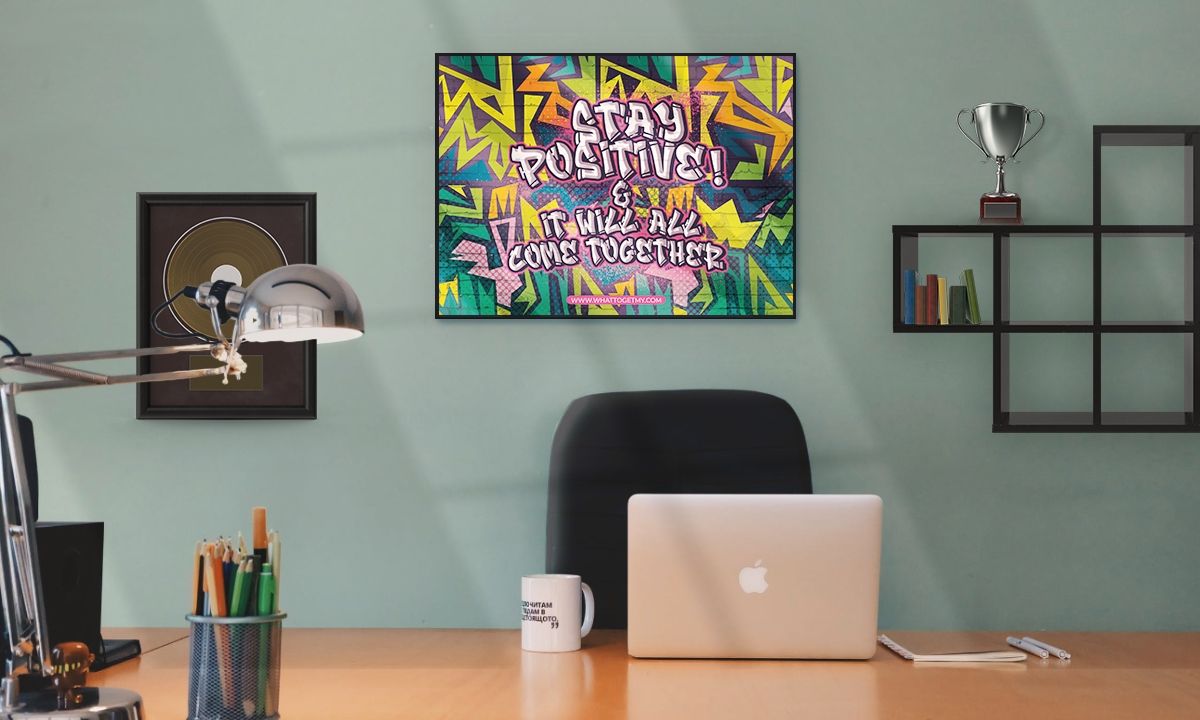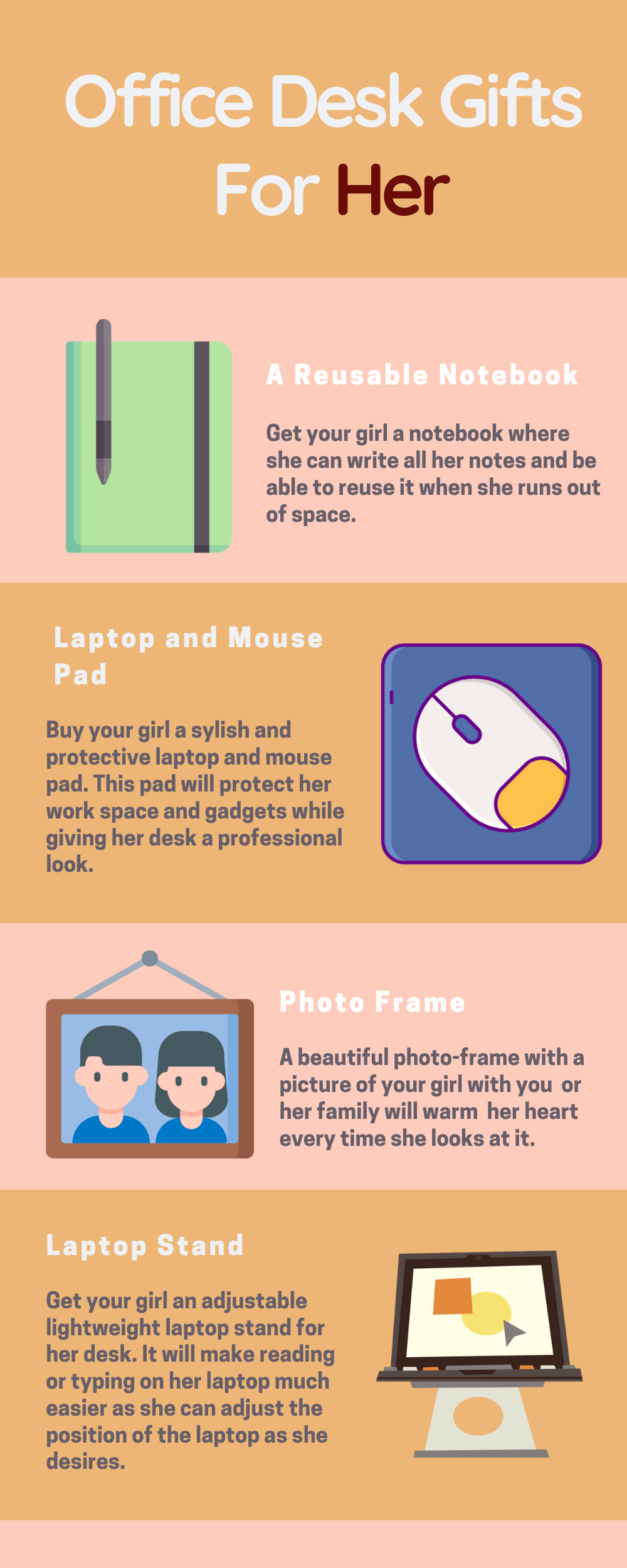 Source Link: https://whattogetmy.com/office-desk-gifts-for-her/
DecoBros Desk Supplies Organizer Caddy, Black
This DecoBros desk supplies organizer is one of the best office desk gifts especially for a messy woman. It will help her un-clutter and organize her office desk with a place for her office supplies that is not too big and bulky. This fantastic space saver has a variety of depth compartments with a drawer that slides in and out easily, making it a perfect gift for her office desk.
Customers that have purchased this DecoBros Desk Supplies Organizer Caddy have had mostly positive things to say as they find it to be the perfect desk organizer, which is durable, and it is not too small or too big to hold all the intended stationery supplies needed for daily use.
ZBRANDS Brown Leather Smooth Desk Mat Pad Blotter Protector, Laptop Keyboard Mouse Pad
This ZBRANDS Desk Mat Pad is the perfect choice for her desk. It is designed to add style to her workspace while protecting the surface. It fits a desk perfectly and looks stylish with a soft cushion feel to it but is also firm enough to allow for smooth writing if she wants to write on paper.
Customers that have bought this ZBRANDS Brown Leather Smooth Desk Mat have had mostly positive things to say as it looks professional, it lays flat, and it protects the desk surface.
Rocketbook Everlast Smart Reusable Notebook, Executive Size
This reusable smartbook is the perfect office desk gift for her, giving her the peace of mind that if she makes a mistake or no longer needs her notes, she can easily erase it with a damp cloth and then rewrite them. This notebook will also save her a lot of time as she can scan and transfer her notes into a digital format when and as needed.
Many customers who have purchased this Rocketbook Everlast Reusable Smart Notebook have had mostly positive things to say. They love the experience of writing, scanning your notes, and then just adding a drop of water, a cloth, and it all erases like magic.
Kikkerland Slim, Clip On LED Book Light
This rechargeable LED book light will make a great gift for her office desk as it will enable her to have enough lighting without disturbing anyone while she works late at night on her laptop. It is portable and lightweight and fits in a handbag or tote for her to take it with her anywhere.
Majority reviewers that have purchased this Kikkerland reading light have had positive things to say as they find it is a great portable reading light which is easy on the eyes and can be set at any angle you are comfortable with.
Americanflat 5×7 Hinged Picture Frame with Glass Front – Display Two 5×7 Pictures – Stand Vertically on Desktop or Tabletop
This Americanflat hinged picture frame will allow her to add something special and personal to her office desk. It will showcase her most-loved memories of either you and her or photos of her children, putting a smile on her face whenever she looks at it.
The majority of the reviewers that have purchased this Americanflat hinged picture frame have had mostly positive things to say as they find that it is a good quality frame at a reasonable price, and it is perfect for an office desk.
Nose Shaped Glasses Holder Stand
This glasses holder can be a game changer for a girl who wears glasses and doesn't want to keep putting it in their box and taking it back out repeatedly whenever  she needs. The stand will let her have her much needed accessory on closeby without having it on the table where it can break or get scratched easily. In addition to all that the stand has a unique design that would be a great decoration on her desk.
Buyers of this stand have found it to be a great addition to their desk and very functional too. They like the standout design and the fact that the glasses are kept intact on the holder therefore making it one of the most unique gifts for office desk or home use.
AmazonBasics Ventilated Adjustable Laptop Stand
She will love this sturdy AmazonBasics ventilated adjustable laptop stand as a gift for her office desktop. It will keep her laptop running cooler, and she will be able to keep the cords neatly organized and safely out of the way with the six slots on the back of the stand. She will also be able to adjust the stand to a more comfortable angle for reading or typing, making her time spent on her laptop a lot easier.
Customers that have purchased this AmazonBasics ventilated adjustable laptop stand have had mostly positive things to say. It has great adjustment angles, and the cord slots helps to keep things tidy and allow the laptop to run cool without any vibrations.
When deciding on office desk gifts for her, think about how unorganized her desk may be and if it is a little or a total nightmare.Once that is done then your decision on what to buy for her desk will become a lot easier to make.
Get This and So Many More Free Gifts on Our New Marketplace, Spark Resort!
ESTIMATED TIME DESIGNING AND UPLOADING THIS ARTICLE
ESTIMATED TIME RESEARCHING AND WRITING THIS ARTICLE
Try our AMAZING GIFT FINDER TOOL! Find GIFTS with 1 CLICK!