To buy a gift for an orthopedic surgeon, be sure to ask him/her if their hospital has any specific preferences for the giving of gifts.
Personalized and functional gifts usually work best for orthopedic surgeons because, like doctors, they are very busy and may not have time to use any gift that doesn't fit into any of these two categories.
Our list of 14 Best Gifts for Orthopedic Surgeons gives you only the best of both types of gifts for your orthopedic surgeon.
(Be sure to check out our latest gifts for other health professionals in these articles for more inspiration: Gifts for Epidemiologists and Gifts for Pediatricians. We have done our best not to replicate gift items from these lists which is why they would also be good reads since the items on them would also be useful in some ways for an orthopedic surgeon.)
Orthopedic surgeons are doctors that deal with the bones and all the tendons and ligaments that keep the human anatomy together. They analyze the bones and surrounding joints to discover any maladies and to prescribe treatments. As with all health professionals, they also play a vital part in keeping humanity alive and helping us maintain healthy lives. And so we understand the desire to want to show your appreciation for the remarkable and wonderful work they do. In this article, we give you a round-up of the best gifts for orthopedic surgeons.
BUYING A GIFT FOR AN ORTHOPEDIC SURGEON AND WHAT YOU SHOULD FIRST CONSIDER.
Some orthopedic institutions like the John Hopkins Orthopedic Surgery Unit have specific preferences for how they want gifts to be given, either to the institution or specific orthopedic surgeons. It would, therefore, be prudent to check with your orthopedic surgeon if his/her institution has such preferences so that you are properly guided on how to give your intending gift. Where the institution would prefer a charity donation, you can read our article on How to Give a Charity Donation as a Gift for very useful guidance on how to go about it.
Orthopedic Surgeons just like doctors are also very busy health professionals and constantly on their feet. Personalized small gifts, therefore, work best, as well as functional gifts that would help them in doing their work better and also improve their workspace. In this article, we round up the best of both types of gifts for you. We have not recommended gifts like hospital scrubs because most doctors prefer to buy their clothing so that they buy to their preference. And for some, their hospitals already provide these or at least have specifications for the ones they are to make use of.
14 BEST GIFTS FOR ORTHOPEDIC SURGEONS.
Personalized Gift Items.
These range from mugs that are specifically personalized for orthopedic surgeons, to other things like keyholders, chains, and bracelets. These are small items but are usually proud mementos that professionals like to wear with pride, and orthopedic surgeons are no different.
As an Amazon Associate we earn from qualifying purchases. We may earn a small commission for our endorsement, recommendation, testimonial and/or link to any products or services from this website. Thank you, your qualifying purchases help support our work in bringing you real daily gift ideas.
Quick Overview: Gifts for Orthopedic Surgeons
1. A Great Surgeon is Hard to Find Coffee Mug.
This beautiful coffee mug comes with a very inspirational message for an orthopedic surgeon. The message on this mug also makes it a perfect gift to give a retiring orthopedic surgeon to tell him/her that his value was immensely felt and would be missed. It comes in the standard 11oz. but has the option to purchase it in 15oz.
The inspirational message on this mug makes it a winner and our top recommendation for a personalized coffee mug. And it is versatile enough to serve both as a thank you and retirement gift for an orthopedic surgeon.
2. Humerus Bone Coffee Mug.
This mug is a funny gift to give an orthopedic surgeon. The bone displayed on it and the nice pun with humor and the humerus bone is ingenious. The funny message appears on both sides of the mug.
A cup of coffee can never be dull with this mug because of the funny message inscribed on it. Almost all customers who have purchased it affirm that the printing is of good quality and the mug as well. All orthopedic doctors who have received it love it and we are sure your orthopedic surgeon would also love it.
3. Orthopedic Surgeon Keychain.
Everyone loves a personalized keychain and without a doubt, your orthopedic surgeon would love this keychain. It is made of good quality stainless steel and is the perfect accessory for an orthopedic surgeon to carry about his keys.
What makes the key chain the bomb for an orthopedic surgeon is the full human anatomy/skeleton also included as part of the keychain. This unique addition leaves no doubt that the keychain belongs to an orthopedic surgeon. Notwithstanding its small size, we still recommend it because its size is the same as any normal keychain.
4. Orthopedic Surgeon Embroidered Bracelet.
This bracelet is a nice fashion accessory for a female orthopedic surgeon. And it is minimalist enough for her to wear it every day with her scrubs, and yet stylish. It is also made from quality materials.
If your female orthopedic surgeon does not have big wrists, this is a nice and thoughtful memento to give her as a gift. It can also be given as a retirement gift.
5. Cool Orthopedic Surgeon Tee-shirt.
This t-shirt is laid back and a very good memento to give an orthopedic surgeon. They can wear them on a relaxing day with a pair of jeans or their scrubs. It comes with a nice minimalist but apt drawing depicted on it.
Consider pairing this beautiful quality shirt with either the personalized mug or if you are buying for a female, the personalized bracelet. The combo would make a perfect gift set which your orthopedic surgeon would greatly appreciate.
Functional Gift Items.
These are gift items that help them even as they go about their very busy schedule. Also included, are gift items that liven their workstation and make it even more appealing for their clients and them.
6. VSITOO Temperature Preserving Coffee Mug.
This is such an amazing coffee mug because it can keep coffee from going cold for at least an hour and a half when it is fully charged. And when the coffee is left on the coaster that it comes with, that coffee can stay hot all day. How's that for amazing! What makes this perfect as a gift for a surgeon is that now they don't have to worry about being called in the middle of having a nice cup of coffee and the coffee going cold.
Pros.
It can keep coffee hot between 96F-149F.

You can control it with your smartphone.

It is easy to clean and the recommended method of washing is hand wash.

It can keep coffee hot all day on the designated coaster.

It comes with a one year warranty and a 30-day return policy.

It has a long battery life of 4 hours.

The mug comes with a lid.

It can also keep cold drinks cold if turned off.

It is easy to set up with your phone.
Cons.
It may be a bit pricey but the price is well worth it.

It is not dishwasher and microwave friendly. This is in order since it is an electrical gadget.
This is such a great product for an orthopedic surgeon and indeed any doctor. It is so cool because, given their hectic schedules, interruptions to their coffee breaks are inevitable. And when that happens, this mug has them covered. The product reviews (which are very recent) as at the time of writing give this cup very glowing recommendations and that is why we also recommend it.
7. Adidas Ultraboost Walking Sneakers.
Since orthopedic surgeons are almost always on their feet all day, gifting him/her with this top-class walking sneaker would be of immense help and assistance. The sneakers are designed and engineered to protect the sole, especially where the standing is for prolonged periods.
These sneakers are designed with comfort in mind, making them very comfortable to wear and walk in all day. And this is why they are the perfect choice for an orthopedic surgeon because they stand and walk about all day long. Given their perfect fitting, it may be best to order a size bigger than your usual size, especially if you have a big or wide foot.
8. Medical Inspiration Writing Pen.
Give your orthopedic surgeon more inspiration to write and prescribe treatment, with this pen. It comes with a beautiful message inscribed on the side and the symbol of the medical profession.
Notwithstanding the one complaint, every customer who has given this pen to a medical doctor or nurse consistently affirms how each of the recipients loved this gift. We do not doubt that it would be the same with your orthopedic surgeon. And the gift casing it comes with makes it a very nice and thoughtful gift to give.
9. Anjou Essential Oils Aromatherapy Diffuser.
This aromatherapy diffuser needs only one fill to last for up to 12 hours in scenting the atmosphere. This makes it perfect for an orthopedic surgeon's office which also needs to have a nice therapeutic aroma which is what this particular diffuser guarantees. It can also switch itself off automatically when it runs out of the water, guaranteeing extra safety and durability.
Pros.
The aroma and mist are long-lasting.

One fill can last a full workday without the need for a refill.

It has an automatic shutoff function.

It looks very stylish.

It does not take up too much space.

It is noiseless.

It has a function for regulating aroma strength.

It is easy to clean.

It comes with 7 different light color options.
Cons.
This product hasn't set one foot wrong with all the customers who have purchased it at the time of writing. They all love everything it comes with and especially its beautiful aesthetics.
This stylish diffuser is so chic and makes for great decor on any mantlepiece and tabletop in an orthopedic surgeon's office. The fact that one fill of it can last the entire workday makes it perfectly suited for an orthopedic surgeon who would be too busy to be refilling it during the day, and its automatic turn off feature when the water runs out is a great bonus. This product is a definite recommendation because of the amazing features it has.
10. Human Skeleton Wall Art.
This beautiful art depiction is a wonderful illustration of the work of the orthopedic surgeon and would be a nice decoration to his office, and which would also serve an educational purpose for clients. It however does not come with a frame which is still good because it allows you to choose your desired frame.
Pros.
It is reasonably priced.

It is printed on high-quality durable paper.

It comes with a 30-day money-back guarantee plan on purchase.

They have a vintage look.

It comes in a set of 4 pictures.
Cons.
The size of each picture is not very big.

It does not come with a frame. This is a good thing though as it allows for personal customization.
This nice piece of art comes in a set of 4 pictures which allows for beautiful layering in whatever space it is put in. All doctors who deal with bones and human anatomy say it is a beautiful addition to their workspace, and we couldn't agree more. We are confident your orthopedic surgeon would adore it as a gift.
11. Orthopedic Surgeon Bones Wall Art.
This is another beautiful wall art for your orthopedic surgeon's office. It is a set of 3 pieces of watercolor painting of 3 different joints in the human body. It is another illustrative piece of what the orthopedic surgeon does.
The bone artwork depicted on this wall art is beautiful and would certainly liven up the orthopedic surgeon's workstation or even his living space. We do think though that given that it does not come with a frame, it is a little pricey. But this is perhaps compensated for by the fact that it comes in 3 pieces and the artwork is a watercolor painting which is usually expensive. It is a beautiful artwork to give an orthopedic surgeon as a gift.
12. Heath Non-Slip Yoga Mat.
Yoga is always recommended for health professionals because of the tense postures that come with the work they do. The therapeutic function of yoga helps their muscles relax. This mat comes highly recommended by customers for being non-slip and reasonably priced. The orthopedic surgeon can leave it in his/her office to use when they have or chance or to take it for a quick yoga class in between shifts.
Pros.
It is reasonably priced.

It is non-slip but must be washed with a soft brush and a non-oil based soap first before being used to activate the non-slip function.

It has good cushioning and support.

It comes with a helpful instructional guide.

It is durable.
Cons.
It comes with an initial smell when purchased but the smell dissipates quickly once aired outside.

One customer lamented that it did not last more than a year and then started to slip.
Given that yoga is an intense exercise that involves a lot of sweating, it is not even advisable to have the same yoga mat for more than one year especially if you do yoga more than thrice every week. This con therefore should not be a reason not to purchase this good value for the money yoga mat. It serves a good purpose that it does not last beyond a year.
13. Classy Leather Messenger Bag.
This classy leather bag is very fitting for an orthopedic surgeon. It is made of high-quality leather with a 10-year value warranty. It is very minimalist yet regal. Its high quality can keep up with any level of strain and demand.
This versatile bag is ideal for a busy health professional like an orthopedic surgeon who will need to carry a bag everyday, it is built for heavy everyday use. And even aside from the cons, it is a very good functional accessory for an orthopedic surgeon.
14. Metal Doctor with Stethoscope Wine Holder.
This last gift is a nice mantlepiece or tabletop decor that comes in the shape of a doctor carrying a medical bag and a stethoscope. It looks vintage and nice and would make the bottle of wine that it holds look very expensive.
Not surprisingly, every customer who purchased this item bought it as a gift for a doctor or a surgeon. And all of them consistently affirmed how very much the recipients loved it and how it was the best gift they gave their doctor/surgeon. We do not doubt that your orthopedic surgeon will feel the same way when he/she receives this vintage, classy, and bespoke gift item.
FREQUENTLY ASKED QUESTIONS.
Do you have any gift ideas for orthopedic surgeon foot specialists?
The gift ideas in this article are suitable for both general and specialists orthopedic surgeons like an orthopedic surgeon foot specialist. You can buy them any of the gift items listed in this article.
What is a good thank you gift for orthopedic surgeons?
All the items in this article can be a good thank you gift. You can give them any of the personalized items if you wanted to choose from the two lists.
What are a good birthday and Christmas gift for an orthopedic surgeon?
Any of the items would be a good birthday or Christmas gifts but if you wanted to pick just one and are unsure, we would suggest either the VSITOO Temperature Preserving Coffee Mug, the Messenger Bag, or the Wine Holder and any of the personalized items as a birthday or Christmas gift.
What is a good orthopedic nurse practitioner gift?
Any of the items on this list would also be good for the nurse. If you had to pick one, we would suggest either the Aromatherapy Diffuser or the Walking Sneakers and this beautifully packaged personalized coffee mug for nurse with spoon and coaster. (You can also check out our article on Retirement Party Ideas for Nurses, for other cool ideas of ways to appreciate nurses.)
CONCLUSION.
Before embarking on buying a gift for an orthopedic surgeon, find out from them if their hospital/institution has any specific gift-giving preferences. Once you've determined that and are sure that they can receive personal gifts, the gifts in our list of 14 Best Gifts for Orthopedic Surgeons provide you with the top of the range gift ideas for orthopedic doctors.
ESTIMATED TIME DESIGNING AND UPLOADING THIS ARTICLE
ESTIMATED TIME RESEARCHING AND WRITING THIS ARTICLE
Try our AMAZING GIFT FINDER TOOL! Find GIFTS with 1 CLICK!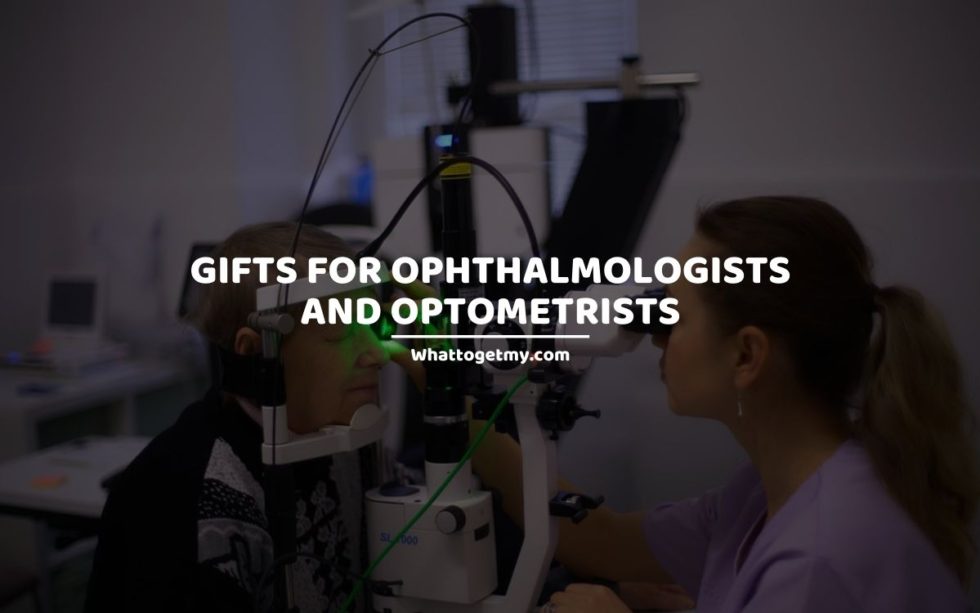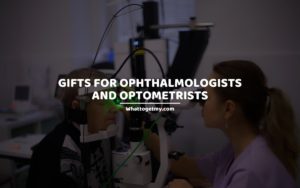 13 Thoughtful Gifts for Ophthalmologists and Optometrists
Ophthalmology is a branch of medicine that looks at the diagnosis and treatment of diseases that affect the eyes and eyesight. An ophthalmologist is a surgeon who specializes in treating eyes. An optometrist is not a medical doctor and can only diagnose, treat, and manage
Read More »