WHAT TO PACK FOR A 5-DAY TRIP CHECKLIST
WhatToGetMy Instructional Article
It is almost time for your trip that you planned months ago and all that is left to do is to pack your bags. You don't want to leave any of the essentials out but you also want to pack without going overboard by packing too much or all the wrong things. The best way to do this is to plan and either write down your own or use a printable travel packing list of what to pack for a 5-day trip checklist that will suit your needs.
Before preparing your 5 day packing list, there are a few things that you need to consider first and they are:
Will you be traveling alone, as a couple or are you taking a family trip?

What type of trip you are taking, for instance, will your trip be a:

Relaxation or an adventurous trip

Beaches or mountains

In the summer or winter

Will it be In a City or the countryside?

You should also know what sort of weather to expect while you are on your trip

How will you be traveling, will it be a road trip or will you be flying there?

The type of accommodation you will be staying in and what facilities are available for instance, will it be a wooden cabin buried in the mountains with nothing available, not even electricity, or will you be staying at a 5-star luxury hotel?

You will need to know the activities you will be doing so that you can pack accordingly. Activities like sightseeing, water sports, eating at fancy restaurants, celebrating festivals or will you spend the majority of your time be lazing along the seaside then you will need to know

what to pack for a 5 day trip to the beach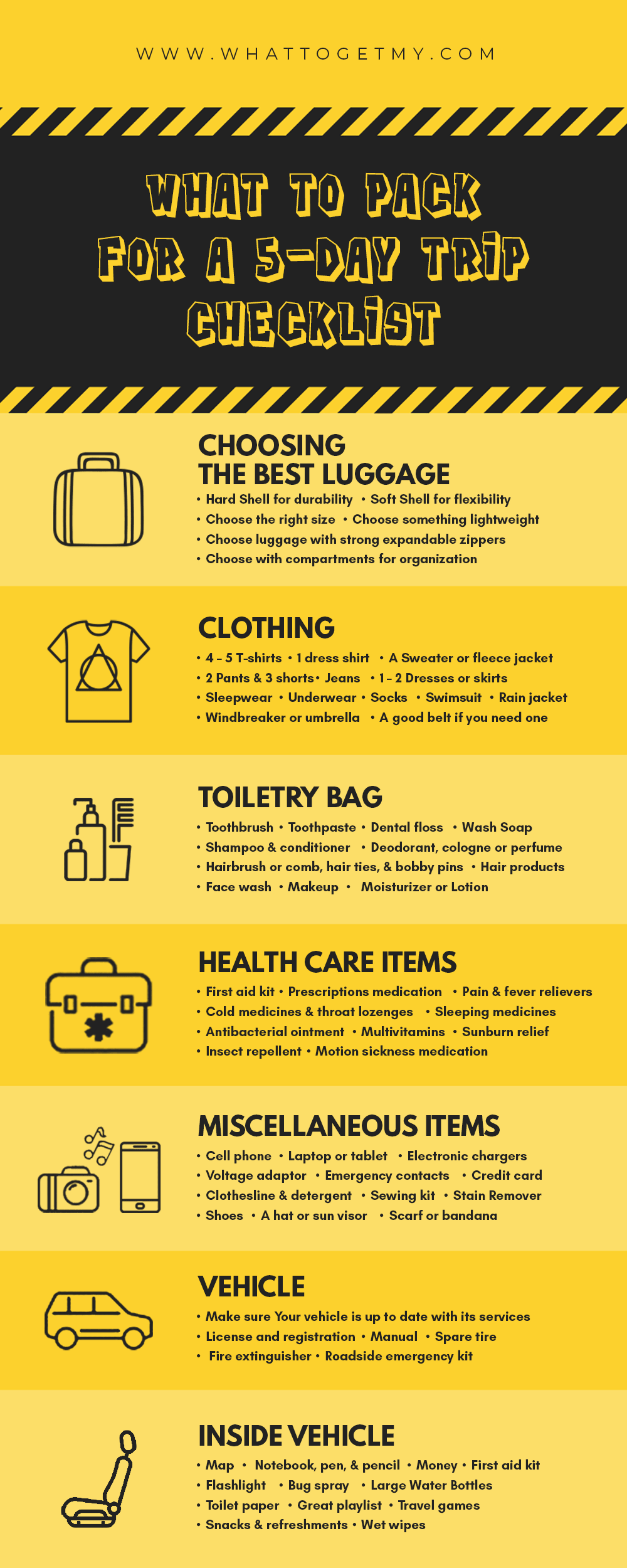 Source Link: https://whattogetmy.com/what-to-pack-for-a-5-day-trip-checklist/
Choosing the best Luggage for your trip.
It is important to choose the right type of luggage to use for your trip as it needs to hold your belongings and keep it all safe. You will want to look for something that is made of quality materials that are tough, sturdy, and strong.
Some pointers of what to consider:
Decide if you want a Hard Shell for durability or Soft Shell for flexibility for overhead compartments.

Choose the right size to suit airline regulations

Choose something lightweight with sturdy handles

Must have tough and functional wheels

Choose luggage with strong expandable zippers

It is always great to have compartments for organization
Organize Your Stuff
Packing your bag neatly and keeping things organized can be a total nightmare for some people especially if you need to pack items for different activities. To make the process easier, make sure you use some packing cubes which keep your bag neat, tidy, and provide quick access to all the different things that you need during your trip.
When preparing your things to take on a vacation, make sure to pack as light as possible and only take the necessities with you by being realistic about what you really need versus what you want to take with you. The less you take, the easier your traveling experience will be.
To help you get organized, gather your luggage and everything you want to pack all in one place, say for instance pack everything you think that you will need on your bed so that you can see what you have, check all the items against your travel packing checklist and take out any extras that you don't need.
Packing luggage for an airplane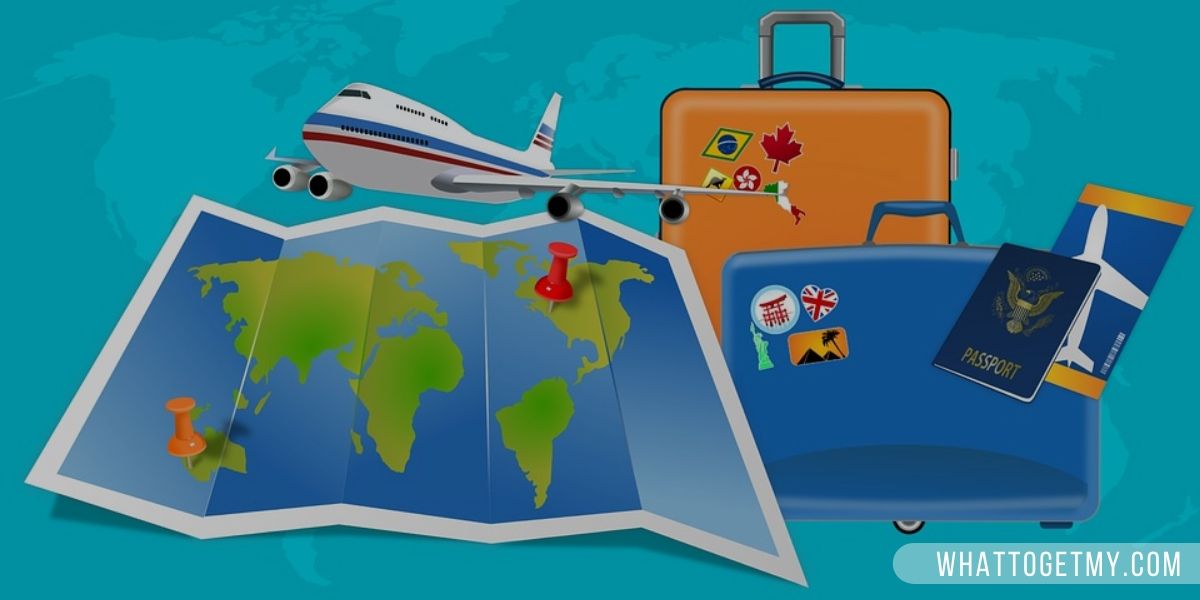 Clothing checklist that you would need for a 5-day trip
Packing clothing depends entirely on what sort of weather you will be expecting, for summer you will pack lightweight clothing to stay cool and in the colder weather you would pack thicker clothing to keep warm.
4 – 5 T-shirts

1 dress shirt

A Sweater or fleece jacket

2 Pants and 3 shorts

Jeans

1 – 2 Dresses or skirts

Sleepwear

Underwear

Socks – wool socks are best for hiking

Swimsuit or swim trunks

Rain jacket, windbreaker or umbrella

A good belt if you need one
Your Toiletry Bag Checklist
Toothbrush, toothpaste, floss, mouthwash

Toothpaste

Dental floss

Mouthwash

Wash Soap

Shampoo and conditioner

Deodorant, cologne or perfume

Hairbrush or comb, hair ties, and bobby pins

Hair products like hairspray or hair gel

Face wash and/or makeup remover wipes and q-tips

Moisturizer or Lotion

Makeup

Feminine hygiene products

Shaving supplies

Sunscreen and face lotion with SPF

Lip balm with SPF

Scissors, nail clippers, and tweezers
Health Care Items checklist
First aid kit (bandages, gauze, adhesives, etc.)

Prescriptions medication and script refill if needed

Pain and fever relievers

Cold medicines and throat lozenges

Diarrhea/laxative medicines

Allergy medicine

Sleeping medicines

Antibacterial ointment

Multivitamins

Sunburn relief

Insect repellent/mosquito net/sting reliever

Motion sickness and/ or altitude sickness medication

Eye drops

Hand sanitizer or wet wipes

Extra contacts, solution, and contact case

Glasses and prescription sunglasses
Miscellaneous Items
Cell phone

Laptop or tablet

Electronic chargers

Voltage adaptor

Film or memory card

Emergency contacts

Credit card or bank contacts

Copies of passport, credit card

Clothesline and detergent

Sewing kit

Stain Remover

Comfortable walking shoes

A hat or sun visor

Scarf or bandana
Prepare and Pack your Carry-On Bag 
The next thing that you will want to do is prepare and pack your carry-on bag. For your carry-on luggage. To help you figure out how to pack a carry on bag for 5 days you can start by making a separate carry-on packing list for you to check your items against which will be items that you will need with you on your flight and any other essentials just in case your luggage is lost and for quick and easy access like:
Travel Documents which is your Passport, visa, and ID

Cash

Credit and ATM cards

Your Insurance cards like your medical and travel

Your Itinerary

Maps or directions for the area you are going to

A Guidebook

Books or an e-Reader

MP3 player

Headphones, preferably ones that have noise canceling

Chargers for your devices

A travel blanket

A travel pillow

Earplugs and an eye mask

Disinfecting wipes and tissues

Lip balm

Change of clothes

Toiletries, remember to keep within the regulations of how much is allowed

Food or snacks

Empty water bottle

Prescriptions

Valuables, such as your jewelry

Camera

Paper and a pen

Glasses/sunglasses
Tip: It is always best to keep your belongings safe, especially your cash, bank cards, and travel documents. The easiest way is to keep them hidden and close to you is by using some sort of money belt. You may want to consider one with RFID protection to keep all your personal information safe.
Packing for a hiking trip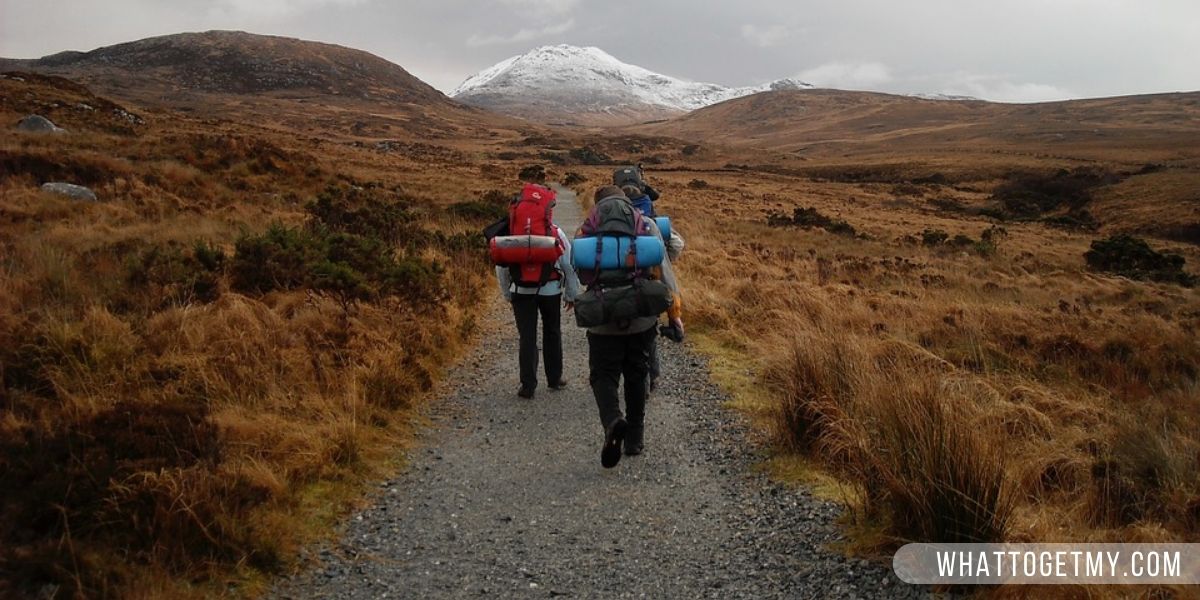 A checklist for packing a backpack for a 5-day trip
When packing a backpack for a 5-day hiking trip, it is best to know the area you will be hiking in. Things like the type of terrain, what type of weather to expect, and how remote is the location as this will affect the type of items that you will want to take with you.
When packing a backpack is best to put everything in its own individual bags by using packing cubes and zip lock bags which enables you to access them easily when you need them and they also help to balance your backpack out more evenly.
Items that should be part of your backpacking checklist:
Backpack to fit all your gear that is waterproof

Hiking boots or shoes

A light tent

Sleeping bag and sleeping pad or mat

A headlamp with extra batteries

A portable Stove and fuel

Kitchen supplies like a cooking pot, spoon/fork, or a spork

Knife

Plenty of food, it is best to pack items like instant backpack meals, pasta with powdered sauces, powdered potatoes, nutritional bars, and dried fruit

Water bottles and water-treatment supplies

Small gear repair kit

Waterproof Navigation: map, compass, altimeter, GPS device, personal locator beacon (PLB) or satellite messenger

Sun protection: sunglasses, hat with a brim, and sunscreen

First aid: including foot care and insect repellent

Fire: matches, lighter, tinder, and/or stove

A light emergency Shelter: carried at all times

Toilet paper and a bag to put the used paper in when you're done

Two sets of clothing, you will be wearing a set of hiking clothes and pack one extra to hike in and one set to sleep in.

Enough underwear for your trip

4 pairs of thick hiking socks

Waterproof gloves

Waterproof ski jacket

Beanie

Toiletries, all you need is toothpaste, a toothbrush, and a small pack of facial wipes

A Camera for the amazing things that you may see
Packing for a road trip
A checklist for a 5-day road trip
When going on a road trip you can take a lot more things with you and you may need to depending on the size of your family, the location you are going to, and the type of accommodation you will be staying at.
When making a 5 day vacation packing list for a road trip, you need to have a few different checklists to make sure that your trip will be a success. You will need to have a checklist for your car itself, one for the items that you may need inside the vehicle, and then of course what to pack to take with you a checklist.
Your Vehicle Checklist
Your vehicle is up to date with its services

License and registration

Your vehicle's manual

A copy of your car insurance policy and the relevant contact numbers

Spare tire, spanner, and jack are in good condition

A working fire extinguisher

Your roadside emergency kit is stocked with

Battery Booster Cables,

Two Light Sticks,

Reflective Vest,

Emergency Rain Poncho,

Warning triangle,

whistle,

Tire Pressure Gauge,

Window Breaker etc.
Inside Your Vehicle Checklist
Paper maps for the times there is no cell service

A notebook, pen, and pencil

Spare money for road tolls

First aid kit with basic supplies such as band-aids, bandages, antiseptic, and safety pins

Flashlight

Bug spray

Large Water Bottles

Toilet paper

Umbrella

Bluetooth/Wireless hands-free kit for your mobile phone

USB charger

A great playlist

A book or e-Reader

Travel games to keep the kids entertained

Snacks and refreshments

Wet wipes
What to pack for a 5-day trip checklist.
First of all the best bags to use for a road trip are duffel bags as they are a lot easier to stack and squeeze into any car packing arrangement that you need. If you plan on stopping somewhere overnight, then pack a separate smaller bag with just your sleepover essentials and the clothes you will need for the next day so it is easy to grab and go.
While on a road trip it is best to wear clothes that are loose and breathable, and that you feel comfortable being seen in at stops. If you wear dark colors, it will be easier to hide dirt, stains, and wrinkles much better.
Packing for a road trip is exactly the same as packing as if you were flying on a plane, except with your toiletries, you will not have any restrictions on how much liquids and gels you are allowed to pack. Although you have the space to pack much more, it is not a good idea to pack too much extra because you probably will not wear the extra clothes but you will be giving yourself extra laundry to do when you come back home.
Coming up with a what to pack for a 5-day trip checklist depends entirely on where you planning on going to and with how many people there will be with you, what type of accommodation you will have, what sort of weather do you expect to have and what type of activities do you intend on doing. Always remember to double-check your list and try to not rush the process or you might forget something vital.
ESTIMATED TIME DESIGNING AND UPLOADING THIS ARTICLE
ESTIMATED TIME RESEARCHING AND WRITING THIS ARTICLE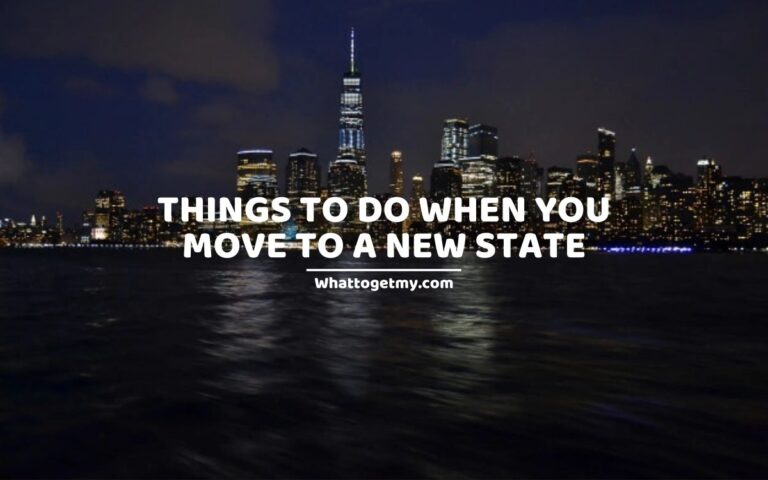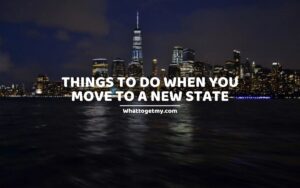 25 Things to Do When You Move to a New State
25 Things to Do When You Move to a New State WhatToGetMy Instructional Article Moving to a new state doesn't have to be as daunting as it normally would be. This article will help you navigate how to successfully move to another State by providing
Read More »