What to Pack for 6 Months Traveling?
WhatToGetMy Instructional Article
You've decided to finally go on once in a lifetime journey but you don't know what to pack for 6 months traveling. Don't worry, that's why we are here! We made a simple guide that includes all information and advice you need for long trips.
Quality packing will make your traveling easier. If you bring all the essentials while still traveling light, you'll avoid transportation and budget problems. How can you do this? With proper planning of course! Consider investing slightly more time to do research and plan your budget. Trust us, when you have everything covered, you won't have last-minute panic attack. Once it's time to go, you'll just grab your backpack and be on your way.
Before we get to the article, we'd like to mention this:
Did you know that you need less stuff for a

6 month round the world trip

than your 10-day vacation at the seaside? That's because you would be on the move the entire trip in the first case and more stationery on your beach vacation.

Don't stress too much about forgetting something. Forgot your toothbrush? No problem, get a new one. Didn't bring enough shirts, buy one more! Just make sure to bring your wallet and you'll be pretty much covered.

Compression bags can be a space saver if you use them properly. These bags can reduce the volume of your clothes by 30 percent!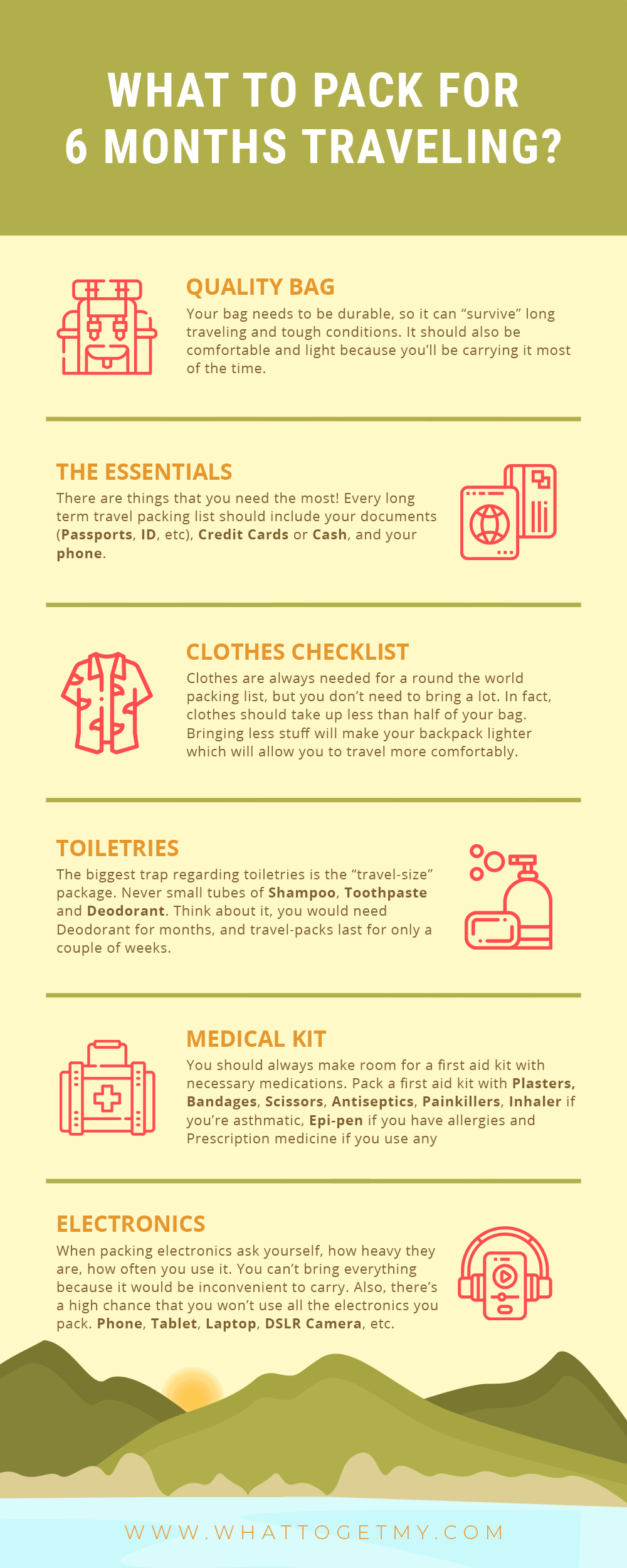 Source Link: https://whattogetmy.com/what-to-pack-for-6-months-traveling/
Get a quality bag first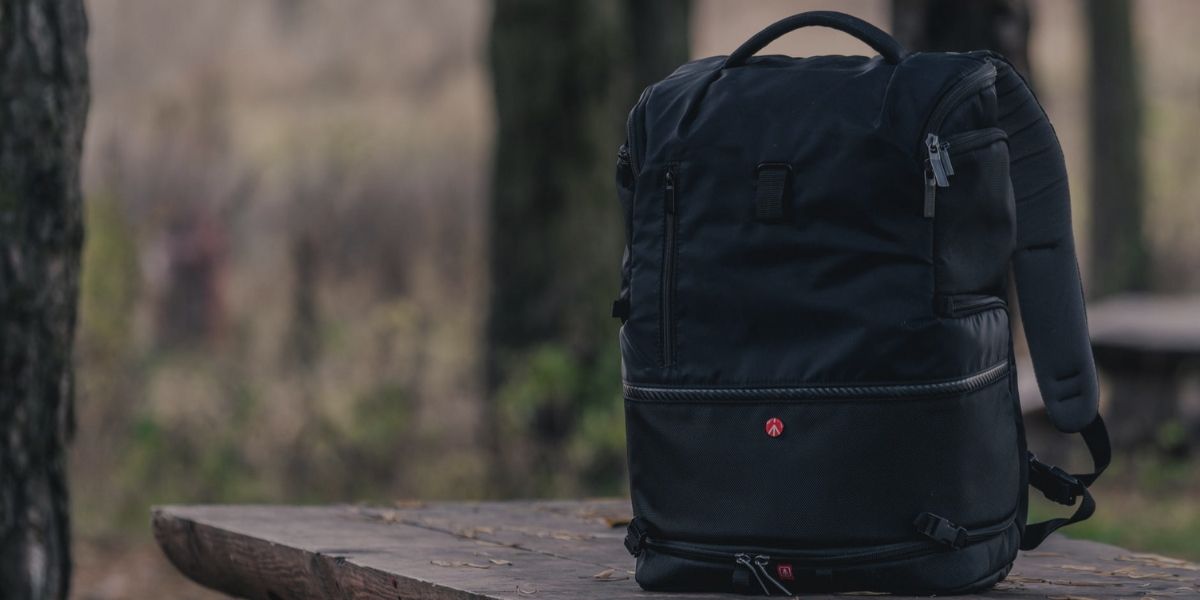 When you're moving from place to place all the time, your backpack becomes your home. It's the only constant thing in your life on the road, so make sure to choose the right one. Packing for 6 months traveling around the world becomes easier once you've got a quality bag.
Your bag needs to be durable, so it can "survive" long traveling and tough conditions. It should also be comfortable and light because you'll be carrying it most of the time. That's why you shouldn't hesitate to spend a few extra bucks for a travel backpack.
Also, try getting a smaller bag. If you have a lot of space in your backpack, you'll be tempted to fill it. However, having a heavy load on your bag isn't practical at all! A small bag will force you to make smart choices about the items you'll bring which will make your load lighter and carryable.
The essentials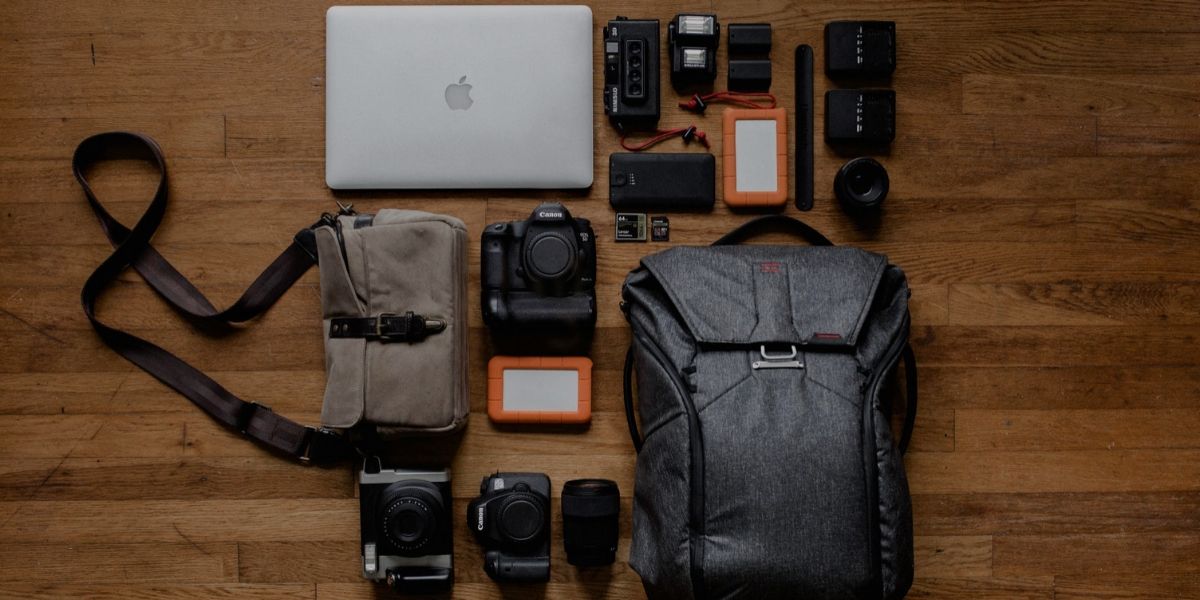 You can survive without lots of things on the road. However, there are things that you need the most! Every long term travel packing list should include your documents (passports, ID, etc), credit cards or cash, and your phone. Why should you put these things first on your list? Any problem that occurs can be solved when you have these items!
Besides cash, documents, and phone you should probably have other important things with you such as travel insurance papers, prescription medicines, contact lenses/glasses, and your charger. It's also a good idea to make copies of your documents or, better yet, take pictures of them which you'll email to yourself. In the worst-case scenario, you would just need to access your email and go to your country's embassy.
Clothes checklist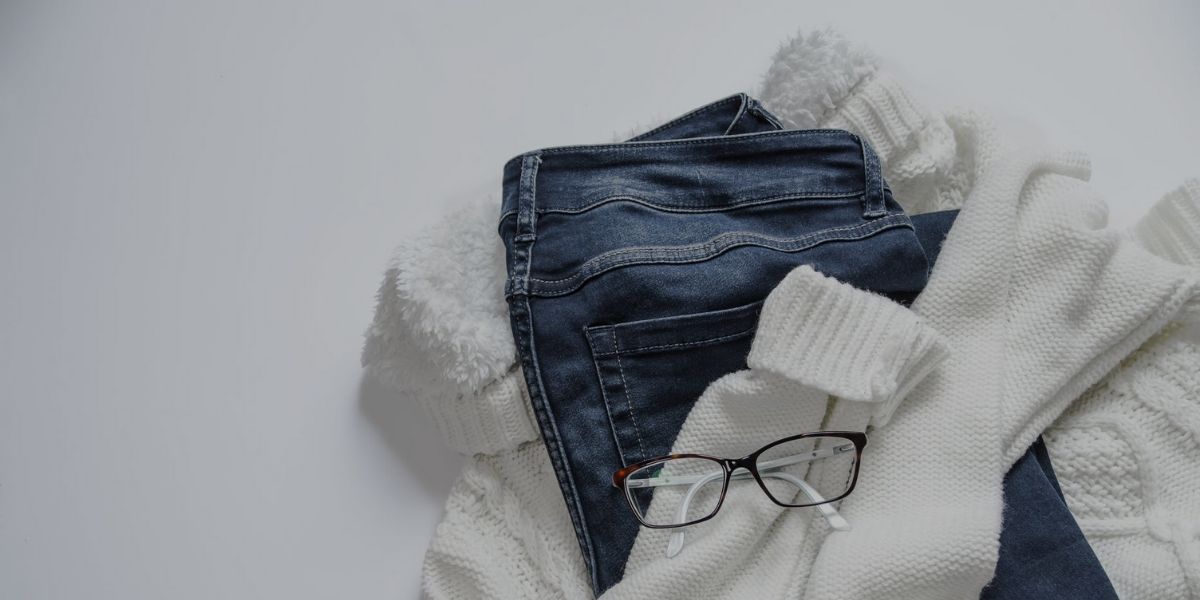 Clothes are always needed for a round the world packing list, but you don't need to bring a lot. In fact, clothes should take up less than half of your bag. Bringing less stuff will make your backpack lighter which will allow you to travel more comfortably. You would just need to do your laundry more often.
The basic 6-month packing list should include:
2 pair of comfortable pants (not jeans)

2 pair of shorts

4-5 shirts (long and short sleeve)

4 pairs of underwear

2 pairs of socks

1 light waterproof jacket

1 pair of shoes
This list will cover all your needs if you need laundry every week. Depending on the places you plan to visit you would have to bring less/more long sleeve shirts or pants.
You can pack additional things, of course, but try not to bring clothes you need "just in case". Only pack something you're absolutely sure you'll wear. If you don't know what to pack when traveling abroad, stick to the basic list recommended above.
Additional things you can bring:
Sandals, flip flops, or sleepers if you're going to the tropic areas.

Tank tops and collared shirts

Swimsuit

Baseball hat

Sunglasses

Hooded sweatshirt
Note that all these additional things are only necessary for certain occasions. You can always buy additional clothing items at the local stores if you really need them.
Toiletries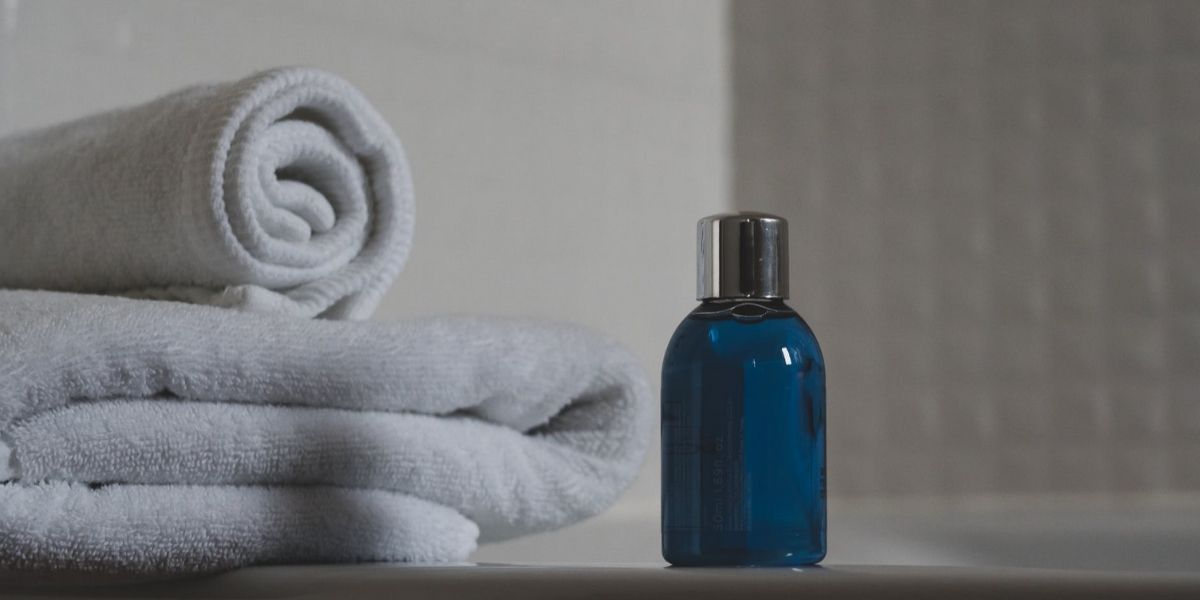 If you want to learn how to pack light for a 6 months trip, you need to figure out what your priorities are. You also have to make compromises and find creative solutions. For example, instead of bringing both shampoo and a shower gel, get one of those mixed products. You'll have just one bottle to carry and you'll save room in your bag.
The biggest trap regarding toiletries is the "travel-size" package. It might seem you'll save room in your bag with these, but they are expensive and only useful for shorter trips. When you ask "what to pack for a 6 months long trip" the answer is never small tubes of shampoo, toothpaste, and deodorant. Think about it, you would need deodorant for months, and travel-packs last for only a couple of weeks.
Here's what should you bring:
1 regular toothbrush (in a sanitized case)

1 tube of toothpaste

1 roll of dental floss

1 deodorant stick

1 bottle of body wash/shampoo

1 nail clipper

1 hairbrush

Tweezers, razors, trimmers, etc.
You might run out of some products but you can always get more in the local shops. People abroad use pretty much the same things as you do. We don't recommend bringing a lot of makeup and beauty products because they take too much room in your bag. If you really need to, just pack the essentials like powder, mascara, eyeshadow, lipstick, and body lotion.
Medical kit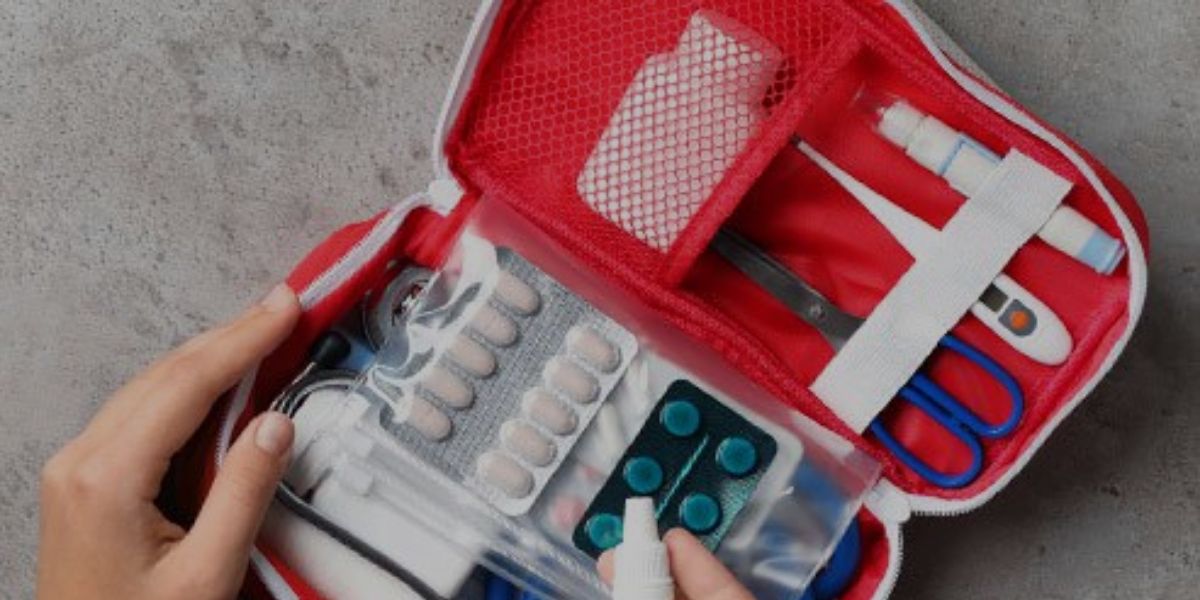 You should always make room for a first aid kit with necessary medications. However, take into account that you can get any medication in local pharmacies, so try to bring things you'll use in the case of an emergency. Doctors are everywhere and they're much more affordable abroad than in the USA, so don't worry too much about getting quality healthcare when traveling.
Pack a first aid kit with:
Plasters and bandages

Scissors and surgical tape

Antiseptics

Painkillers

Ibuprofen/paracetamol

Inhaler if you're asthmatic

Epi-pen if you have allergies

Prescription medicine if you use any
You'll use these items in case of an emergency and then you can go to the hospital or a pharmacy to get additional help.
Electronics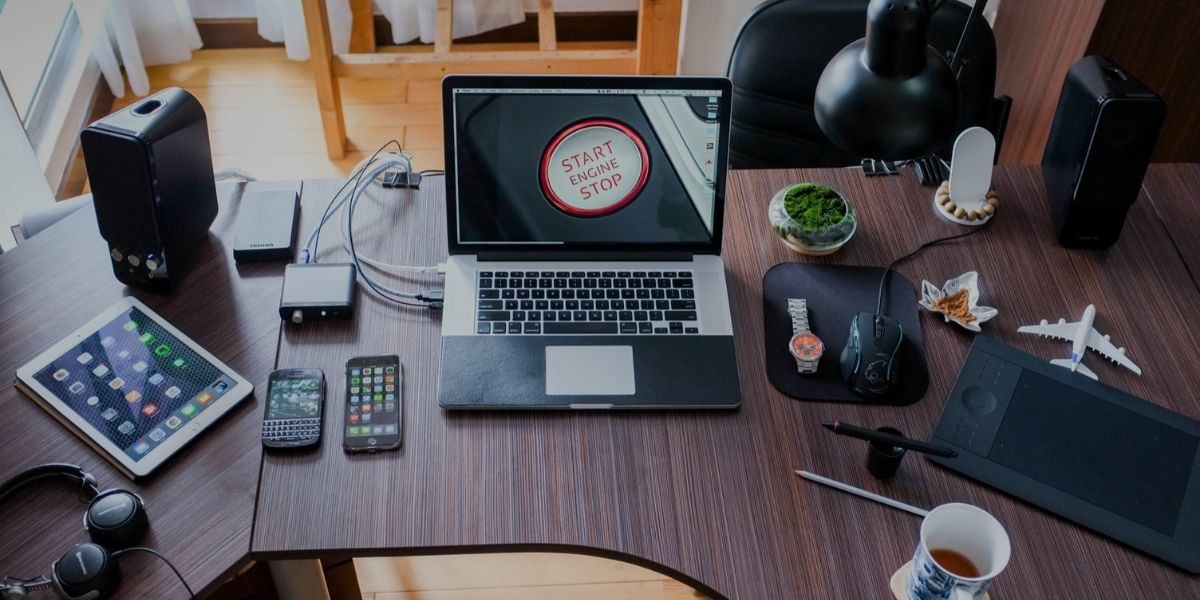 Are you wondering how to pack light for a long trip and still bring electronics? We'll remind you again – the key is prioritizing. Every item in your bag means you need to give up the other one, so naturally, you'll pack the stuff you need the most. When packing electronics ask yourself, how heavy they are, how often you use it, and will you need it in the next 6 months.
A lot of travelers take only two devices for 6-months trips. You can't bring everything because it would be inconvenient to carry. Also, there's a high chance that you won't use all the electronics you pack. You should choose two things that you need the most. That seems pretty much reasonable, right?
Phone
Smartphones are so useful that it would be a huge mistake not to bring one. You'll have access to the internet and communication with friends, maps, music, camera, and lots of other needed things for pleasant travels. Phones can even replace e-readers, music players, and other tech gadgets, so it's really the best choice for a lot of people.
Tablet
Some people like tablets which they use instead of phones. You can't quite fit them in a pocket but they are more convenient for reading books, listening to music, browsing the internet, etc.
Laptop
Unless you need it for work, it's advised not to bring your laptop. It's a huge liability because they are fragile and heavy. Laptops are also targets for thieves and you don't want that trouble on your mind all the time. However, if you want to make extra money with freelance work on the road, you should definitely bring your laptop.
DSLR Camera
Only professional photographers should bring a DSLR camera because a quality camera brings the same kind of liability as laptops. It's heavy, damageable, and a target for theft. You would also need lenses, batteries, flashes, chargers, and other things that follow, so you need to ask yourself is it worth the space in the backpack? Also, a lot of smartphones have very good cameras that can deliver beautiful pictures.
MP3 Players
Music players are cheap and easily portable. They can last days without recharging, so you might want to have them around to prevent your phone battery from draining too quickly. If you're a huge music fan, load one music player with a few hundred songs and podcasts, and you'll be covered.
E-readers
You can read e-books on your phone/tablet but that will drain the battery if you read all the time, so you might want to consider bringing a reader. Just remember, choosing one item means giving up on another, so choose wisely.
Don't pack
As we already said, pack everything you think you'll use. It's that simple. Don't pack the things you think that you might need sometimes. It just isn't worth the extra weight.
You probably won't need:
Hiking boots – a good pair of shoes are enough

Hairdryer – most hotels have them

Bug spray – it's cheap so, if you really need it, you can buy it

Towels – hotels have them

Batteries – do you even have battery run items?

Money belts – thieves look for them

Jewelry – only bring jewelry you don't mind losing.
You get the point, right? Everything that isn't necessary, should stay home. You can, of course, bring something from this list if you want. Realize what are your needs and try to cover them. You need to make room for those travel gifts too, right?
Keep your things safe
Everyone has something valuable when traveling. That can be a phone, documents, or credit cards. Try to keep these things near you all the time. If that's not possible, try getting anti-theft bag protectors. They would help you keep everything under control, so you can travel without excessive worries.
Frequently asked questions
How much money do you need to backpack for 6 months?
Everything depends on the locations you plan to visit, your accommodation, lifestyle choices, etc. People recommend having at least $10 000 in your bank account before leaving. However, with smart budgeting you can spend much less money than this.
Do I need medical insurance while traveling?
If you travel a lot, you should definitely consider buying medical insurance by the year (or per six months).
What happens if you lose your passport while traveling?
You need to replace your passport as fast as possible because you need it to continue your travel and cross the borders. Visit the nearest embassy or consulate and report a stolen/lost passport. They'll instruct you what to do next.
Conclusion
We hope this answers your questions about what to pack for 6 months traveling. It's not easy packing for such a long trip, but making a plan is half the work. Take into consideration your budget and the locations you're going to visit and you'll have the most convenient and comfortable backpack.
If you haven't decided what places you'll visit, check out our article on beautiful affordable countries in Europe.
ESTIMATED TIME DESIGNING AND UPLOADING THIS ARTICLE
ESTIMATED TIME RESEARCHING AND WRITING THIS ARTICLE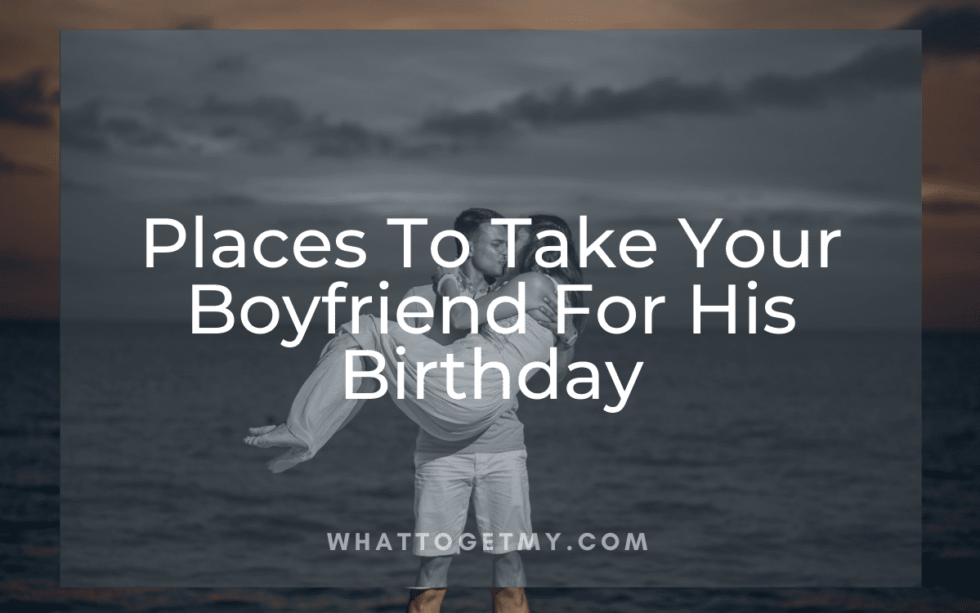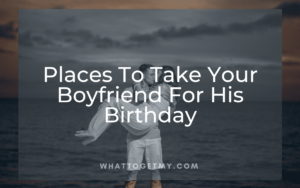 Places to Take Your Boyfriend for His Birthday
Places To Take Your Boyfriend For His Birthday WhatToGetMy Instructional Article If you're having a hard time deciding on places to take your boyfriend for his birthday, we got your back! A little help always comes handy, especially when looking for ways to surprise your
Read More »