Top 10 Most Affordable Places to Live in Europe
WhatToGetMy Instructional Article
The cost of living in different parts of Europe varies. We've found 10 most affordable places to live in Europe according to popular opinions. Some people move to Europe to retire. Others need a big change in life. Whatever your reasons are, you need to gather all information before making a decision.
We'll provide you a brief description of each place with the addition of the average cost of living. Don't be confused with the order of the list. This is not a ranking list because all places are beautiful. Everything depends on what your needs are and what suits your lifestyle the best.
Before we get to the list, we'd like to mention a few things:
If you like more than one country, consider visiting each one to compare. You can find apartments via renting apps and stay in them a month (or more if needed). Hotels are always an option, but if you want to explore a lot of places you need something more affordable.

Ask your friends and family for an opinion before you decide to move. They might have more useful information and advice. 

We can't answer you

how much it costs to live in Europe

with absolute precision. Everything depends on your lifestyle choices. We put the average amount needed for a comfortable life but in some of these countries, you can live with 300-400 euros a month if you plan your budget carefully.

You can be sure that any choice you make will give you a fresh start, so you can experience other lifestyle options.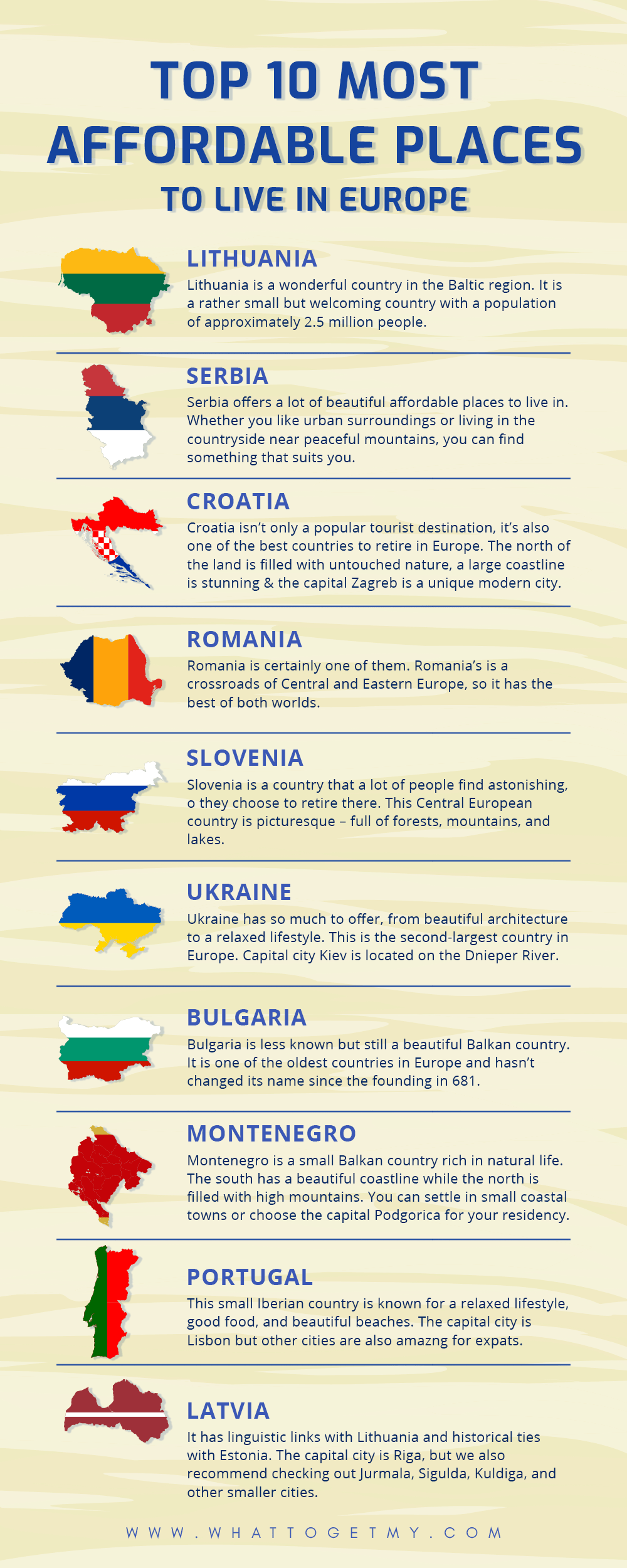 Source Link: https://whattogetmy.com/most-affordable-places-to-live-in-europe/
Lithuania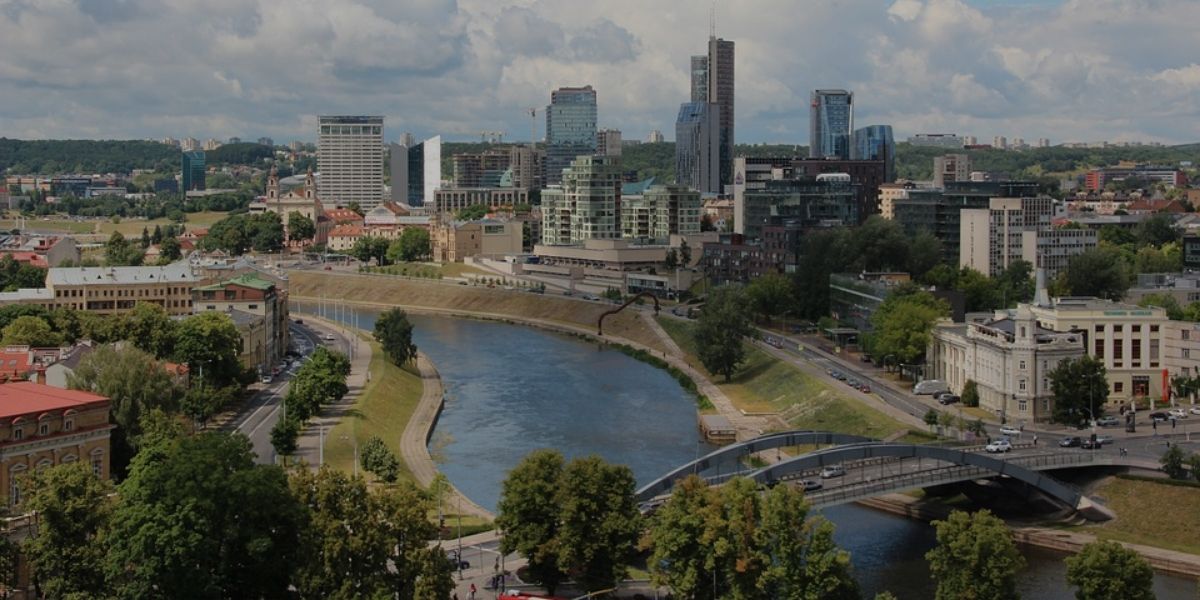 Lithuania is a wonderful country in the Baltic region. It is a rather small but welcoming country with a population of approximately 2.5 million people. Their capital city Vilnius has around 500 000 people.
Prices
Lithuania has a high standard of living but it's still affordable. Your monthly expenses could be around 700-800 euros. For reference, you can enjoy a nice three-course meal in a restaurant for less than 30 euros.
Weather
Lithuania's climate ranges between oceanic and continental. The average temperatures on the coast are 27.5°F in the winter and 61°F in the summer. However, winters can be much colder in the east of Lithuania.
Culture
Lithuania was influenced by Nordic, Germanic, and Slavic cultures. Lithuanians nurture their traditions and have a strong connection to the land. On holidays you'll hear folk music and enjoy the smell of unique eastern cuisine.
Serbia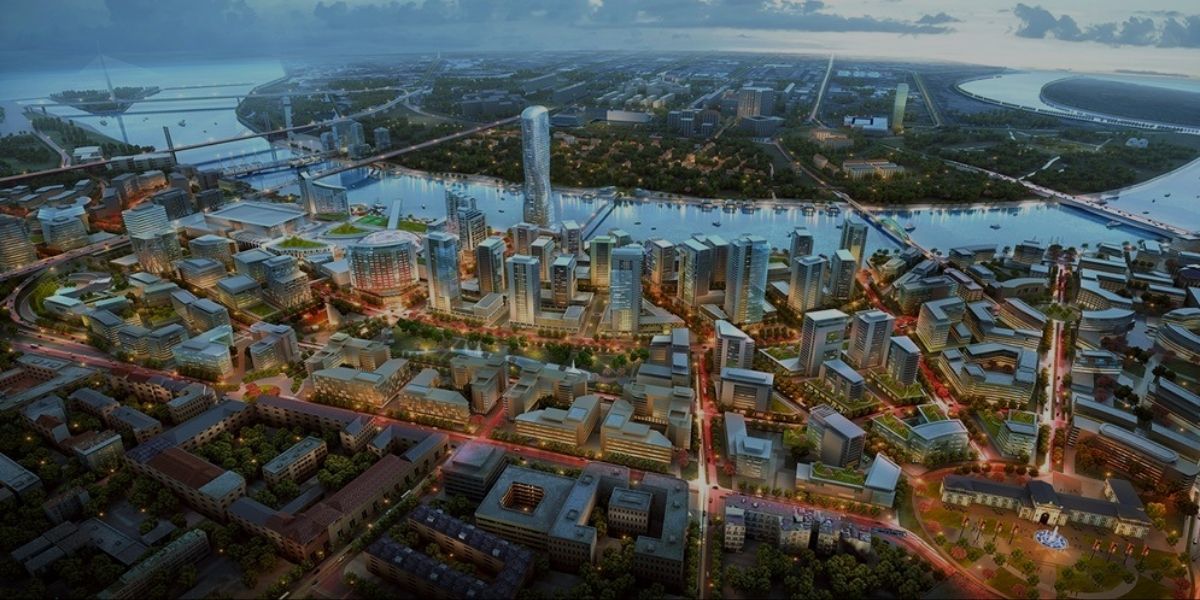 A lot of people have prejudices against Balkan countries but you won't find a more vibrant and exciting region than this. The nations take pride in their history and the people are friendly and welcoming to foreigners.
Serbia offers a lot of beautiful affordable places to live in. Whether you like urban surroundings (Belgrade, Novi Sad) or living in the countryside near peaceful mountains (Zlatibor, Tara, Kopaonik area), you can find something that suits you.
Prices
Monthly expenses in Serbia are around 600 euros. This depends on your lifestyle choices and location of residence. Belgrade is naturally the most expensive city while the country's south areas are much more affordable. You can have a quality dinner in a restaurant for less than 20 euros.
Weather
Serbia has a mild continental climate (distinct seasons, warm summers, snowy winters). The north of the county is warmer with less snowing in the winter and more heat in the summer. Throughout the year, the temperature typically varies from 28°F to 84°F.
Culture
Serbia has a rich history and culture. Its culture is shaped by centuries of merging different traditions and ethnic groups. Slavic traditions are mixed with Greek, Middle Eastern, and Mediterranean influences. This reflects on food, lifestyle, beliefs, etc.
Croatia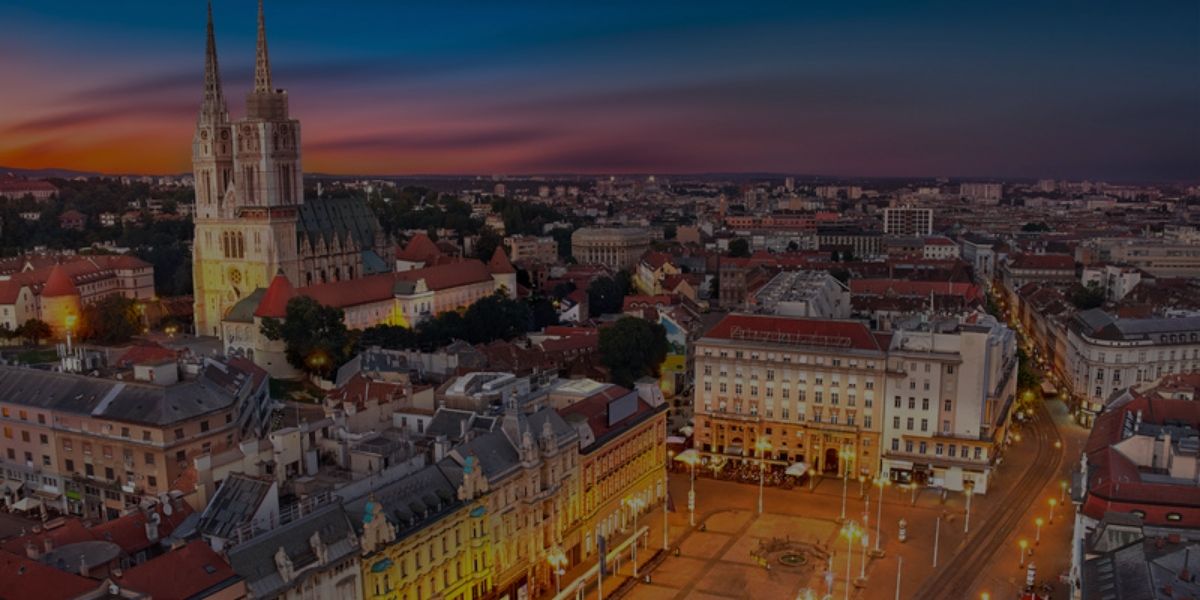 Croatia isn't only a popular tourist destination, it's also one of the best countries to retire in Europe. The north of the land is filled with untouched nature, a large coastline is stunning, and the capital Zagreb is a unique modern city.
Prices
The prices in Croatia depend on the location. The cost of living in cities near the sea and the capital can go above 1000 euros, while other parts of the country are much more affordable. You can cover all your expenses by around 800 Euros.
Weather
Croatian climate can be divided into three regions. The Adriatic coast has a Mediterranean climate (cool, rainy winters with hot, dry summers). In the north are the lowlands with a continental climate and central Croatia has a sharp mountain climate due to the Dinara mountains.
Culture
The culture of Croatia has roots in a long history. Croatians have been inhabiting the area for fourteen centuries, but they were on the strong influence of the Austro-Hungarian Empire, so their Slavic traditions are mixed with western culture.
Romania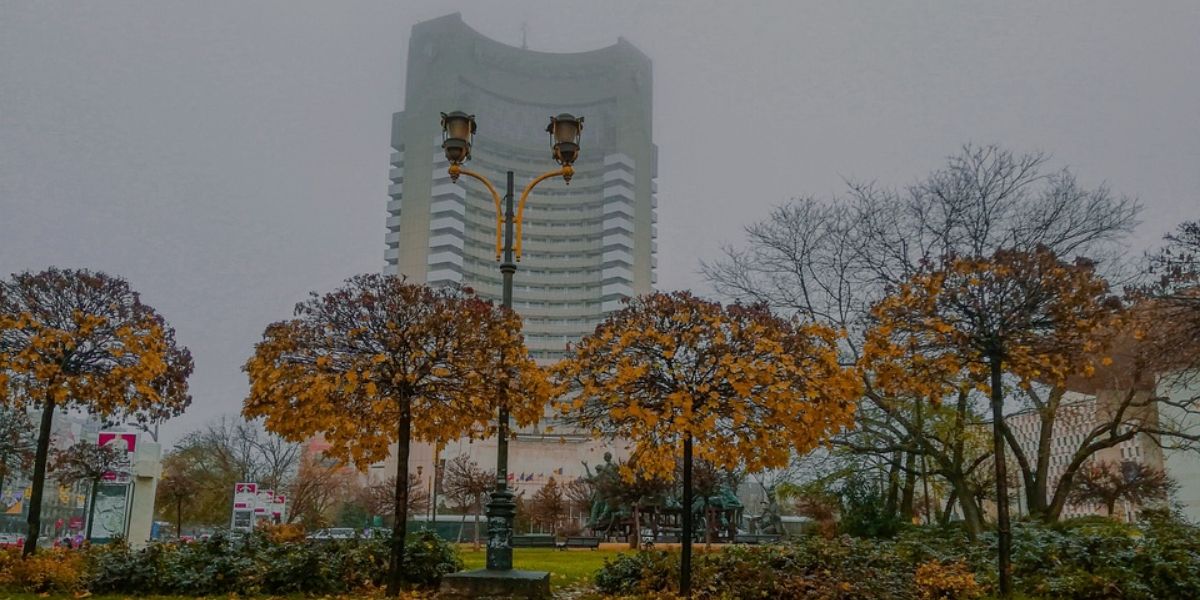 There are a lot of inexpensive places to live in Europe and Romania is certainly one of them. Romania's is a crossroads of Central and Eastern Europe, so it has the best of both worlds. This country is filled with natural beauty, so there are a lot of living options for expats. The capital is Bucharest, a modern cosmopolitan city but if you prefer to live on the seaside, you might like Constanta. For options in the mountains check out Brasov or Sibiu in the Transylvania region.
Prices
Your expenses would be around 600 euros. This depends on the location you choose, so we suggest you check the prices of each city you're interested in. North of the country is more affordable and the capital Bucharest is, of course, more expensive. 
Weather
Romania has a continental climate with very distinct seasons (hot summers, rainy autumn, cold winters). The Black sea area has slightly higher temperatures, throughout the year. In the Carpathian region the weather is harsher (cold winters, frequent snowfalls, summer thunderstorms).
Culture
Besides amazing landscapes and Dracula castles, Romania has a very vibrant culture. Its folklore is rich with myths and interesting stories that circulate widely amongst the population. Romanians tend to be reserved and shy but once they open up, you can easily make friends. 
Slovenia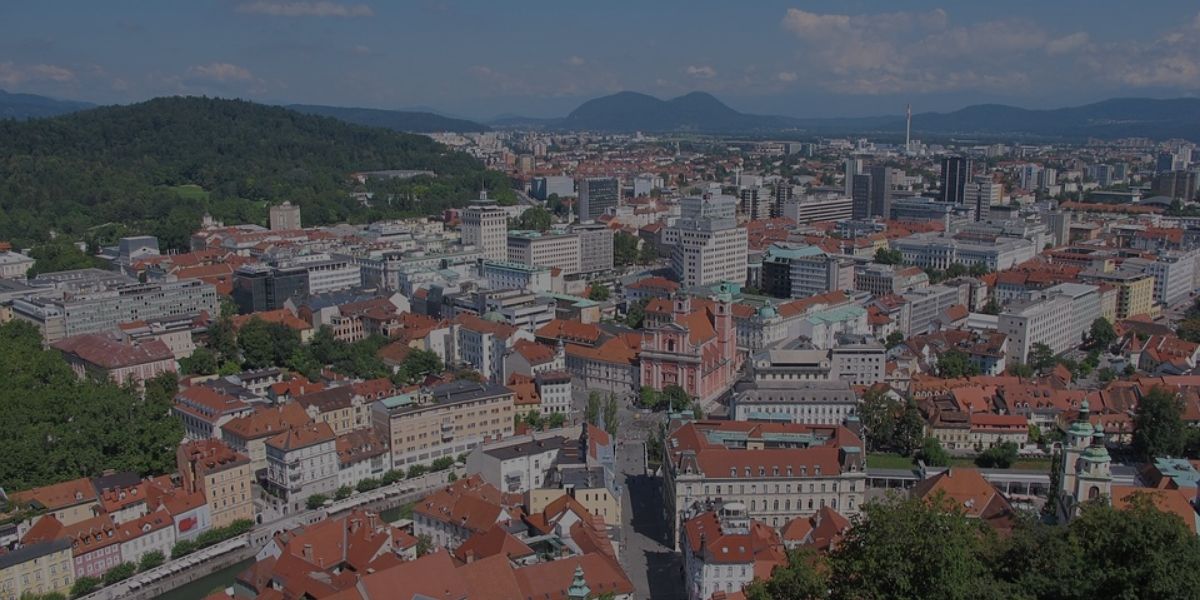 The best European country to retire doesn't exist. Everything depends on your personal needs. However, Slovenia is a country that a lot of people find astonishing, so they choose to retire there. This Central European country is picturesque – full of forests, mountains, and lakes.
Prices
Slovenia is more affordable compared to nearby Switzerland, Austria, and Italy, but it's more expensive than most countries in Eastern Europe. Monthly expenses could be around 1200-1300 euros.
Weather
Slovenia has a surprising variety of climates. Continental climate is in the northeast, a severe Alpine climate in the mountain regions, and a sub-Mediterranean climate in the coastal region. In the capital Ljubljana, the temperature varies from 59.9°F to 81.1°.
Culture
Slovenia is on the crossroad of the Slavic, Mediterranean, and Germanic countries. Naturally, the culture is rich and colorful. Traditional events have intervened with cosmopolitan festivals, so we're sure you'd find this mix of spheres refreshing.
Ukraine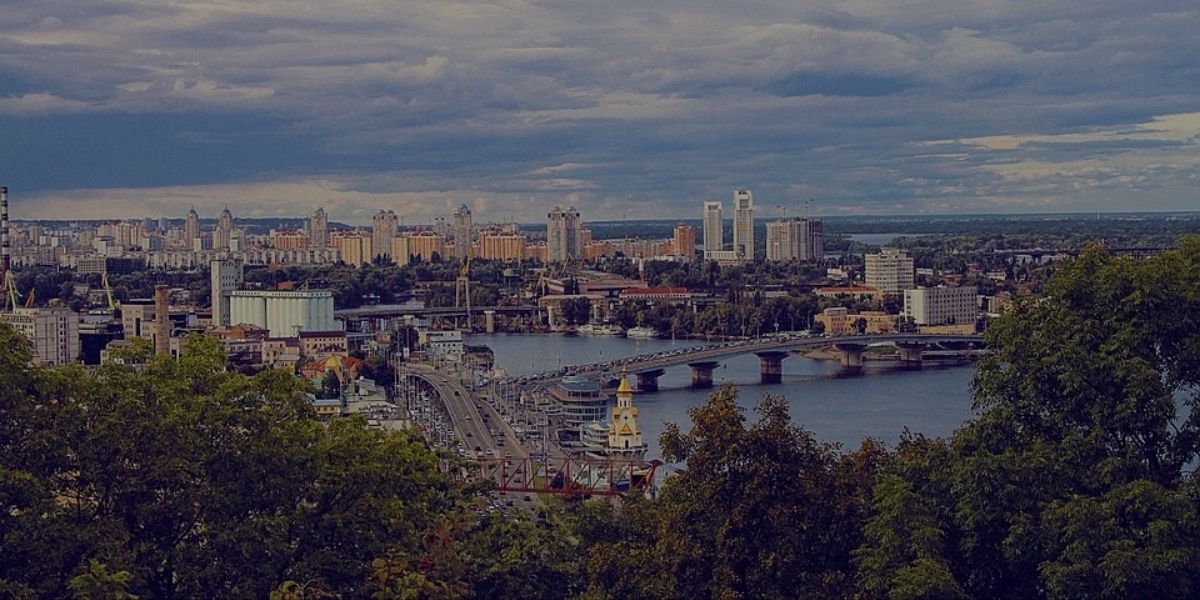 Ukraine has so much to offer, from beautiful architecture to a relaxed lifestyle. This is the second-largest country in Europe. Capital city Kiev is located on the Dnieper River.
Prices
Ukraine is pretty affordable for living. Monthly expenses are around 600 euros depending on the region. Kiev is more expensive than other cities, with rent prices of 300-500 euros.
Weather
Ukraine mostly has a temperate climate with average annual temperatures that range from 41.9–44.6 °F in the north, to 51.8–55.4 °F in the south.
Culture
Ukrainian rich culture was influenced both by Western Europe and Russia. If you're keen on exploring the culture, you'll have your hands full with lots of museums and interesting architecture. Ukraine has a lot of World Heritage Sites. For example an 11th-century Saint-Sophia Cathedral in Kiev, the ancient city of Chersonesus, and the primeval beech forests of the Carpathians.
Bulgaria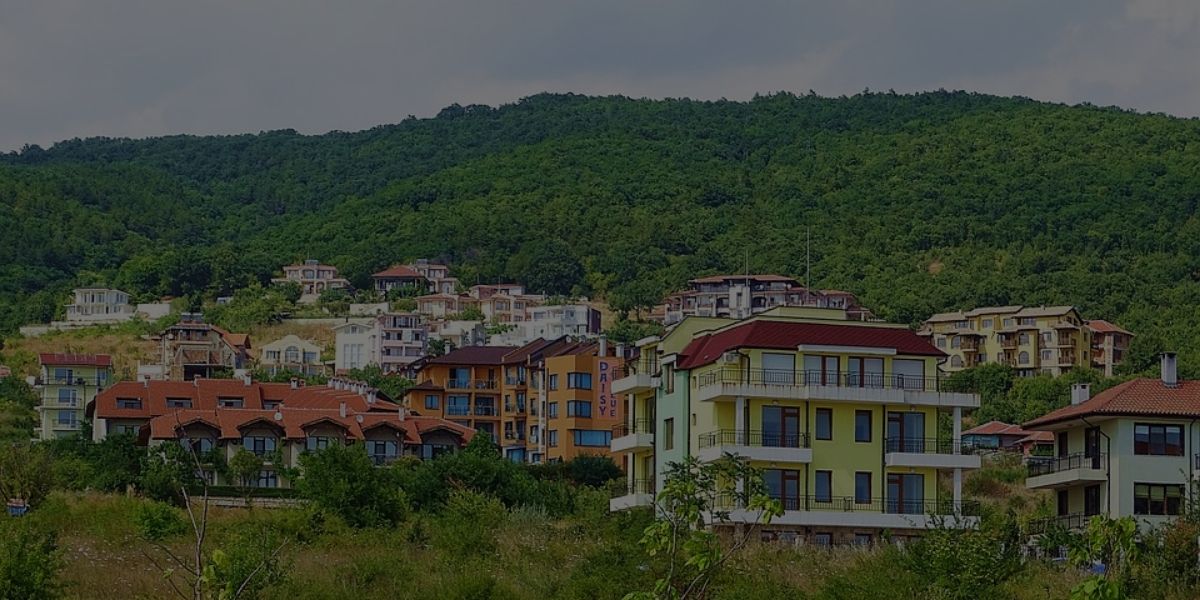 Bulgaria is less known but still a beautiful Balkan country. It is one of the oldest countries in Europe and hasn't changed its name since the founding in 681. For your residency, you can choose urban cities like Varna or Sofia or explore the countryside and the mountains.
Prices
Bulgaria is pretty affordable for expats (around 800 euros for monthly expenses). For example a three-course meal for two people in the capital city isn't more than 30 euros.
Weather
Bulgaria has a temperate-continental climate with hot summers and long, cold winters. The hottest month is August with 71 °F on average and the coldest is January with 32 °F.
Culture
Bulgarian culture is a mix of Thracian, Slavic, and Bulgar traditions. Many ancient customs still remain such as fire dancing. Bulgarians nurture their history, so you'll notice lots of ancient remains preserved in urban surroundings.
Montenegro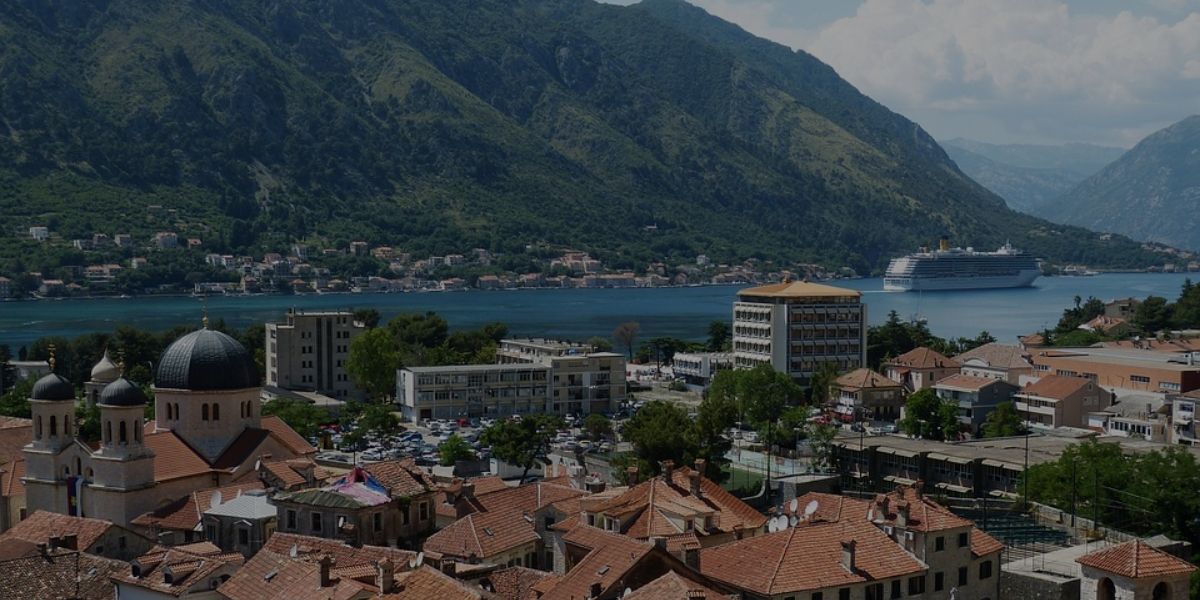 Montenegro is a small Balkan country rich in natural life. The south has a beautiful coastline while the north is filled with high mountains. You can settle in small coastal towns or choose the capital Podgorica for your residency.
Prices
To live more comfortably in Montenegro you would need less than 700 euros monthly. The prices tend to get higher as you move closer to the sea.
Weather
Montenegro has a Mediterranean climate on the coast. Moving inland the climate becomes continental with colder winters. The average temperature on the coast in the summer is 81°F and in the winter 44°F.
Culture
Montenegro's culture is very diverse due to its rich history and unique geographical position. It's influenced by Ancient Rome, the Byzantine Empire and the Ottoman Empire in the early stages and by Austria-Hungary and Yugoslavia later.
Portugal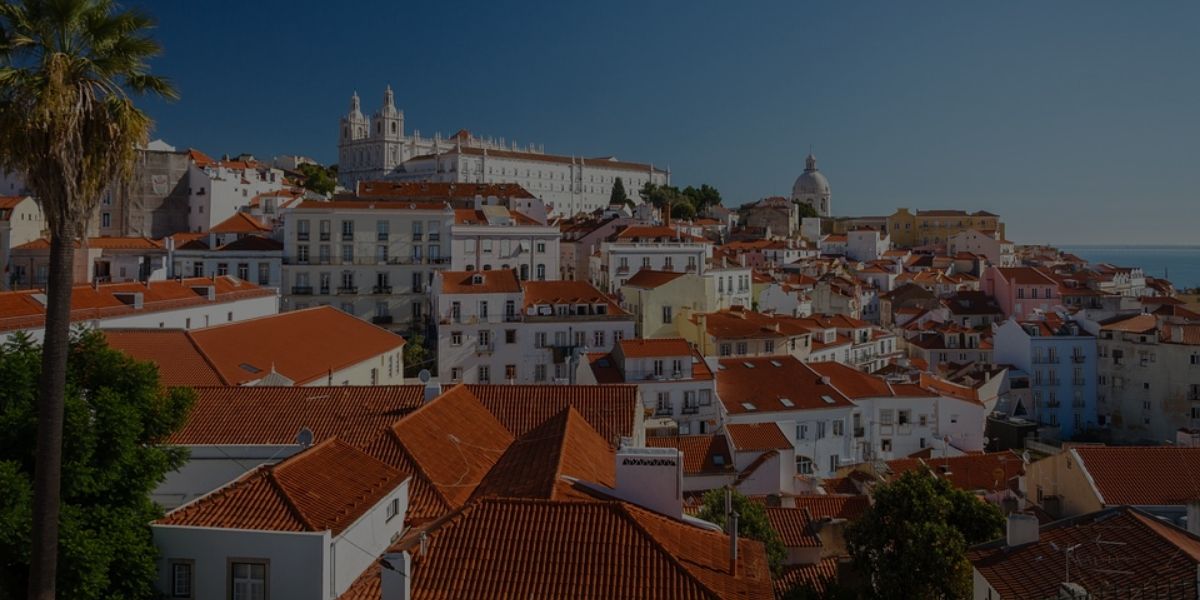 This small Iberian country is known for a relaxed lifestyle, good food, and beautiful beaches. The capital city is Lisbon but other cities (Porto, Coimbra, Braga) are also amazing for expats.
Prices
Portugal isn't one of the cheapest European countries to live in but it's very affordable. You can live under 1200 euros per month if you choose the countryside while for the major cities you would need around 1400-1500 euros.
Weather
Portugal has a Meditareneian climate with hot summers and mild wet winters. In Lisbon, the average temperature throughout the year varies from 52°F to 74°F.
Culture
If you want to explore the culture of Portugal start with castles and cathedrals and move to amazing food and wine. Portugal's culture has many influences, including Celtic, Lusitanian, Phoenician, Germanic, Visigoth, Viking, Sephardic Jewish, and Moorish.
Latvia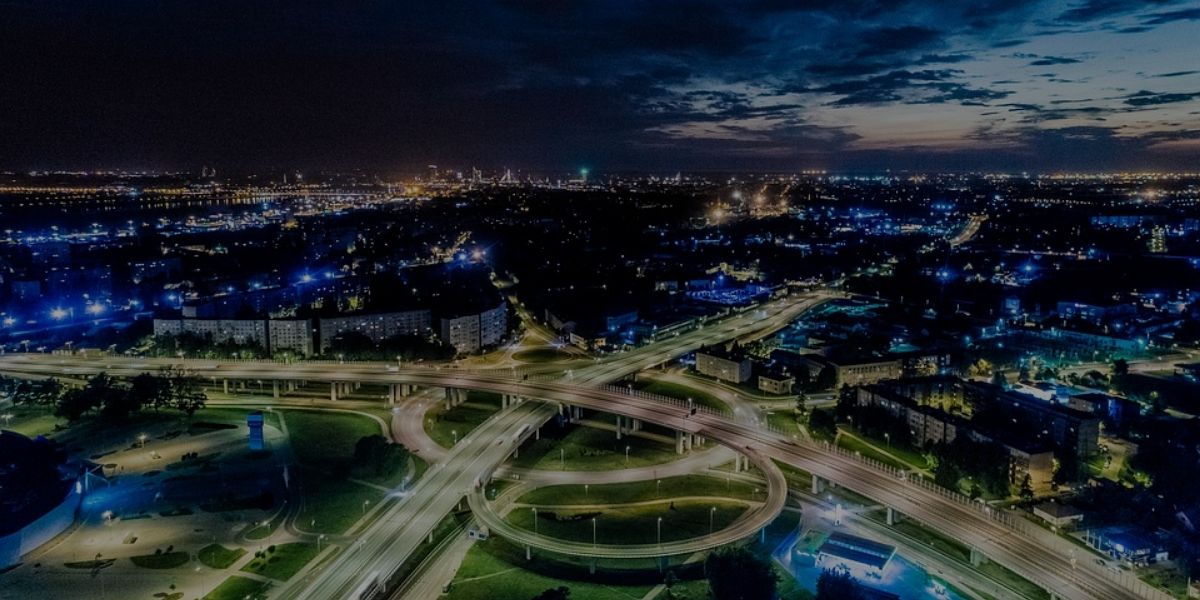 One more Baltic on the list is beautiful Latvia. It has linguistic links with Lithuania and historical ties with Estonia. The capital city is Riga, but we also recommend checking out Jurmala, Sigulda, Kuldiga, and other smaller cities.
Prices
It might not be the least expensive place to live in Europe, but for a comfortable life in Latvia, you won't need more than 800 euros per month.
Weather
Latvia has a typical European continental influenced climate with warm, dry summers and severe winters. The average temperatures are 27°F in winter and around 63 °F in the summer.
Culture
A lot of nations (such as German, Swedish, and Polish nations) have influenced Latvian culture. Latvians nurture the traditions of their ancestors, from folklore to art crafts. Modern Latvian lifestyle transformed unique traditions creating amazing events such as the Latvian Song and Dance Festival.
Conclusion
We hope that our list of the 10 most affordable places to live in Europe will inspire you to look into these amazing places. Brief descriptions of the countries should offer you enough information to continue your pursuit of the place of your future residence.
Visit some of the countries you like and be sure to bring the company that will give you another perspective on the choice of your future country. You can invite your friends or family to travel together by giving them a unique travel gift.
ESTIMATED TIME DESIGNING AND UPLOADING THIS ARTICLE
ESTIMATED TIME RESEARCHING AND WRITING THIS ARTICLE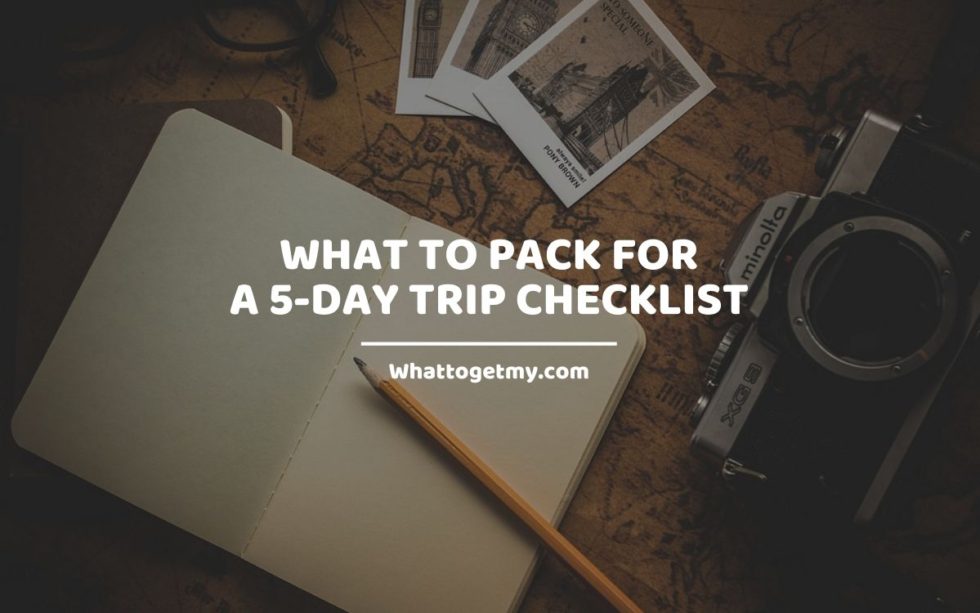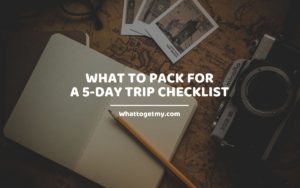 What to Pack For a 5-Day Trip Checklist
WHAT TO PACK FOR A 5-DAY TRIP CHECKLIST WhatToGetMy Instructional Article It is almost time for your trip that you planned months ago and all that is left to do is to pack your bags. You don't want to leave any of the essentials out
Read More »