13 Fun Things to Do at the Beach for Adults
WhatToGetMy Instructional Article
Work hard and party harder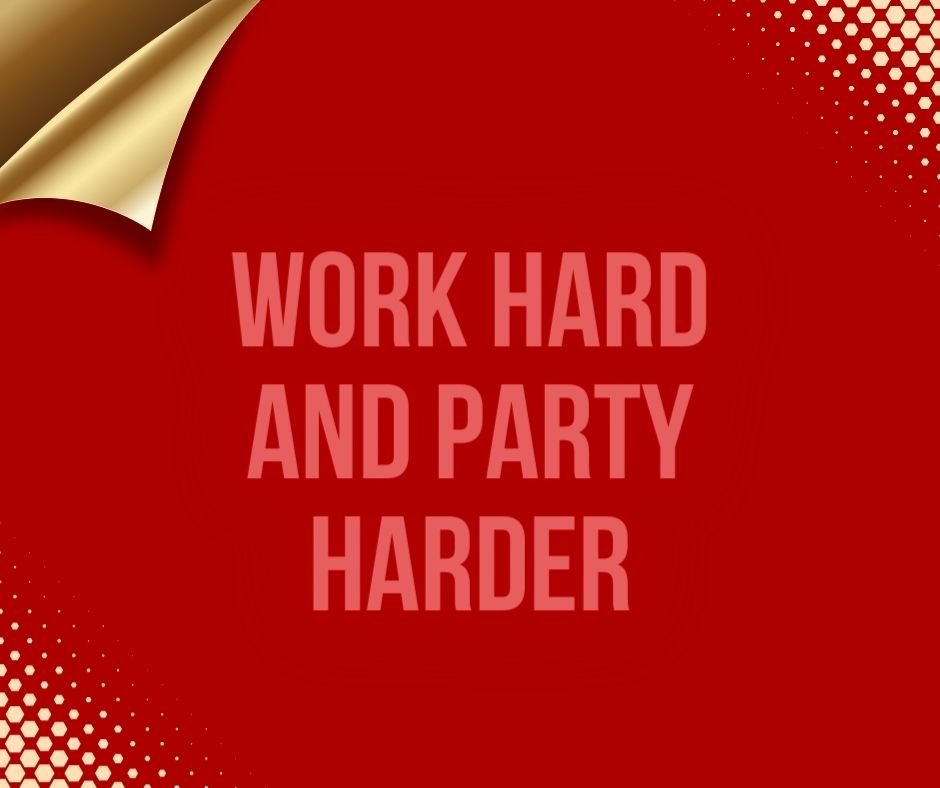 Who says kids are the only ones to party hard on the beach? There are many beach activities for adults. You can enjoy the beach and have fun whether with your friends or family. Before planning for the beach, you need to understand things to bring on the beach for vacation.  What are the cool things to do on a long beach? Below are the type of fun things to do at the beach for adults;
1. You can have a coffee
It may seem weird how you having coffee is a fun thing to do at the beach. The noise from the beach most times can be annoying and we all deserve the peace and silence that comes while enjoying the beach. You can put trying the coffee shop on your beach activities for adults. Most coffee near the beach often offers the best coffee, which can serve as your tasty treat while other activities on the beach are going on.
No one wants to be forgotten, and we all want to feel young again once in a while. If you find out that the best place to have fun on a beach is through their coffee shop, don't hesitate to have the finest brewed coffee.
2. Try some Gelato
Ice cream is one of the major food found on a beach; you might want to try and please yourself with Gelato. As long as you find it a cool thing to do on a long beach, there is no problem. The weather might be hot, and you might decide to cool off with Gelato after engaging in some activities that made you become dehydrated. Chilling off with a good Gelato can be the solution to your problem.
Most areas around the beach often have good ice cream or Gelato stand, having a taste of it can be the best thing that can ever happen to you while visiting a beach. Research from statista shows the Number of people spending general leisure time at the beach in the United Kingdom.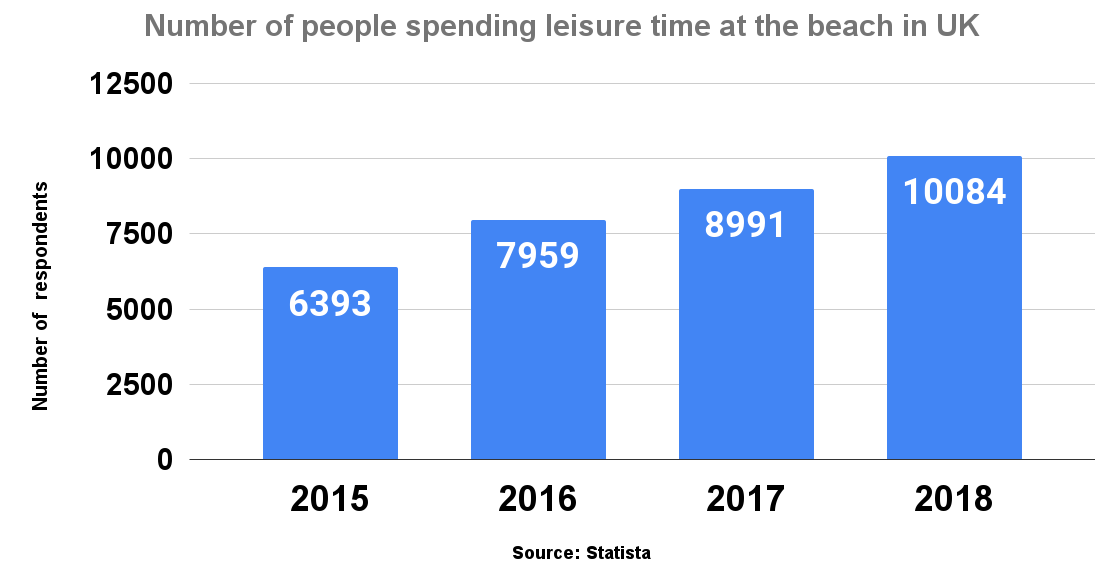 3. Eating some locally caught fish is great
There is no better experience than eating fish caught by fishermen in the area, and if the fish is caught within an hour or two, it means you are getting fresh fish. Many beach sides have a lovely restaurant whereby you can go and have the best day of your life simply by eating freshly caught fish.
Calamari fish is one of the greatest fish to eat in a restaurant close to a beach.
4. Organize or join a beach party
There are a lot of beach activities for adults; you can join or create one for family and friends. The party can be an indoor or outdoor beach-themed party; it all depends on your idea and how you want the party to be organized. Note that a great beach will always be relived in most people's memory, which means you have to organize the best beach party ever. Examples of beach themed party ideas for adults include:
Play Balloon Volleyball

Playing with sand

A photo scavenger hunt
5. Skinny dipping is great to try out
If you are brave enough, swimming on the beach naked is one of the most daring and exciting things to do on a beach. The cold water swimming is one of the experiences most people love to try, the wave coursing through your body without any restriction whatsoever is the best feeling ever.
You can also engage your family and friends in this type of beach activities. After all, everyone is on the beach to enjoy themselves. It will be daring to see everyone swimming naked while having fun on the beach.
6. Try the bar
Grabbing a cocktail at the bar while at the beach is not something bad to do. You can enjoy the beach view while sipping a cocktail in your hand, as long as you are having fun while sipping cocktail should be one of the greatest things to happen as beach activities for adults. 
In the most coastal area, the beach always has a great bar that does produce the best cocktail in the area. Also, be mindful of not drinking too much during hot days while the aftermath is not always interesting on the beach.
7. Sunbathing
No one goes to the beach without their lotion for sunbathing, and this is also a beach activities for adult that is very common to everyone. Since beach is the perfect place for sunbathing, these activities go hand in hand with anyone who decides to participate or create fun activities on the beach.
You can enjoy the whole sunbathing with a deck chair and your lotion. Imagine your shade on plus lotion rubbed all over your body while sunbathing. There is no feeling greater than these activities.
8. Picnic
What are the greatest activities to have on a beach? A picnic, wining and dining on a beach is always full of joy and a lot of experience to follow. The ray of sunshine and the sound of seagulls calling over the skies always make a picnic on the beach much more interesting and appealing. 
The food and the wine are the main attraction for the picnic, while the beach as an environment is the side attraction; either way, as long as you are having fun, there is no cause for alarm.
9. Bonfire on beach
A bonfire with friends and family is one of the cool things to do on long beach. There is nothing more exciting than a bonfire set, and everyone gathered around it to tell their stories or just hang out around it. The joy of having a bonfire set up while staring as the wood burn away with your loved ones is the greatest experience that can be relived over and over again.
Combining the overlapping sound of the waves plus the spark of fire coming from the bonfire is one of the best things that can happen to any adult who decides to have fun on the beach.
10. Rock walking
Walking on the rock should be done with caution. It is one of the fun activities to try while on the beach. Not only will you learn how to hop on the rock but you will see the wonderful creatures of the sea like crabs, fishes and other mollusks. You can enjoy your rock walking by avoiding any necessary dangers that might come with it. 
Beach fun is always great at the time but if you are not careful, getting injured is one of the things that might happen to you.
11. Sand art is great
Sand is a medium that is always ready for everyone to use. To show your artistic ability or engage in fun activities to do at the beach, with all the necessary tools to make your art colorful and great.
The sand can also bring out your artistic view, whether you are an artist or not, as long as you have fun on the beach while using art as a medium.
12. Jet skiing is awesome
How to have fun on the beach is through jet skiing. It is not expensive to use since the Jet Ski is always on hire; there is no license required before you can ski. But it will be preferable to practice how to ski first before going full mode on it. The injury often caused by skiing is bad and lasts long. To avoid ruining your day at the beach, always practice before going for a ski.
13. Boat party
The only way to have fun on the beach is by throwing a wild beach party in a boat. Suppose you and your friends don't have enough money to own a yacht. There is a way for you to rent a boat while having fun on the beach. The best way to have a party without getting worried about anyone is through a boat party; there is no restriction to what you can do.
THINGS FOR ADULTS TO DO IN MYRTLE BEACH
Myrtle Beach is a vacation resort located on South Carolina's Atlantic coast; this place is also known for its designed golf courses and has a lot of fun things to do at the beach for adults, which include:
The beach

Parasailing

Fishing charters

Escape rooms

Jet ski rentals

Kayaking

Surfing

Dolphin cruises

Exploring state parks

Laser tag

Segway & bike rentals

Helicopter rides

Horseback riding

Zoos & wildlife attractions

Educational attractions for kids

Art museums & galleries
VIRGINIA BEACH ACTIVITIES FOR ADULTS
Virginia Beach is a great place and is located in the metropolitan area of Hampton road. According to the Guinness book of record, it is the city with the pleasurable beach in the world. If you are looking for fun things to do at the beach for adults, these include:
First Landing State Park

Virginia Beach Boardwalk

Sandbridge Beach

False Cape State Park

Virginia Aquarium and Marine Science Center

Virginia Museum of Contemporary Art

Cape Henry Lighthouse

Virginia Beach Surf & Rescue Museum

Military Aviation Museum

Back Bay National Wildlife Refuge

Lynnhaven House

Ocean Breeze Waterpark

Ferry Plantation House

Rudee Flipper Dolphin Tours
THINGS TO DO IN MIAMI BEACH FOR ADULTS
Miami Beach is ideally a place for an adult who wants to have fun. With many fun and great activities to do in the city or while the beach. You can either enjoy your day or week at Miami Beach. If you are looking for fun things to at the Miami Beach for adults, check out the list below:
Get Out on the Gorgeous Water

Tour the City on a Double Decker Bus or Duck Boat

Appreciate the Art Scene

Airboat Ride Through the Everglades

Head to South Beach

Head Down to Key West

Enjoy a Sightseeing Cruise

Ride a Bike Around South Beach

Explore Little Havana
In conclusion, you can do fun things at the beach for adults. The moment you picked all the activities to start with family and friends. Beach is a place where everyone comes to and have fun without restriction.
FAQ
How can couples enjoy the beach?
Finding the perfect date or the perfect spot on the beach can be a problem. A beach is a popular place where a couple goes and have fun or propose to each other. If you are looking for a way to enjoy the beach as a couple, then do these;
Romantic Meal On The Beach

Rent A Boat For A Day (Or Evening!) On The Water

Watersports

Walk Along The Beach

Scavenger Hunt On The Beach
How can I have fun on the beach?
You can have fun on the beach, ever wondering what to do on your vacation while on the beach. These are possible activities you can engage in while you are on the beach:
Stock Up On Books
Stock Up On Books
Read a book 

Get Active

Plan A Picnic

Get Crafty

Build On A Bonfire
How to have fun at the beach as an adult?
If you are an adult looking for how to have fun at the beach. These are things you can engage in:
You can have a coffee

Organize or join a beach party

Skinny dipping is great to try out

Sunbathing

Bonfire on beach
ESTIMATED TIME DESIGNING AND UPLOADING THIS ARTICLE
ESTIMATED TIME RESEARCHING AND WRITING THIS ARTICLE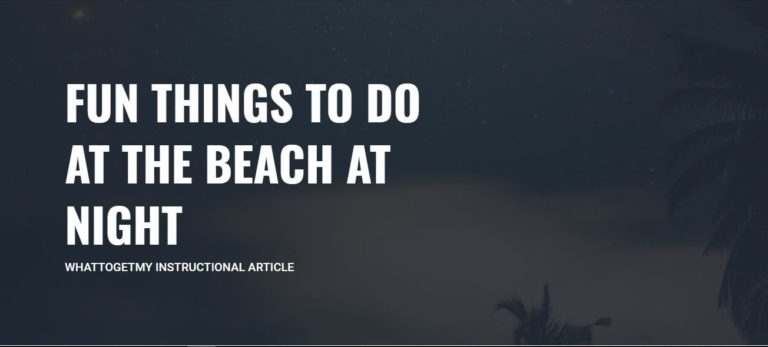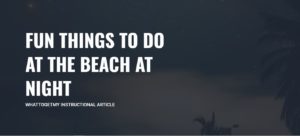 FUN THINGS TO DO AT THE BEACH AT NIGHT
FUN THINGS TO DO AT THE BEACH AT NIGHT WhatToGetMy Instructional Article Why do some people look for fun things to do at the beach at night? When everything at the beach is closed, it is dark and much colder than during the day. During
Read More »