Do you have a man in your life that loves everything there is about motorcycles? He loves to ride them because he says that there is something about feeling free on the open road, and he is even a member of a biker's club. His love for motorcycles is something you feel you will never understand, but when you want to get him a present for any occasion, you know you will have to come up with motorcycle lovers' gift ideas.
Not being a biker yourself and not knowing much about motorcycles makes finding gifts for a biker a total disaster because most motorcycle lovers are very picky about what products they like to use for their motorbikes or themselves while out on their motorbikes.
Motorcycle lovers have their own sense of style, and if you're not a biker or don't understand much about riding a motorcycle, you may think that the way motorcycle riders dress is super weird. There are fundamental reasons for the way they dress. Yes, they prefer to be comfortable while on their bikes, but they also want to look good.
When you see a riders group, they are always wearing long pants, a leather jacket, rider boots, gloves, a helmet, and goggles. The main reason for this is that if they happen to fall and crash, every part of their body is protected even if it is only small, like having bare skin exposed to being scrapped on the ground.
Thus, motorcycle lovers need to have the right protective gear. The most obvious one is a helmet that fits correctly, but another is a body armor that will protect essential parts of their body. You will find that they will either wear a separate armor under their jacket or have a rider's jacket that the armor is included in as part of the jacket. The gloves they wear are not only to protect them from the natural elements of sun, wind, and rain but also to protect their hands if they fall.
You will also notice that some riders have brightly colored helmets or reflective stripes and badges on their jackets, which it is so that other riders of bikes and cars will see them clearly when out on the roads. Then we come to the boots, many people think that rider boots are way too expensive for an item that is just for making a fashion statement, but that is not true.
Motorcycle rider boots need to be strong and solid so that they do not twist and turn quickly, which will help protect their feet and ankles if they are in an accident.
So you see, they dress strangely not to look scary and live up to the biker reputation of being mean and crazy people but to protect themselves from scenarios mentioned above as well as if anything happens along the way.
To help you understand a little about why your man loves motorcycles so much, here are a few reasons that I have found:
Riding a motorcycle makes him Cool

He will find his Zen

He meets the nicest people

He feels free on the open road

He can connect with to the world around him

It is so much fun and exciting

It is known to improve his health
To help you find great presents for bike riders, here are some tips to think about:
Choose something that he can use while he is out on the road, like a great bikers jacket.

Choose something that shows your support for his love of motorcycles while he is not on the road.

Classic motorcycle gifts

like an unusual motorcycle model that he can admire when he is not on the road is a nice idea.

Or you can choose something to help him to clean, fix, or service his motorcycle.

Motorcycle accessory gifts

are also great gift ideas as they will complement whatever motobike he owns
As an Amazon Associate we earn from qualifying purchases. We may earn a small commission for our endorsement, recommendation, testimonial and/or link to any products or services from this website. Thank you, your qualifying purchases help support our work in bringing you real daily gift ideas.
Our Gift To You:
Find out how to download This 
Free Printable "You are The Best Biker" Card
For Motorcycle Lover at the End of This Article.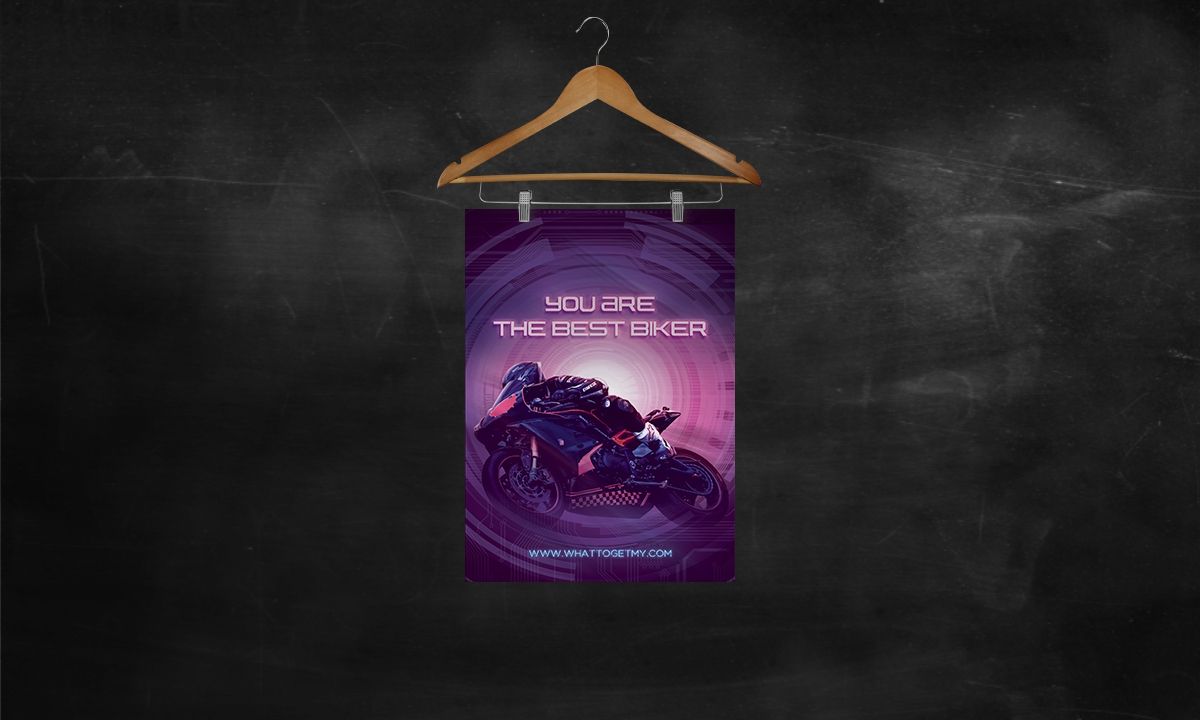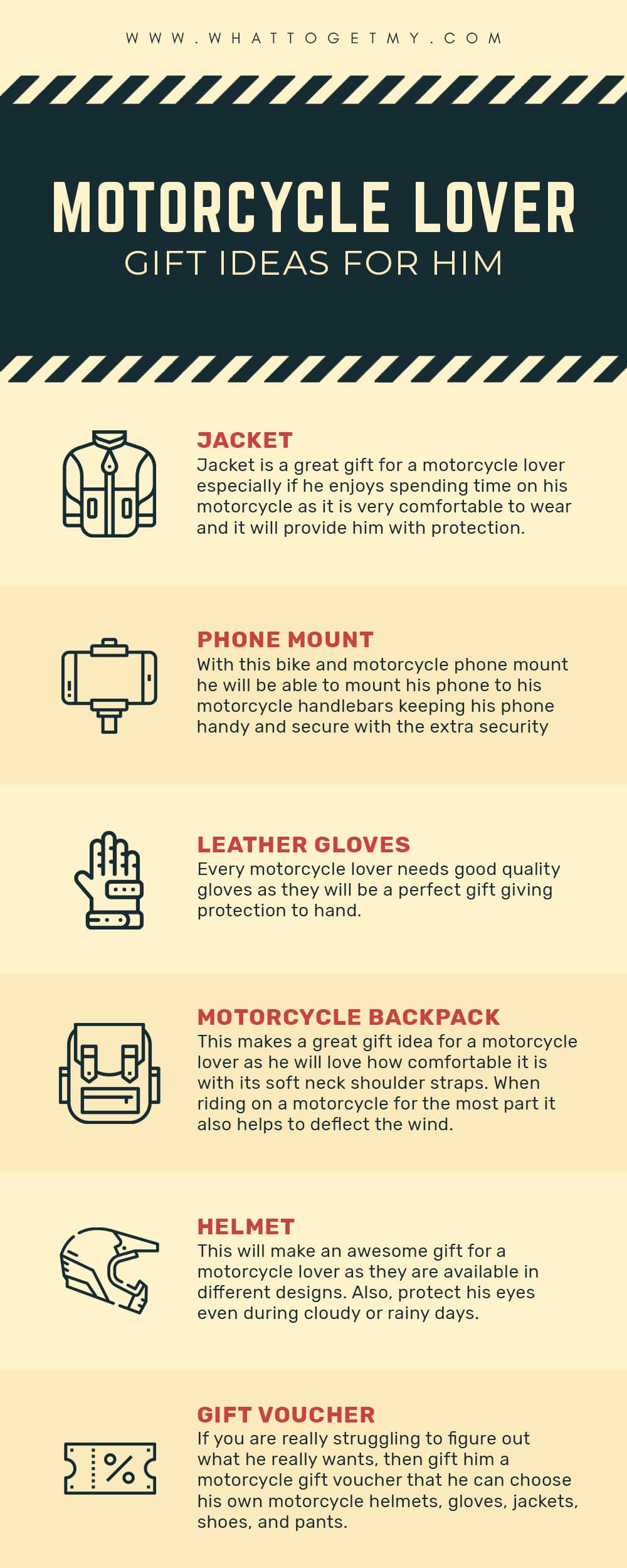 Source Link: https://whattogetmy.com/motorcycle-lover-gift-ideas-for-him/
Xelement Men's Black Armored Mesh Jacket
This jacket is a great biker gift, especially if he enjoys spending time on his motorcycle. It has a reasonable weight to it but is very comfortable to wear, and it will provide him with protection with the included armor while he is out on the road. He will have enough places to put all the things that he would like to carry with him as the jacket has many different pockets, even a place to conceal a pistol inside. This is definitely one of the best gifts for motorcycle enthusiasts.
The majority of customers that have purchased this Xelement CF380 Men's Black Armored Mesh Jacket found that the construction of the jacket is good and the zippers are very well made. They love the removable armor's safety feature, which allows them to relax more and enjoy the ride.
Bike & Motorcycle Phone Mount
With this bike and motorcycle phone mount, he will mount his phone to his motorcycle handlebars keeping his phone handy and secure with the extra security and shock absorbing rubberized clip. This phone mount is one of the most useful gifts for motorcycle lovers.
Many customers who have purchased the Bike & Motorcycle Phone Mount find that it is a great product, it holds up perfectly, and highly recommend it.
FXC Touch Screen Full Finger Motorcycle Leather Gloves
Every motorcycle lover needs good quality gloves, and these Black Premium sheepskin Leather Short Gloves will make the perfect gift as they will be an ideal fit with hidden plastic knuckle armor protecting his hands.
Customers who have bought these FXC Touch Screen Full Finger Motorcycle Leather Gloves find these gloves are great all-around riding gloves with the padding is well placed, making them very comfortable.
Motorcycle Backpack
This motorcycle backpack makes a great gift idea for a motorcycle lover. He will love how comfortable it is with its soft neck shoulder straps. It has a 30-liter cargo capacity that is constructed so that it keeps its solid shape all the time, even when there is nothing in it. When riding on a motorcycle, for the most part, it also helps to deflect the wind.
Those customers that have already purchased this Motorcycle Backpack Motorsports Track Riding Back Pack Stealth No Drag Molded found the backpack great because the hard shell makes it totally aerodynamic on your back with minimum wind deflection. They feel that it is well made, zippers move with ease and with total functionality.
Motorcycle Goggles with Detachable Mask
These motorcycle goggles make an excellent gift for a motorcycle lover as the transparent color is anti UVA UVB, which will protect his eyes even during cloudy or rainy days.
Join the many satisfied customers who have purchased these motorcycle goggles and found it irreplaceable. They say that the mask fits easily over the helmet, and the straps have a sticky rubber-like material that helps so it doesn't slide down while riding.
Signstek Vintage Handcrafted Iron Motorbike Model with Chainwheel
If you are looking for vintage motorcyle gifts then this is a Fantastic and Unique choice! This vintage handcrafted iron motorbike model with all its incredible details and creativity will have him fascinated as well as his friends and family. The Wheels can roll, and the handlebar can turn, and each item has been carefully designed, cut, and welded, making it look great and a model that has been manufactured by a big shot company.
The majority of customers that have purchased this Signstek Vintage Handcrafted Iron Motorbike Modelloved the craftsmanship that went into the making of it. They found that it is made of very heavy-duty material and a lot bigger than what they anticipated. It is a great option if you are looking for motorcycle themed gifts.
Some more motorcycle lover gift ideas for him
Frame some of his riding photos
Look through some of the photos he has just lying around him and his motorcycle, choose the best ones and have them framed. If you find it difficult to choose one or two, then have a collage made of his favorite photos.
Pay off the installment plan of his motorcycle
He might be still paying off his newest bike or some bike accessories, paying his plan off will make a great gift for him.
Motorcycle gift voucher
If you are really struggling to figure out what he wants, then gift him a motorcycle gift voucher that he can choose his motorcycle helmets, gloves, jackets, shoes, and pants.
Motorcycle magazine subscription
If you know which motorcycle magazine he loves buying, then a great gift would be to get him a subscription for it so he never misses an issue.
Vintage motorcycle sign
Another great gift for a motorcycle lover is to have a vintage motorcycle sign made for him. You can have it personalized, or choose from the many kinds of metal signs out there that celebrate the motorcycle culture.
Motorcycles Books
There are some great motorcycle books out there to choose from. You can choose from classic bikes, the history of his make and model bike, and books to help him learn more about the mechanics of how his bike works.
Motorcycle cleaning kit
Bikers love to take care of their bikes, and it seems they are always running out of their preferred kind of motorcycle wash and polish. It is best to check which brands he prefers to use and buy the same ones.
A great motorcycle t-shirt
He might already have a few motorcycle t-shirts, but there are always new designs coming out that are much better than the last. Giving him one that is new with a great design will always put a smile on his face.
It is not hard to come up with some motorcycle lover gift ideas for him that will surprise and delight him and ones that he will really love. Besides gifts for he can use while riding his motorbike, you can think of things that he can use while he is out on the road or things that will keep him occupied when he is not riding his motorcycle, and you will be sure to get him the perfect gift that he will love.
Get This and So Many More Free Gifts on Our New Marketplace, Spark Resort!
ESTIMATED TIME DESIGNING AND UPLOADING THIS ARTICLE
ESTIMATED TIME RESEARCHING AND WRITING THIS ARTICLE
Try our AMAZING GIFT FINDER TOOL! Find GIFTS with 1 CLICK!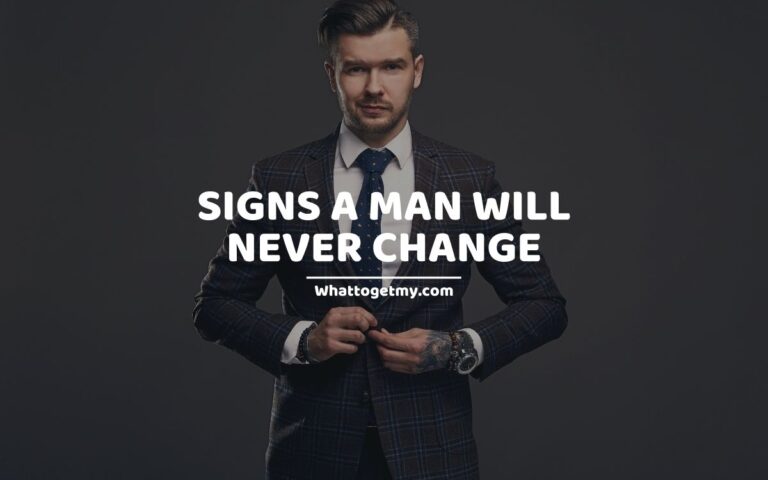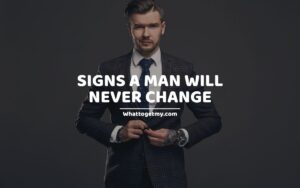 9 Signs a Man Will Never Change
9 Signs A Man Will Never Change WhatToGetMy Instructional Article Do you find yourself asking yourself "will he change" when it concerns the men in your life, whether as immediate or extended family members or as a lover or friend? In this article, we will
Read More »