3 Easy steps to finding a birthday gift for a boyfriend who has everything
Searching for the perfect birthday gift for your boyfriend is hard enough. But when your boyfriend has everything that he could ever want it makes finding him any type of gift seems impossible.
I will let you in on a little secret. Even though a guy seems to have everything, there will always be things that he will need or want. New or improved products hit the consumer market every day. And most of the time your boyfriend will never tell you that he would love the latest model or version of a certain item. But they secretly do.
You feel yourself starting to stress even more now about finding the perfect gift for him. There are so many products out there in the world and you have no idea where to start.  You are also thinking about how to make my boyfriend feel special on his birthday
But before you drive yourself crazy by trying to figure out what to get your boyfriend for his birthday when he has everything. Slow yourself down and spend some time thinking about him. You will find that finding him great gifts will be easy.
We have 3 easy steps that you can follow that will help which are:
Think about who he is as a person

Decide on the type of gift that you would like to give him

Think about how you will present the gift to him
If you follow these steps every time that you are looking for gifts for any occasion for your boyfriend it will become a whole lot easier for you.
1.

Think about who he is as a person
Think about how he likes to spend his spare time when he is not at work or with you. Think about the type of things that make him happy, things that help make him feel comfortable.
To do this sit down and make a list. Write down all his likes, interests, activities and hobbies. Then next to each one of them list some items that could help take them to the next level. Items that will help make them more interesting or exciting for him.
2.

Decide on the type of gift that you would like to give him for his birthday
When it comes to deciding on the type of gift that you would like to give your boyfriend think about if you want the gift to be:
Unique and personal

Something useful

Sentimental and meaningful or

Something that he could have some fun with
For instance, if he enjoys the outdoors and loves to go camping or hiking. You can think of something that will help extend his stay like a portable power station. Or useful tools for guys who have everything that he could use such as a pocket knife with an LED light and a fire starter.
Think about other special qualities that your boyfriend has. Think about the things that make him the man that he is. For example, if he is the type of man that loves to entertain friends and family at home. He may love to invite them over for a delicious barbecue. You could maybe think of a great portable grill or a set of barbecue grilling accessories.
Maybe look at something that falls under unique gifts for guys. These types of gifts are a little more personal and meaningful. An example would be a fashionable and comfortable watch. Another idea could be something that he could have some fun with like a remote control drone.
As an Amazon Associate we earn from qualifying purchases. We may earn a small commission for our endorsement, recommendation, testimonial and/or link to any products or services from this website. Thank you, your qualifying purchases help support our work in bringing you real daily gift ideas.
Quick Overview: Birthday Gifts For Boyfriend
Our Gift To You:
Find out how to download This 
Free Printable Happy Birthday Wishes Card For Your Boyfriend
at the End of This Article.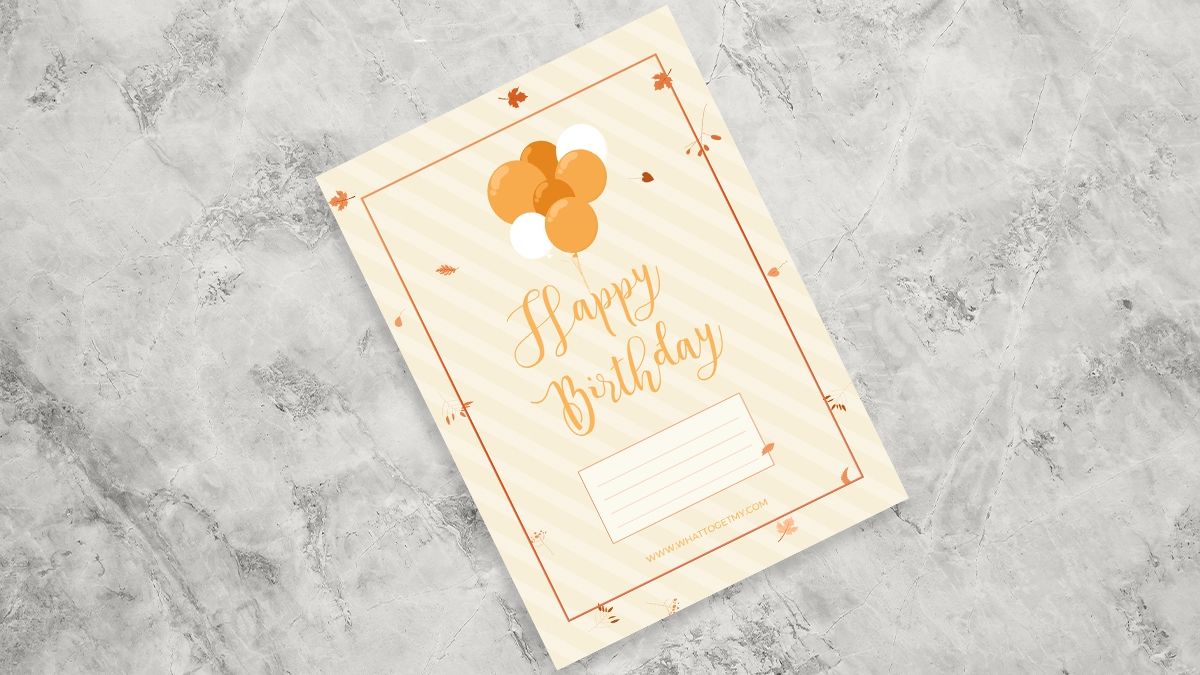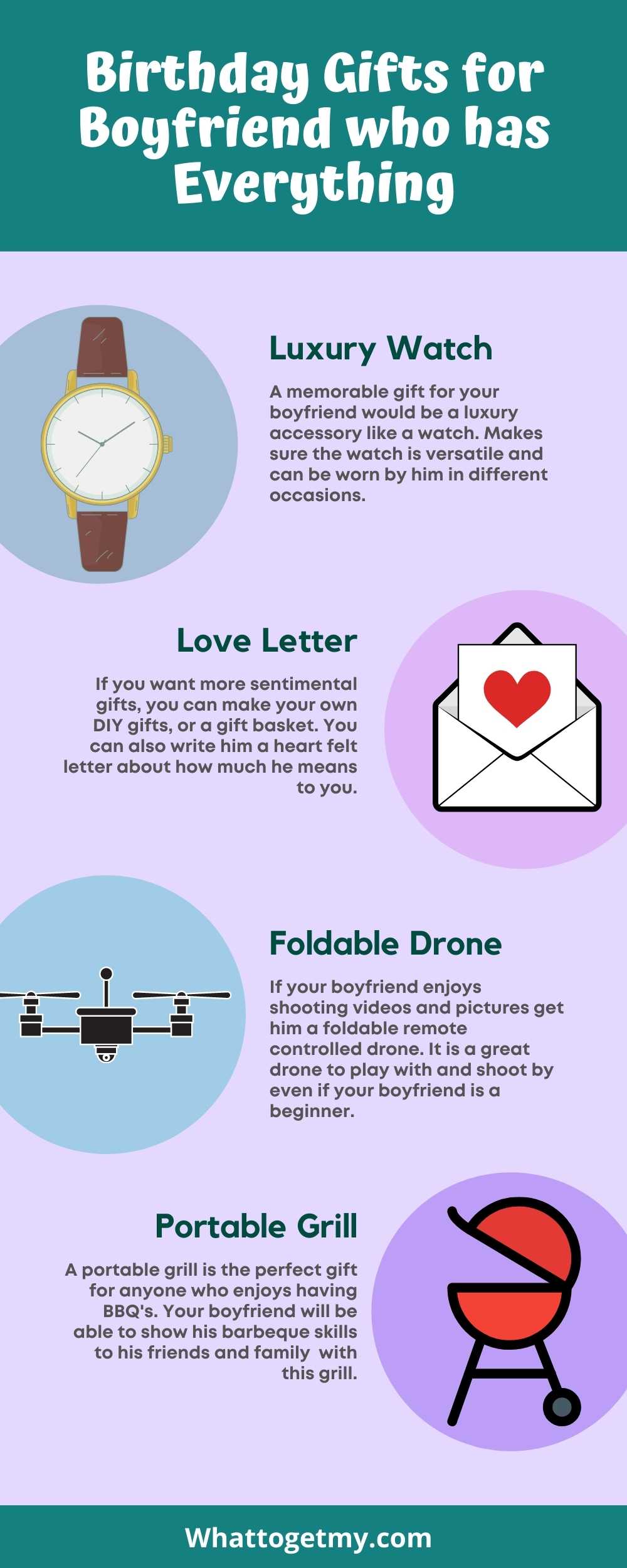 Source Link: https://whattogetmy.com/birthday-gifts-for-boyfriend-who-has-everything/
BlizeTec Survival Knife
Your boyfriend will love this great 5-in-1 Tactical Pocket Folding knife as a birthday gift. It will make a great camping or survival tool for him to use while either in his car, camping or while on a hiking trail.  Included with the sharp blade are an LED light, a glass breaker, a seatbelt cutter and a fire starter which all could come in very handy in an emergency.
Customers that have purchased this BlizeTec Survival Pocket Knife have had positive things to say as they find the knife is a very useful survival tool that is well made. The blade is very sharp, the flashlight is bright and the fire starter works well.
Fossil Men's Quartz Watch
Your boyfriend will fall in love with this Fossil Men's machine stainless steel and chronograph Quartz watch the moment he sets his eyes on it. It has a very attractive masculine look which is perfect for both formal and informal wear. He will love the black textured dial and the two-tone black plated stainless steel and a blue silicone band.
Many customers that have purchased the Fossil Men's Machine Stainless Steel and Silicone Chronograph Quartz Watch are very impressed with the quality, style and elegant look it has. They find that it is the type of watch that looks good enough to be worn as a formal or casual accessory.
Weber Liquid Propane Grill
This portable Weber Q1200 liquid propane grill will make a wonderful birthday gift for your boyfriend. He will want to barbecue with a couple of his friends or family all the time as it gets extremely hot and cooks fast. It is lightweight and extremely easy to set up and use and can be used to prepare many different meals while he is either at home or out on road or camping trips.
Those customers that have already purchased the Weber Q 1200 have had mainly positive things to say as it works great, it is compact enough to travel with on road trips, camping trips. It heats up and cooks quickly which is perfect for a couple or a get-together
This great 16 pieces stainless steel grill set will help make your boyfriend's grilling experience a lot easier and fun. If you are looking for practical gifts to give your foodie boyfriend for his birthday then this grill set is a perfect pick. It has everything that he could possibly need all in one organized case for a perfect cookout. All the tools come in a neatly organized aluminum case, making it easy for him to carry with him wherever he wishes to have a barbecue.
Customers that have purchased this BBQ grill tool set have given mixed reviews as some say that it is a very useful set to have and others have said that some of the tools are a little flimsy.
Jackery Portable Power Station Explorer 240
This portable power station makes a useful and exciting birthday gift for your boyfriend, especially if he enjoys spending a lot of time out in the wilderness. It is a great solution to running or charging small appliances or devices when he doesn't have electricity like cell phones, laptops, and a light.
The majority of the customers who have purchased this Jackery Portable Power Station Explorer 240 are extremely happy that they did. They say that this compact and lightweight unit is capable of running small devices and appliances all at the same time.
SNAPTAIN A15 Foldable FPV WiFi Drone
If your boyfriend has been looking for a toy to play with or if he is into taking photos or recording a video then this remote control foldable drone will make the perfect birthday gift for him. This drone is straightforward to assemble and easy to control and fly.
Many of the customers who have purchased this SNAPTAIN A15 Foldable FPV WiFi Drone have found that it is an easy and fun drone to operate. It has everything a beginner would need from simple controls, spare blades, a basic camera to a spare battery.
Other gift ideas to think about
Give him an experience
Giving your boyfriend the gift of an experience for his birthday can often bring a lot more enjoyment and satisfaction to them than a bought item can. It is a gift that gives him the opportunity to look forward to experiencing something that is fun and exciting. It is also a gift that strengthens your relationship and creates some amazing memories. You can even look at some fun things to do with your boyfriend on his birthday.
Homemade gifts
Many men do love thoughtful and meaningful gifts too. These types of gifts can be something special that you make yourself. It is a gift that shows him how much you care about him because you have put a lot of thought and effort into the gift.
Some ideas are as follows:
A gift basket consisting of all of his favorite items

Handwritten love notes or cards if you are looking for

personalised birthday gifts for your boyfriend

A relationship memory book would make a great

romantic birthday gift for your boyfriend

A birthday poster with something that he loves on it like his favorite sports team

Something that you have handmade yourself that supports a hobby or activity like a golf club cover

Fun, creative games that you arranged, like a treasure hunt or scavenger hunt game with a prize waiting for him at the end of it.
3. How you will present his gift to him
In many ways and to some extent the type of gift that you give to your boyfriend does matter. But it is not the only thing that can make him feel special on his birthday. It is the way you present the gift to him that will leave its mark more. If you come up with some creative ways to give a gift to your boyfriend, it makes the receiving of the gift so much more interesting for him than handing him a plain and boring wrapped present.  By being creative with the presentation of his gift, you can make his experience of receiving his gift from you fun and exciting which results in him loving and appreciating almost anything that you give him.
Frequently asked questions
Are these gifts suitable for someone's brother, father, son or male friends?
Yes, most of these gifts can be given to any male adult on any occasion as long as they regardless of whether they are dating or not. The only gift category you should refrain from are the romantic or cheesy gifts if you are giving it to a family member instead of a lover. 
Which gifts are the most appropriate ones if I'm on a budget?
If you are on a budget then the most suitable gifts would be the hand made gifts like love cards or a treasure hunt where he will appreciate the experience and gesture instead of the gift. If you still want to buy him a memorable gift, then you can pick a budget BBQ grill set which is under $20 dollars and accompany the gift with a heartfelt card. If your boyfriend is not a fan of BBQs, or you want to buy him something he can use all the time then go for a quality budget watch or other accessories with a card to make it even more personalised.
Conclusion
Finding gift ideas for your boyfriend's birthday can be so easy once you calm yourself down. Take the time to think and follow the three simple and easy steps that we suggest above.
Get This and So Many More Free Gifts on Our New Marketplace, Spark Resort!
ESTIMATED TIME DESIGNING AND UPLOADING THIS ARTICLE
ESTIMATED TIME RESEARCHING AND WRITING THIS ARTICLE
Try our AMAZING GIFT FINDER TOOL! Find GIFTS with 1 CLICK!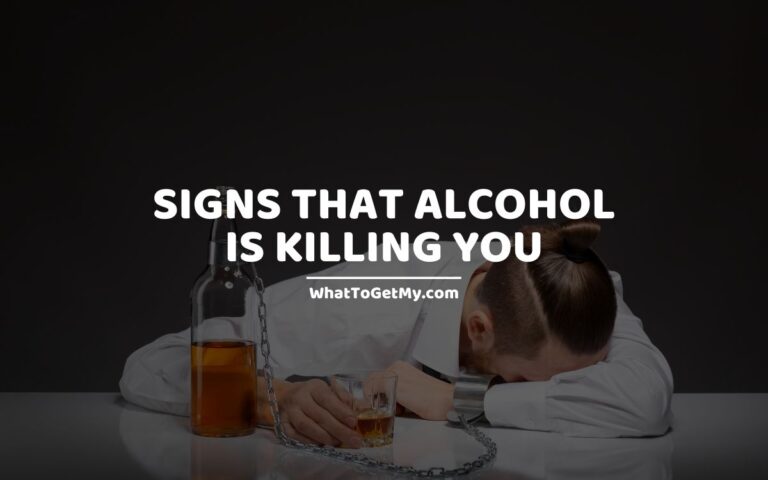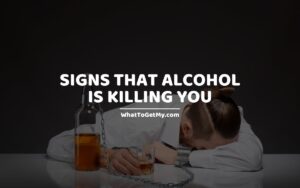 11 Signs that Alcohol Is Killing You
11 Signs that Alcohol Is Killing You WhatToGetMy Instructional Article Every year it is estimated that alcohol contributes to the deaths of over 3 million people with men being more affected than women. Whilst some of this death is instantaneous such as with car accidents
Read More »