CUTE SENTIMENTALGIFT IDEAS FOR YOUR BOYFRIEND
WhatToGetMy Instructional Article
You have decided not to get your boyfriend the newest gadgets and gizmos as gifts this time around because you feel the whole gift-giving routine of such items have become stale and are usually the type of gifts that are quickly forgotten or replaced. That makes you finally decide to let go of materialistic gifts and instead you start looking for cute little presents for your boyfriend that are sentimental.
But because there are so many choices available when it comes to choosing the perfect cute sentimental gift for a boyfriend, you seem to be struggling to strike a balance between gifts that would be memorable, but also practical at the same time.
What makes a gift a sentimental gift?
A sentimental gift is a gift, an action, or a gesture that is extra thoughtful which includes gifts that reflects your boyfriend's passions, loves, hobbies, and life. Sentimental gifts are unique and can include homemade items, gifts that reflect an inside joke, a past memory, or a gift that took extra effort to obtain to make your boyfriend feel happy, loved, surprised, or even excited.
So let us take a look at reasons why you would want to give your boyfriend a sentimental gift, ways to make a gift sentimental, and some cute sentimental gifts ideas.
Top reasons why you would want to give your boyfriend a sentimental gift
Source Link: https://whattogetmy.com/cute-sentimental-gift-ideas-for-your-boyfriend/
To express your love for him
Giving a sentimental gift to your boyfriend for no reason at all will show how much you care and love him.
To celebrate his birthday 
This is the obvious reason for the reason to give your boyfriend a sentimental gift as it is a special milestone that should be celebrated each year. If you are looking for cute gifts to get your boyfriend for his birthday it's better to settle down for sentimental gifts because it is more personal.
To show you appreciate him
I love you gifts for boyfriend is a perfect way to show or say you appreciate your lover. You can also do a kind gesture than giving him a gift because, as the saying goes "Actions speak much louder than words"
Gifts for your anniversaries
It does not matter if you are not married, you are a couple it is important to remember specific days in your relationship, like the day you first met, your first date, and even your first kiss. Besides anniversaries, you can also get sentimental valentine's day gifts for boyfriend.
Gifts to apologize 
Sometimes words are not enough to apologize to your boyfriend for a mistake that you have made. A cute sentimental gift will help give you a great way to express your apology.
Gifts for holiday
You can get a sentimental Christmas gift for boyfriend to make his holiday a memorable one.
Gifts to lift his spirits 
Sometimes life can get so busy that you feel that there is never any time to enjoy it which can get you down a little. A sentimental gift for your boyfriend could be a way to force him to take some time out to enjoy a hobby, have an experience, or even some time to connect with you.
No matter what your reason may be for giving your boyfriend a gift as long as it is sincere and it comes from the heart, it will be remembered and appreciated.
Why give cute sentimental gifts
Generally, gifts have always played an important part in developing a strong, healthy, and loving relationship. Giving gifts is not only considered a simple gesture of appreciation towards your boyfriend but when you give him the right kind of gift it can show just how much you care for and understand them.
By giving your boyfriend cute sentimental gifts, they will help you to create a stronger bond and deeper connection with each other and will leave a strong impression with them as sentimental gifts create a gift-giving experience that will be treasured and remembered for many years to come.
After all the whole purpose of giving your boyfriend, a sentimental gift is to make him feel loved by you, happy that you have considered the things he likes, surprised that you even know certain things about him, or excited to experience something new or fun with you.
Ways to Make Gifts More Sentimental
There are some really great ways to make any gift a perfect sentimental gift for boyfriend. They do not have to be perfect, expensive, or more work than what you want them to be, but they will definitely be appreciated if you center your gifts around his likes, hobbies, or even his career.
The best way to make a heartfelt gift for you boyfriend would be to personalize your gift by giving your own personal touch to it in one of the following ways:
Engrave gifts for boyfriend. Things you can engrave can be his name, initials, or a special message from you.

The use of embroidery on materials.

The use of personal photos

Handcraft your own DIY gift.

Cooking or baking something special for him.

Give him an experience that he will never forget.
Some Cute Sentimental Gift Ideas for your boyfriend
When you are thinking about romantic gifts for your boyfriend, think about something that relates to either past happy moments in your relationship or about something that will help build a future happy moment for him to remember. Once you have the perfect gift idea in mind, add a personal touch to the gift to make it even more special and sentimental so that he will hold onto it for a very long time.
Imprint or engrave
Almost any item can have a special message, his name or initials imprinted or engraved on it.
An engraved men's leather bracelet

An engraved or imprinted men's watch

Imprinted leather coasters

Coffee mugs with something special written on like "The World's greatest boyfriend".
With the use of embroidery 
Men's apron if he enjoys cooking or having barbeques with a special message or picture on.

Caps embroidered with his initials or favorite sports.

Sweatshirts

Wall Art
The use of personal photos
By using personal photos of you and your boyfriend you are able to make so many cute sentimental gifts that will capture the special moments in your relationship.
Photo Clocks
They make great gifts for your boyfriend as it is a way to showcase your favorite photos of the two of you together or an adventure that you went on together.
Pop-Up Photo Box
This is a fun and unique way to give something special and memorable to your boyfriend as you can display a collection of your favorite photos of the two of you together or of a memorable time you had together.
DIY Photo Fridge Magnets
Remind him of a fun time you had together by turning your fridge into a photo gallery with photo fridge magnets.
DIY Photo Coasters
Choose a favorite photo of the two of you together or of a favorite memory, you share to use as the face of your coasters.
Create a personal photo collage frame of your wonderful memories together.
Sort through all the best photos and make a collage in a either a bought photo frame or a homemade photo frame.
A Wallet photo 
Ask your boyfriend to choose a favorite photo of the two of you and turn it into a wallet photo that is made with an engraved metal photo that will last forever.
Handcraft your own DIY gift
Homemade gifts are so much more meaningful than an ordinary store-bought gift because your boyfriend will know that you truly spent time and effort making it. With a homemade gift, you can be very creative, giving the gift your personal touch making it the exact gift that you want it to be.
With DIY or handmade gifts you can use your skills to also create any of the following:
Plaques

Portraits

Paintings or drawings

Poems

Storybooks of your own

Sculptures
Create a Scrapbook of your life together.
With a scrapbook, you can make it a book of your life together so far with photos, stubs, and receipts from shows and events you have seen and attended together.
Design a Cool Comic Book that tells your boyfriend what he means to you.
Designing a comic book is the latest craze and is a lot of fun to do even if you cannot draw and are not a designer there is plenty of help available on the internet.
I Love You Jar filled with the reasons why.
Write down all the reasons why you love your boyfriend on different color papers and put them into a jar. Then decorate the jar with whatever or however you want to.
Lyric Love Notes or framed lyrics from a special song.
Write down a song's lyrics that will take you back to a time or place, specific memory in your relationship, or the lyrics to your boyfriend's favorite song, then have it framed.
Open When Letters.
These can be done in so many different ways, you can use love letters, memories, compliments, or inspirational quotes for future events. You can prepare one letter for every day of the year for your boyfriend to open and read.
Custom Scrabble Coasters, using words to express your feelings for your boyfriend.
Make your boyfriend some great coasters by using the letters from a scrabble game to spell out four-letter words that will express your feelings for him.
Homemade food, desserts, and baked goods also count as handcrafted and DIY gifts. 
DIY Gift Baskets
A great idea for a great cute sentimental gift for your boyfriend would be to make your own gift box with an ordinary shoebox that you decorated yourself and then fill it with lots of small useful goodies.
Maybe choose a theme of something he really loves and mix and match the items with some bought goodies and some homemade goodies which you can either have them engraved, imprinted, or add personal photos too, creating a cute sentimental gift that he will love.
Give him an experience
If you want to wow your boyfriend with a gift that is totally unexpected to truly surprise him. Give him a gift of experience, it does not matter what his interests or personality is and whether you're looking for something laid back and peaceful like vineyard or brewery tours or something that is adrenaline-pumping like sky diving or race car driving, you will definitely find something that he will enjoy.
Recreate a past experience
If your boyfriend talks a lot about a special past experience, you can turn their favorite story into a new memory by recreating it. This gift will not only show him that you care, but it will blend memories of the past with new memories for the ultimate sentimental gift-giving.
Some extra tips to help you make your gift extra special.
Get crafty with a handmade card
Make your gift a lot more meaningful by adding a handmade and handwritten card from you.
Get creative with your wrapping
One of the best things about receiving a gift is the anticipation of trying to figure out what might be inside and then getting to open it. And for the person giving the gift, it is seeing the joy on your boyfriend's face when he opens it.
There are so many different ways to wrap a gift like using homemade boxes, glass jars, many different types of paper, and any types of accessories that you would like to add on top.
The way you present the gift
Coming up with different ways to present your gift to your boyfriend is way more fun than just handing him the gift. An example would be for you to make him work a little for his gift by doing things like a treasure hunt where you give him clues to find his gift.
Finding cute sentimental gift ideas for your boyfriend is easy when you focus on gifts that will reflect your boyfriend's passions, loves, hobbies, and his life. They are gifts that are personalized or created by you which do not have to be perfect as long as they come from your heart and express how you truly feel about your boyfriend. These gifts will make your boyfriend feel happy, loved, surprised, or even excited.
ESTIMATED TIME DESIGNING AND UPLOADING THIS ARTICLE
ESTIMATED TIME RESEARCHING AND WRITING THIS ARTICLE
Try our AMAZING GIFT FINDER TOOL! Find GIFTS with 1 CLICK!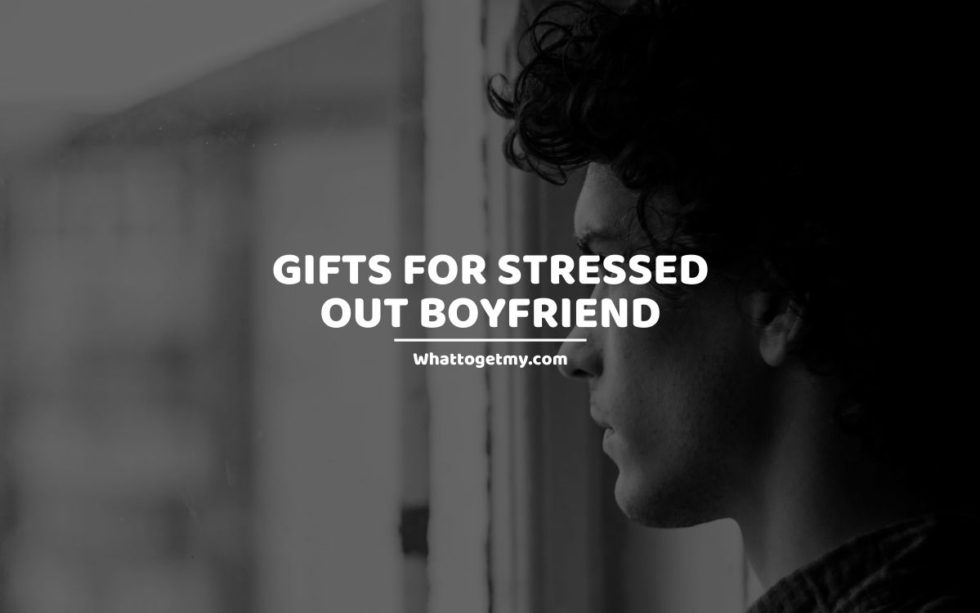 Gifts for Stressed Out Boyfriend
Watching your boyfriend struggle with anxiety and stress on a daily basis is rather difficult. If he's dealing with family issues or a lot of work, there's not much you can do about it. Of course, your support and love are of great matter, but
Read More »