How to Make My Boyfriend Feel Special on His Birthday
WhatToGetMy Instructional Article
You want to make your boyfriend feel special and loved because his birthday is coming up. You feel that because he treats you so well you want to repay him by making his special day memorable.
You want his birthday to be something out of this world, a day that he will remember for many years to come. It must be meaningful not only because of the way he celebrated his birthday but also because of the things you did for him and how they made him feel.
Watch the video version of this article:
His birthday is also the perfect time that you can go all out and really express your feelings for him by doing and saying all the right things. But you are not entirely sure what to do and how to do it that is the reason why you are searching for some ideas so that you can make decisions on how to make my boyfriend feel special on his birthday.
To help make things easier for you we have broken it down in three different categories that will help make your boyfriend feel special on his birthday.  They are:
The things that you do for him

The things that you say to him

The type of gift you give him
But before we get stuck into the ideas, there are some important things that you need to think about first are:
What type of guy is he? Is he the type of person that enjoys being surrounded by friends and family?

What are his interests, hobbies, likes, and dislikes? For example, does he enjoys having adrenaline rushing adventures or is he the type of guy that enjoys a more quiet and relaxing scene?
With those two answers, you can then make a decision from the ideas from each of the categories that will suit your special guy perfectly.
⓵ Some ideas of things that you can do for him
To make your boyfriend feel special and loved, you need to choose what to do for your boyfriend's birthday. There are many different things that you can do for him like: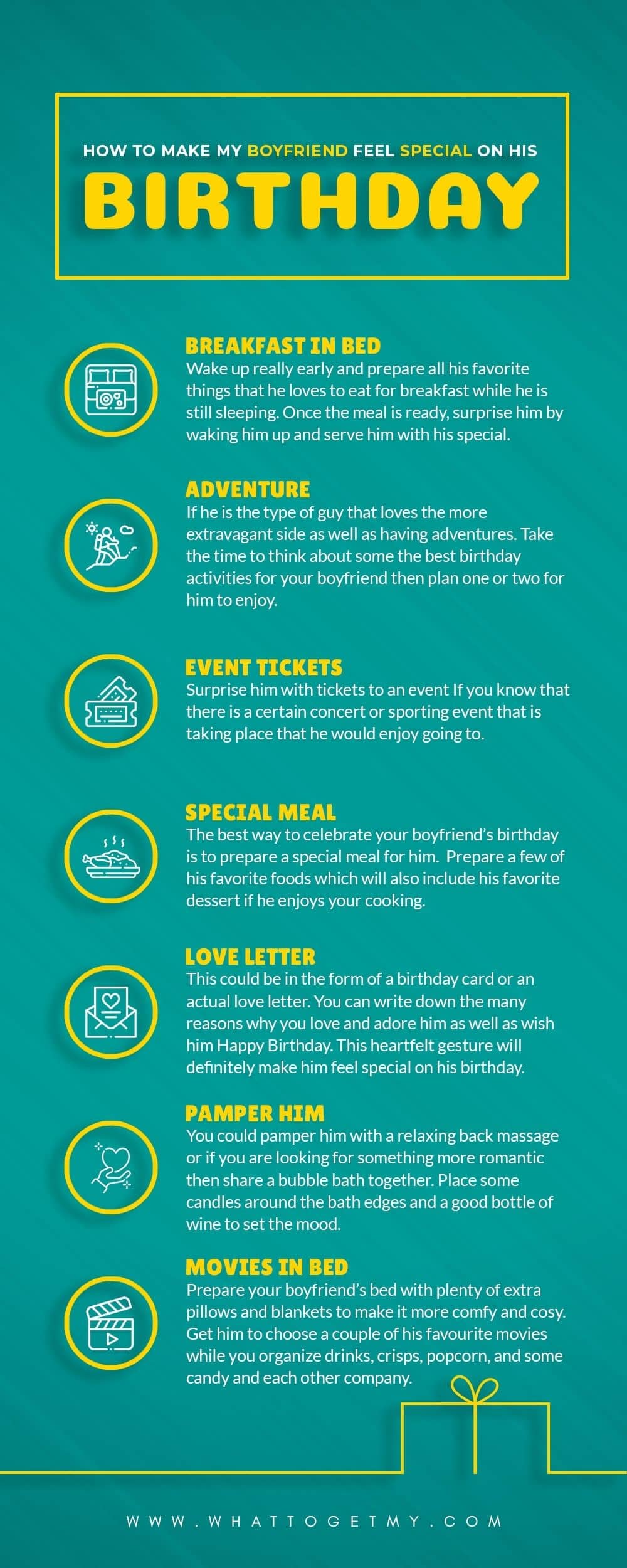 Source Link: https://whattogetmy.com/how-to-make-my-boyfriend-feel-special-on-his-birthday/
Breakfast in bed
Wake up really early and prepare all his favorite things that he loves to eat for breakfast while he is still sleeping. Once the meal is ready, surprise him by waking him up and serve him with his special.
A curtain of love

 
To go a step further and a way to make his waking up with breakfast in bed a little more special. While he is still sleeping and you are waiting for his breakfast to finish cooking in the kitchen. You can hang enough balloons or ribbons of his favorite colors or red from the ceiling all around the bed. Place a Happy Birthday banner in the middle of the curtain at the foot area so that it is the first thing he sees when he wakes up.
Ask him if there is anything specific that he would like to do
Once he has enjoyed his delicious breakfast and has gotten over the surprise from the Happy Birthday curtain. Ask him what he would like to do for the day, which doesn't mean that you can't plan something for him to do yourself. You can even give him a list of possible options to choose with some that are low-key and other a little more extravagant.
Have an adventure planned for the day
If he is the type of guy that loves the more extravagant side as well as having adventures. Take the time to think about some the best birthday activities for your boyfriend then plan one or two for him to enjoy. It will be a way for him to remember the amazing time he had on his birthday even if you have to wait until the weekend. Some ideas for this could be:
Rent a Yacht or boat and enjoy a romantic day together with snacks and champagne.

Go snorkeling and explore the deep blue sea together.

Cliff diving while holding hand into the refreshing cold water below on a hot  summer's day, this could be the ultimate adrenaline rush that your boyfriend has been waiting for.

Take him on a hot air balloon ride where he can view the beautiful fields and meadows while enjoying his favorite wine.

Go bungee jumping together, this is an experience that neither of you will ever forget, especially if you jump while being tied together.
Surprise him with tickets to an event
If a wild adventure is not something that he is interested in. Surely this is something that you should find out or know beforehand. If you know that there is a certain concert or sporting event that is taking place that he would enjoy going to. And if it is close to or on the same day as his birthday in your area organize him tickets to go see it.  
Surprise Birthday Party 
Your boyfriend may even prefer to spend the evening of his birthday being surrounded by his friends and family. If that is the case then plan and organize a surprise birthday party for him. 
Prepare a special Meal for him
If a surprise party is really not his type of scene. Then the best way to celebrate your boyfriend's birthday is to prepare a special meal for him.  Prepare a few of his favorite foods which will also include his favorite dessert if he enjoys your cooking. If he prefers to eat out, take him to his favorite restaurant or a new one that he has been meaning to try for a while.
A getaway trip
There is nothing quite like celebrating your boyfriend's special day at an amazing location, whether the purpose is for romance or for an adventure. There are many different types of getaways to choose from romantic lodges or inns to camping if he is an outdoors type of person. You can use this opportunity to extend it for a weekend or week and fill each day up with something fun to do. It will make him feel loved and super special.
Some things to remember to do during his special day
With so much excitement going on during your planning of your boyfriend's special day. As there are many decisions that you have to make with what gift you want to get to decide on all the cute things to do for your boyfriend's birthday. There are some things that you need to remember to do as they can easily slip a person's mind.
Make your boyfriend the center of your attention
One of the best ways to make your boyfriend feel loved is to spend the day paying extra attention to him. Be at his every beck and call and make him the center of your attention for the day. This would obviously be in a loving way by doing small things for him that he would usually do for himself, like pouring drinks for him, organizing some snacks and anything else that he would want. Just by spending some time together while being fully present in each moment will make him feel like he is the luckiest man in the world. 
Give your boyfriend a hand-written love letter
This could be in the form of a birthday card or an actual love letter. You can write down the many reasons why you love and adore him as well as wish him Happy Birthday. This heartfelt gesture will definitely make him feel special on his birthday. To add a little bit of fun you can hide some romantic notes in places that he will easily find throughout the day like in his jacket pocket, his wallet or in his car.
If he wants to spend his special day quietly at home
If your boyfriend doesn't want anything extravagant and would like to spend his special day quietly at home, you can still do something to make him and his birthday feel special with some of these creative birthday surprise ideas for your boyfriend you can't go wrong.
Decorate his house or apartment
Decorate an area, like the living room of his house or apartment with balloons, confetti, streamers, and a birthday banner. You can even use different colored evenly sized paper or envelopes and arrange them on the wall in such a way to display the age he is turning.
Plan a private birthday party
You can plan a birthday party for your boyfriend just with the two of you. Make sure you have everything a birthday party would have like a birthday cake, great fun music, a dance area and plenty of finger foods. Or prepare a delicious meal that he would enjoy.
Setup and sit by a Fire
This could be either a fireplace inside his apartment or house or you can make one outside. Lay a blanket down on the ground, have some finger foods, some soft romantic music and just enjoy each other's company for the entire evening.
Pamper him 
You could pamper him with a relaxing back massage or if you are looking for something more romantic then share a bubble bath together. Place some candles around the bath edges and a good bottle of wine to set the mood. Then sit back and enjoy each other's company.
Watch his favorite movies in bed
Prepare your boyfriend's bed with plenty of extra pillows and blankets to make it more comfy and cozy.  Get him to choose a couple of his favorite movies while you organize drinks, crisps, popcorn, and some candy. Then cuddle up to each other and watch one movie after the other.
⓶ Things to say to him
One of the many secrets for making your man feel loved especially on his birthday is with the things you say to him. Every guy loves to hear how great you think they are and the reasons why you love them. Some things that you could say are:
Tell him how he is your favorite person and that he deserves to have the best day ever

Toast his birthday and say something like "Here is to many more birthdays together"

Tell him because you love him so much, you have a special day planned for him

Tell him how incredible you think he is and then thank him that you are able to share his special day with him.

Tell him how handsome you think he is, how much you love him and that you hope he has the best year ever

Tell him how important he is to you and how happy you are being him, then wish him Happy Birthday

Tell him that he is the man of your dreams, you are so lucky to have found him and that you love him and wish him a Happy Birthday
⓷ The type of gift to give him
Another way to make a guy feel special on his birthday is in the type of gift that you give him. The gift that you choose should be well thought out, you can decide on one of many meaningful gifts for him or you can choose a couple of gifts from the many cute sentimental gift ideas for your boyfriend. If you choose to give him a couple of small but cute and sentimental gifts instead of giving them to him all at once, you can give one every couple of hours throughout his special day.
An important part of giving anyone a special gift is by having a little fun and getting a little creative with the way you wrap his gift. The anticipation of trying to figure out what might be inside the wrapping is one of the best things about receiving a gift.
There are so many different ways to wrap a gift to make it fun, romantic or special like using homemade boxes that are either tiny or are oversized. You could use different types of glass jars with the gift in the middle but from the outside, it is disguised as something else. There are many different types of paper that you could use and many types of accessories that you could add on top.
Then there is a way that you present the gift to your boyfriend that can help make him feel special and loved. Coming up with creative ways to give a gift to your boyfriend is a lot more fun than the boring way of just handing him his gift.
Coming up with some ideas as to how to make my boyfriend feel special on his birthday becomes very easy when you break it down into three different categories. Leaving you with just one more thing and that is to have fun while doing it because you are doing this for someone that is extremely special to you.
ESTIMATED TIME DESIGNING AND UPLOADING THIS ARTICLE
ESTIMATED TIME RESEARCHING AND WRITING THIS ARTICLE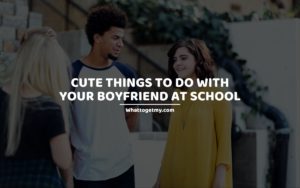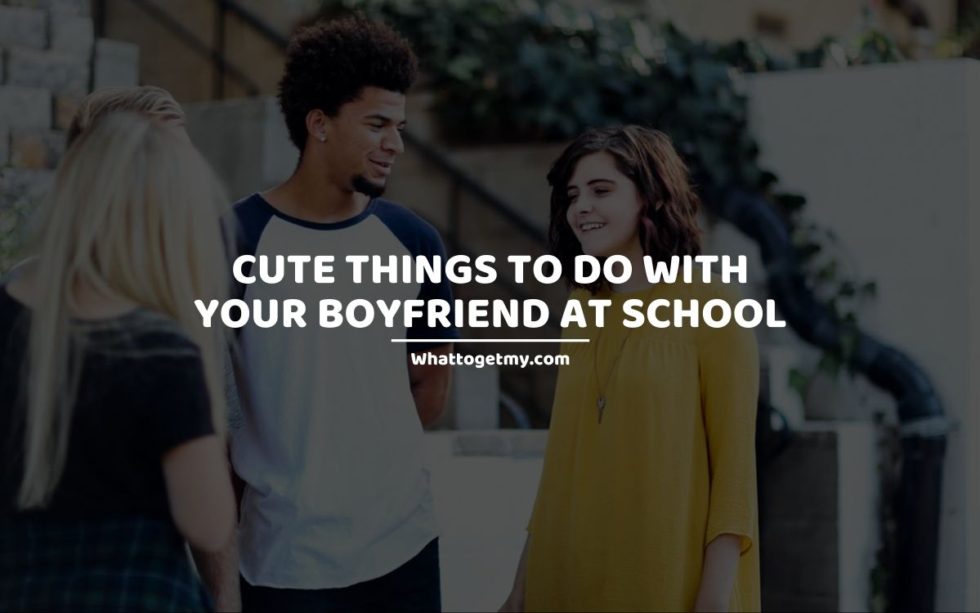 15 Cute Things to Do With Your Boyfriend at School
15 Cute Things to Do With Your Boyfriend at School WhatToGetMy Instructional Article Being in school does not have to weaken the bond you share with your boyfriend, instead, it can be made stronger by showing him affections in creative ways. With the following tips,
Read More »