You heard the news today that your crush will be celebrating her birthday very soon. You find yourself thinking that you need to rush off to the shops as quick as you can to get her the perfect birthday present.
The question pops into your head, what do I get her for her birthday?
Oh no, you have no idea, you feel yourself start to panic. 
But wait a minute
Should you be buying your crush a birthday present at all?
Well this will depend on a couple of things and they are:
Does she have a boyfriend?

How well you know her?

How close is your relationship with her?
Here are some options for you to look at and consider:
If she has a boyfriend
If she is in a relationship with someone else and you do not know her very well at all. It would be a good idea not to buy her a gift at all because you don't want her ending up despising you because your gift caused problems for her with her boyfriend.
If she does not have a boyfriend and you don't know her
If it happens to be that she is not in a relationship and you do not know anything about her yet but her birthday will be soon and you feel you want to get her something to make her day special. It is best to go for the safe option like getting her a delicious box of chocolates, just be sure that she does like chocolates. You could also maybe consider something all-girls' love which is to look good including their nails and to feel refreshed after a relaxing spa bath.
If she does not have a boyfriend and you do know her
You have maybe liked her for some time now and may even be good friends with her. You have got to know her and have learned a few things about her along the way. It then should be easy to figure out what to get your crush for her birthday. All you need to do is to consider some of the following things about her that makes her who she is and make your decision: 
Her interests, likes, and hobbies

If she is an indoors or outdoors type of person

The sports or activities that she enjoys taking part in

Think about her job or type of career she is following

The places she might enjoy hanging out at

The type of things she does to wind down and relax
You should always keep in mind that no matter your relationship with your crush when buying her a gift it should not be something over the top or too expensive. Even though it may be her birthday your gift should be something small, thoughtful or a special but cute gift that is maybe inspirational to her. And of course, every birthday gift should come with a birthday card.
As an Amazon Associate we earn from qualifying purchases. We may earn a small commission for our endorsement, recommendation, testimonial and/or link to any products or services from this website. Thank you, your qualifying purchases help support our work in bringing you real daily gift ideas.
Quick Overview: Gifts for your crush girl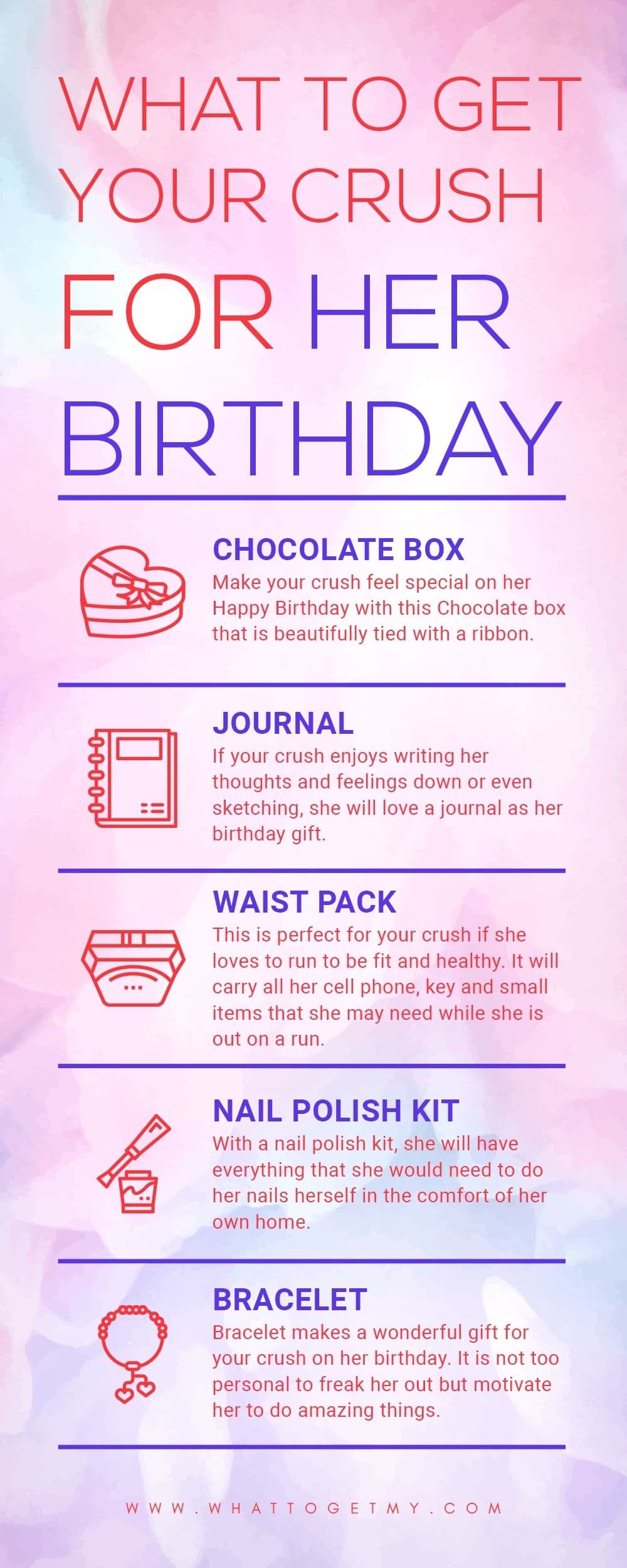 Source Link: https://whattogetmy.com/what-to-get-your-crush-for-her-birthday/
A gift that is safe
If you are looking to play it safe and buy your crush a gift that will not get her all freaked out. In your mind, your intentions are not to ruin her birthday by buying her something that is a little too personal. You want your gift to make her smile and be happy. The best gift to give a girl you like on her birthday would be a delicious box of chocolates.
Assorted Chocolate Gold Gift Box
Make your crush feel special on her Happy Birthday with this gold gift box that is beautifully tied with a pink ribbon. It contains 36 delicious chocolate with an assortment of white, dark and milk chocolates that are filled with a variety of mouthwatering flavors.
Many customers that have purchased this Godiva Chocolatier Assorted Chocolate Gold Gift Box love it because the box and its contents look and taste great.
Gift ideas to suits who she is
When you know your crush, even if it is a little then the best gift for your crush is to buy a gift that will suit her likes or hobbies, like for instance if she enjoys keeping a diary of her every day things or if you know that she enjoys jogging or hiking then you can think of getting her a travel or running waist pack.
Lined Refillable Vintage Writing Journal
If your crush enjoys writing her thoughts and feelings down or even sketching, she will love this vintage writing journal. This makes the perfect birthday gift for her with its beautiful cover, the cute little charm attached to the elegant tie straps gives a great finishing touch to this keepsake journal.
Customers that have purchased this beautiful vintage writing journal are extremely satisfied with the vintage but stylish look that it offers and are very impressed with the quality of the cover that is soft, supple and looks like it will last for a long time.
Travel/Running Belt Waist pack
This is perfect for your crush if she loves to run to keep herself fit and healthy. This waist pouch will carry all her important things like her cell phone, keys, some change and some other small items that she may need while she is out on a run. It is extremely lightweight, she will hardly know that it is there and it fits perfectly on any waist.
Join the many satisfied customers that have purchased this Travel/Running Belt Waist pack as they have found it to be the perfect item to use while out running or traveling and holds all their pocket essentials perfectly
When you don't know her very well
You have just found out that it will be your crushes birthday in a couple of days. You may feel a little panicked because you have not had the time to do your research and get to know her a little. The best thing to do is to either buy her a good box of chocolates or think about things that most girls enjoy doing. Every girl loves to feel and look their best so for birthday gift ideas for your crush would be something like a spa gift basket or a great nail polish kit.
Spa Bath Bomb Birthday Theme Gift Basket Box 
This makes a great birthday gift for your crush as there is nothing much more a woman loves than to enjoy a relaxing spa in the comfort of her own home. She will come out of her bath feeling relaxed, refreshed and ready to face another day.
Those customers that have already purchased this Spa Bath Bomb Birthday Theme Gift Basket Box are extremely satisfied with the variety of quality products included in the gift box
Beetles Gel Nail Polish Starter Kit 
Most girls love to make their nails look great and often spend a fortune having a professional do it for them. With this amazing nail polish starter kit, she will have everything that she would need to do her nails herself in the comfort of her own home. She will save time and money on making appointments, but her nails would look just as amazing as if she had them done by a professional.
Customers that have purchased this Beetles Gel Nail Polish Starter Kit have found that it is a great beginners' kit. It is easy to use, the colors are great and once the gel is on it lasts a long time.
A special but cute gift
If you are thinking about a special type of gift but find yourself leaning more to cute things to get your crush for her birthday idea. Then why not try something that is small, cute and will be inspirational to her.
Inspirational Bracelets
This super cute bracelet makes a wonderful gift for your crush on her birthday. It is not too personal that it will freak her out when she receives it but will motivate her and inspire her to do amazing things. This bracelet is easily adjustable and will fit perfectly and look amazing on her elegant wrist.
Customers that have purchased these Inspirational Bracelets love them and find that they are a very meaningful gift for someone special. With an option to choose one of the different phrases that are inspiring to the receiver, makes this the perfect gift.
The Birthday Card
Many people seem to think that a birthday card with a thoughtful message inside to your crush is worth a lot more than an actual gift. This may be true but only if the message inside is written in the perfect way to wish her Happy Birthday and clearly state how special and amazing you think she is.
But be careful with using her birthday as an opportunity to tell her that you have a crush on her, it could backfire. Depending on your relationship and how well you know each other, she could feel offended that you ruined her birthday. If you are not sure it is best to rather pick another day to let her know how you feel about her.
Once you have chosen the perfect birthday gift for your crush and the all-important birthday card with a beautiful message inside. It is time to decide how you want to present the gift to her. Make a choice whether you want to hand your crush her gift yourself or would you want to figure out how to give your crush a gift secretly?
For a quick and short answer to your question about what to get your crush for her birthday. First consider if she has a boyfriend, think about how well you know her and then decide from there what would be the best gift to get her that is not over the top that it will embarrass her or is too expensive.
Try our AMAZING GIFT FINDER TOOL! Find GIFTS with 1 CLICK!
ESTIMATED TIME DESIGNING AND UPLOADING THIS ARTICLE
ESTIMATED TIME RESEARCHING AND WRITING THIS ARTICLE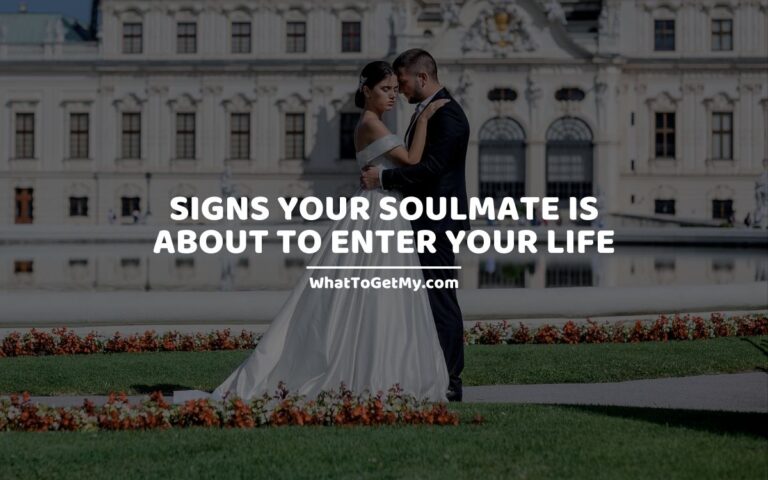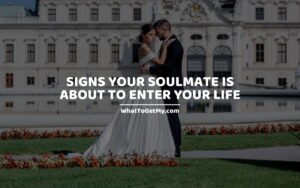 13 Signs Your Soulmate Is about to Enter Your Life
13 Signs Your Soulmate Is about to Enter Your Life WhatToGetMy Instructional Article Soulmates can be platonic, or romantic. For the sake of this article, we are talking about romantic partners who are your soulmate. But what does it mean for a person to be
Read More »