What to Do On Valentines Day With Your Girlfriend
WhatToGetMy Instructional Article
With Valentine's Day around the corner, it's time to get serious. If you haven't planned anything by now, you're in real trouble. Sure, there are a lot of things you can pull off in short notice, but do you really want to rush things on this day?
Many people will say that Valentine's is a day like any other and get annoyed with piles of hearts stocked in every corner. Yes, you should, indeed, show your love always, and not only on this date. However, there's something special about Valentine's Day celebration. Maybe it's because this date is celebrated across the globe, marked as the day of love, so you know that couples all over the world are celebrating it. Or the fact that we sometimes need a reminder of how truly blessed we are with having some people in our lives. Whatever the reason, you shouldn't throw away the idea of doing something special for Valentine's day.
With a little bit of effort, you can make this day really incredible. Sometimes experiences are a better gift than actual material stuff. You and your loved one get to share some time together and create memories that will stay with you for life. Now, these are sometimes not easy to plan and organize. Even if you're under the Cupid's charm, you might need some extra push toward the creative ideas. As always, we are here to help you out. If you have any doubts about what to do on Valentine's Day with your girlfriend, we hope our ideas will solve that for you!
Ideas on How to Make This Valentine's Day Special for your Girlfriend
Recreate the First Date
If you lack ideas on what to do on Valentine's Day, you can always search for inspiration in your relationship. You can surely remember at least a dozen of beautiful moments with your girlfriend. Pick one of them. Done? Now recreate the moment for Valentine's Day! Sounds fun, right?
We recommend recreating the first date with your girlfriend, especially if you're together for a long time now. That will make you think of all the beautiful moments spent together and make Valentine's incredibly sweet.
Cook Together
The key to memorable Valentine's Day is simplicity too. You don't have to organize a big-time event to make your loved one feel special. Sometimes the simple evening spent in the kitchen over the dinner can be just as romantic as the one spent in a fancy restaurant. Pull out some cookbooks, go grocery shopping together, and don't forget the wine!
Here are some more suggestions we have for those who are planning a romantic evening in two: Romantic Evening Ideas for Married Couples.
Spa
Are you two a hard working couple? If that's the case, going to the spa might be the best idea for this year's Valentine's Day. Maybe it's not as romantic as a dinner with candles and flowers, but it might be the thing you two need the most. Besides, you get to spend some time together while relaxing and doing something good for your bodies and minds.
Wine and Chocolate Tasting
If you want to do something special for this Valentine's Day, we recommend wine or chocolate tasting (or both?). It's a fun way to spend the day, and it can be very romantic.
Pro Tip: Keep your eyes and ears open, so you can buy her a bottle of wine or a chocolate box she likes the most!
Romantic Getaway
You don't have to spend a fortune to organize a romantic getaway! It can be a one-day road trip or an entire weekend. Whatever option you choose, it will be unforgettable! Going somewhere with your soulmate for Valentine's Day is something special, so don't hesitate and pack your bags. We even recommend organizing everything and telling your loved one you're going only a couple of hours before the trip! This way, she'll be at a loss for words. 
Outdoor Adventures
Are you two outdoor enthusiasts? If so, you should definitely take your girl camping, hiking, or nature exploring in general. If you're low on cash or you don't have much free time, you can cycle or make a picnic in nature. Regardless of the weather, all these activities can be incredibly fun and romantic. Just don't forget to bring hot tea or coffee to keep you warm!
If you want to give something to your loved one too, you can find some great stuff here: Outdoorsy Gifts for Her.
Go to a Show, Game, Concert, Theatre
If she's a sportsperson, you can take her to see a game. Make sure to check whether her favorite band has a concert somewhere nearby. The same applies to other activities, although you can probably find some good new plays to see in the theatre for that day.
Ideas on a Budget
Cook Her a Dinner
If you're looking for cheap things to do for Valentine's Day, cooking dinner for a special girl in your life is definitely one of the best ideas you can pull off. Don't be afraid to experiment and try new things! Make this Valentine's day to remember for your girl.
P.S. You can even make her a meal from her favorite show or movie. Take a look at the youtube channel Binging with Babish. He posted tutorials on how to make food from all kinds of TV shows and movies. Our favorite one is when he makes lasagna from Garfield. Here, take a quick peek.
Make Breakfast in Bed
If your girl is a hard worker, chances are, she rushes to work every morning. The most romantic thing you can do for her, then, is to make breakfast in bed. It doesn't have to be anything extravagant. Tost, tea, and strawberries will do the trick. It's just important that you have some time to enjoy the morning together on Valentine's day.
Give Her a Massage
If you're not into cooking, you can always opt for a massage, especially if your girl works hard most of the days. Make this Valentine's all about her, and make her feel like a queen! Prepare a bath for her, give her a massage at the end of the day, and you'll knock her out of her feet!
Take a Bath Together
Another option is to make a luxurious bath for the two of you. This way, you can both relax, talk about your past and future, and enjoy your ever-growing love!
Organize a Movie Marathon
If you're on a tight budget, consider organizing a movie marathon for your loved one. Of course, you can watch Harry Potter all over again, but there are many new movies, newly released, you can check out. We recommend The Witcher, an incredibly popular TV show you'll definitely want to finish all at once.
All you need for a movie marathon are some blankets and pillows, so you can make a fortress in the middle of the room. Make some tea, coffee, or even better, wine. Of course, don't forget some snacks. We know that cheese goes excellent with wine!
Write Love Letters
Another budget-friendly option we recommend is writing love letters. It's a simple yet incredibly romantic way to express your love. For example, you can address letters in the next way.
Open When:
It's Valentine's Day
you miss me
you need a kiss
you need help falling asleep
you need me to be there for you
you're feeling blue
we have an argument
you want to tell me something, but I'm not available
it's the anniversary of when we met
it's a week after you've been gone
you need to read something romantic
you need to tell me something important
you're worried we won't make it
you're somewhere beautiful
you visit our favorite place
you feel naughty
you need to feel loved
you're afraid we're drifting apart
Gifts and Romantic Surprises for Sensitive Souls
Should I get a gift for my girlfriend on Valentine's Day?
It's completely up to you, your girlfriend, and your relationship type in general. You know your girlfriend the best and whether she would like to get a gift or not. You can always choose Little Surprise Gifts For Your Girlfriend To Show Her You Love Her. You can't go wrong with a little something whether she likes surprises or not!
DIY Project Ideas
Speaking of romantic things to do on Valentine's Day, you can also make something rather than buy a present. Or you can do both, it's your choice. For example, you can make a custom candy box, design fortune cookies on your own, fill a jar with love notes, and much more. Just be creative and have fun! We don't doubt the best will come from it. After all, you work under Cupid's spell!
Are you Single? Don't Let that Stop you from Celebrating Valentine's Day
If you need some ideas on what to do on Valentine's Day when you are single, we got you covered! Here are some suggestions on what to do and how to have fun for the day:
Go to the movies

Treat yourself with wine and chocolate

Buy something special you always wanted to have

Bake or cook a fancy dinner

Do something nice for another person

Visit your friends and family

Throw a dinner party

Have a sleepover

Read

Have a spa day
We hope these ideas inspire you to spend the best Valentine's Day whether you're single or not!
Celebrating Valentine's with Friends
If you're wondering what to do on Valentine's Day with your friends, the answer is simple. You can do whatever you want, from throwing a party to staying inside and watching movies with a glass of wine within hand's reach. Think of the things you would like to do for the day. You can go out, explore the city, try new food, and much more. Or you can stay inside and play games with your friends. The choice is all yours!
An Extra Suggestion for All Women Out There
If you're not sure what to do on Valentine's Day with your boyfriend, you can definitely follow this article too. Most men would enjoy all of the things we listed above. Still, if you need the actual gift suggestions, you can take a look at this article: Valentine's Day Gift Ideas for Him. It could give a few ideas on what cute things to do for your boyfriend on Valentine's Day.
Conclusion
How do you like our ideas? We tried to be creative and come with some unique suggestions. There's nothing wrong with giving chocolate and flowers for Valentine's Day, but sometimes it's good to do something different for your loved one. Something unexpected that will bring the first flushes of love in your relationship. That's why we included so many different ideas. We tried to cover a wide range of activities, so everyone can find something appropriate, depending on the relationship type.
We have only one last piece of advice for you. Try to think of the things that would bring the most joy to a special girl in your life and then decide on a particular idea from our list. Sincerely, we don't think you can go wrong no matter which one you choose. All these ideas on what to do on Valentine's Day with your girlfriend can be incredibly romantic and leave her speechless. Don't forget, love is everything you need, and the power of it will make this day perfect!
ESTIMATED TIME DESIGNING AND UPLOADING THIS ARTICLE
ESTIMATED TIME RESEARCHING AND WRITING THIS ARTICLE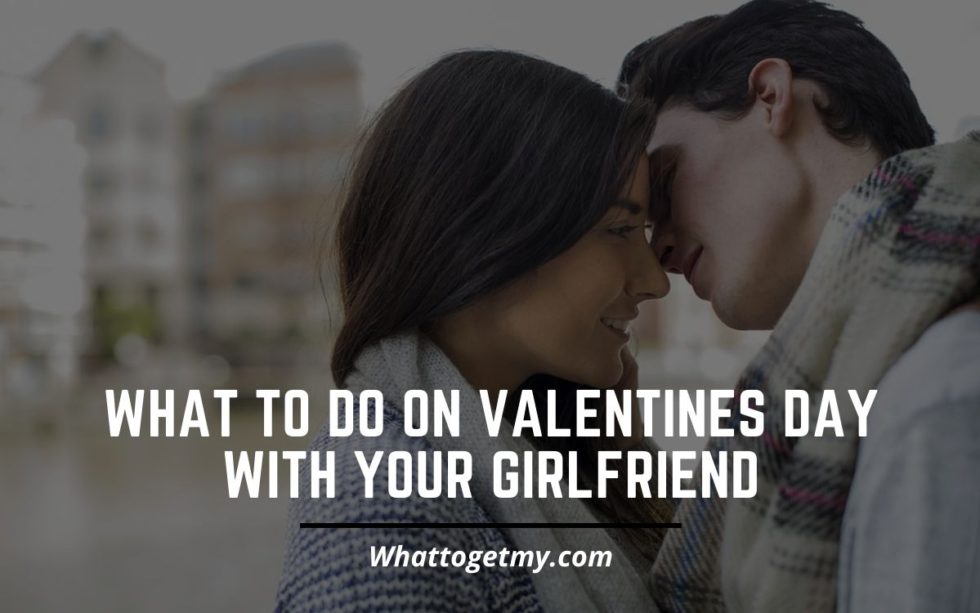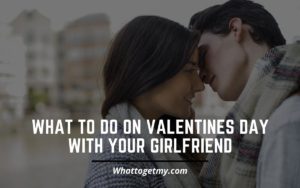 What to Do On Valentines Day With Your Girlfriend
What to Do On Valentines Day With Your Girlfriend WhatToGetMy Instructional Article With Valentine's Day around the corner, it's time to get serious. If you haven't planned anything by now, you're in real trouble. Sure, there are a lot of things you can pull off
Read More »