3 Amazing Options for What to Get Someone When They are Sick
WhatToGetMy Instructional Article
All you want to do is to help a sick friend or family member feel better and are looking for some ideas as to what to get them. 
We can help you with this. 
We know and understand that life is all about being there for the people that you love and care about, especially when they are feeling so awful. 
The most important gift for a sick friend or family member is giving them your time. Having someone by their side when sick to talk to, often means more to them than actual gifts that you give them. Your presence helps to distract them from their illness even if it is only for a couple of hours. 
If you want to give them an actual physical item, then you could consider three different options. Make your decision, which one is the best for you and the person who is sick. They are:
Things that you can do for a sick person

Things that you can buy for someone who is sick

Adding a personal touch with a Get Well Soon gift basket
Before you make your final decision on what to get someone when they are sick. It is a good idea to know a little about the illness that they are suffering from, the symptoms and whether it is a short-term illness or a long-term illness. Knowing these things and giving items that will help soothe a specific illness shows the person who is ill that you really do care about them.
Although many items that you could give them are good for all different types of illnesses. There are some that you can give or do that are specific to certain symptoms like for short-term flu you could make them a good chicken noodle soup that is both filling and nutritious for them. For a stomach bug or stomach pain, you can help sooth it by getting them some ginger tea.
For the long-term types of illnesses and chronic pain, you can think about items that will help them feel more comfortable like with gifts for chemo and radiation patients that make their life easier while they are trying to recover.
One thing to remember when taking care of someone who is sick is that they should get plenty of rest and drink liquids. Liquids like water and herbal teas will help them stay hydrated. 
Let us look at each option of ideas of things that you can get and do for someone who is sick that will help them feel a little better and maybe even recover a little sooner.
Things that you can do for someone who is sick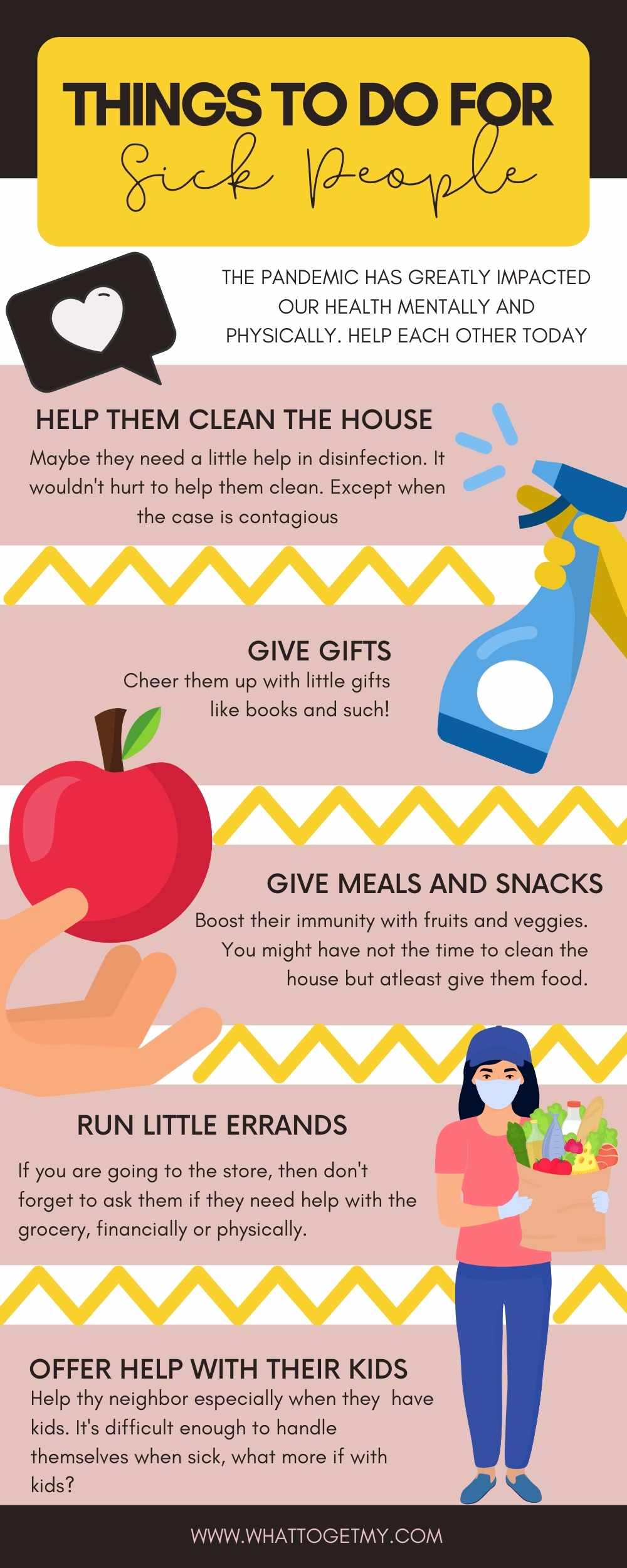 Source Link: https://whattogetmy.com/what-to-get-someone-when-they-are-sick/
When anyone is sick, their energy levels are nonexistent and it is difficult for them to do any of their usual daily chores like clean the house, do laundry, run errands, or cook meals. Things that you can do for someone who is sick are:
1. Help clean their house
You can help a sick friend or family member by stopping by the shops on your way to visit them. Purchase all the items that you will need to clean their house because you do not know what they have and if they have had the time to do shopping before they fell ill.
If you are unable to do the cleaning yourself, then you can hire a cleaning service to clean their house for them. 
A clean house always helps a sick person feel a little better and can sometimes help them recover sooner as it is one less thing for them to worry about. 
2. Do a load or two of laundry for them
Having clean sheets and blankets to sleep on often helps a sick person feel less miserable. Laundry is one of the last things on a sick person's mind so you can help them by swapping their bedding for fresh ones and doing a load or two of laundry while you are visiting them.
3. Meals and Snacks
Preparing meals or snacks take up too much energy for a sick person and often causes them to skip meals. Skipping meals is never a good idea especially if they are sick. Things that you can get someone would be quick and easy meals and snacks.
You can make a few meals yourself; place them in the fridge or freezer for them to heat up when they feel like eating. They will appreciate the fact that they do not have to spend time trying to cut, chop and prepare meals for themselves.
For some ideas for easy meals think of dishes like soups, casseroles with lots of vegetables and plain food like pasta.
For snack ideas, either you can buy a variety of healthy snacks for them to eat or you can make them a delicious treat with some cut-up fresh fruits.
If they are feeling up to making their own meals, you could then get them some staples from the grocery store. For example:
Fresh bread

Eggs

Butter

Fresh milk

Lunchmeat or some bacon

Pasta and rice

Healthy cereals

Fruit juices
4. Run some errands for them
Your sick friend or family member may have been or will be stuck in bed for a couple of days and life does not stop because they are sick. You can offer to run some errands for them for example:
Pay bills for them

Banking

Pick up or drop-off dry-cleaning

Mail pickup or delivery

Keep an appointment that has been made like a trip to the veterinarian

Medicine pick-up

You can offer to walk their dog
5. Offer your help with their kids
You can offer to help with your sick friend or family member's kids by:
Dropping off and picking them up from school, sports or other lessons

Helping them with homework

Offer to take them somewhere like the movies or to the park so that your sick friend or family member can get some rest

Keep them occupied with some board games, video games or buy a movie that they have been dying to see on a DVD.
Gifts you can buy for someone who is sick
Some ideas for actual physical items that make great gifts for someone who is always sick are:
Comfortable Pajamas and robe

A pair of warm, cozy socks and fluffy slippers

A nice looking beanie to keep their head warm as well as to hide a messy hairstyle 

A weighted blanket that is soft and warm.

A comfortable recliner pillow

Heating pads or a heating blanket

A portable foot spa

Something for the body like bath salts and soothing lotions for them to relax and help with sore muscles 

A diffuser and essential oils to help with stuffy noses 

Brighten up their bedside table with some flowers or a beautiful plant that does not need much work

Interesting books or magazine to keep them occupied when they can't sleep

Activity and coloring books

Puzzles and board games that they can play while in bed

Music often helps to uplift a sick person's spirit so a good quality pair of headphones or wireless speakers would be greatly appreciated

Kitchen appliances like a quality slow cooker for them to make easy delicious meals themselves with not much fuss.

A Get Well Soon card with a handwritten personal note from you is worth a lot more to someone who is sick than any store-bought item.
Things that you can make for someone who is sick
If you find that, you are looking to do something different from the top two options. If you are looking, for something more where you can add a personal touch of your own. An idea is to make your own gift basket for a sick person or a gift basket for a sick child.
With a gift basket that you make up yourself, you can choose your own items that are perfect for someone when they are sick. They are also a wonderful and thoughtful way to show a sick person that you care about them and wish them a quick recovery. 
But you might be asking what are the best items to include in the gift basket that will be useful to someone who is sick?
Even though they are not feeling well at the moment, it is still best to consider their interests, needs, wants, and preferences, as this will help make your item selection for the gift basket easier for you.
To brighten their days, think about their illness and items that will help them deal with the discomfort as well as items that will keep them entertained.
Some ideas for a gift basket are:
Snack items:
Home-made cookies, scones, muffins or brownies

Crackers

Pretzels

Granola bars

Gummy bears or jelly beans

Ginger chews

Honey

Nuts or dried fruits

Single serving cereals and instant oatmeal

Unsweetened Yogurt

Fresh and candied fruit

Canned Soup
Drink items:
Energy drink mixes

Bottled fruit juice

Tea such as flavored green tea and chamomile tea

Bottled water
Personal items:
Face towels or body wipes

Warm socks

Slippers

Knitted gloves

A warm scarf

Face and Body Lotions

Lip balms

Bath salts and bath bombs

Mouthwash 

A personalized mug for tea or coffee or a water bottle

A cute keychain that states either get well soon or I'm thinking of you

A personal note, card or open when letters
Health and Wellness items:
Before you go out and buy any type of medication it is best to first make sure that the items can be taken with the prescribed medication that your sick friend or family member is already taking.
Nasal inhaler stick or nasal spray 

Throat Lozenges or throat spray

Cough Drops

Chewable Vitamin C or Multivitamins

Vapor rub or Menthol rub

Hand Sanitizer (antibacterial)

Face mist and wipes

Aspirin or painkillers

Eucalyptus oil

Small Humidifier

Hand-held neck and shoulder massager or lower back massager

Bedside salt lamp

Lavender candles

A sleep mask

Handwarmer
Items for Entertainment:
Being stuck in bed for a couple of days or longer can be unbearable especially when someone who is sick, cannot sleep and has run out of ideas of things to do while in bed. Here are some items that you could include in your gift basket to help keep them entertained.
A couple of magazines with a subscription for their favorite one

Books to read that are easy on the eyes

Puzzle books

with Sudoku, word find and crossword puzzles

Arts and craft supplies

A Netflix gift card

A streaming stick

A deck of cards with ideas of games to play solo

Hand-held gaming device

A flash drive with movies and music loaded

Extra-long cable for a phone or laptop 

Once you have decided on all your items for the gift basket, ensure that you arrange them properly and securely. Make sure that none of the items will break or leak out.
You can then decorate the gift basket with items that could help lift their spirits the moment they lay their eyes on it.
Remember when giving any kind of gift to someone who is sick, the most important item is a handwritten note from you. Ideas for this are:
A get well soon card signed by all their friends or family

A letter a day telling them what a great person they are and you wish them a quick recovery

Handmade pictures from your kids or theirs

Funny quotes that will help make them laugh a little
If you are still unsure of what to get them sometimes the best thing is to ask them what they need or like. To make it easier for them to tell you, give them a choice between different things that you can offer.
When deciding what to get someone when they are sick, first consider the type of illness that they have. Decide whether you would like to do something, buy a gift, or make up a gift basket that would be perfect for them. Nevertheless, whatever you decide always remember that just your presence alone shows them that you care.
ESTIMATED TIME DESIGNING AND UPLOADING THIS ARTICLE
ESTIMATED TIME RESEARCHING AND WRITING THIS ARTICLE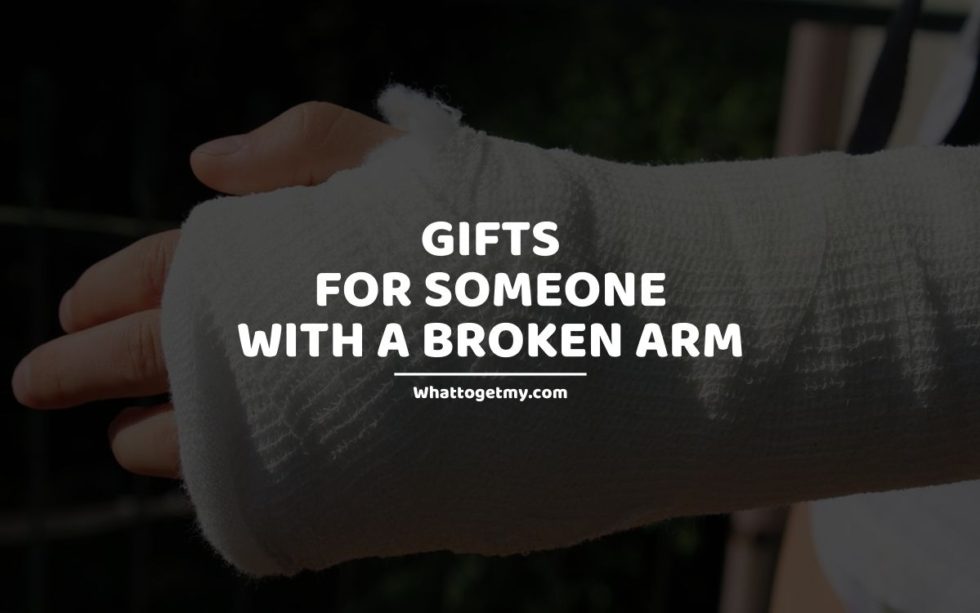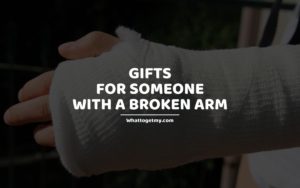 Gifts For Someone With a Broken Arm
Breaking an arm takes a lot of activities off the table, and that's why you'll want to find the perfect gifts for someone with a broken arm. Not only will these gifts bring back joy into their lives, but they also tell them how much
Read More »