Picking out gifts for your coworkers can be a challenging and daunting task.
So why do it?
You spend the majority of your time at work and with your coworkers. Some you get along with and have become really good friends with while others you can barely tolerate them because they seem to enjoy making fun of and gossiping about others.
But you have to find a way to make your working environment as pleasant as possible. The only way to do this is to build at having a good relationship with each of your coworkers whether you like them or not.
But to build a good relationship with them, you have to take the time to get to know each of them a little on a personal level and show interest in the people they are to learn some of the things that they like.
So you make friends because they are the ones who help you deal with the daily challenges that you face at the office. They support you and teach you lessons that enables you to grow as a person as well as a team.
It is only natural that you will want to show them your appreciation by giving them the same sort of support and respect that they give you. You can do this by being calm, friendly and helpful yourself.
Another way to build a good relationship is to surprise them with quick inexpensive gifts. These gifts could be for any special occasion: holiday parties, birthdays, to say thank you or to celebrate an accomplishment.
But what do you give your coworkers?
Before you decide on a gift first consider the reason and the occasion why you want to give them gifts.
Is it close to Christmas? And you want to spread some Christmas joy by giving everyone something that will convey good wishes for the holidays. Will your gift be to motivate or inspire them or do you just want to thank them for all that they have done for you? And you are looking for some great inexpensive thank you gifts for coworkers.
Some other things that you need to think about are:
You don't want to spend too much

You should not get too personal by giving them a romantic type of gift

You don't want to give them something that is offensive. Think about what religion they are and their traditions.

You also don't want to single a person out or show favoritism in front of others unless it is their birthday as this could cause problems in the future with other coworkers.
So for a large group of coworkers, it is best to buy gifts in bulk to give to everyone more or less the same thing. This type of purchase will work out a lot easier and cheaper than trying to buy each person an individual gift according to their taste.
For a smaller group of coworkers, you could also buy in bulk if you wanted to but you could also buy inexpensive individual gifts that you know that they would like. Another idea for small groups of coworkers is to consider some homemade gifts for coworkers.
How do you select a gift that everyone would like?
Before selecting a gift for your coworkers, think about the message that you would like to convey with your gift. Do you want to show them that you care enough to give them a perfect gift that is thoughtful and meaningful in some way? Maybe you want to give them a gift that would be useful to them in the office.
The gift that you choose should show that you have put some thought into each individual person. That you have made sure that it will not offend anyone in any way, especially if you decide to purchase bulk gifts.
Keep in mind that you may know the person from work. You may have an idea about some of their interests and likes. But, you do not know the things that they have at home. Try to select the type of inexpensive gifts that are unique, useful and meaningful to their office life. This way you are able to see the items that they have on their desk or in their cubicle and choose items that they don't have.
Some favorite gifts for the office are:
Picture frames for desktops

Memory books and scrapbooks

Gift baskets filled with pamper items

Inspirational Books

Gift cards for all sorts of items, like Starbucks

Inspirational or personalized items

Desk decor and accessories

Homemade treats

Notebooks and journals

Themed gifts for the occasion
For our suggestions, we have put together items that your coworkers will love. Which some you can buy individually or in bulk.
There is something that is inspirational and useful like a bracelet or a pocket notebook with a positive message on it.
Something to say thank you or something to brighten up their desks with like a multifunctional pen, a beautiful succulent plant or a no-spill cup holder.
Or if you are looking for something to go perfectly with the Christmas season. We suggest cute and attractive mini Christmas stockings that you can add a little something special inside.
And if you are feeling creative, we have some ideas for homemade goodies that you could try.
As an Amazon Associate we earn from qualifying purchases. We may earn a small commission for our endorsement, recommendation, testimonial and/or link to any products or services from this website. Thank you, your qualifying purchases help support our work in bringing you real daily gift ideas.
Quick Overview: Inexpensive gifts for coworkers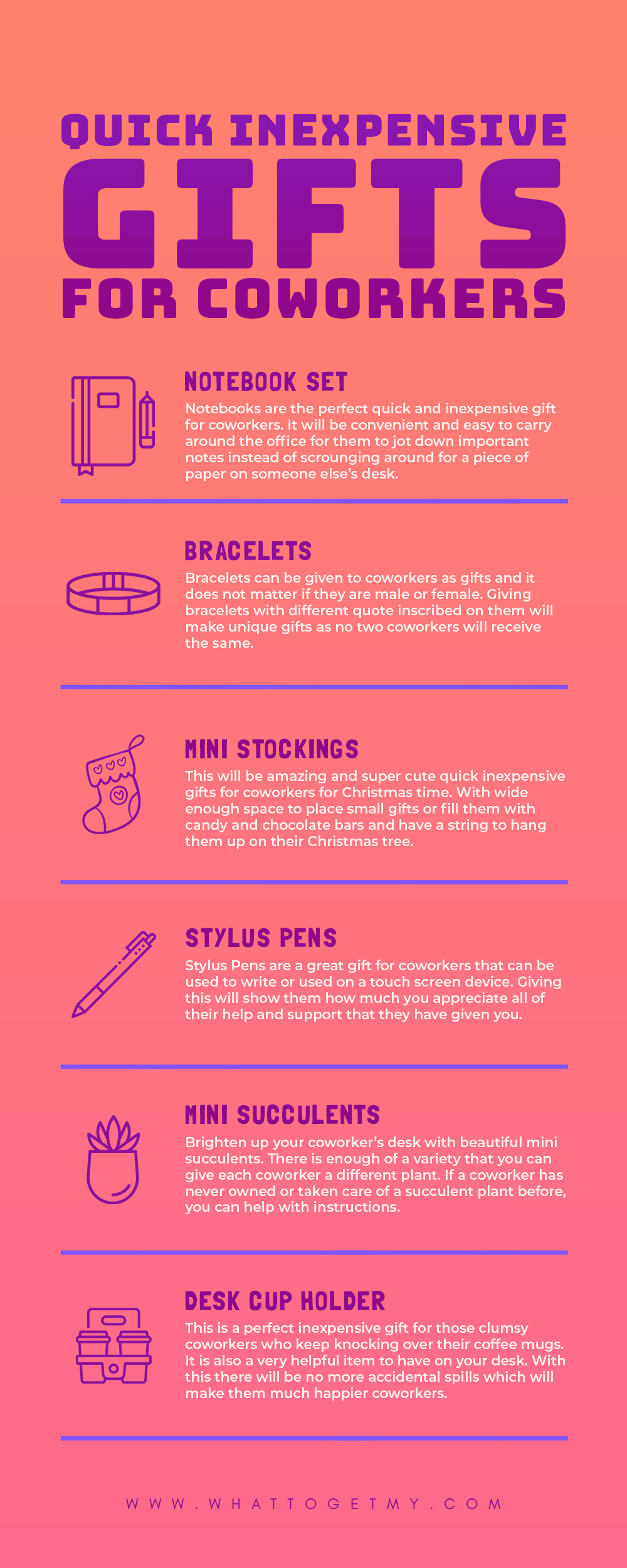 Source Link: https://whattogetmy.com/quick-inexpensive-gifts-for-coworkers/
Something useful and inspirational
Pocket Notebook Set
These bright notebooks are the perfect quick and inexpensive gift for coworkers. They each have a great positive message on the outside which is great for both male and female coworkers. Their pocket size makes them convenient and easy to carry around the office for them to jot down important notes instead of scrounging around for a piece of paper on someone else's desk.
The majority of customers that have purchased these Pocket Notebooks Set are extremely happy. They are bright with great inspirational words and are the perfect size for carrying in your pocket or purse to jot down important notes.
Inspirational Message Leather Bracelets
These inspirational message leather bracelets can be given to coworkers as gifts and it does not matter if they are male or female. They are adjustable and will fit any size wrist and they each have their own inspirational message on them. They make unique gifts as no two coworkers will receive the same.
Those customers that have already purchased these Inspirational Message Leather Bracelets are amazed by the quality of them. They love that each bracelet has a different quote inscribed on them and find that they make perfect and unique gifts.
Something for Christmas
Christmas Mini Stockings
These are amazing and super cute quick inexpensive gifts for coworkers for Christmas time. Each stocking is extremely detailed and is made from soft felt with a raised up face of a Santa, reindeer and a snowman. They are wide enough to place small gifts or fill them with candy and chocolate bars and have a string to hang them up on their Christmas tree.
Many customers that have purchased these Christmas Mini Stockings absolutely loved them. They found them to be the perfect size for small goodies or a gift card and are extremely well made.
Something to say Thank you
"Thank You" Greeting Gift Stylus Pens
These Stylus Pens are a great gift for coworkers that can be used to write or used on a touch screen device. They say "Thank You" and show them how much you appreciate all of their help and support that they have given you. These multifunction pens come in a variety of vibrant colors. They are sturdy but are not too heavy pens that write smoothly and feel comfortable in your hand.
Many customers that have purchased this "Thank You" Greeting Gift Stylus Pens found that they have a nice grip and are comfortable to hold. These pens write smoothly and work well on their touch screen devices.
Something to brighten up their desk
Mini Succulents
Brighten up your coworker's desk with these beautiful mini succulents. There is enough of a variety that you can give each coworker a different plant. Once ordered they arrive securely packed to minimize damage. And if a coworker has never owned or taken care of a succulent plant before, you can help by giving them a copy of the included instructions.
Customers who have purchased this Mini Succulents were satisfied with what they received. They arrived packed securely in 5 small boxes with 4 plants in each in one larger box with instructions. There was a variety of different plants that looked to be healthy.
Something that is helpful
Desk Cup Holder
This is a perfect inexpensive gift for those clumsy coworkers who keep knocking over their coffee mugs. It is also a very helpful item to have on your desk, it stays in one place as it sticks to the desk. So there will be no more accidental spills which will make them much happier coworkers
Ideas for homemade gifts for coworkers
If you are feeling creative and would prefer to make something yourself for your coworkers. Here are some ideas:
You could purchase plain white mugs and decorate them with colorful permanent markers. It could be something inspirational or a funny inside joke. You could fill the mugs with yummy chocolates. 

Mason jar filled with candy. Decorate the outside of the jar with something that would either suit the occasion or the coworker. Then fill it with different candies.

Inspirational bookmarkers. These are quick and easy to make, make your desired bookmark with an inspirational saying on it and add a tassel, bow or pom-poms to the end of it. 

Bake cookies, muffins or cupcakes for your coworkers. You can place a few in containers of some sort for each person or you can take one large container for everyone to share. 

A Christmas favorite is a hot chocolate sampler mug. Place a couple of individual packets of hot chocolate in a mug, decorate the mug and you will have great quick inexpensive gifts for coworkers. 
When it comes to finding quick inexpensive gifts for coworkers, it is best to choose something that would be useful to them in the office. It is also a good idea to buy in bulk so that everyone receives more or less the same thing.
ESTIMATED TIME DESIGNING AND UPLOADING THIS ARTICLE
ESTIMATED TIME RESEARCHING AND WRITING THIS ARTICLE
Try our AMAZING GIFT FINDER TOOL! Find GIFTS with 1 CLICK!