So, you have a junior chef in your family? Say no more, we are here to help you find the best gift for the little one. Whether you're buying a gift for a birthday, Christmas, or any other occasion, you want to make sure you're getting the right thing. Children are curious little beings, and they need a lot of encouragement when learning new stuff. Therefore, when buying a gift for cooking fans, you should get the best gear you can to help newbies with the first learning steps. Who knows, maybe one day you get to show off about having a famous chef in your family.
Now, if you want to surprise a young cooking enthusiast with a fun and creative thing, all you need to do is to scroll down to our list. We have 8 unique gifts for children who like to cook, and you're going to love them all!
As an Amazon Associate we earn from qualifying purchases. We may earn a small commission for our endorsement, recommendation, testimonial and/or link to any products or services from this website. Thank you, your qualifying purchases help support our work in bringing you real daily gift ideas.
Quick Overview: 7 Gifts for Children Who Like to Cook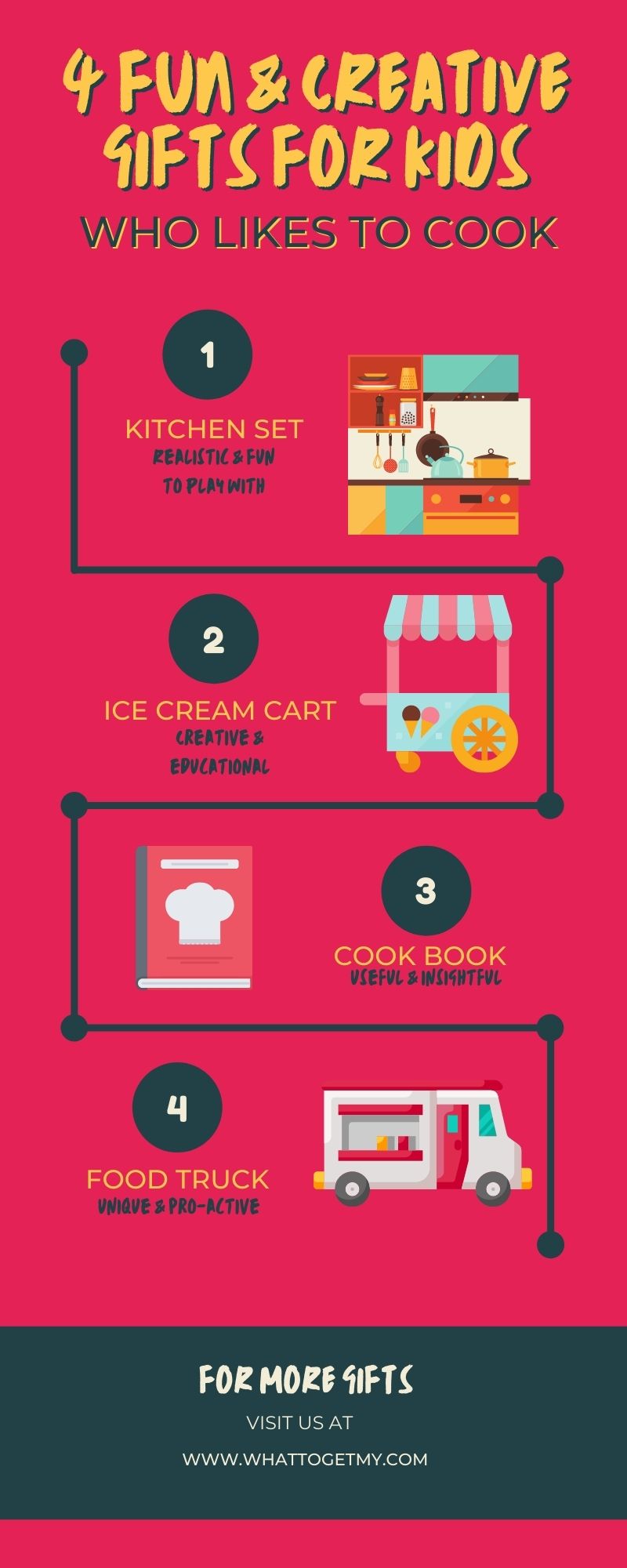 Source Link: https://whattogetmy.com/gifts-for-children-who-like-to-cook/
KidKraft Play Kitchen Set for the Youngest Chefs
Kids who are too small for the real kitchen will adore this set! It features an innovative corner design, and it comes with all the necessary equipment. It's just like the real kitchen only smaller, so your child can work in it all on his or her own.
The set includes pots, pans, and all kinds of other accessories. Of course, there's an oven, a microwave, a refrigerator, a freezer, and a washer. Oh, there's a cordless phone too. Your child can operate it without using hands, when he or she is too busy with cooking the meals in the kitchen. The burners even produce sound and lights for a more realistic experience. The entire set is made of quality wood and plastic, and it proves to be quite durable.
The set is perfect for all kids up to 8 years old. It's realistic, fun to play with, and quite durable. With all that stuff, your little one will enjoy cooking every day. He or she will even get to practice until switching to the gear in the real kitchen.
Learning and Having Fun with LeapFrog Scoop & Learn Ice Cream Cart
Here's a perfect gift for toddlers. LeapFrog Ice Cream Cart combines fun and learning lessons. It features all those flavors and toppings for the best, tasty combinations. It also improves memory with six animal cards needed to complete the order. Not to mention that your child will be learning numbers, phrases, colors, and more. He or she even gets to sing with the card while moving it around the house!
If you are wondering What to Buy a 2-Year-Old for Her Birthday, this ice-cream cart might be an excellent choice. It's ideal for children from 2 to 5 years old, so your little one will definitely use it for quite some time. Besides, it's a creative, fun, and educational toy adored by every child who owns it!
The Complete Cookbook for Young Chefs
Those who are looking for a cooking gift for 11-year-olds are going to love this book of recipes. It's one of the best children's cooking books you can find on the market. The company used only kid-tested and approved recipes, so you can be sure that your child can follow it. Kids love that the book has so many recipes, from breakfast to dessert, and that it makes cooking much easier. All of them are followed by instructional photos and other useful tips.
This book of recipes is perfect for children. It's fun, useful, and kids love it! It doesn't only include easy recipes but also a lot of instructions written down by real chefs. Parents noticed that the book boosts their children's creativity and confidence. You should definitely consider getting it as a gift, and we even recommend it as one of the Santa Gift Ideas for a 10 Year Old.
Perfect Breakfast with Ring Mold Set
If you want to get something cooking-related to your child, yet you want for the entire family to have fun, you should consider getting a set of ring molds. It's probably the best gift for kids that cook. The set includes 8 pieces of molds, and all of them are made of high-quality stainless steel. The material is free of toxins and perfectly safe for use. It's also non-stick, so you can use it for cooking eggs and pancakes. The pieces come in different shapes, including animals and stars. Your little one will enjoy making food in all these shapes! It will make her or him feel like a professional chef.
The set will allow you to have so much fun preparing breakfast with your family. It's not only great for little kids learning to cook, but it also makes one of the best baking gifts for teenagers. The truth is, everybody loves getting eggs and pancakes in different fun shapes, so you can't go wrong with getting this set as a gift. For more similar ideas, you can look up into our article 6 Alternative Christmas Ideas for Families.
Have More Fun with Curious Chef Kitchen Basics Kit
Are you looking for kids cooking set? You have just found one of the most popular sets on the market. The Curious Chef Foundation set includes 25 pieces designed for easy and enjoyable cooking. It's ideal for children who are just learning to cook, especially if you want them to stop using things from the real kitchen. These items are child-friendly and safe for playing. There's a hat, an apron, two oven mitts, a mixing bowl, a timer, a measuring cup, and much more. All pieces are made of quality materials, and they are BPA free. Not to mention that they come ergonomically designed for more comfort and easier handling.
If you want to get a junior cooking set for a child in your life, we highly recommend the Curious Chef Kitchen set. It comes with so many different items, it's fun to play with, and perfectly safe for your child. He or she is going to love it!
Handstand Kitchen Set for the First Cooking Steps
Do you have difficulties finding gifts for junior chefs? Handstand Kitchen set is what you need. It includes 17 amazing pieces for cooking with joy, and all of them come in life-like sizes. Therefore, the set is perfect for children of different ages. The pieces are also made of sturdy and durable materials that ensure a long lifespan. A little chef in your family will definitely have a lot of fun for years!
The Handstand Kitchen set is perfect for children who are learning to cook. It's fun, useful, and very practical. With it, you can all enjoy cooking as a family. It also makes an excellent Grandparent-Grandchild Activity Set.
Little Tikes 2-in-1 Food Truck for Toddlers
Are you looking for Christmas Gifts for a 2-Year-Old Baby Girl? Search no more, Little Tikes 2-in-1 Food Truck is perfect for every toddler who likes cooking. It's a food truck and a kitchen all in one, which means it includes ice creams, hot dogs, drinks, and much more. Not to mention how it features a steering wheel with a working horn, a pull-out serving counter, and many other super fun items.
Little Tikes 2-in-1 Food Truck is perfect for any occasion and every toddler, regardless of gender. We recommend it for girls only because we noticed that some parents have a hard time finding gifts for their little girls. To help you out with this one, we can also recommend our article about Valentine's Day Gifts for 2 Year Old Daughter.
Some Extra Stuff
Encourage Your Child to Cook
If your child enjoys playing with pots, cups, and bowls, you should encourage him or her even more. Firstly, knowing how to cook is very useful, and your child will learn it for life. He or she will know how to cook for himself or herself as well as for others, which also ensures your child will have a healthier lifestyle. Secondly, this might be the thing that your child will do professionally one day. You don't want to stay in the way of his or her dreams. Besides, it's always great to have a professional chef in the family!
Cook Together as a Family
You should help your child to learn and improve skills, but you should also encourage him or her to have fun. Besides, keep in mind that children learn much easier when they are having fun during the process. 
Whatever hobby your child chooses, make sure to be involved. For example, if your little one is a cooking enthusiast, take some time to organize family cooking evenings (or mornings). This way, you won't only bond over preparing food but also show your child that he or she has all the necessary support from loved ones.
Let Your Child Explore
That being said, you should also let your child explore all on his or her own. When you're not cooking together as a family, let your little one wander around the kitchen. Let her or him try out new meals and mixes, make mistakes, and improvise. A child should always have enough freedom to explore and be creative. Only that way, her or his skills will improve over time. 
Finding Perfect Gifts
At first sight, finding gifts for little cook fans doesn't seem so hard. All you need to do is to find toy pans, pots, and other child-friendly cooking items, right? However, things are not so simple. 
First, you have to find a gift appropriate for the age range. You want to get a quality thing that your child will use for many years, and not the one she or he will drop after a week. Secondly, you want to be sure he or she will like the thing you have chosen. 
Therefore, consider all the things your child enjoys doing and then opt for a particular gift. We hope our list of 7 fun and creative gifts for children who like to cook helped you find a perfect one.
ESTIMATED TIME DESIGNING AND UPLOADING THIS ARTICLE
ESTIMATED TIME RESEARCHING AND WRITING THIS ARTICLE
Try our AMAZING GIFT FINDER TOOL! Find GIFTS with 1 CLICK!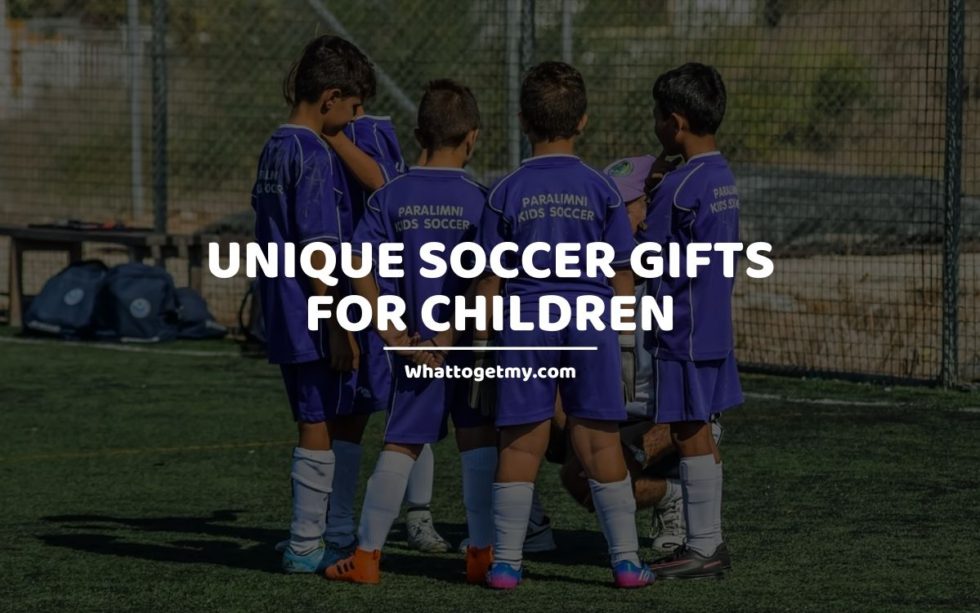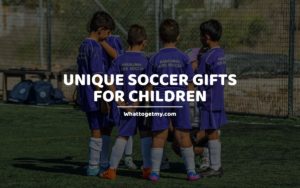 Unique Soccer Gifts for Children
If you have a young soccer fan in your family, you probably want to give him or her a themed gift. Most parents and family members opt for soccer balls, which is a great gift, but you might want to be cooler than that. Kids
Read More »