So, you're looking for Gifts for Children Who Like to Cook? Well, you have a difficult task ahead. Finding perfect cooking toys, tools, and accessories for children is rather challenging. You have to think about their safety, but also how to help them develop skills. It's essential to get things that will boost their confidence and creativity. Of course, fun is a crucial part of the process, so you also have to look for things that will provide an enjoyable experience. Luckily, you have us to help you out, and we prepared some ultra-creative products. With our recommendations, you'll be able to come up with gift ideas for baking with children with ease!
As an Amazon Associate we earn from qualifying purchases. We may earn a small commission for our endorsement, recommendation, testimonial and/or link to any products or services from this website. Thank you, your qualifying purchases help support our work in bringing you real daily gift ideas.
Quick Overview: Gift Ideas for Baking With Children
Step2 Grand Walk-In Kitchen & Grill for Ultimate Cooking Experience
One of the best cooking gifts for kids is coming from Step2. It's a kitchen playset with so many realistic amenities that your kid will be completely blown away! The set includes an eat-in station, a barbeque grill, and a lot of kitchen appliances. It even has lights and sounds for a real-time experience! All the included pieces are made of quality material, and they prove to be rather durable. Your kid will be able to play with this set for many years to come.
If you're looking for kitchen gifts for kids, waste no more time and get this astounding set coming from Step2. It's well made, durable, and incredibly fun to play. Your child is going to love it!
Melissa & Doug Grocery Store for Aspiring Merchants
Here we have another playstation, only this time it's coming from a company called Mellisa and Doug. We are talking about a grocery store where your kid can lay out food and prepared meals for the entire family to buy. Why wouldn't your child earn some money on the delicious food he or she prepared? The grocery store has a lot of awesome accessories and amenities. There's a card swipe machine, a beeping scanner, cash drawer, and of course, many drawers and storing spaces. We don't have to tell you how joy kids find playing with the station. Parents also love the set because it's designed for maximum safety, with smooth and curved corners and edges, so your kid can't get hurt.
The grocery store set is one of the best cooking gifts for children you can find. It inspires creativity and imagination and also draws children away from TV screens. We say give it a shot! You won't be disappointed!
Having Fun With Friends in Step2 Kitchen
If you're searching for cooking kits for girls, we have another product from Step2 to recommend. It's a kitchen equipped with many amenities, tools, and accessories. Did we mention that it plays sounds and lights for a better overall experience? Yes, you read that right, your kid will get real experience while cooking in her or his kitchen! There are pots and pans, as well as amenities such as a stove, a microwave, and much more. Parents also love the fact that the kitchen comes with many organization cases so that kids can store all the food and pieces once they finish playing in the kitchen.
You'll definitely surprise your little one with the Step2 kitchen set. It's one of those baking gifts for girls that never disappoints. Don't miss to check it out!
Hapinest Kids Baking Set for the Youngest Chefs
When it comes to cooking gifts for kids, you can always opt for a classic that is to say a basic baking set. This particular one comes with a lot of useful and beautiful items. You get to choose an extraordinary apron from three available designs, including a unicorn, a snowman, and a fox one. There's also a recipe book to help your little one prepare meals. When it comes to cooking accessories, you'll get a roller, frosting tips, frosting couplers, and frosting bags.  All these items are made of stainless steel. They are durable and very useful for cooking, so your child will most certainly develop baking skills while playing with the set.
The baking set is a perfect gift for every occasion. Even the kid who doesn't like to cook will learn to love it! All in all, it's an endless source of fun, and we highly recommend it.
All the Necessary Tools in Curious Chef 30-Piece Chef Caddy Collection
From all available gifts for kid chefs, the Curious Chef Set is probably our favorite one. It includes 30 super useful tools for playing in the kitchen. All of them are designed for little hands, comfortable, and easy to use. The extra-coated handles allow for a firm and comfortable grip, and the blade-guards make the knives perfectly safe for use. You can let your child play in the kitchen without worrying that she or he might get hurt in the process. The set also includes a carrying caddy. With it, your kid gets to transport all the tools with ease, and play wherever he or she wants. You'll be pleased to know that all tools are made of high-quality materials and tested for durability. Your child can use the set for preparing all kinds of meals. It proves to be quite efficient!
Parents love the Curious Chef set because it inspires children and allows them to experiment in the kitchen. All the included pieces are BPA free and tested for safety. Your child can play with the set or use it for preparing actual meals. You're both going to have so much fun when using it!
P.S. We also recommend the Curious Chef kit as a Grandparent-Grandchild Activity Set.
Support a Cake Decorator with Cake Decorating Supplies Kit
If you're looking for more kids cooking gift ideas, we recommend the cake decorating set. This particular one includes everything your child needs for successful baking and decorating experience! There are pans, paper lines, measuring cups, spoons, and much more. The included pieces are made of quality materials, and they make cooking super easy. Also, the cake decoration supplies allow for making beautiful cakes in a breeze. The set includes 48 icing tips for decorating cakes, muffins, cupcakes, and cookies. How amazing is that? Additionally, you'll get an online book of cake recipes to try out with your little one.
If your child enjoys baking cookies and cakes, then the cake decorating set is a perfect gift for her or him. It's an ideal beginner's set and allows you to spend some time with your child in the kitchen. With it, the entire family can bake and have fun!
Nostalgia Snow Cone Maker for the Entire Family
Although the Nostalgia Snow Cone maker is not exactly designed for kids, it does make a great present. It's ideal for the entire family whose members want to have fun together! The product can hold up to 8 ounces of snow cones at a time. It comes with syrups, straws, and cups for the complete experience. The stainless steel blades are efficient and quite durable. There's also a safety switch built into the machine to keep hands from injuries. Just keep in mind that you'll need to work with your child on the device for safety reasons. This is not a toy but a real snow cone maker.
If you want a useful device you can all work on as a family, Nostalgia Snow Cone maker is just the perfect thing. It's efficient, durable, and a perfect addition to every kitchen. Besides, your kid will love delicious snow cones!
Learning New Things with Better Homes and Gardens Junior CookBook
Better Homes and Gardens offers a handy junior's cookbook that is perfect for all children out there. It's fun to read and follow, containing a lot of useful recipes. The illustrations are just beautiful, and your child is going to love them. The best thing about the book is the fact that it contains the basics of cooking. It's not just about recipes, but about teaching a child about cooking in general.
Junior Cookbook is what every parent should have in the house for little aspiring chefs. It's one of the best basic books that teaches children all about kitchen tools and appliances, as well as recipes. You can't go wrong with giving it as a gift!
P.S. This could be one of the best Valentine's Day Gifts for 2-Year-Old Daughter. Of course, she'll have to grow a little bit to engage in the cooking process, but still, this book is perfect for beginners. Once she's ready, you can steadily teach her all about the kitchen and cooking!
MasterChef Junior Cooking Essentials Set for Beginners
Another excellent starter cooking set comes from Master Chef. It includes an apron, a cutting board, a mixing bowl, cups, and many other items. All in all, it includes all that your child needs for an enjoyable cooking experience. The set is well made and easy to use. It even comes with 3 recipe cards. Also, you don't have to worry about your child's safety. The tools are kid-safe, and they allow for a secure and firm grip.
We highly recommend the Master Chef Junior set for every occasion, especially for those who lack Santa Gift Ideas for a 10-Year-Old. It's a useful set with so many tools and items. Your kid can play with it or use it in the real-life kitchen. Whatever he or she chooses, fun is guaranteed!
Conclusion
Hopefully, we saved you some free time and quite some effort with our 9 top picks. Our main goal was to save you from tiresome market research that often ends without results. You know how things are on the market, you can never be quite sure whether some products are worth your time and money or not. Therefore, we tried to narrow things down for you and pick only the best-rated and most popular baking kits and accessories for kids. With our picks and tips, you should be all set to decide on perfect gift ideas for baking with children!
ESTIMATED TIME DESIGNING AND UPLOADING THIS ARTICLE
ESTIMATED TIME RESEARCHING AND WRITING THIS ARTICLE
Try our AMAZING GIFT FINDER TOOL! Find GIFTS with 1 CLICK!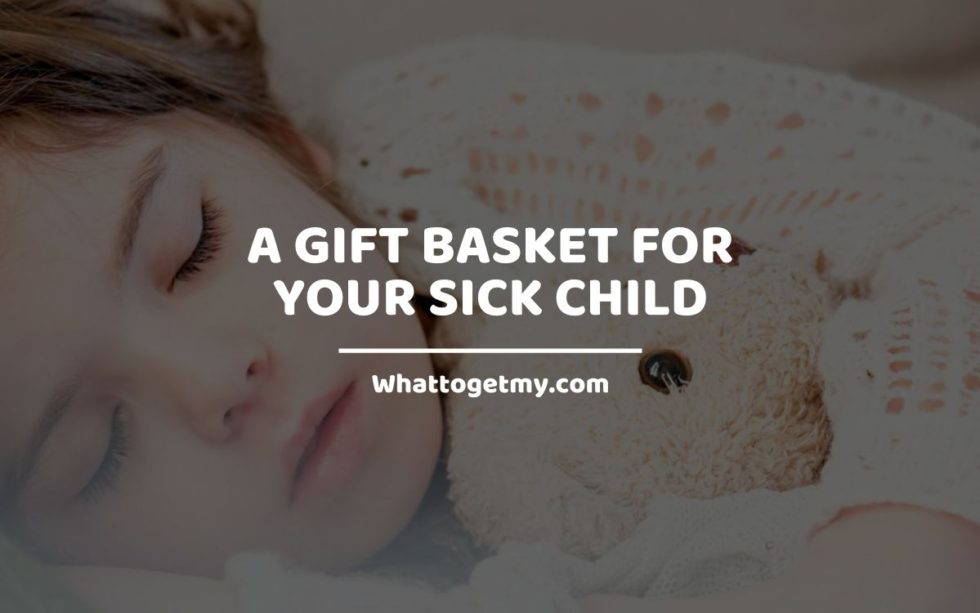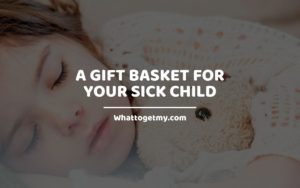 A GIFT BASKET FOR YOUR SICK CHILD
A GIFT BASKET FOR YOUR SICK CHILD WhatToGetMy Instructional Article If you have a sick child, you know it can be difficult for both you and your child because nothing breaks your heart more than to see your child feeling utterly miserable and all you
Read More »